Hey there, friends!
Well, it's been a fun week in Nashville. I head back home to Florida this afternoon. I can't believe I forgot to mention what motivated the trip in the first place! Back in December, when I got my extensions moved up in Laguna Beach, I had a lot of y'all ask if I'd continue to go out there for extension maintenance. While I have had nothing but wonderful experiences at DKW Salon, I figured it'd be a little more realistic to go to someone in a city that is a quick flight from Jacksonville. Ang Goff, who is based out of a small town just outside of Nashville, was highly recommended to me and I was really impressed by her Instagram. So, since I was due to have mine moved up the day after Valentine's Day, I ask Whit if I could come up earlier in the week to get some cute Instagram content and she was like of course!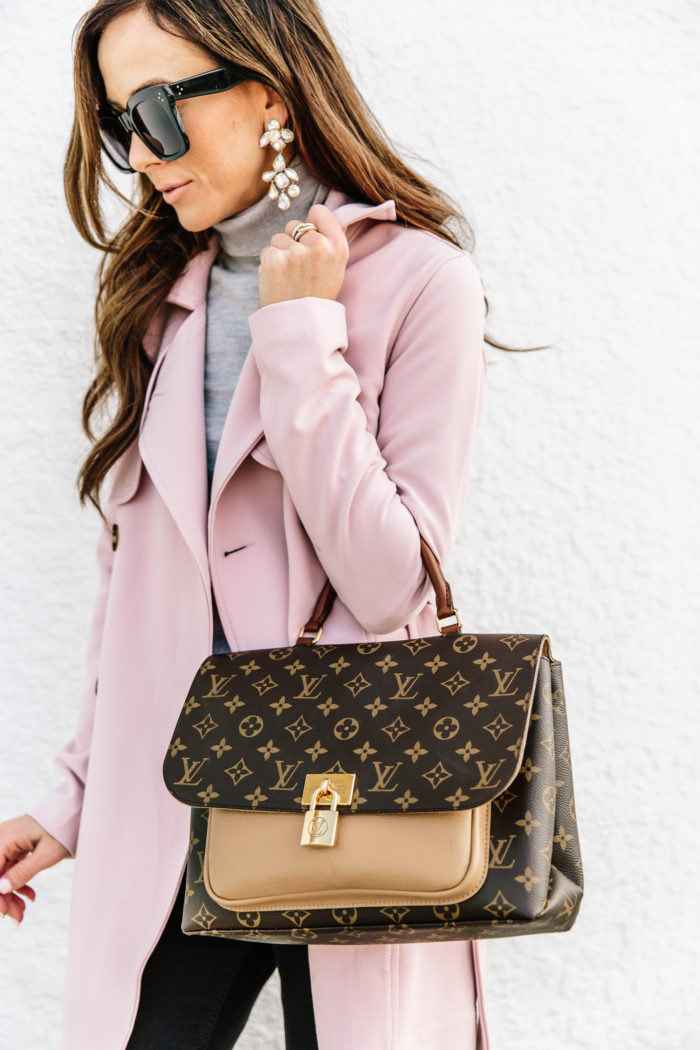 It's honestly been such a great trip. I've gotten to hang and catch up with some of Whitney's friends, whom I've met over the years, and also catch up with a bunch of mine, as well. One was completely unexpected! My good friend, Sarah Kate, got married in Italy two years ago and both her sister & brother live here in Nashville and she just happened to have gotten in the other day [Whitney met Sarah Kate on a trip her & I took to Chicago and hung out quite a bit when Whitney was living in Chicago; Sarah Kate lived in Chicago with her now husband for a few years] so we got to do dinner with her last night and are heading to brunch with her and her sibs this morning. I love when things like that happen! It makes me so happy. I haven't seen her in awhile as she lives in Italy now.
Anyway, I head home this afternoon and I wish I was going to be greeted by my babies. I miss them so much! But, since I leave early Wednesday morning and their dog sitter lives a good 40-minutes away from me, it just doesn't make sense for me to go get them tomorrow just to take them back out there on Tuesday afternoon. She has been sending me the sweetest pictures of them though. Fish has been snuggling with her and Chips has been playing with her dog, Pip, like crazy.
Shall we move on to this outfit??
Okay, so I wore this outfit to dinner with my management team a few weeks ago in Dallas. This trench coat is literally so dreamy. I don't often have good luck with trench coats. They're often too large or much too long, but this one just fits me like a dream. I absolutely love the color and you literally have seven color options with this one! I am just now seeing that the khaki one is in stock in my size so I am snagging it RIGHT. NOW. I also love the material of this trench. It doesn't feel too stiff. It's soft and moves easily. I went one size down from my normal, XXS, and it fits perfect!
My distressed denim skinnies are probably one of my favorite denim purchases recently. This might sound weird but I love the placement the shape of some of the rips and distressing and they are seriously a steal at under $80! These run small so go up one size from your normal in the waist. I went with a 25 x 30. There's no need to go up a size in your height measurement, as well.
These statement earrings have been getting so much wear from me lately [see here, here, here]. You can enjoy 40% off with code YESPLEASE this weekend! They're not super lightweight but I also don't need to take them out after a couple of hours, either. They're quite comfortable.
I seriously wear this Louis Vuitton Marignan Satchel all the time. Would y'all want a review of it?
Last, but not least, these Schutz booties were a purchase from last Fall [remember when I wore them in New York?] and I still love them. They're not a shoe you can wear for extended periods of time but perfect for quick outings to dinner or a party. They run true to size.
Hope y'all have a great weekend! Here are some great weekend sales!
J.CREW | Enjoy 40% off with code YESPLEASE
AMERICAN EAGLE | 25-60% off everything! [don't miss this jumpsuit]
ABERCROMBIE | 50% off select styles [like this pullover]
ELEMIS | Enjoy 25% off when you spend $100+ with code GREAT25 [did you catch yesterday's post?]
KENDRA SCOTT | Take an extra 25% off markdowns with code YAY25 this post[the jewelry I wore in are included]
GOODNIGHT MACAROON | 50% off pre-Spring merchandise with code GMSPRING
WEST ELM | 20% off your order + free shipping with code WINTER
BAUBLEBAR | End of season sale – save up to 80%! [These beautiful flower earrings I wore here are only $12!]
NORDSTROM | Save up to 40% off throughout all departments through 2/24
LOFT | 40% off full-priced styles with code XOXO
ANN TAYLOR | 40% off full-priced styles with code SOSWEET
ANTHROPOLOGIE | Extra 40% off sale items