Hi ladies! I'm so excited to kick off this skincare brand series!
In case you missed it, when I was brainstorming upcoming beauty posts, I thought it could be helpful for y'all to learn more about specific skincare brands that I use and love. Skincare is all the rage right now, I feel, and with so many skincare brands being thrown around as 'the best' or 'the most effective', it can be hard to determine which one is best for you. The harsh reality of skincare is that it's all trial and error. While there are a lot of great skincare brands out there right now, it will take you some time to figure out which products are going to be the best for YOUR skincare regimen. If there's anything I learned from being a nurse for five years, it's that everyone's body reacts to things different, whether it's medicine or skincare products. So, be patient and go into new purchases that worked for someone you know [like me] and they don't work for you. It's gonna take some time, girlfriend!
So, anyway, that's the basis of this new series! Let's get started!
This month, I am kicking off the series by highlighting and introducing you to a skincare company I became familiar with during my time living in London. It's called Elemis and it is the #1 leading luxury skincare brand in the U.K. While this is impressive, I wanted to learn more about the brand before pulling the trigger on trying their products.
Here's what I discovered:
• Their products are vegan and cruelty free, sourced from all corners of the globe and formulated by a collaborative team of scientists, explorers and skincare experts with the aim of creating the most transformative formulas possible. They pride themselves in creating products that are powered by nature and proven by science.
• Before they hit the shelves, their formulations go through extensive clinical and consumer testing.
• Elemis is completely transparent about the ingredients they use in their products. They share an ingredients list on their website that explains the benefit of each ingredient you see in their products.
Here are some other things I've come to love about Elemis:
• Their website allows you to discover the products that fit the specific skincare concern you are looking to combat.
• They have a travel shop chock FULL of travel-sized skincare products so you never have to leave home without your favorites!
• It's hard to find a product that has a less than five star rating on their site with honest and genuine insights from consumers who have tried their products! Reviews mean a lot to me and there have been so many products I've been tempted to try but wasn't sure [let's be honest, sometimes skincare product prices can be intimidating] until I read the review. I've never had regrets about an Elemis purchase.
• On each product page, it tells you what skin type the product is good for.
Since discovering Elemis, I have tried a number of their products and while I might not use every single one in this list currently, I would love to share my review of them in case you're in the market for any of these:
SALE ALERT | Enjoy 25% off your Elemis purchase when you spend $100+ with code GREAT25
• Pro-Collagen Hydra-Gel Eye Masks: I apply these after long flights to give the delicate skin underneath my eyes a boost of hydration. The ingredients also provide a tightening affect, which smooths fine lines and wrinkles!
• Pro-Collagen Cleansing Balm: Since I no longer use makeup wipes, I have found that this Pro-Collagen Cleansing Balm to be one of my favorite way to take off my makeup in the evenings. It penetrates my makeup so easily making it a breeze to take everything off. It also smells divine and leaves my skin feeling super soft.
• White Flowers Eye & Lip Makeup Remover: I bring this with me in case the lipstick I choose to wear one day is extra difficult to get off or if I wear waterproof mascara. It just seems to penetrate the product a little better than the cleansing balm. I also try to keep the balm away from my eyes.
• Pro-Collagen Marine Oil: I talked about this oil in my jade rolling post so head there to get all the details about why I love this product but, in short, it's my favorite serum to apply to my skin to ensure that my skin looks supples and feels firm. It provides hydration and minimizes the look of fine lines and wrinkles.
• Papaya Enzyme Peel: This mask is another great mask that exfoliates my skin really well, is non-abrasive and leaves my skin feeling soft and refreshed! It also gives my skin a subtle glow and smells amazing!
• Balancing Lavender Toner: I apply this toner at night after I take off my makeup and cleanse my skin when I'm traveling. It deeply penetrates skin and preps it to receive moisture. I love it because it doesn't make my skin feel dry or tight. Highly recommend this product!

Being that I've enjoyed so many of Elemis' products, I couldn't be more excited to be partnering with them on this post to share the four new products joining the Superfood and Prebiotic Vegan-Friendly Skincare Range. I've been trying the out over the last couple of weeks and I have been loving them so much! The ingredients truly are superfoods that feed your skin, which is important because your skin is actually the largest organ on our bodies! So, what it's exposed to matters! Enjoy 15% off your Superfoods product purchase with code 15SUPERFOOD! CLICK HERE.
Let me break down these new products for you!
Superfood Blackcurrant Jelly Exfoliator
This super gentle facial scrub is jam packed with antioxidant rich fruit extracts, Black Tea Extract and Glycerin, leaving the complexion of your skin smoother, softer and more hydrated. I love using this on those extra long days where you're outside a lot, exposed to the elements, traveling, etc. and need a deeper clean. 96% of people who have used this product say it's left their skin feeling smooth!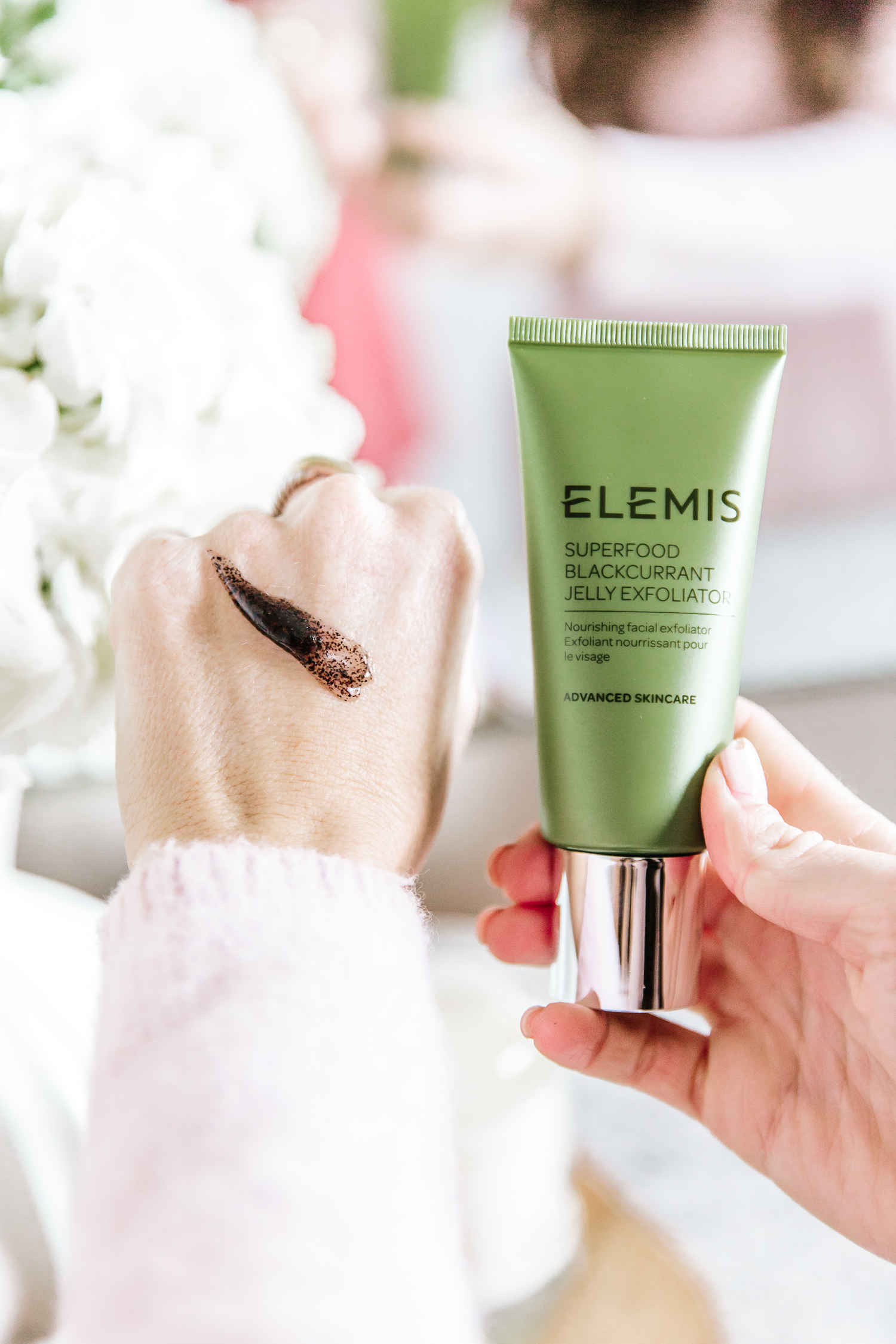 Superfood Kefir-Tea Mist
Okay, first of all, the Superfood Kefir-Tea Mist smells insane and, second, it's multi-purpose! It's a 4-in-1 treatment mist that tones, primes, sets makeup and hydrates your skin. It's made with vitamins, antioxidants and pre-biotic technology, which aims to balance the skin's microflora, the friendly bacteria that live on the skin. This is extremely important for healthy skin!
Superfood Berry Boost Mask
The Superfood Berry Boost Mask is ideal for all of your city-dwellers and jet-setters. If you feel like your skin has been exposed to a lot of pollutants, I highly recommend using the Superfood Blackcurrant Jelly Exfoliator and then this Superfood Berry Boost Mask. The Brazilian clay mattifies and clarifies your skin, drawing out impurities and absorbing excess oil. This will give your skin a more balanced and smooth complexion.
Superfood Vital Veggie Mask
This is the mask I've used the most so far. It contains bilberry extract, which has powerful antioxidants to give your skin a smoother, healthier complexion overall. It also has vitamin C in it, which is a great brightening agent for your skin, as well as avocado and chia seed oils, which help the product lock in the moisture you have in your skin! Overall, the Superfood Vital Veggie Mask is incredible and it leaves my face feeling so smooth!
Which one are you going to try first? It's hard to decide but, whichever one you choose will certainly leave your skin looking refreshed and healthy! Please let me know how you end up liking these!
And that does it for the first skincare brand spotlight here on AlysonHaley.com! Let me know if you have experience with Elemis! I'd love for you to leave it in the comments below as well as suggestions on the next skincare brand you'd like featured in the series! Make it a great day, y'all! Happy Friday! xo.
SALE ALERT | ENJOY 25% OFF YOUR PURCHASE OF $100+ WITH CODE GREAT25