Dreaming of all the fresh juices and cocktails in Cartagena! Grab my reusable straw here!


I snagged some great beauty buys earlier in the year! Check them out here!


Loved spending time in Nashville this month, even though it rained a ton! Can't rain on my parade! My parka is sold out BUT this funnel neck hoodie is on sale for under $35!


This adorable swim set comes in a bunch of different patterns and color combos!


Hooray for chambray! Especially when it's on sale! Grab this one for under $60! And if you've been eyeing these jeans, now's the time! They're included in the Shopbop sale!


In case you missed it, check out this post I did featuring some new goodies from Elemis! Go grab them, they are AMAZING!


Y'all were crazy about this top! So much so, that it sold out super quick! But linking more options above!


One of the first things we did after landing in Cartagena was get our hands on some cocktails! This cute striped maxi dress was the perfect after-flight outfit!


This was one of the outfits I wore one morning in Cartagena! We spent the day walking around and of course spent some quality beach time! My sandals are up to 25% off with code GOBIG19.


Here's the swimmy combo I wore on our first day in Cartagena! I'm having a moment with high-waisted bottoms. I love them, especially the pink and palm print combo of these!


I don't usually wear black, but I'll make an exception for a dress like this! It's a great price and you can wear it to so many different kinds of events!


This swimmy y'all loved so much the other day is included in the Shopbop sale! And so are my earrings! Enjoy up to 25% off with code GOBIG19!


BRB spinning around in this flowy maxi dress until I get dizzy!


I can't wait to share more of this colorful Colombian paradise with you! This dress was perfect for walking around and is under $90 PLUS currently up to 25% off with code GOBIG19!


This dress was a goodie from last year that I never ended up sharing until now! It's available again this year and under $50!


This cutie boho blouse and these cutoff shorts are included in the Shopbop sale!


Living my best life over here in Cartegena! My earrings and swimsuit top and bottoms are all up to 25% off with code GOBIG19!


Sometimes Mother Nature just doesn't want you to get the perfect Instagram, and that's ok! See how much fun the wind had with my hair in this post.


33 means you can get in a cute dress and shake up a bottle of champagne to celebrate. The best is yet to come!


33 ALSO means that riding around on inflatable unicorns in the ocean is perfectly acceptable. This was a great start to my birthday in Cartagena!


My official uniform for Cartagena was exactly this – something comfy like this dress, a pair of sunglasses, and a cocktail in hand! Almost this whole outfit is included in the Shopbop sale!


These sunnies are currently up to 25% off but go quick! There are only a few pairs left!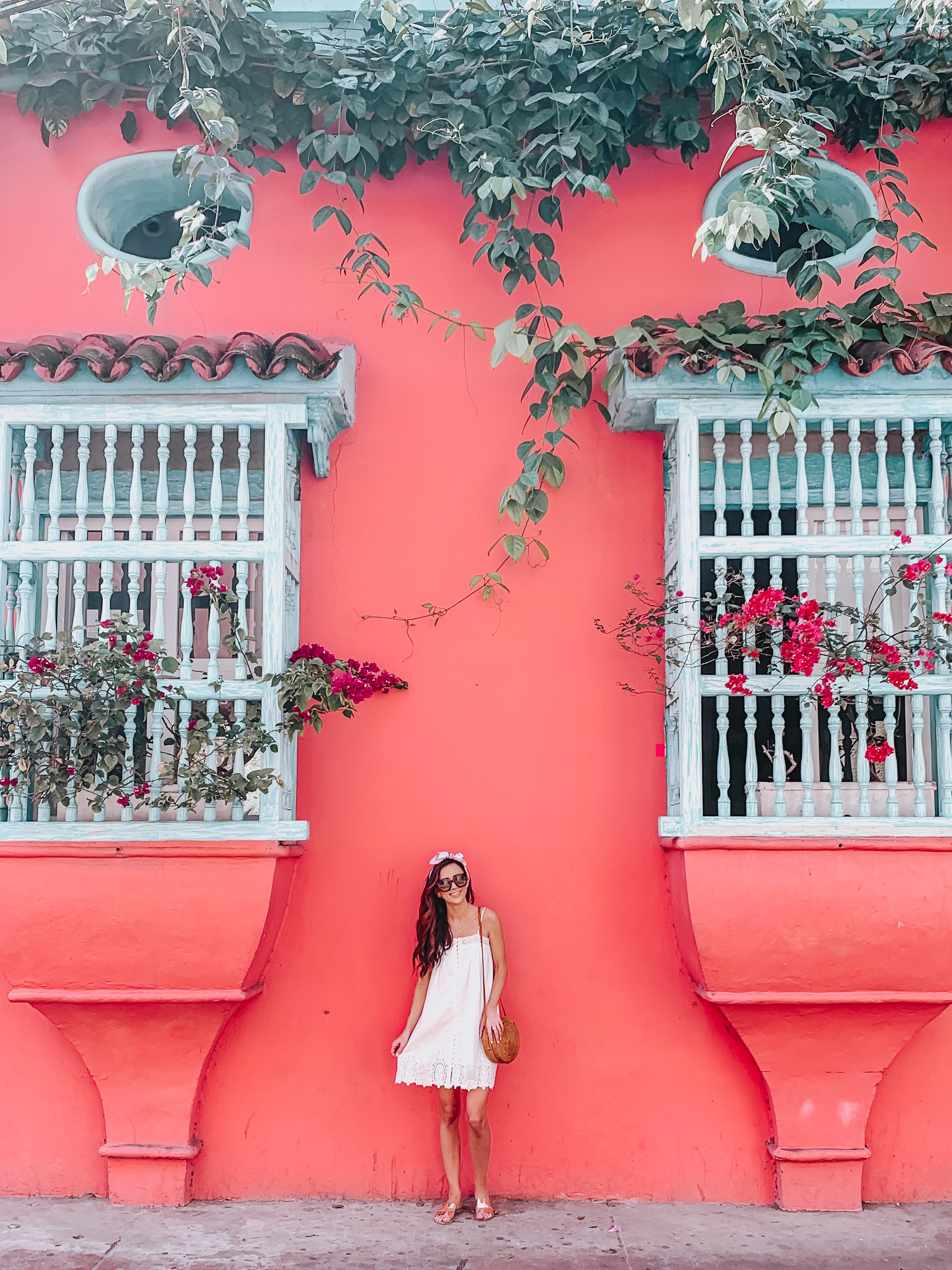 A little white dress is a Spring travel style MUST in my opinion! This one is currently up to 25% off with code GOBIG19!


Yesterday's travel outfit home is brought to you by the softest and most comfortable jumpsuit! It's currently up to 25% off with code GOBIG19!


I was my own Valentine last month so I took the liberty of buying myself something thoughtful and sweet-smelling! And for everyone asking, my garland was made by my assistant, Stacy! She did such a great job!


Y'all know I love a fuzzy pullover, and this is a great one for under $100!


These boots were made for walkin' all over Dallas!


This cutie pajama set is under $55! I love it so much.


This great denim jacket is on clearance and still available in a couple of sizes!


I wore these earrings with SO many different outfits last month! I love them!!


Just over here curing the Monday blues with this great sweater / denim jacket combo!


This dress could work well for a date night or for the office (depending on the office you work in!). It's a steal for under $40 and comes in regular, petite, tall and plus sizing, so everyone wins!


I love a classic sweater/distressed jeans combo! And I adore these wedges too!


This sweater and jogger combo TOGETHER is under $125! It's so soft!


Isn't it funny how "mom jeans" are back in style? These ones are under $50!


I've been loving putting together some workwear looks for y'all lately! This is a great transitional outfit as we get into the Spring months!


I feel like I'm way more motivated when I feel good in what I'm wearing and this outfit makes me feel like a boss!


Love this jumpsuit SO much! Check out another way I styled it below! These earrings are currently on major sale!


This jumpsuit is super comfortable and can be styled so many ways. These embellished sandals are great with it and are under $100!


This is a dream tunic for spring, AND the blue version is included in the Shopbop sale!


"The most important relationship is the one you have with yourself." How true is that!
Weekend Sales!
SHOPBOP | Up to 25% off your purchase with code GOBIG19! My picks are laid out in yesterday's post!
J.CREW | 30% off full-priced styles + extra 50% off sale items! Use code FRIDAY at checkout.
EXPRESS | 40% off everything plus free shipping on orders of $150+
AE / AERIE | 30% off site-wide!
ANTHROPOLOGIE | Extra 40% off sale!
ABERCROMBIE | All jeans are 50% off +free shipping on orders over $75!
Thanks for stopping by today, friends! Appreciate it! Have a great weekend! xo.