Hey there, friends! Happy Monday!
While Spring is my favorite season and I am certainly not wishing it away, I will be honest. I have a lot of fun things coming up in the coming months and I can't help but be tempted to get started on my Summer shopping. Naturally, I started looking on Nordstrom's website because they always have such a great selection of brands and products to consider. I always check out their summer sandals, young contemporary section, and even their sunless tanning selection. I've found a lot of really cute things recently, like this knit top I wore last week. I just placed an order last night to grab a few last minute things for my trip to Mykonos. Anyone else have a bachelorette they're shopping for? Be sure to follow along on my posts from that trip because that's exactly why I'm going there!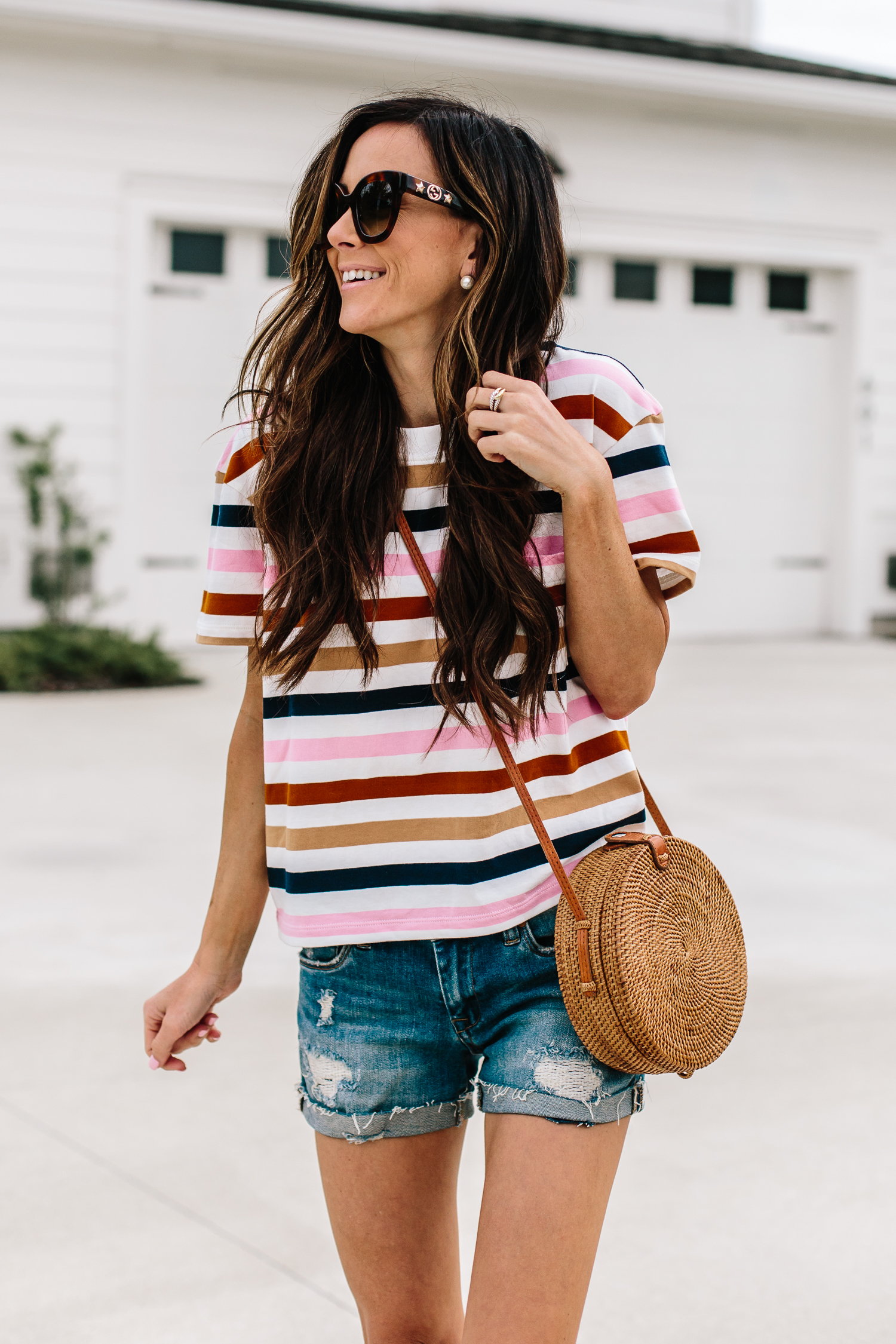 Today, I'm sharing a casual outfit, perfect for the Summer months ahead, as they're comfortable and affordable in addition to being super cute! BLANKNYC has been a favorite denim brand of mine for quite some time so I tried out this pair of shorts and can say they're a great buy for under $70! They run true to size.
Madewell has also been a long time love of mine for casual dresses [styled this dress in Cuba?], denim [just ordered these jeans] and utility jackets. I saw this striped shirt the other day and loved the colors. It's my favorite color for Spring [pink] mixed with my favorite shades from the Fall season, which makes me happy! Had to snag it! It's a bit boxy so head's up on that if boxy shirts aren't your thing! I went with my normal size, X-small, to ensure it wouldn't be too cropped on me. I have a long torso so sometimes I don't exactly LOVE this cropped tee trend.
I couldn't stop shopping on Nordstrom's website, if I'm honest, so I thought I'd share some other items I either really loved or snagged for my upcoming warm weather getaways and plans! These are all under $100:

My favorite thing about Nordstrom will always be their customer service and return policy. They are always so kind and helpful if I ever have to call about anything and are so understanding when it comes to returns. This has posed as a huge blessing since I started traveling a lot more and can't always get things returned as promptly as I used to. Thankfully, most items work out and I don't have to worry about that TOO often but it is worth mentioning in case you're worried about how to return something if you have to. It's really, really simple. They give you a pre-printed label and you simply put the items that didn't work back in the box, affix the label to the box and send the box off at your local UPS or USPS location.
I've got a lot to share with y'all this week! I'm hoping to get a little hair scarf tutorial coming at y'all on IG stories, a Cuba outfit recap [finally], and share that Amalfi Coast blog post as well as some insight into the travel bags I've been loving! Stay tuned! Thanks for stopping by today! xo.