Hi there, lovelies!
A few weeks ago, while John and I were together, we shared a few answers to some questions y'all had sent in during our week in Barbados. While I didn't feel it was appropriate to show him off while we had just started dating, even though it's been clear from the get-go that we have something really special, but now … I am willing to be a little more open about him because he's certainly going to be a big part of my life moving forward. I wouldn't say you'll see him here on the blog or on stories all the time. However, I've always been a share-er. I've certainly shared the low's in my life over the last few years as well as my triumphs … and, now, I'm excited to share some of the highest high's. John was such a fun and unexpected surprise. He makes me laugh and smile everyday and I'm happy to share a little bit more about him with y'all since … I mean, come on! Y'all are my girlfriends!
HEADS UP: THE DRESS IN THE OUTFIT PHOTOS IN TODAY'S POST IS ON SALE!
If you missed the IG Stories Q&A, I thought I'd put the answers he shared in a blog post in case I ever do a little clean up of my highlights down the line! I've also added a few new questions 🙂 Enjoy!
HOW DID YOU BOTH MEET?
We met on the dating app, Hinge. My profile was set to London and he liked a picture on my profile. I wasn't really super active on the app. I'd go on, maybe, once a week. I'd look through and clean out the people who had interacted with my profile. I stopped in my tracks on John's profile, which was RARE for me. I thought he was SO attractive and liked the answers to the questions he chose to be on his profile. I didn't know exactly when he had liked the photo on my profile but said hello anyway, just to see if he responded. Turns out, he responded pretty quickly. We got to chatting and it came up in conversation rather early that I wasn't a London local quite yet. While he was bummed, he asked if we could get together the next time I was in town … as I mentioned I frequent London, as y'all know I do! So, about a month later, I reached out to see if he was still up for meeting up. I was SURE he had gotten scooped up by another girl in that time but thankfully, he was up for it and the rest is history! We deleted all of our dating app's after only three dates. It was pretty obvious from the beginning that our connection was very special.
HOW LONG HAVE YOU BEEN DATING?
We went on our first date toward the end of March, when I was in London just prior to my trip to Amsterdam.
HOW OLD IS HE?
He's 36!
YOU MENTIONED HE USED TO BE A CHEF. WHAT DOES HE DO NOW?
Yes, he was a chef for eight years and then decided to get out of the industry as he didn't particularly like the lifestyle. He did quite a bit of traveling after a bad breakup and eventually moved to Australia for a few years. While he was there, he worked in the restaurant industry but eventually discovered a passion for sales. When he returned to London after difficulties renewing his visa, he got a job in construction sales as that was an area he was familiar with due to his Dad's professional background.
WHAT COUNTRY DOES HE WANT TO VISIT WITH YOU THAT YOU HAVEN'T BEEN TO?
John loves to travel and we've talked about traveling to a lot of different places together. While John's job offers him a lot of flexibility, he does only have so much time that he can be away from London so, throughout the year, we will need to be selective as to the trips we take. Y'all know I travel quite a bit but John definitely won't be that IG-boyfriend that travels with their influencer girlfriend on every trip. I certainly wouldn't mind that because I love spending time with him but he loves his job so that just won't be something you see from us! In terms of where he'd like to go that I haven't been to … Sri Lanka, the Seychelles, Hawaii, the Bahamas [nope, I've never been to the Bahamas and I live in Florida, ha!], etc. We have another trip that we'll take together in November. It's somewhere in the Middle East but that's all I'll say for now 🙂 and then, he's saving whatever other bits of time away from work he can spend on potentially coming over to help with my move. That could be one time or maybe two … he definitely said he's going to help me move the boys over because that is going to be a really stressful travel day. I went all over the place with this answer but … that's that! 🙂
HAS HE ALWAYS LIVED IN LONDON? WOULD HE EVER CONSIDER LIVING SOMEWHERE ELSE?
He was born and raised just outside of London in the county of Surrey. He has lived in different areas of Surrey and London over the years. He has spent a majority of his life in London, except for the three years he lived in Sydney, Australia.
In regard to living in other places, he's always said 'never say never' but is quite happy in London. He knows I love London and am already working toward a British visa so he really doesn't see a draw to live anywhere else at the moment.
WHAT ARE HIS THOUGHTS ON YOUR CAREER?
He finds it to be really interesting and intriguing, although he says 'I could never do it myself but happy to play cameraman and help you.'
IS HE COMFORTABLE BEING ON YOUR INSTAGRAM / INSTAGRAM STORIES?
Truth be told, I've always been nervous about how to introduce someone I really care about to what I do. It seems so many of the influencers I know and follow started building their following after having already been with their significant others [couldn't help but think maybe it would be a turn off] whereas … I have been single the whole time so building the foundation to a relationship without also weirding someone out with some of the things this job entails [photo taking of just me … in public … where people could potentially be watching, me talking to my phone like i'm talking to my friends, etc.] has always made me nervous. In a previous relationship, what I did for a living seemed to be something that person felt embarrassed to help with and also wanted it to be something I 'turned off' when he & I were together. While I'm very okay with turning work off to spend quality time with my significant other as well as respect how they want to be included in what I share, I do need have always wanted someone who realizes, appreciates, understands, and accepts that my job is quite unconventional, that there are no set hours and that I share a lot of myself and personal life [within reason] as a part of my job … and is happy to participate in some capacity from time to time.
I wasn't on my phone a lot during our first three dates … obviously. It'd be really concerning if I was so when I had a one day / one night stopover in London before venturing over to Mykonos for Victoria's hen-do back in April, I was so excited to spend time with him and, again, just focused on enjoying quality time together. I wasn't thinking about getting outfit photos or finding Instagram worthy backdrops. However, while we were walking around, John really surprised me with how he handled us stumbling upon a beautiful cathedral with tulips and beautiful gardens surrounding it. I immediately got my phone out to take a photo because it was so beautiful but I also wanted a selfie with him. So, we got a few selfies and then he insisted that we take a snap for Instagram:
While this photo didn't make it to my feed because Mykonos content took over, the offer to take the photo came from a place of support for what I do / love to do. I've never wanted what I do overtake the time we spend together but, I do think it's been a desire of mine to end up with someone who is happy to help and participate from time to time and not think twice about it! That is John – 100%. He's literally the most kind-hearted, servant-minded human. He is always looking for ways to be there for the people in his life that he cares about. He doesn't want to be the star of the show, either. He just wants to help. It's one of the ways that he shows his love for people. And, as someone who recently discovered that my love language is acts of service, this makes me feel so loved.
IS HE AS PATIENT AS @BLONDE_ATLAS IS WITH HOW LONG IT TAKES YOU TO GET READY?
Ha, when I asked him this question … he laughed and said 'no'! But, honestly, he was really, really patient while we were in Barbados. I think he has learned to just not start getting ready at the same time as me. When you first start dating, you tend to go back to the room to get ready at the same time and I think what we learned is that I need to head back earlier than he does so that I can get a bit of a head start on him, hah!
IS HE A CHRISTIAN, TOO?
"I grew up Catholic asI have a pretty strong Irish background albeit I'm English. I went to a Catholic Christian school growing up and faith has always been important to me. One of my tattoo sleeves is centered around my faith and, while I don't go to church very often, I think it has helped shape how I live my life day to day."
WERE YOU NERVOUS TO TRAVEL WITH SOMEONE YOU HAVEN'T SPENT A TON OF FACE-TO-FACE TIME WITH?
Neither of us were nervous, actually! We were excited. Obviously it's a risk. You never know! I've certainly traveled with someone that I thought I was going to have a good time with and …. didn't. But, I don't know … I could just tell we were going to have a great time. We didn't fight or get annoyed with each other once. That might not always be the case on holidays hah but, we think that's a good sign for now!
WHAT IS HIS FAVORITE THING ABOUT YOU?
Ha, he said "Fish and Chips" when I first asked him this question. I don't blame him 😉 They're pretty great!
His real answer: "Your energy, drive and passion for what you do as well as how positive you are. I also love how easy it is for us to be ourselves around each other."
DO HIS FRIENDS CALL YOU MISS AMERICA BEING THAT YOU CALL HIM MR. LONDON?
Ha, actually … yes!
DID HE EVER PICTURE HIMSELF DATING AN AMERICAN?
"No, not really but I'm loving it. I love Americans! I think the difference between us make for a really fun aspect to our relationship. Haley & I are always cutting up over the differences in how we say certain things and poke fun at our accents. Overall, I love how friendly, warm, fun and up front all of you are and I definitely see a lot of that in Haley. So, even though I didn't necessarily think I'd end updating an American, I'm enjoying the experience so far."
DO YOU THINK YOU'LL MOVE IN TOGETHER WHEN YOU MOVE TO LONDON?
I answered this last week over in the Ask Alyson Haley newsletter but, basically, time will tell! When the visa situation is sorted, I'll likely stay with him while I look for a place to live in London. John lives outside of the city, about 30 minutes on a high-speed train, so I want to be a little closer to the city. We'll see what happens!
ARE YOU IN LOVE?
Oooo, John said this question is from a "nosey Parker". I heard this phrase back in the day in the Parent Trap movie with Lindsay Lohan and I laughed so hard when he said it. It's one of my favorite British phrases. Anyway, what do you think?

DO YOU THINK YOUR MOM WOULD HAVE LIKED JOHN?
I'll be answering this in the Ask Alyson Haley newsletter this week!
So, that was the original Q&A that we did on IG stories if you missed it! Here are a few bonus questions: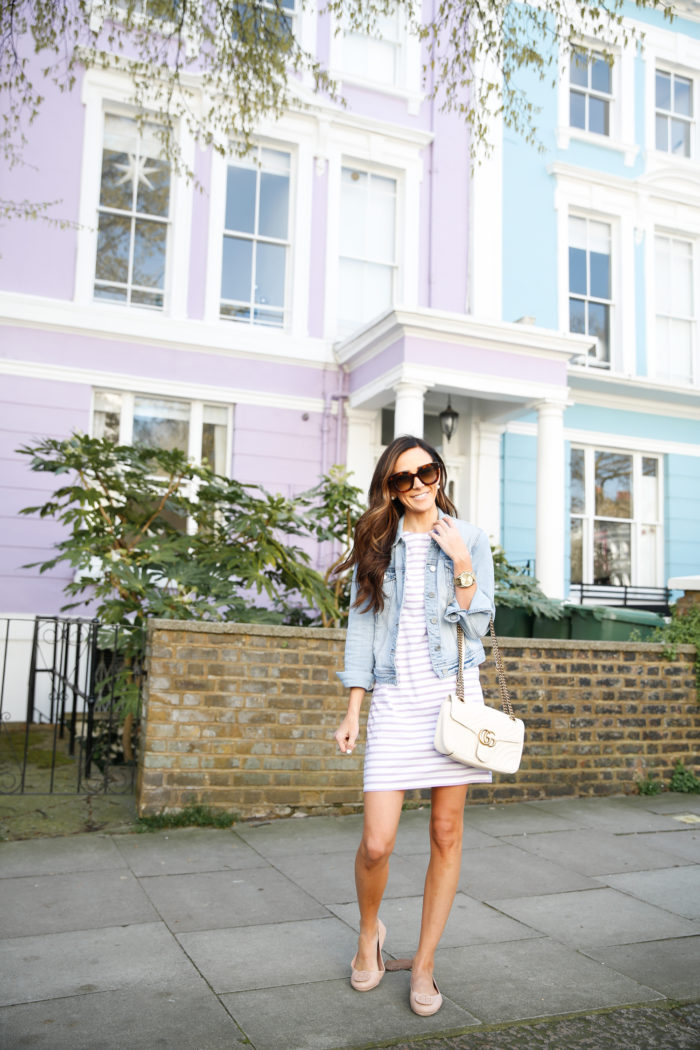 WHAT IS HIS ENNEAGRAM NUMBER?
He's a 3 – the achiever.
His results said he has a 4 wing but I truly believe he has a 2 wing. He is ALWAYS looking for ways to help people.
WHAT IS YOUR FAVORITE SAYING JOHN SAYS?
Ha, I love when he says 'do you have a bee in your bonnet?', which is basically something you say to someone who is getting upset about something. He usually says it to me in a joking way and I think it's hilarious.
He also says 'oh dear' and I think it's the cutest, most endearing phrase to hear a British man say because you would NEVER hear an American guy say that, ha, but I think it's very normal / a common phrase over there.
WILL Y'ALL ADOPT ANOTHER DOG TOGETHER?
Again, time will tell but we both love dogs. He has a dog breed that he LOVES and he's been wanting a dog for quite some time. So, I wouldn't be surprised if we did adopt one of that breed but … I think we have a few things to tackle before that day comes, ha!
WHAT IS SOMETHING YOU WISH WE KNEW ABOUT JOHN?
Hmmm, I'd love for y'all to know that he is REALLY funny. But, more than that, he would literally drop everything to help or spend time with his family, which I find SO attractive. He also has the same big group of guy friends ['lads'] since he was in elementary / primary school, which is so impressive, in my opinion. To me, it says he is super loyal to people that he cares about and really good at sustaining relationships. What do you think?
I know this post literally had ZERO pictures of John. You know … I just like to keep things weird and ironic around here from time to time! Ha! I shot this outfit back in March with Victoria and am finally sharing it because it's something you could  totally still wear this summer & the dress is on sale, ha!
Alright, y'all! That's it for today! I hope you had a great weekend and that your week is off to a great start! Thanks for stopping by today! xo.