Hey there, friends! I've been super excited to share today's skincare review with y'all. You know I'm always trying new products, but that I also like to take my time before truly vouching for anything. Well, friends, I've definitely got a winner to bring to the table this week. Enter: Skinsei.
They're a personalized skincare line that, quite honestly, has blown me away. They've taken away the blanket diagnosis for skin issues and treatments, and have developed a brand that is literally catered to your skin – including your lifestyle. Unlike so many brands out there, they aren't a 'one product fits all' company, which I found intriguing from the start. We are all SO uniquely different and I'm always game for a program that supports that, especially ones that focus the more holistic side of an individual, from self-care routines to specific diets to health regimens and skincare.
The Scoop on Skinsei
I wanted to give you guys a quick background about Skinsei. There are SO many skincare products out there these days, I definitely like to do research before trying anything, and especially investing dollars in a new-to-me-line. First off, they are cruelty-free, which is a must for me. On top of that, their philosophy is 'skincare personalized to how you eat, sleep, live,' which is exactly what you should be basing your skincare product choices off of, in my opinion. Being that I fully backed what Skinsei stands for made me incredibly excited to give their products a try, even though y'all know I already have one that's pretty set. It takes a special brand to do that!
To start, you head to their site and take a 28-question quiz [it's thorough but doesn't take more than 5-10 minutes]. You answer questions on your levels of stress, UV exposure based on where you live, your skin concerns, how you sleep and live, etc. From there, they deliver your results via a really cool graphic that I'll add below and then their suggested product routine. You can choose from a reasonable monthly delivery of 3 [$45] or 5 [$69] products based on your budget and how intense of a routine you're looking for. Skinsei then ships your regimen to your doorstep and boom! You have your personalized skincare routine delivered in no time. Gotta appreciate that efficiency, right?
My Diagnostics
I was really excited to get my results back because I had never done anything like this [at least not a skincare quiz that took my lifestyle and where I lived into account]. Below was my personal diagnostic based on my quiz results which I thought y'all might want to see.
Skinsei also breaks down other results on their site, and from there you get your suggested regimen. They tell you interesting notes about each product, what it does, and how to use it, which is cool.
My Curated Skinsei Regimen
Based on my quiz, here's what Skinsei suggested for me [a 5-product lineup], all of which I started using the second it was delivered, almost exactly a month ago.
MICELLAR WATER: Between all the shoots and projects lately, I've been wearing a full face of makeup more times than not. Skinsei suggested their micellar water which is essentially a gentle makeup remover. It's alcohol-free, which supports the gentleness, and it leaves skin refreshes, not stripped, after removing makeup [and yep, even that waterproof mascara, ladies!].
BRIGHTENING SERUM: Winter is coming and it's definitely that time of year I'm looking for help when it comes to a natural glow. This product improves your skin's luminosity and protects against things like pollution and weather. My favorite part? It's not sticky like SO many serums on the market.
MOISTURIZER LOTION: A must, obviously. This wasn't anything ground-breaking but I appreciated that it was lightweight yet moisturizing. A little goes a long way, too.
DRY SHEET MASK: You know I love me a good face mask and this one was so unique and … well … ahhh-mazing. It's dry aka it doesn't leave a weird mess all over your skin or slide down your face after application [we've all been there]. This specific mask helps to even skin tone which is something I personally struggle with. I used this right before my trip to Maine and it definitely upped my radiance.
FINISHER: The last product in my regimen is this small but mighty finishing gel. I loved adding this right before makeup because it extends the life of the makeup you're wearing, all while leaving an anti-shine, matte finish – but not in a drying way. It helps to minimize the look of pores and any impurities happening at the same time.
Honest Thoughts After 30 Days
Overall, I've been very, very impressed by Skinsei's program. From the quiz to the personalized results to the actual product, 100% a game-changer [especially the micellar water #obsessed]. I've been the most taken aback by the constant moisture and balance my skin is now showing off. Even while in Maine, my skin felt balanced … not too dry, not too oily … and the physical texture has been awesome.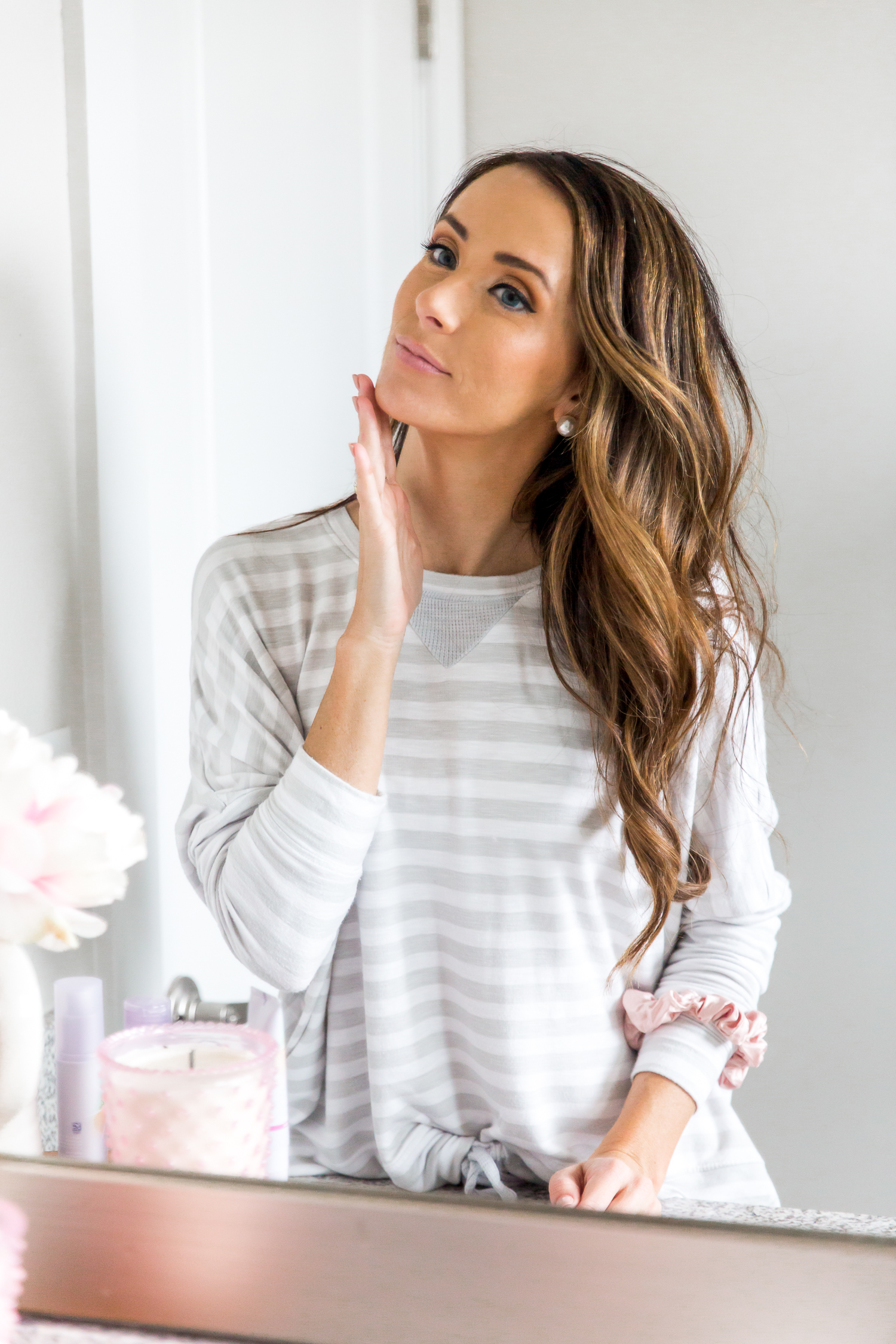 I like that this program literally shows up on my doorstep once a month and it's one less thing I have to think about. It's efficient, comes without some of the nasty chemicals other skincare products on comprised of, and the packaging is too cute to boot. By the way, our skin changes from season-to-season so, you can always retake the quiz before your next shipment if anything in your life has changed. I l-o-v-e that depending on my schedule and stress, etc., I get catered results.
If y'all are looking for a new routine or want to find something that works for YOU, definitely snag some Skinsei. If this is speaking to you, use code ALYSON20 at checkout for 20% off. Hope you guys check it out – really think you'd enjoy!
If you're already a fan of Skinsei, what's your favorite product in your regimen? xo.