I see you, October. I'm ready for ya! This photo was from my trip to Stowe, Vermont last year. Did you catch my Travel Diary on Stowe this week? If not, head here to know where to Eat, Stay & Play in Stowe, Vermont!


Be as bold as your lipstick today, ladies! I forgot how fun it is to wear something that isn't neutral and rounded the five bold lip colors I'm loving for the Fall season on the blog, with Nordstrom!


One of my favorite things about this time of year is definitely football season! See where I snag all the best game day hosting gear on this blog post!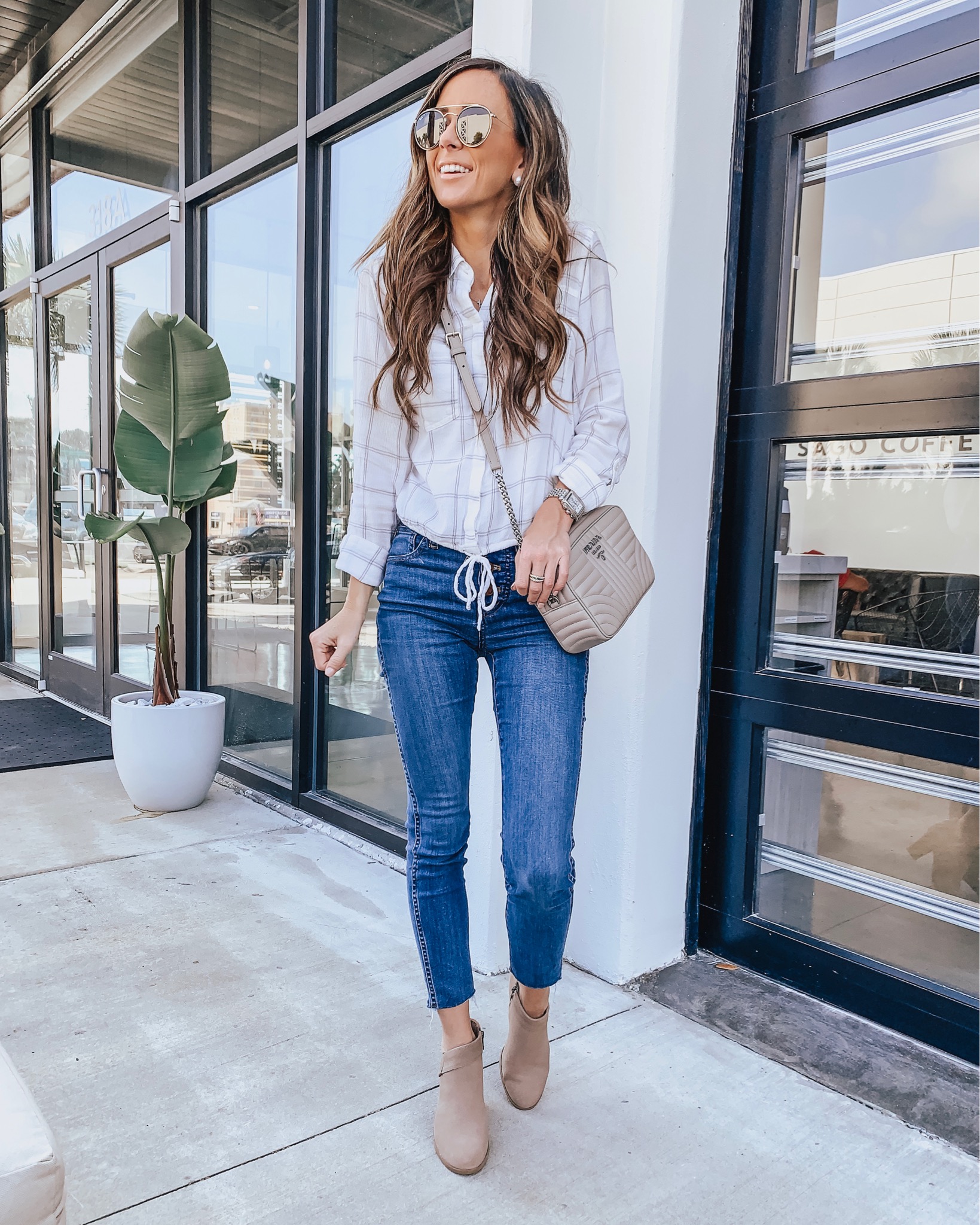 It's was a good start to the week, and I can confirm these Koolaburra booties are a cute and comfortable option for those enjoying cooler temp's! Enjoy 10% off with code LTK10ALYSON.


This might my favorite sweater purchase this Fall so far! It's super soft and under $70 + 30% off this weekend with code YOUCHOOSE … depending on how much you spend!


"Fall is proof that change can really be beautiful." Don't forget! My Fall preset pack launched on Tuesday. This photo from my trip to Vermont last year is edited with the Bar Harbour preset and they will surely bring all of your fall photos to life! Be sure to check out the highlight on my profile for more on what a preset is, what they look like, and how easy they are to use!


It's been a minute since I shared some pieces that would work for the workplace! This blazer is under $100  + this silk cami is currently buy one, get one 50% off!


My faux fur jacket that I wore a bunch last year has been restocked and is under $100! Also, a new version of this striped scarf is available this year again. Turtleneck is still available but in new colors this year!


Y'all know I will always be a true neutral lip color lover. I shared these two goodies the other day on stories. They're two of my all time favorites that I am always grabbing for a quick touch up! The gloss is called 'Fortune Cookie' and the matte color is called 'Cairo'.


Don't let anyone dull your sparkle today, ladies! Gotta love a good Revolve find!


If I can't decorate for Fall this year, I have to at least buy all the pumpkin things at Trader Joe's! This sweater is under $100 [and up to 30% off depending on how much you spend with code YOUCHOOSE] and I added one that's the exact same color and under $60.


THIS is the face and smile of a girl who just FINISHED her visa paperwork after months of researching and weeks of prepping! I added some of my go-to make up items here as well!


If you are looking for me this weekend, I will be in these comfy pj's & getting all the snuggles in with the boys that I can!


Chips and I are spilling the tea on life lately, what I do to reset after a hectic week, and where we get our favorite Fall walking gear with Backcountry!


If you could choose, would you go with a hot apple cider or a pumpkin spice latte? Dare I say. Apple cider has always been my #1 this time of year! Let me know which one you prefer in the comments below!
Weekend Sales:
Madewell: 20% off $100 or 30% off $200 with code YOUCHOOSE
Abercrombie:Up to 50% off + 15% off entire purchase with code 14977
Target: Up to 25% off on home items
Marc Fisher: 25% off with code FW19 [these, these, and these are all featured in my fall shoe roundup coming soon!]
Pier 1: Up to 25% off sale & regular price items, with code SAVEMORE
Kirklands: 40% Off any one regular priced item with code: MYSALE
Kate Spade: Friends & Family Sale! 30% off everything with code WEAREFAMILY
DSW: Buy one, get one 50% off athletic shoes [I recently purchased the grey and black of these and they qualify for the discount!]
Neiman Marcus: Friends & Family, 25% off select styles, with code NMFRIEND
This Week's FAQ'S:
Q: I am heading to London for the first time on 10/31. I am so excited. I was looking at all your posts and wondering about hair tools and if they work fine with a converter there? Just curious. I like to bring a curling iron. Thank you!
A: That's the day the U.K. is supposed to leave the EU. That should be an interesting day to arrive! My fingers are crossed it won't be super chaotic! I'm sure you'll be fine as you're an American. Anyway, I answered this question in THIS post.
Q: What was the podcast that you shared the other day? It was a true crime one and I missed it!
A: Omg, Culpable! I just finished it the other day and I'm so bummed it's over!
Q: What did you think of Downton Abbey?
A: Oh my gosh! I loved it. Last weekend was a bit of a hard one being that it was the 6th anniversary [always feel weird calling it that] of my Mom's passing. I always try to do something that honors her and Downton Abbey was her favorite show when she passed so, I felt like seeing it with my girlfriends was the best way to do that! I only wish I could have watched a few of the seasons with her but, I didn't get into it until I lived in London in 2016. I guess it's a sweet thing that, even though I didn't, I still can easily identify the parts she thought were funny. I know she probably loved Granny and Mrs. Patmore the most, ha!
Q: How do you feel now that your visa paperwork is in?
A: Well, I did feel relieved but I still have a couple of things that need to be added before the application can be sent through. I'm a little disappointed and frustrated but, it's too long of a story to explain why and, honestly, I'll likely just come off as a brat. It's all going to work out the way it's supposed to WHEN it's supposed to. So, I'm just trying to take it day to day and remember that God has gone before me in this and that I don't need to worry. So, I'm trying that approach over the next few days to hopefully get my blood pressure down about it, ha!
Q: Best place to go or to be in London for New Year's Eve?
A: That's hard to say because everyone has different preferences on what they want to do. Central London is a zoo. I mean, there are great places to go but they're all expensive. I'm sure you can get tickets to see the fireworks from The Shard or the top of the Trafalgar St. James. Whitney and I did a champagne cruise along the Thames, which was expensive and FREEZING but really fun, as well!
This Week's Best Selling Products:
Thanks for stopping by today, y'all! Have a wonderful weekend! xo.