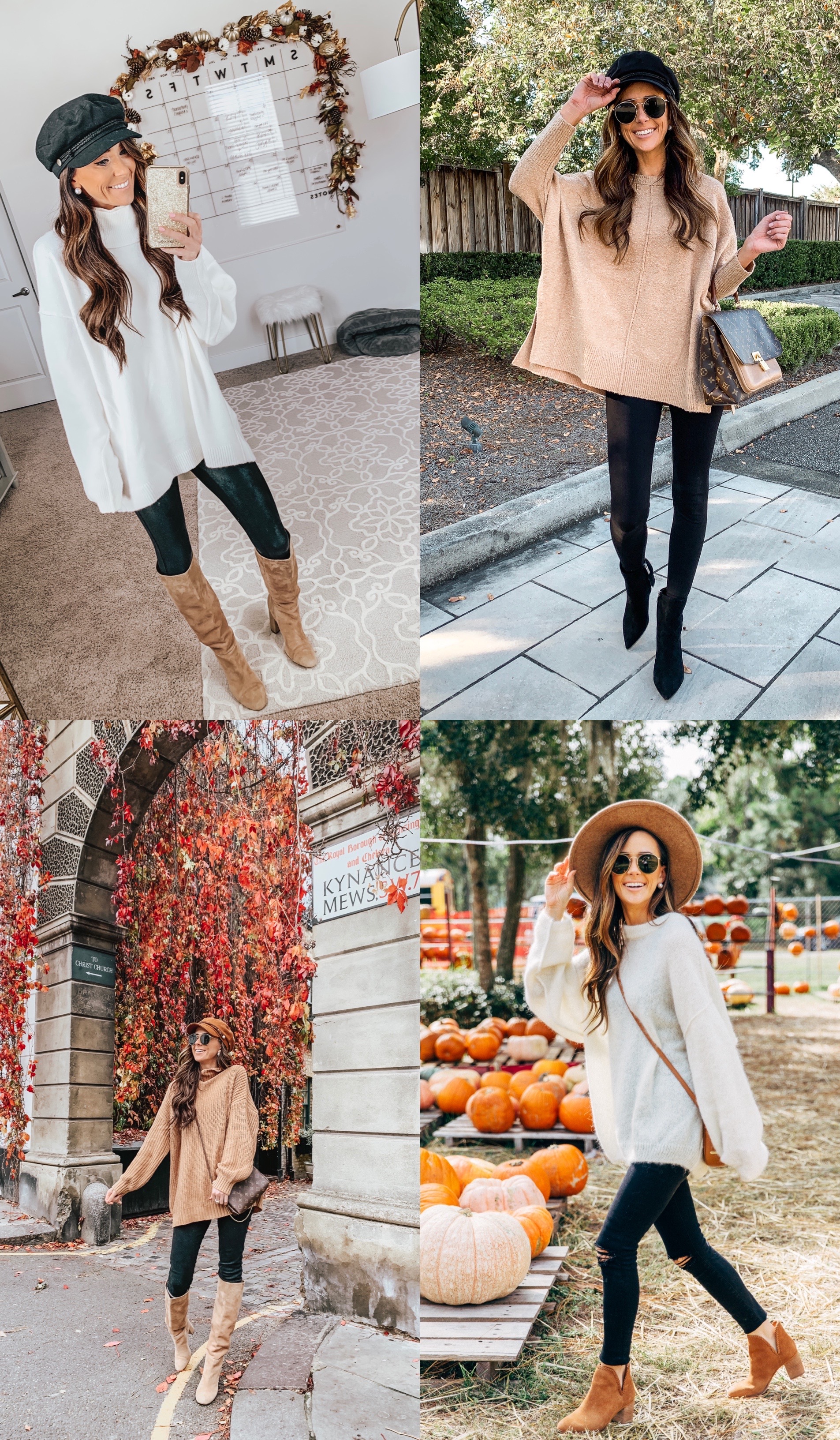 Happy Monday, friends! Hope y'all had a great Fall weekend. Thanksgiving is officially next week, which means it's time to get the recipes together and .. maybe more importantly [at least for me] … outfits, as well. I absolutely love Thanksgiving and find it awesome that depending on your family or tradition, the vibe of the day varies. I've spent some Thanksgiving in loungewear watching football, dressed up at a nicer dinner celebration, and most often, in comfy but cute stuff cooking and eating all day long. Do you like how I added 'loose-fitting' to the title of this blog post, by the way? Yeah, no one wants to be in ANYTHING form fitting on a holiday that is spent eating for the entirety of it all, ha!
When planning a post about what to wear to Thanksgiving, I didn't want to limit the style of the outfit since everyone celebrates differently. So I thought it'd be fun to gather a bunch of outfit inspo pics from over the last couple of years. I definitely didn't wear each of these looks to a Thanksgiving celebration, but they all would totally work. Some of the looks are a bit older so if that's the case [and a piece is sold out or a bit outdated], I've found similar pieces in stock which you can find in the widgets. I've also added in my two cents about what type of Thanksgiving I'd wear each of these looks to. Let's get into it!


Other than oversized sweaters, I'd argue that a non-restricting sweater dress is the next best thing on Thanksgiving. I absolutely adore this outfit and think it makes for a super cute look on Turkey Day. It's pulled together yet practical and these are all pieces you can wear over and over. Add a scarf while you're out and about or for an extra touch and the beanie if it's extra chilly where you live.



I'm actually in shock that this plaid flannel from Madewell is still in stock! I snagged it a couple of months ago and am so happy they've been restocking it, especially since I've gotten so many questions about it. Plaid flannel is a great choice for a laid-back Thanksgiving and you basically can't go wrong. This particular flannel shirt also looks good unbuttoned with a bodysuit or long-sleeve shirt underneath if that's more your style. And feel free to untuck things after dinner, if ya know what I mean. Ha!



OK ignore the setting; focus on the outfit 😉 I don't think you can go wrong with a longer chunky tunic, leggings [or black jeans] and boots. The turtleneck is awesome if you tend to be cold on Turkey Day and bundling up is in your future.



This was one of my favorite looks from the Fall Shoe Roundup and this tunic sweater would be a great option for Turkey Day. I opted for jeans here but you could easily wear leggings and comfy flat boots if you wanted to opt for something a little more casual.


You may not have noticed the cute sweater dress that I featured in my blog post last week with Brahmin but wanted to highlight it here because I think it'd be a great option for the Thanksgiving holiday and it's not very expensive. Highly recommend! I'm in an XXS here and it's under $50!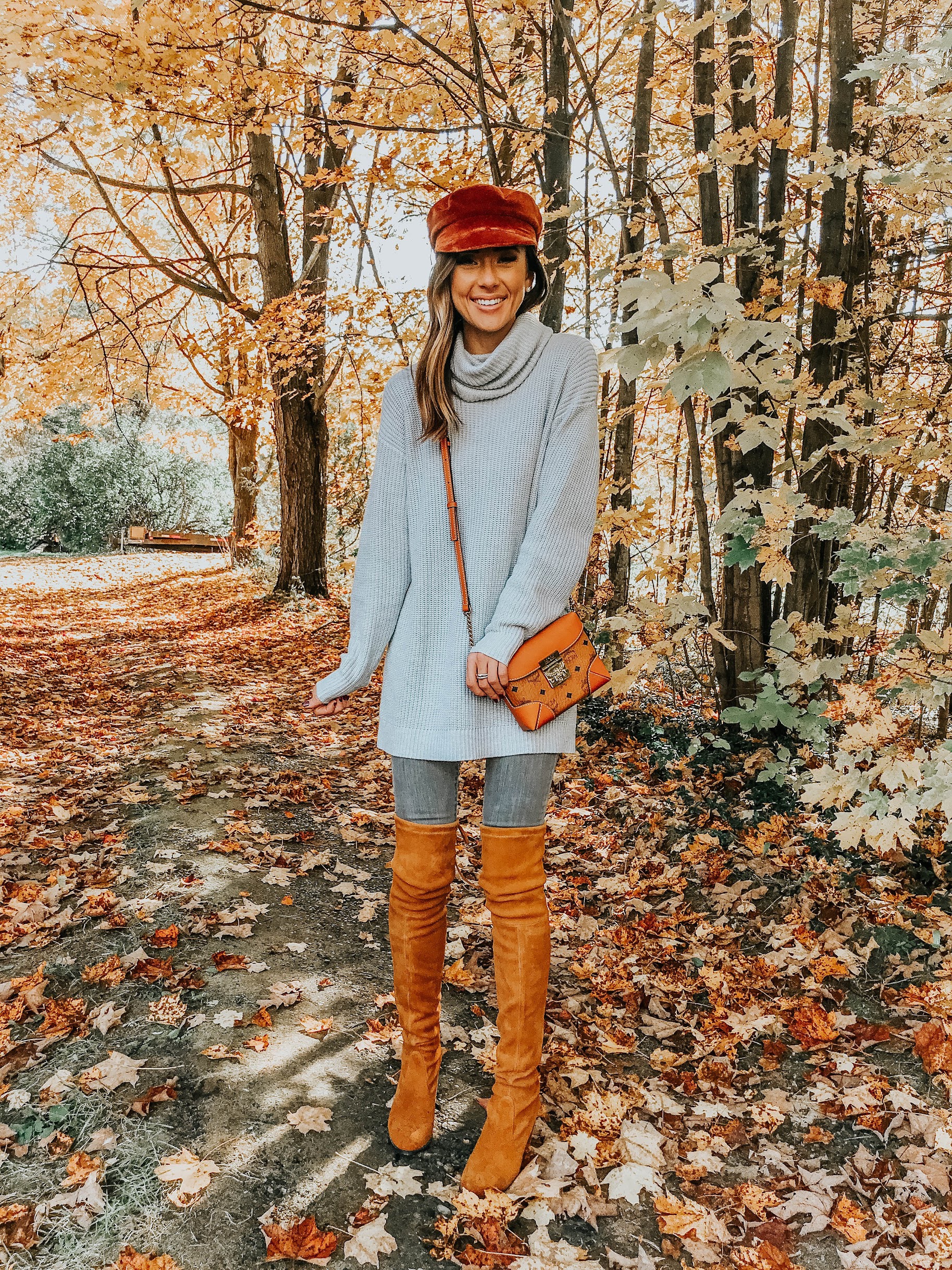 Ahhh looking at this picture makes me miss foliage SO much! I like adding one special element to a Thanksgiving look since it is a special day – and for me, that's usually a hat or scarf. Something additional to set the look apart from just jeans and a sweater, ya know? If you're looking to be comfy all day but do want something that feels slightly elevated, try that trick.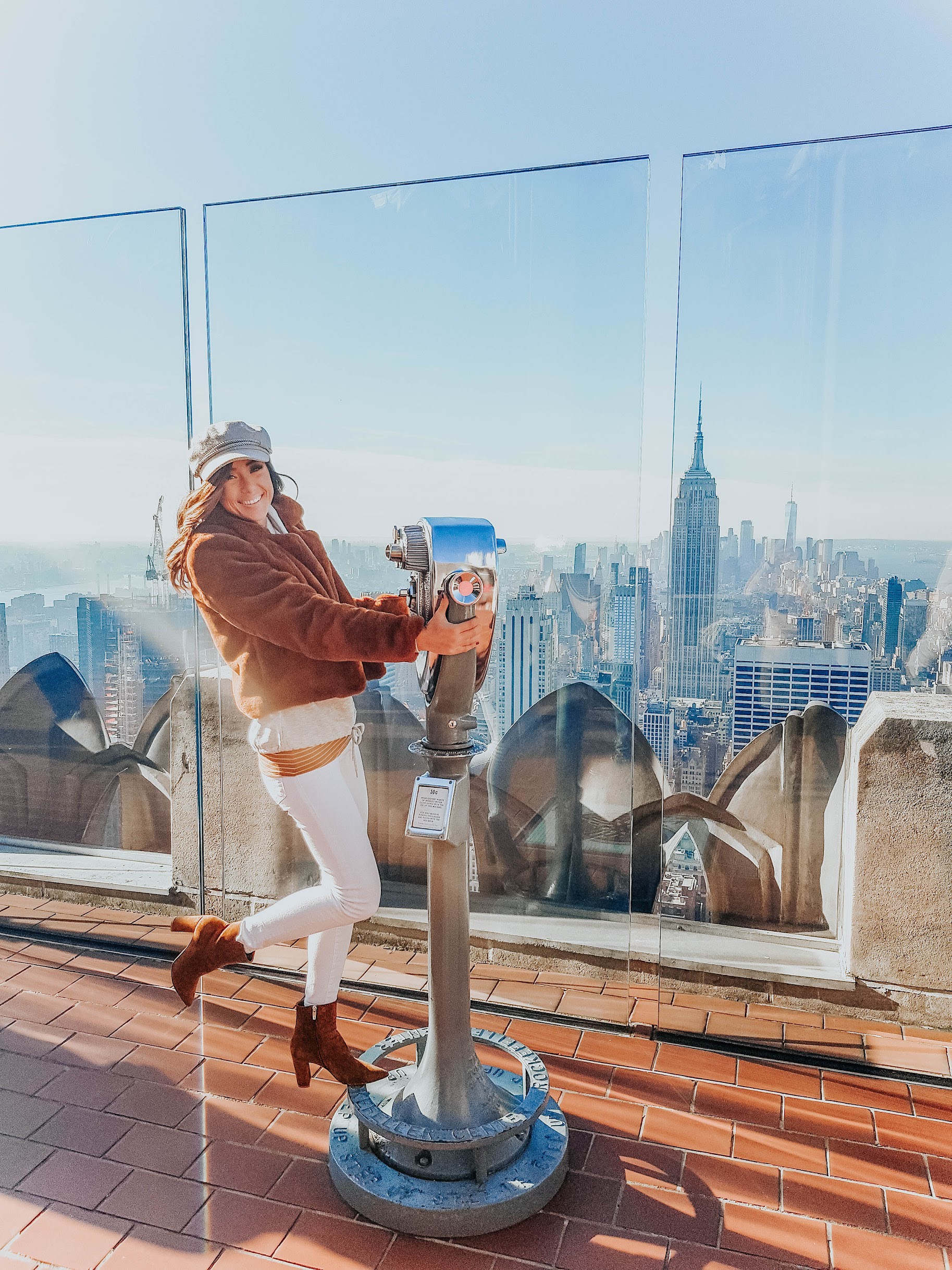 I'm actually sharing a couple looks that involve white pants, and while that might not be typical for your Thanksgiving, it's a cute look if cooking isn't involved. Or maybe this is something you change into when heading out with friends after dinner? Either way, this outfit is one of my favorites from years past and I think it'd be adorable for Turkey Day.



This is one of those outfits that's awesome if your family is laid back and you spend a lot of time in the kitchen. Because let's be honest, Thanksgiving can be a marathon and sometimes that involves cooking for literally 10 hours a day. If that's your vibe, flats and a t-shirt are probably smart. One more reason that I love these affordable loafers – they are incredibly comfortable but totally classic and chic.



This outfit is a bit older but still something I'd sport today. I can't really think of a Thanksgiving Day where this type of look wouldn't be appropriate [maybe something fancy, which I cover below], so if you're looking to bounce around to a couple of celebrations, this is your look. Over-the-knee boots that aren't too extra, jeans, and a comfy loose sweater … you really can't lose with this one!



I am absolutely obsessed with this sweater. I would go one size up from your normal so that it's appropriate over leggings but, if it isn't for you or if you want to go with your normal size, I recommend wearing dark denim or black denim. This color combination just screams Thanksgiving!


This crewneck sweater is my most worn sweater this season and I recently ordered it in gray. You really can't go wrong with this color combination for Thanksgiving, as well.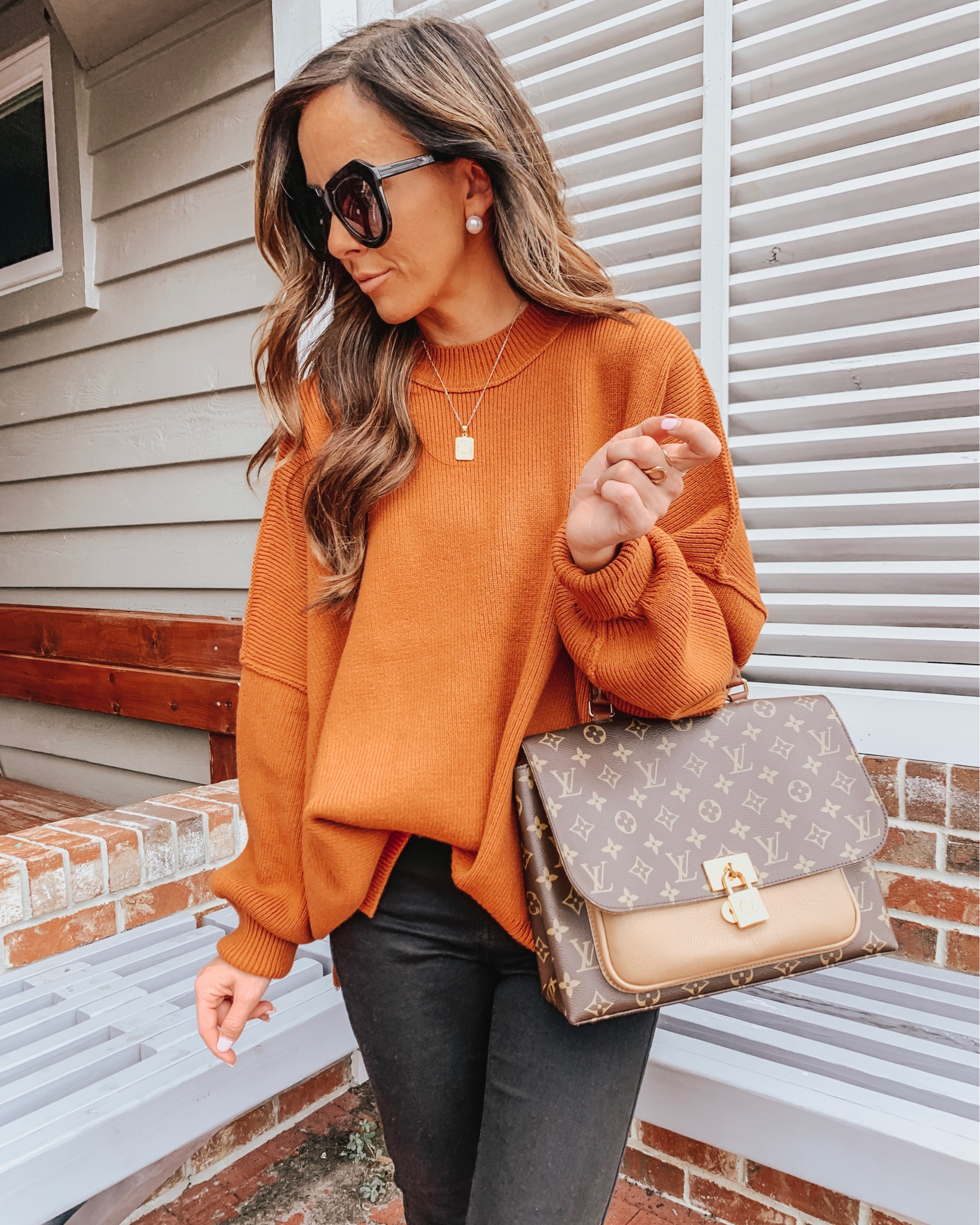 You'll actually be seeing this tunic sweater a couple of times on this list [in different colors] and it's for good reason: it's literally the perfect Thanksgiving Day sweater. Oversized, slightly chunky, and all kinds of comfy.



I featured this outfit last week on stories for you guys. I'll add it to the Thanksgiving highlight for you to reference! This couldn't be a more perfect Thanksgiving outfit. I would get your normal size in the top but, as a note, it is supposed to be oversized. Size down if this doesn't suit you.


For those of you who are in a warm weather destination for Thanksgiving, this outfit might work best for you! I can't say enough great things about each of these pieces!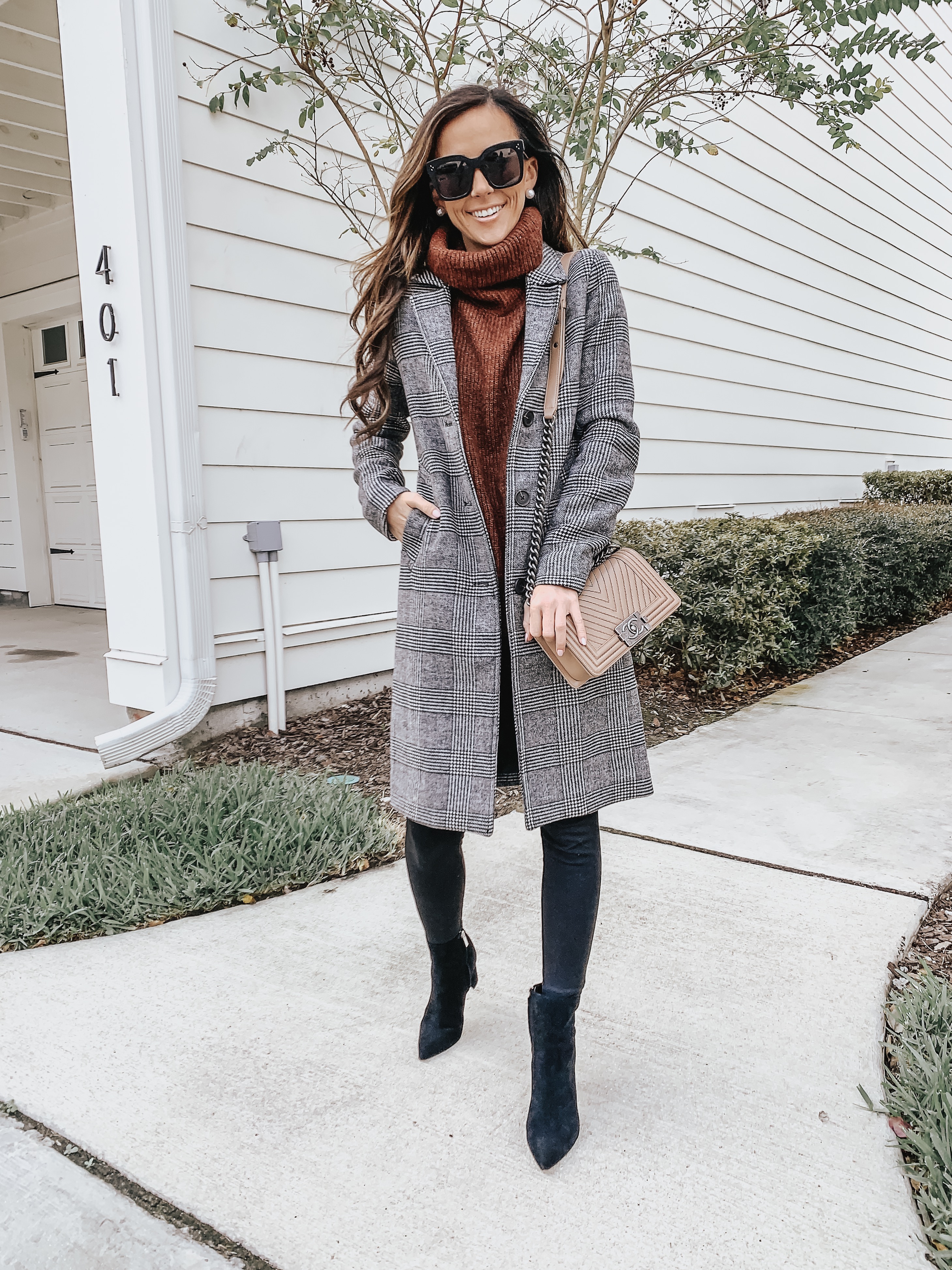 My outfit from last week is now seriously marked down: my coat is 15% off (wearing xxs petite), my turtleneck is $45 plus 40% off at checkout (wearing xs), and my jeans are currently 30% off and such good quality!


If your Thanksgiving plans are a little more elevated, I'd recommend this outfit. How cute are these shoes? They are Chanel look-a-likes.


Are you sensing a theme here? Basically, wear something oversized as a top so that you can hide your food baby! Ha 😉


See a breakdown of this outfit on my Instagram Stories right now. I'll save it to the Thanksgiving Day outfit highlight! Most everything is super affordable and / or on sale!


If you really want to camouflage the food baby, I highly recommend wearing black! Here is a great option! And, my coat has been restocked in a ton of sizes!


I wore this in Maine and, if you're celebrating somewhere really chilly, this sweater could not be more perfect for the holiday as it's cashmere and will keep you super warm!


If there's ever a time to wear a tunic, poncho, or oversized sweater, Thanksgiving is it! This outfit is totally comfortable but is elevated with the boots. It'd actually be a great look for heading out for a drink after dinner or if you meet up with friends while people are in town as well. I love wearing true Fall color clothing to Thanksgiving since it's basically the most Fall day of the year. Mimic this look in anything cognac, burgundy, burnt orange, marigold, and so on.



If you're on the East Coast or anywhere with snow right now, you're probably rolling your eyes at this one. I get it! As a Florida girl though, this look is actually very practical. I tend to get pretty hot while cooking in a warm kitchen all day too, so I like this look for something cute but practical in warmer climates.



This look right here is my comfort zone for Thanksgiving and Fall in general. Comfy booties that your feet are happy in all day long, easy denim, a chunky sweater, and a hat. Every item I'm wearing here is basically on my list for favorites of Fall 2019 and I can vouch for them all. Definitely pieces you could wear to a variety of Thanksgiving vibes and then again and again.


My Florida and Southern California girls, take note of this look. I know for some of us, Thanksgiving means 80 degrees and lots of sunshine. Another great look for warmer weather but with Fall vibes and I always loved a buffalo check print this time of year.


I actually recently shared this outfit from before my London/Abu Dhabi trip so you might recognize it. I featured it on the blog here and it's currently on MAJOR sale, 50% off, HERE! Don't miss it!
OK y'all, I'd LOVE to hear which look is most your style. And, more importantly, I'd be honored to hear a quick snippet about how you spend your Thanksgiving. Do you love cooking all day? Do you hide from the kitchen and go out? Let me know if you're open to it! I hope this post was helpful as you start preppin' for the day, too. xo.