Hi friends! Happy weekend! Whew … this week was a doozy! I feel like it was a productive one with a lot of 'is this real life?' thoughts … re: coronavirus, re: living here in London, re: not knowing if I'll be able to get the boys anytime soon, etc. It was a good but weird week, ya know? Ha! Last week, in the midst of the craziness of the move, I totally let the IG roundup go. I got in on Saturday, meaning to finalize it, and I just … didn't. Ha! I crashed and, as I shared on Monday or Tuesday, my body was just in a state of 'time out' for awhile. It needed rest so, this weeks' IG Roundup includes the last two weeks' worth of IG posts! Enjoy! Love y'all! xo.


"Only those who attempt the absurd, can achieve the impossible." ❤️ BIG NEWS: LONDON IS CALLING!! I GOT MY VISA AND I FINALLY GET TO MAKE MY MOVE! Head to my YouTube channel for a behind the scenes peek at the last three weeks of the journey!


 To be honest, it took me a minute to warm up to this trend. I could only do a neutral but I loved wearing this sweater today so much that I just went and got the matching sweatpants!


If you've been saving for Spring shopping, now is a good time to get a move on! Head to this blog post for my everyday basics and most worn pieces from Shopbop and what has caught my eye!


Actual footage of me this last week after arriving to London! I am so glad ya'll reminded me my body was releasing so much tension & stress and just needed to rest! I re-ordered these shoes again this year because I loved them so much!


This picture makes me miss my longer hair! While the Shopbop sale has come to an end there are still so many great Spring tops like this one to snag while you can!


There is just something about a brand new eyeshadow pallet that makes doing your makeup so much more fun! I absolutely love this one – it is stunning & a great price for all of the colors you get!


I was sad to say goodbye to so many of my denim shorts but these made the cut! I wore them a ton last year with bathing suits or to throw on while running errands!


Thank you for sharing in the joy of this moment in my life. It means more to me than you know! Cannot even WAIT to continue to share my life (and style and ALL the things in between!) with you guys from my favorite place in the world .. my new home!


So many great Spring buys right now! Just remember you don't need or have to buy everything you see! A gentle reminder to look at your budget and determine what needs to be filled in for your Spring wardrobe!


I hope the denim skirt trend isn't leaving anytime soon because I am still here for it again this year!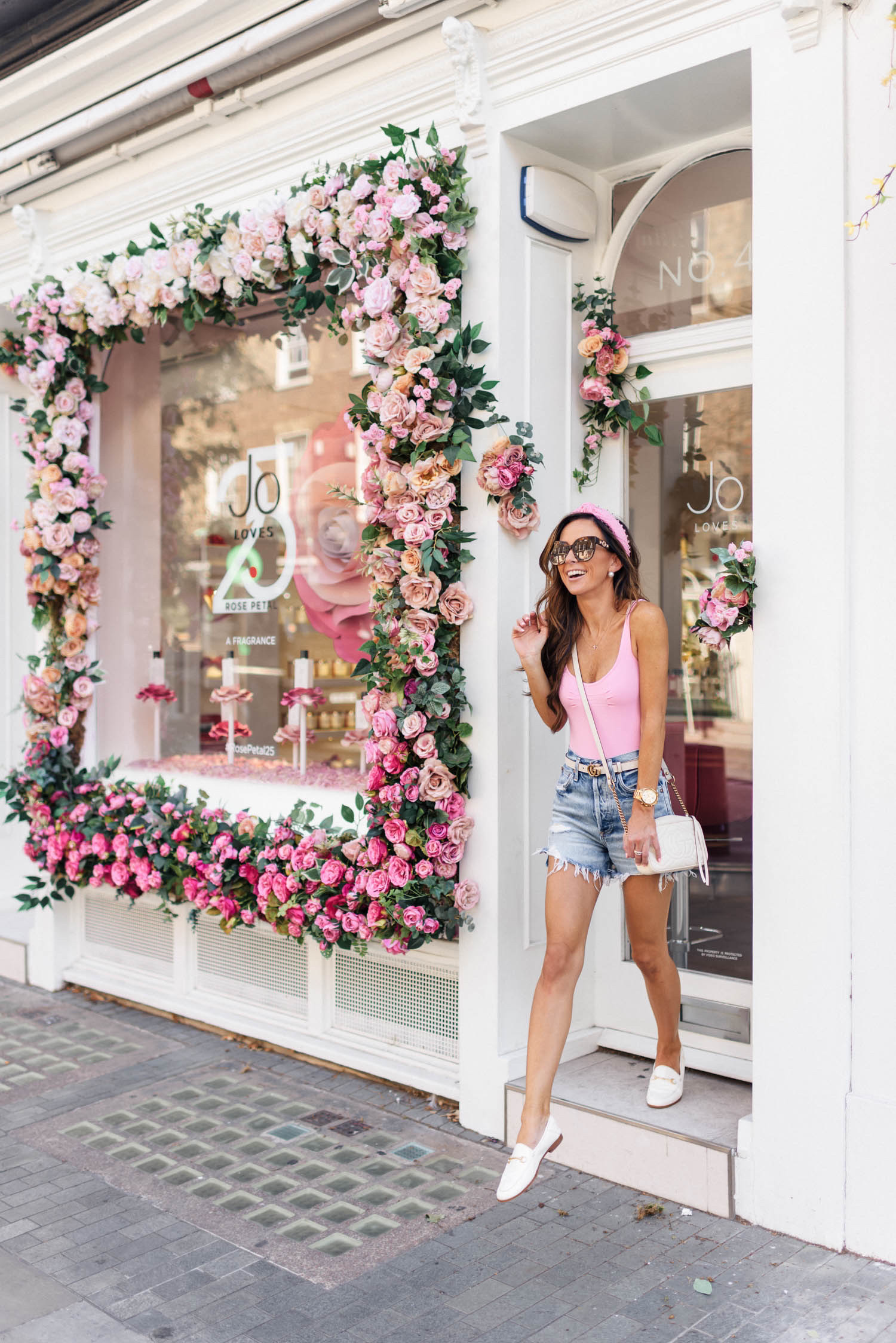 These Spring basics were my go-to last year & I am still planning to wear them again this year!


It was goodbye to the states for me and as you could tell by my smile I was so excited for my trip across the pond to begin a life I have been dreaming about for years! Thank you all again for your sweet words, kind messages & love in general over these last few weeks!


Finally felt like myself today + was able to play catch up in my new office … that gets turned into a CLOFFICE tomorrow and I could not be more excited! I can't wait to get everything out of suitcases!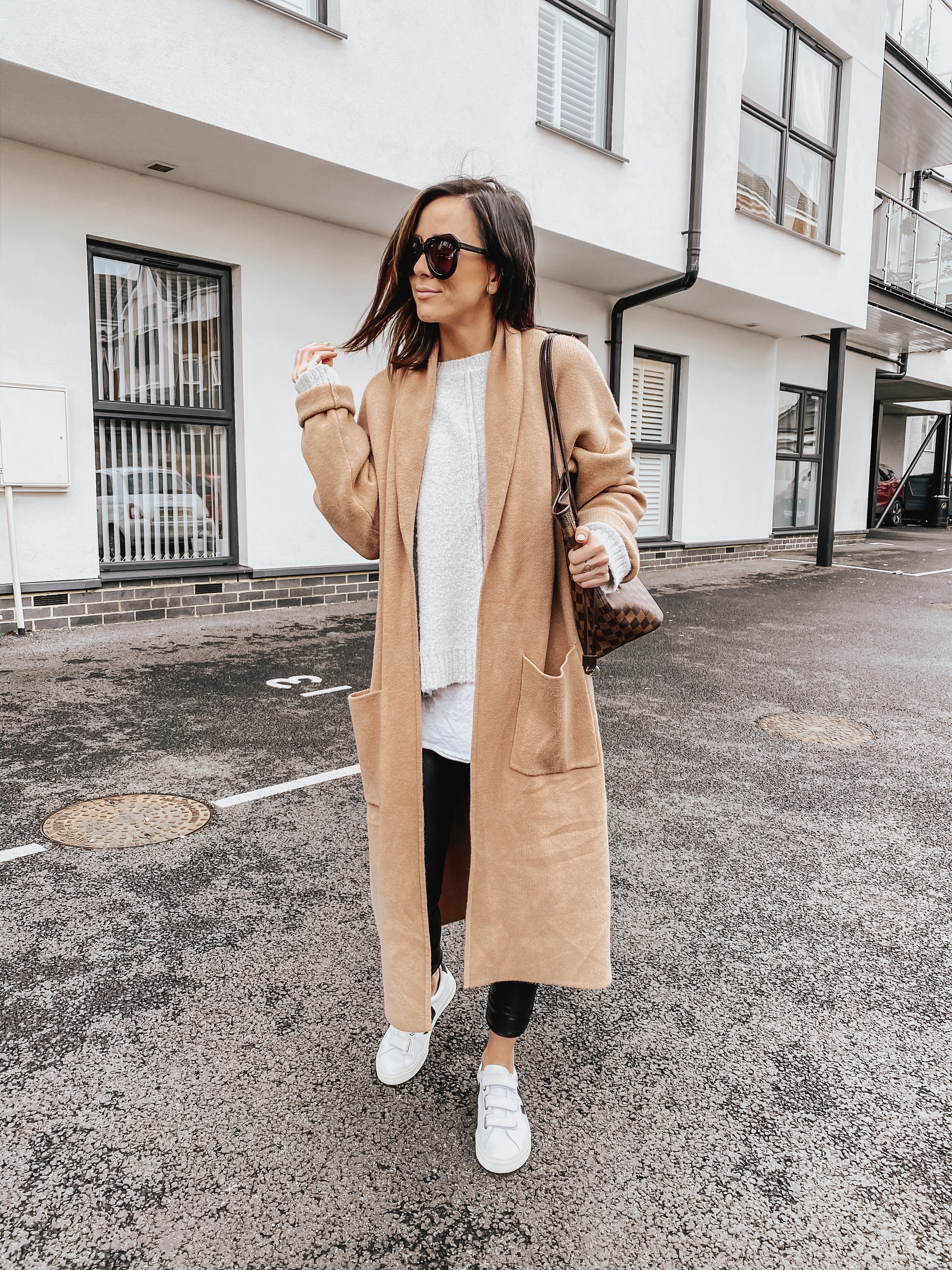 This is my zero-energy, I'm-basically-wearing-pajamas-to-lunch outfit. I thought I might be too short for this coatigan but I don't even care. It is the comfiest thing I've purchased lately and think it'll look even more chic with heeled boots or pumps as it starts to warm up here!


John and I tackled a Sunday at IKEA and came out in one piece! I cant wait to get it all put together so I can unpack and organize all the things! This trench coat is seriously perfect for cooler Spring mornings when you need a light something to throw on but will need to take off as it gets warmer during the day. It comes in three different colors and is under $50!


Put my fingers ferociously to the keys on Thursday and got back to all of the moving to London questions you guys had for me over on this post + shared a where to find some really cute affordable finds for Spring! I found an identical long sleeve pink tee like this one for $11.


Steve Madden continues to surprise me with their shoe game! These Golden Goose look-a-likes are so adorable and almost even more important are so comfortable!


I wore this jumpsuit more than I'd like to admit while packing. It doubled as PJ's, too – it is seriously that comfortable!
This Weekend's Sales
Abercrombie: $30 Off $150 Purchase + Free Shipping on Orders Over $75
American Eagle: 25% off all online-only AE styles!
Anthropologie: Extra 25% off sale
Banana Republic: Friends & Family Event: 50% OFF all reg. price. Code: BRFAMILY
Express: 40% off all jeans
Goodnight Macaroon: 30% off new arrivals with code SPRING2020 
J.Crew: Extra 50% off sale items + 30% almost everything else
Loft: 40-50% off full price styles with code YESSS
Old Navy: 30% off your entire purchase
One Kings Lane: 20% off furniture
Target: 25% off home items
This Week's Best Selling Products
Thanks for stopping by today, y'all! Have a wonderful weekend!! xo.