Hey guys! For all my American readers, I hope you enjoyed a nice long Memorial Day Weekend! And, to my UK gals, hope you guys enjoyed the bank holiday! It's started to really warm up here in the UK and I literally have ZERO Summer clothes being that I wasn't able to go back over to the States and get the rest of my clothes. [For reference, I moved over in March and what was left of my Winter clothes and decided to come back a few weeks later, at the end of March, and then at the end of April to get the rest of everything else … and take care of countless loose ends but then … #covid!] So, over the weekend, I went through my items from recent ASOS and Free People purchases [intended to help me fill these Summer wardrobe gaps] and since I had so much success, I thought I'd share in a little try-on haul!
Now that I've been in the UK for a few months now, I've learned which retailers make sense for me to shop at more often, especially ones that are good for both my US and UK audiences shop from. ASOS is one that I've shopped at for YEARS. They've always been a more affordable destination for me. They're UK-based, have a plethora of size options, and a wide-variety of styles that fit ANY occasion you might be looking for. They also have a US site and it's super easy to order from them. I typically opt to pay for their Premier Delivery. It's a one-time $19 purchase to receive all orders with free 2-day shipping for a year. Since I shopped there often enough in the States, it saved me quite a bit of money! Y'all also know I adore Free People and am so happy they have an EU site that has a lot of variety. It makes me so happy when I find a retailer I love and can continue to shop at here, even if it isn't the most popular here in the UK, ha! They've always a favorite retailer for summertime dressing and you're going to love the purchases I am sharing today!
Keep reading to see how I styled the items I've decided to keep from ASOS and Free People, many of which are perfect for upcoming hot days …
Free People
Full Swing Midi Dress & Seamless Lace Bike Short

First off, can we talk about how cute this polka dot print is? I love it on this swing mini dress and mixed in with the ruffle details and boho fit, it's for sure one of my favorite snags as of late. I will say, however; I don't consider this a dress. Maybe I'm more conservative but I wouldn't wear this without bike shorts or jeans, personally. That being said, I totally love the look with a longer hem short [bike shorts, like these from Free People I love, or even longer denim shorts which are trending]. This item is TTS and also comes in ivory and black – all with the dots 🙂 NOTE: The bike shorts I'm wearing are HERE, they just no longer come in white. HERE is a good alternative option.
Catch The Breeze Midi Dress

I also wanted to share this midi dress that came in the mail last week! I cannot wait to wear this outside the flat! It hits me right at the ankle and I do think this has a versatile length for anyone a bit taller/shorter. It runs true to size. I'm in an XS and the straps cross in the back.
As you can see from the images, I had just taken this out of the packaging and it does wrinkle a bit. Like I do with a lot of my clothing, I'd plan on doing a quick steam before wearing – or hanging it up for a while at the least. HERE is the steamer I've been using since being in the UK and HERE is the most similar one in the US.
Santorini Maxi Dress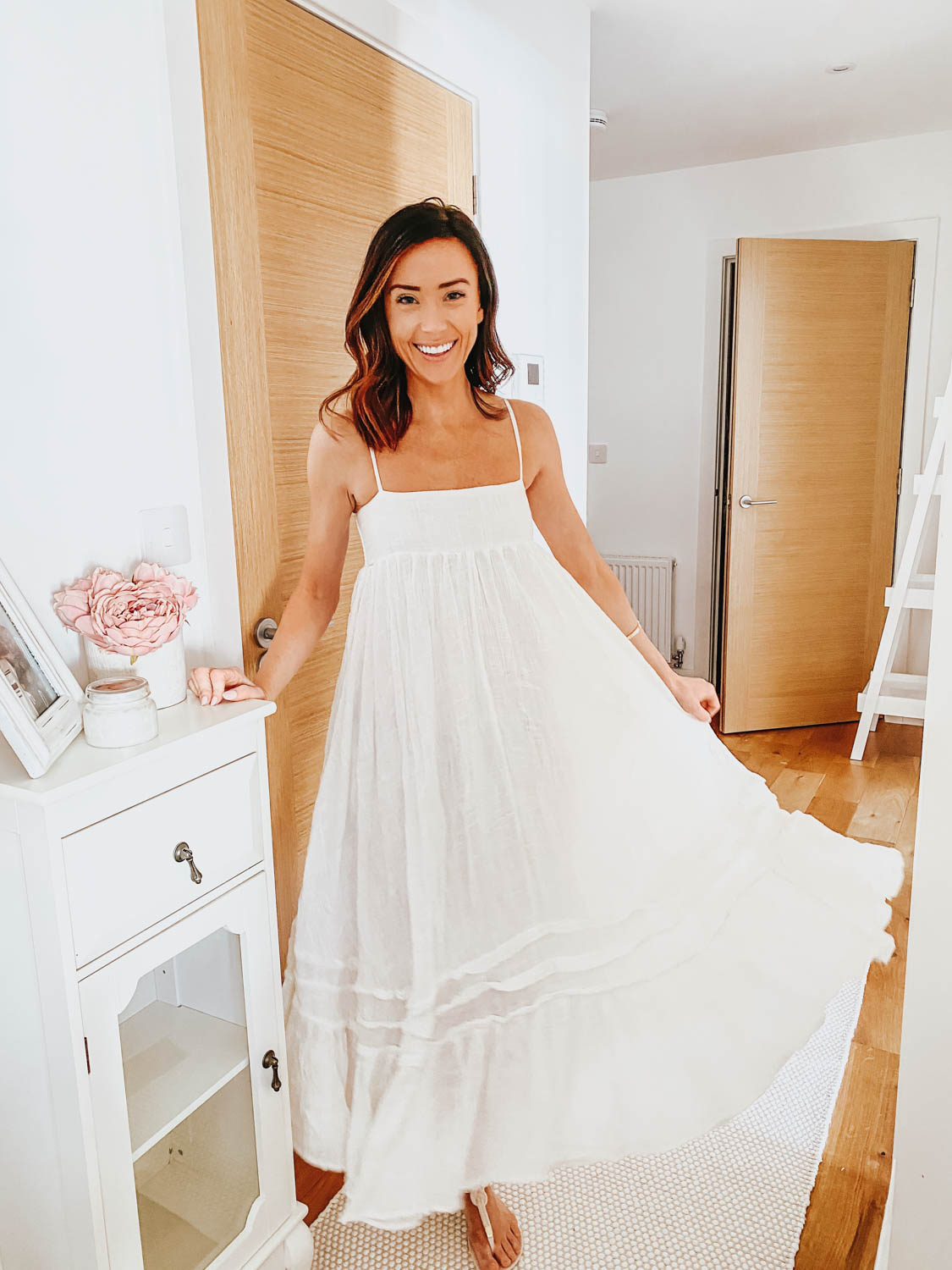 Many of you have messaged me saying this maxi dress is one of your favorite purchases as of late and I couldn't agree more! I mentioned it in my Spring Dresses You Can Still Wear in Quarantine post and have to call it out again since it's on MAJOR sale for under $50. I actually can't believe this is still in stock [mainly in Ivory and Black], but think it'll go quickly now with the sale price.
Cozy Cool Girl Sleep Shirt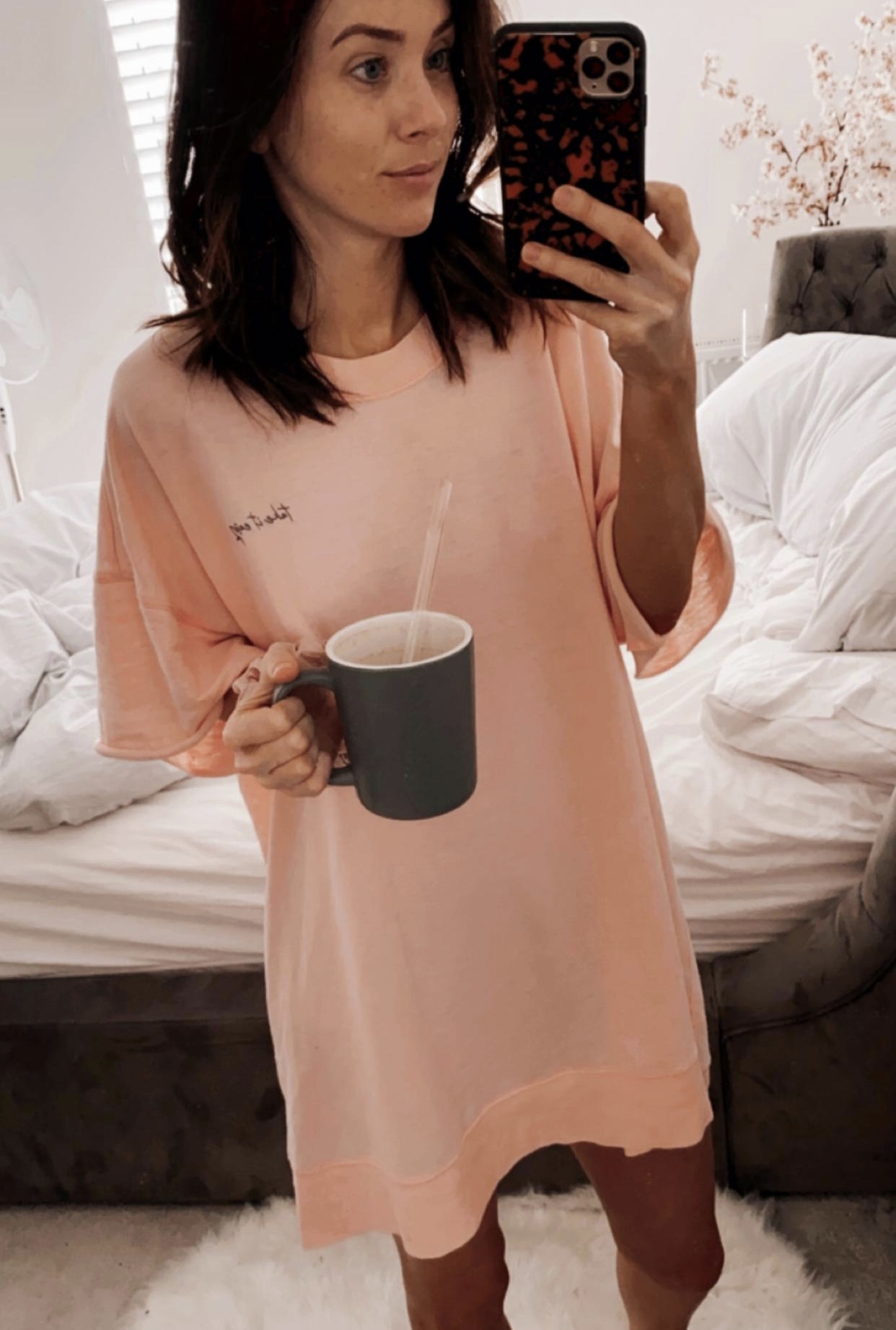 I only had winter pajama sets here in the UK until buying this oversized sleep shirt. I absolutely love the material. It's really soft and perfectly oversized. This one is the neon pink / orange option and it says 'take it easy' on it. Highly recommend for Summer lounging around the house or as a Summer sleep shirt.
Blue Jean Babydoll Dress

Okay so this babydoll dress was one of those purchases I really needed to try on a few different times and wait on before making my final decision to keep. At first, I wasn't sure about the material but after styling it and keeping it on for a while, it really grew on me. I don't have anything else in my closet with this shape and detail and think it's a great on-trend yet comfortable dress for the year! I think it'd be particularly cute with wedges!
Tee Off Bodysuit

This is the kind of bodysuit that I can get behind: basic, comfortable, and versatile. I find that a bodysuit in the form of a regular tank or tee is actually super helpful if it's something you want the 'tucked in look' for since it does the work for you! This tank doesn't drop too low in the front though you can see a bit of your bra on the side so a bralette looks pretty with it. The tank [TTS] also comes in cream and blue and I'm thinking of snagging the cream, as well.
These sandals are from ASOS and the first pair of black sandals I have on this side of the pond. Because I don't wear black often, I didn't want to spend too much so these fit the bill perfectly. I wear a 6.5 and bought the US 7.
Azalea Lace Tunic

Tunics are always something I snag a couple of each season since they are incredibly versatile. I snagged Free People's lace tunic in Ivory [comes in black as well] and can also see myself wearing with it over a swimsuit and cutoff jeans and then with black jeans and booties come fall. It's currently on sale here for $72 so I'd snag it while you can!
U-Neck Tank

If you prefer a more traditional tank top vs. a bodysuit fit as I shared above, I think you'd love this $20 version [TTS].  It might be one of my favorite purchases of the bunch! The thick straps make it work well with all bras and it's that perfect amount of tight/baggy, you know? Not constricting but not sloppy looking either. It comes in just about every color under the sun and I have several since it's such a great basic.
ASOS
Cami Plunge Midi Dress With Blouson T0p

I cannot tell y'all how much I adore this budget-friendly sage green color and midi dress! From the hue to the flattering waist to how breezy it feels on the body, it's a winner for sure. I plan on wearing this on a summer date with John and hopefully to my girlfriend's wedding in September [fingers crossed!]. The good news is that it's a classic fit [and basically a dupe to this beauty I shared not too long ago!] so I know I'll be reaching it for it next year as well. How are you liking these purchases so far?
Cami Smock Jumpsuit With Tie Back Detail

I just had to show the back of this smock jumpsuit because it's darling, right? I can't tell you how perfect this jumper would be after a hot day in the sun or for a park day. I'm all about loose-fitting items like this for summertime and the camel color is very versatile. I plan on dressing this look up with these neutral espadrille wedges which are also from ASOS and are under $50. Both of these items, the jumpsuit and wedges, are TTS.
Soft Denim Midi Dress

One of the most affordable purchases on this list, you know I've gotta mention a denim midi dress. This is darling for the farmer's market or anything casual like that.
Strappy Tiered Maxi Dress

One of my favorite things about ASOS is their custom sizing [they offer everything from petite to maternity to tall, etc]. It makes your purchases almost fool proof once you have found the size that suits you best! Since I am petite, I always appreciate retailers that take different heights and body shapes into consideration since it makes the pieces fit much better. This petite maxi dress hit me perfectly, right at the flattering part of my ankle, which isn't something that happens often. If you girls are around 5'4 or shorter, I definitely recommend this peach pick which I'd personally mix with a bralette. This is a great hot summer day pick and would look amazing with sunkissed skin.
Pleated Midi Skirt

Pleated skirts have been a staple in my closet for years now so I was happy to find this pretty pink midi skirt at ASOS. It's a budget-friendly piece and one that definitely adds some girliness to your closet. I love where it hits on my low calf and plan to wear it as soon as John and I go to a restaurant or plan another day date.
Alright loves, hope you enjoyed this little outfit try-on and styling session and seeing some of my recent purchases. If you'd like me to tackle a different retainer, please let me know where you prefer in the comments. Have a great start to your week! xo.