Ahhh Golden Goose Sneakers. They're one of the most highly-debated items when it comes to fashion, and especially shoes. What's funny about them is they are obviously designer, but other designer items don't get quite as many opinions. I think it has to do with the fact that they are sneakers, and on top of that, most of their designs are "worn in" or scuffed up – making the thought of spending 4, 5, 6 hundred dollars on them hard to justify for some. Which I get! Believe me.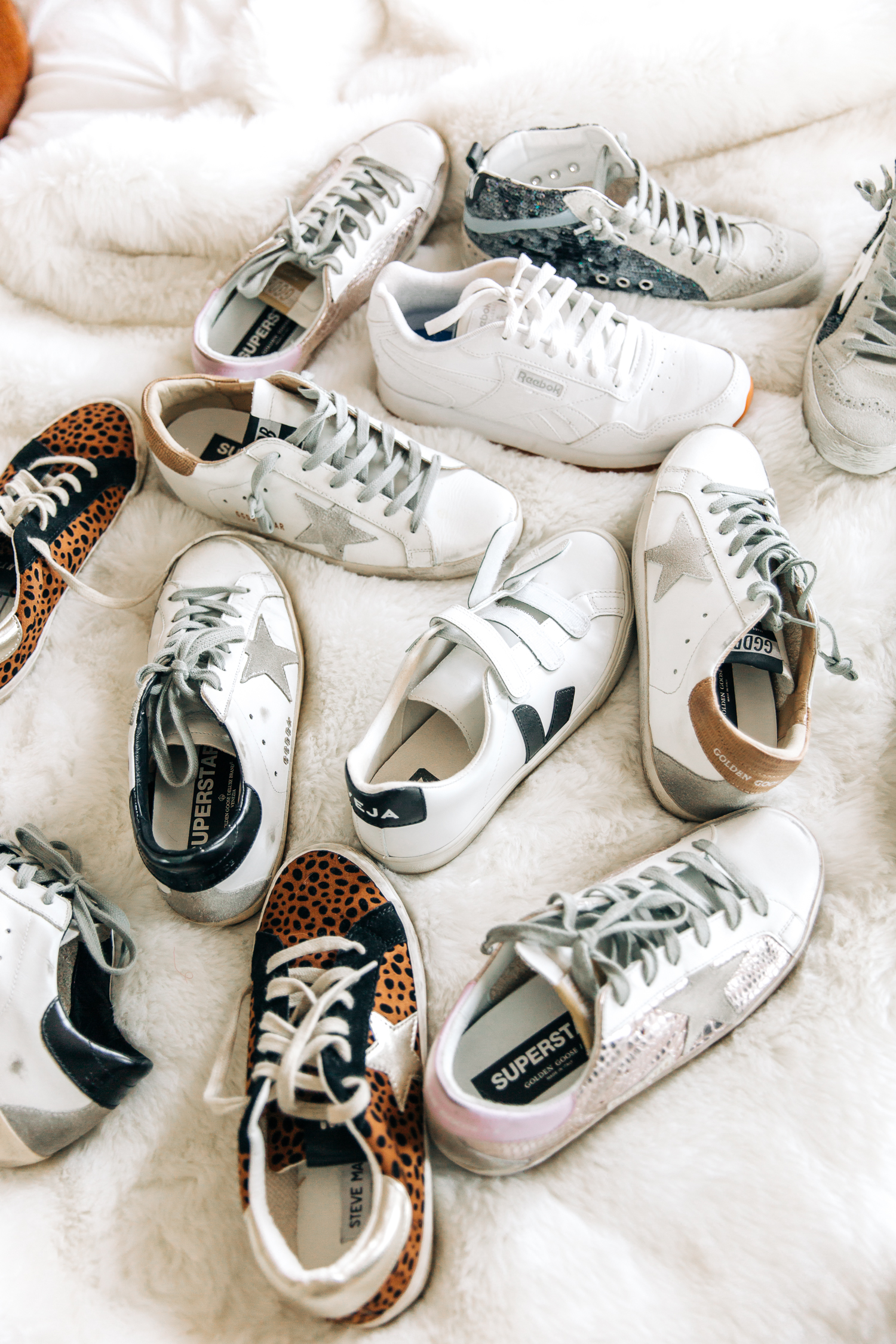 I actually wasn't always the biggest fan of them, or at least wasn't sure I needed them in my own closet. It took me quite some time to warm up to them because I thought they might be too "trendy". They also seemed very loud and out there, style-wise, that I just didn't feel would help justify the price since I tend to stick with neutral colors. But, they do have some neutral options, which I later discovered and that's when things started to shift.
As you've probably noticed from looks like this and this, I've come around. In fact, I now LOVE me some Golden Goose. That's not to say I don't stop and think about it before purchasing a pair, but when it comes to them being worth it, I know my answer. Since they are such a hot topic in the shoe world, I thought it would be a fun/interesting question to answer:
ARE GOLDEN GOOSE SNEAKERS WORTH IT?
My answer? Yes but…
Ha! I know that's not a perfectly clear answer but I promise that it's justified. Keep reading for why my ultimate answer is YES, though it really depends on your situation/lifestyle/budget.
Why I vote YES
• Golden Goose sneakers are some of the most comfortable sneakers that I own.
• I find that they pair well with the majority of casual outfits. They also pair well with slip dresses, midi skirts, or other items you want to add a coolness factor to. Because statement sneakers, in general, are an emerging trend, they make everything worn with them instantly feel on-trend and current.
• The quality is amazing.
• Re: their look – I think they have a 'mildly worn' look, which turns some people off, but I love it because it makes me less nervous about getting them dirty. I want to take care of them and keep them looking nice but they're not bright white and pristine, which makes me feel less worried about wearing them when I travel or out and about day-to-day. If you think similarly, they might be a good purchase for you.
Why I say BUT…
• It depends on your budget, obviously. For some, the price tag will simply not be worth it, if things like bills, rent, or other necessities need to come first.
• It depends on how much wear you'll get out of them. Like I suggest doing with ALL investment purchases, really ask yourself if you would get a good cost per wear out of them. If you're a sneakers girl, you'll probably have a lot more wears out of a pair of sneakers and therefore they might be worth it for you. If you rarely wear sneakers, they might not be the smartest investment for you.
• There are a lot of more budget-friendly options out there that resemble the original Golden Goose sneaker. In fact, I wrote an entire post on Statement Sneakers At All Price Points. You'll see in that post that you don't need to spend Golden Goose money on a similar look if you don't want to. HOWEVER, don't just buy dupes if they're just going to sit on your shoe shelf. If they're not your style, just bypass it all together to eliminate waste and needless donations down the road! Just because it's trendy doesn't mean you need to hop on the train!
So, if you weren't too worried about the bullets under the BUT section, my answer on them being worth it is YES, absolutely. I adore each pair I own, with the classic Superstars being my most worn pair. I love how versatile they are – appropriate to wear with jeans or dresses alike. And, I haven't found a style combo that I think I'll get a lot of use out of yet – but I'm really intrigued to sport the Mid Star, as well. If y'all do decide to go with a pair of Golden Goose, note that you probably want to size up half a size – at least for the Superstars. I usually wear a 6.5 and wear a 37 in Superstars, for reference.
If you're in the market for a pair now, I recommend taking a look at Net-a-Porter and Farfetch. I find that they have the widest variety and carries quite a bit in regard to inventory. SSense is another great retailer to find Golden Goose on aside from the usual Shopbop and Nordstrom.

I hope this quick breakdown was helpful for any of y'all who have been on the fence. And remember – you can always order a pair to try them and see if they work for you. Let me know if there are ANY other questions about them and I'm happy to answer in the comments. Hope y'all are staying safe and sane out there! Thank you for being here. xo.