Happy Friday! We're finally getting somewhere with the unpacking and decorating of our new flat, and so I'm taking a break to share a list of items I know you girls will appreciate: Summer Wardrobe Classics for Less. We can all appreciate a good snag, right?
This list is full of items, all from Walmart Fashion, that rival much more expensive options. I know I appreciate finding a good steal, even more so when it's an item I get wear out of all Summer, and that's exactly what you'll find here. Walmart has such great fashion items and I know we all can appreciate good deals during this uncertain time. I've equipped my Summer wardrobe with the following classics and thought I'd share the rival option I found for each one just in case you're looking to fill any Summer wardrobe gaps your closet may have! Enjoy!
The tee every girl needs in her closet, right? This $8 boyfriend t-shirt seems like the perfect fit and a pocket detail that makes it a bit unique. I like that it's not too long but could also be tucked in if you prefer that. Lots of colors available in this tee, btw!
Y'all know I live in a denim jacket and I've still been reaching for one here in the UK regularly. Throw it over your shoulders when wearing a dress during Summer months or layer it over a chunky turtleneck come Fall … you know the drill. Check out some blast from the past jacket posts HERE.
A true Summer closet essential! I've honestly bought a refreshed style of this eyelet dress every few years for the last decade or so. I'm not sure it's a trend that will ever go out of style. I especially love the scalloped detail and flattering waistline of this option.
I'm a bralette girl most days of the week. Anyone else? I can't get over the $10 price tag on this option that comes in several neutral colors, along with some more colorful options. It looks identical to bralettes I've spent four times this much on, which makes me feel silly, to be quite honest! Layer it under a tank for a bit of lace to show through or under a t-shirt if you want ultimate comfort. Obviously this isn't the most supportive option if you have a large chest, but it's always a good option for at-home wear. Your wardrobe will feel more complete with these as options to grab for throughout the Summer!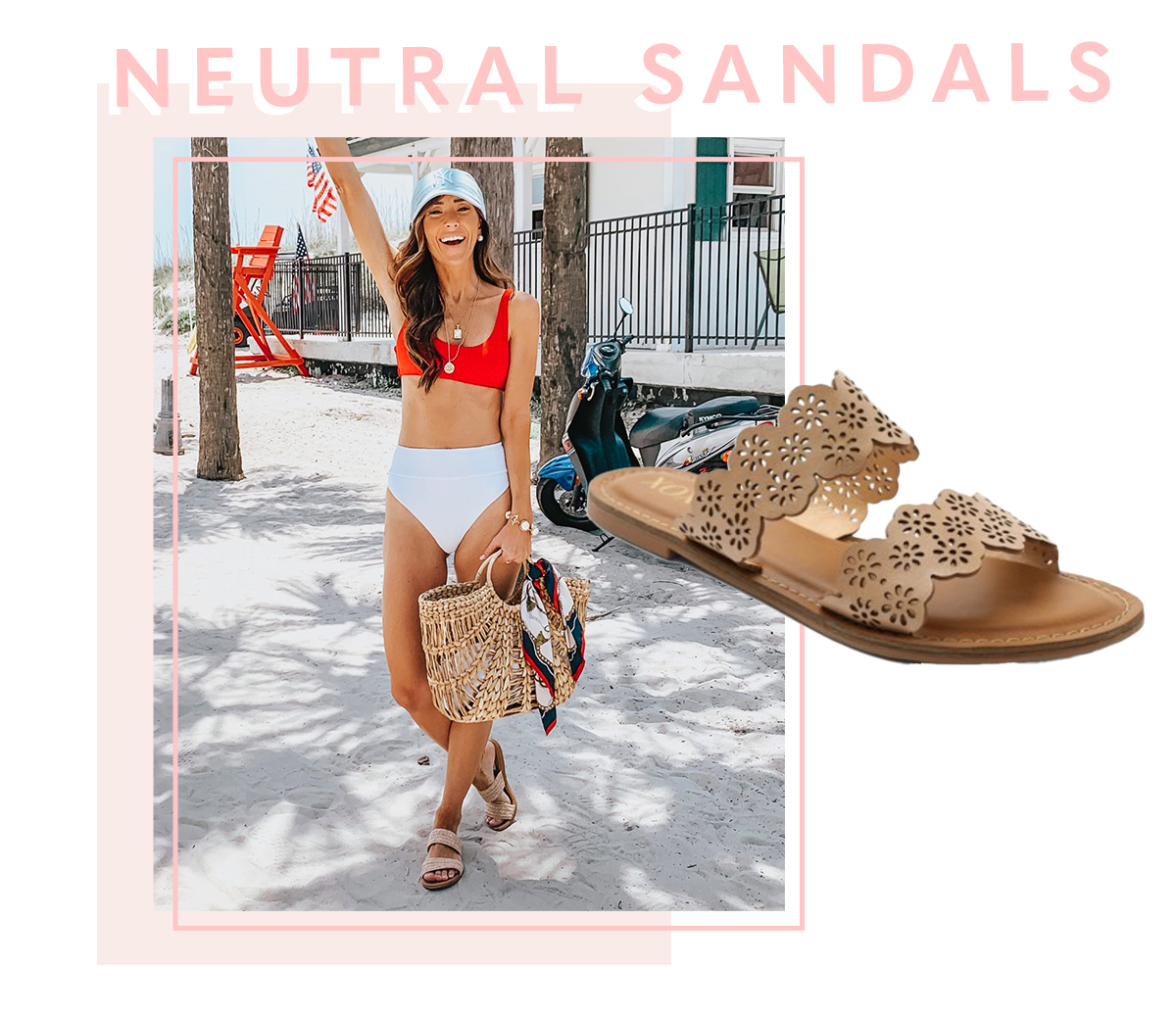 Gotta have a pair of flat neutral sandals on the list. Super cute eyelet detail on this pair, which happen to be selling quickly if you're interested!
Another Summer essential that I look to every couple of years as the styles change. 2020 has been all about the Straw Round Bag and you're going to love the price tag on this beauty! I've seen identical bags go for more than $200 so this is quite the snag.
Y'all have seen me living in a dress veryyy similar to this $15 sundress and I'm officially grabbing this one, too. Do I need it in black, as well? I do, don't I?
I'd say these are one of my most-worn style of shoes during the Spring and Summer months. This pair has an ideal height, giving you a couple of inches but nothing that isn't comfortable to wear for long stretches. They pair well with denim or dresses, and again, always a go-to for me. And how cute is the lace-up detail?! Think I need to add both the black and tan to my cart …
John and I have been making the most of our outdoor patio for al fresco date nights lately which has been awesome. I always like having a few feminine tops like this blush floral peasant top for summer dates or for when I want to spruce up a look with jeans.
Jumpsuits have been everywhere this Summer and for good reason. They're easy – a full outfit in one piece. They're flattering – always look for a cinched waistband or a tie like this number has! And … they're comfy! I've been pulling them out of my wardrobe a lot lately because London's summer is a bit more mild and it feels the most comfortable, in my opinion. I also love that you can dress them down with sandals or dress them up with wedges, like maybe the espadrilles I mentioned earlier!
These are a pretty & feminine way to take your hair from basic to something more. Tie around your head like a headband or to hide a hairband in a ponytail. This set is $12 for 2 which you just can't beat, ladies.
Another obvious pick and Walmart has this darling option for $25. I'm reaching for a wide-brim even more so as I get older and more conscious of sun damage, so you can find me in this often.
Alright girls, I hope you enjoyed those Summer wardrobe essentials for less. I personally love finding budget picks that are a similar duplicate for more expensive items, and I assume you do, too. Let me know which is your favorite on the list, and have a wonderful weekend! Thank you for supporting me, as always. xo.