Hey there, friends! It's that time of the year again – the Nordstrom Anniversary Sale is now underway for Icon members! If today isn't your shopping day, you can certainly get in there and start making your Wish List if you haven't already. Let me tell ya – that is making it super easy for me to shop my personal picks, which I think I'll be sharing with you guys tomorrow here on the blog! Alright, without further adieu, let's get to some of the picks that I think will be some of the most popular and potentially the products that sell out the quickest. Simply click on the item you'd like to shop to be taken to Nordstrom's website!
This Barefoot Dreams blanket somehow didn't make the style board but, girl, you better believe the stone / cream one will go fast!
If shopping through widgets is easier for you – here ya go!

Top Sweater Picks
One of my favorite departments to shop is the sweaters because the Fall season will be upon us soon and who doesn't like to go ahead and stock up on some cuties for less?
I thought I'd share some of the ones in the style board above styled because I know that can be helpful! This sweater I wore in THIS blog post last year was a favorite of yours and mine so I was really happy to see it available during the sale this year! This turtleneck sweater was also a major hit last year but it sold out before public access so I'm glad to see it back, as well! A similar leopard cardigan [to the one you see below] is available this year thanks to Barefoot Dreams and you can snag it in one of three color combinations!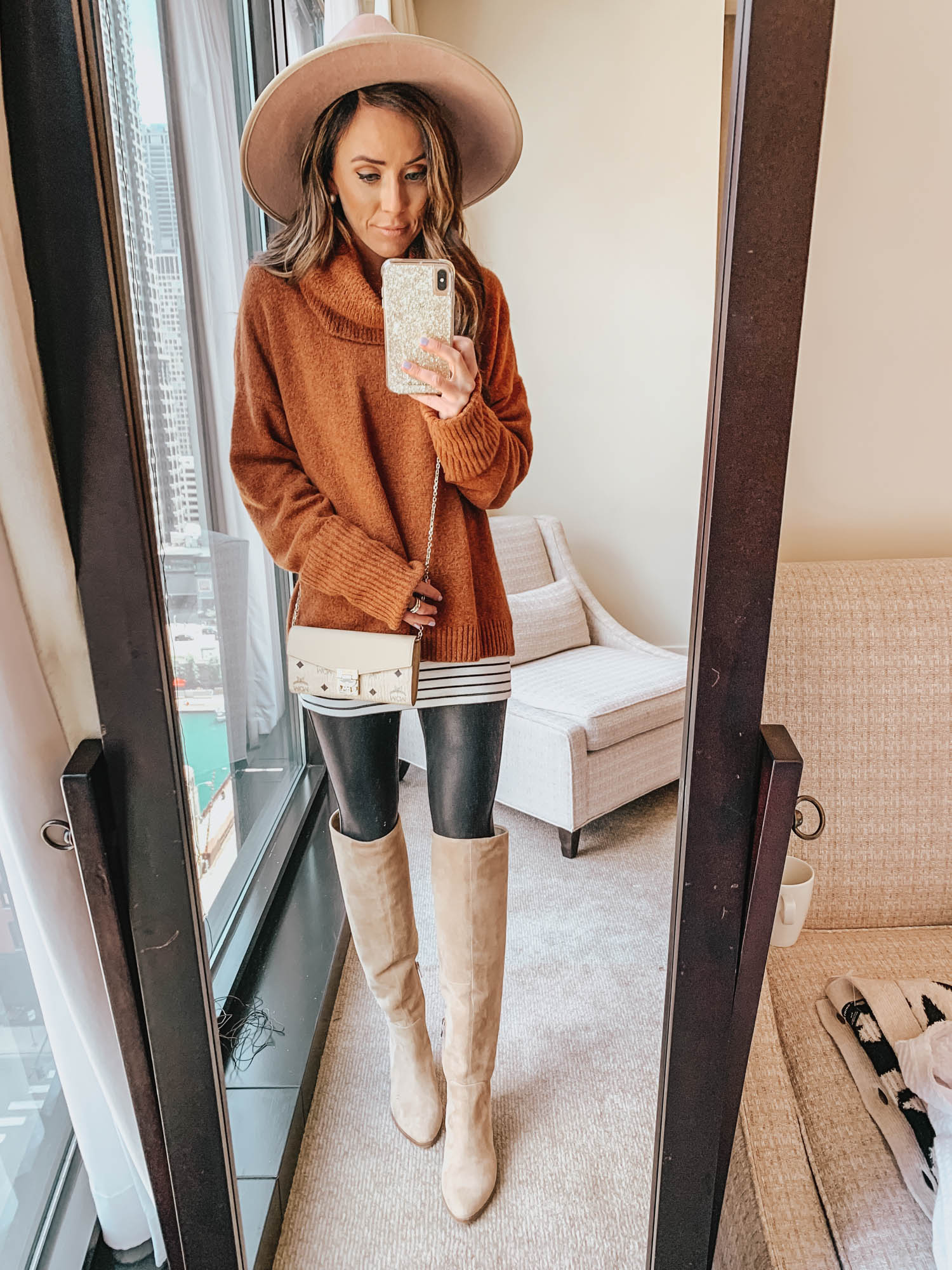 Top Outerwear Picks
Outerwear is another department that I hit hard because, I'm sorry but, outerwear is ridiculously expensive so why not try and find something cute for less? This years' outerwear picks really impressed me so I hope you like the ones I chose.
It's a great time to snag a moto jacket. They're great at adding an edgy vibe to an either super casual or dressy outfit! I personally think a black one [THIS is a more affordable one] is a MUST but, it's all about what you think you'll wear the most! Since I tend to wear a lot more lighter colors, I'm particularly drawn to THIS one and THIS one this year.
I styled my black moto jacket in this blog post and it's still one of my favorite looks over the last year.
This Patagonia jacket got SO much use when I went to Maine last Fall and will likely be my go to for mornings outside with the boys coming up in a couple of months. THIS one is super similar to the one I got – it's packable, white and has a detachable hood! It's also a great time to snag a blazer if you're wanting to spice up your Zoom calls. I personally love THIS one.

Top Shoes' Picks
These booties are back this year and I couldn't be more excited! I bought them later in the sale but they ended up being one of my favorite purchases. They go with so many cute Fall outfits and are currently here in London with me so you'll see me continue to style them throughout the upcoming Fall season, as well.
Neither of these cognac boots are the ones featured in this years' sale but they give you a visual as to what they could look like on and how you could style them throughout the fall and holiday season. Check out the first photo in today's post to see the full outfit for the image on the right. THIS pair is available during the sale for under $100 and look so similar to these!
Of course, there are so many other great shoe options to consider based on your needs. I have been getting so much use out of my Stan Smith's over the past couple of months' and am tempted to get the all-white pair. They are seriously so comfortable and look so cute on! I also wear this pair of Veja's all the time – they're just a different color combination! And, I'm really tempted by these beige croc heels! I think they're so so cute!

Top Basics Picks
Okay, now on to the department where we can all find at least one thing that we need because let's be real … we have ALL been living in basics since March and I'm thinking some of them need a little refreshing! And, if one thing is for sure, Nordstrom knows how to do basics!
Grab a pair of joggers [also love this pair], a new white tee [my long sleeve pick is HERE [styled above], my short sleeve pick is HERE], some comfy bralettes, and an around-the-house cardigan [the one I linked is the MOST like the beige one you always see me wear all the time on stories; i'll show you today!].  I also recommend snagging this top in black & white stripe to wear under shorter sweaters in the Fall season. I do this all the time and always get questions about this top. I'd also recommend a flowy long-sleeve top to wear over leggings with a cardigan, like you see below, because I just feel like they're the most comfortable things ever! Loving this one that they're offering from Free People this year!
If you've never snagged a pair of faux leather leggings by SPANX – I think now is the time because, it will do you good to get out every so often and these will go well with everything as the months go on and the temp's start getting cooler!

Quick Beauty Picks
This year, they included a lot of my everyday beauty items like my tanning mousse, curling wand [miss it so much!], favorite mascara, GHD straightener, dry texturizing spray, and the NuFace device! I use this Riki mirror everyday to put on my makeup and is amazing for holding your phone to do tutorials or to talk to your friends while getting ready. If you've been wanting to try Olaplex, now is a great time to snag their ultimate trio! I just ran out of their shampoo and conditioner and am needing to restock ASAP. I also highly recommend this Kate Somerville product. It's one of my favorites when my skin really needs some TLC in the form of exfoliation. I will be going into a MUCH deeper dive into the beauty department next week so be sure to stay tuned for that. I am actually

Top Activewear Picks
If you're needing to update your at-home workout wardrobe, the Nordstrom Sale also has quite a few cute options to consider.
I've personally loved this sports bra that is available this year as well as my go-to alo leggings. This year the color options for the leggings are different but I can imagine the quality is the same!
Top Denim Picks
Denim is always one of the first departments I take a look at during the sale. The board below are the ones that originally caught my eye and seem like they'd be so cute on. Many are under $50, as well!
I kept going back and back and back to figure out if I needed / wanted any denim and ended up going with this pair, this pair and this pair – none of which are even on this style board – but I think it's hard to see everything the first time you glance at everything.  One pair that I definitely want to highlight is THIS PAIR. You can see me wearing them HERE [from my trip to Vermont in 2018]:
These jeans seriously hug you in all the right places and I seriously wish I still had them but, sadly, I wore them into the ground and had to say my goodbyes. At the time, I couldn't buy another pair so now I'm wondering if I take advantage now? I think I'm good … but they ARE so darn cute!
Top Home Picks
This is probably the department I want to shop the most but it just wouldn't make sense to ship some of these items to me due to weight or bulkiness. But, let me tell you … the home department is brimming with so many cute things, like these cuties:
And, I didn't see this when I pulled all of these products for the style boards but … I just saw yesterday that our SMEG toaster and kettle are both included in the cutest rust gold color! I honestly love it so much better than the black that we have.
Top Loungewear Picks
This is probably the category I ordered the most from as you can see from THIS post because, well … while I now live in my dream city, life is just weird thanks to Covid so most of my time is spent at home. I basically live in joggers but I literally only have one pair I love so I was determined to snag a couple more that would rival them. Here are some things that stood out to me.
An UGG robe is never a bad idea. I had three in Jacksonville, one of which I moved to London with me.
You also cannot go wrong with this pajama set that is available in black and a few other color options. If you'd prefer long pants instead of shorts, you can choose from this set or this set and you'll get the same quality and comfort!
Top Beauty Picks
These products are some of my holy grail beauty products – like the Oribe dry shampoo, T3 curling wand, and Viktor & Rolf 'Flowerbomb' Perfume.
Top Accessories Picks
The accessories department has SO many cute things! I snagged these sunnies, this baker boy hat, and this cute pendant necklace!
Also, don't miss my favorite straw hat, ever! I've literally worn it on a ton of my trips and is perfect to wear to a socially-distant happy hour date outside with a friend.
Alright, ladies! For now, that's all I've got for you but I do have a few more style boards for different departments to share later today. I'll add them into this post and into the LTK app when they're ready! If anything, this blog post can serve as a tool for you to use whenever you are ready to shop! Thank you for your support and shopping through my links. I always always always appreciate that, especially this year! Be sure to enter for a chance to win a $500 gift card giveaway below. Winner will be announced in Friday's blog post just in time for Ambassadors to shop!
Alright, I'll see y'all on Stories in a bit to highlight a few items I've had for years [and purchased during Nordstrom sale] and continue to get so much use out of! xo.