Hey y'all, happy Friday! It has been a beautiful week in London, and while brisk, I'm loving every second. I've said it before but it really is such a breath of fresh air [literally] from the Florida weather I lived in for so long. I obviously loved my little beach town and sunny days, though I was excited to take on seasonal changes here in London, including all things outerwear!
Outerwear is definitely a "thing" here in the UK, and I'd say it's the best place for inspiration when it comes to looking chic while layering. Over the years I've taken note on how to style jackets and coats, and now that I'm actually a Londoner, I'm figuring out which new outerwear pieces I need to add to my closet, what items don't make sense for me, and what older outerwear pieces of mine are still perfectly relevant.
Shop all of the outfit details for today's outfit here:

As I go through what's needed in my closet along with what's out there in terms of outerwear options this season, I found some really amazing pieces. Since I know y'all are also in the market for coats and jackets [based on DMs I've been seeing], I thought it'd be nice to do a full outerwear roundup. I'll cover where I shop, some new favorites, and some older outerwear that I still love … but first, a Mini Guide to Outerwear this year! You'll see lots of classic options, like wrap coats and trench coats, and also a few "trendier" pieces like a plaid shacket and vests!

My Favorite Places To Purchase Outerwear
J.Crew
One great thing to note about J.Crew is their inclusive sizing for all different body shapes. They also tend to offer a vast variety of colors per style which is fun [lots of bright colors and also neutrals based on your preference]. Most of the outerwear I have from J.Crew is more of an investment, but classic, quality pieces that I know will last for years…and have! Oh and I also tend to grab my puffer vests and blazer options from J.Crew, as again, they're always more of a classic item that I know will last.
Abercrombie
Is it me or has Abercrombie totally stepped up their game in 2020?! It's always a go-to for me now and I can confidently say they have some amazing outerwear pieces right now. I love that they have both classic and trendy styles with a variety of size options.
H&M
H&M is another retailer that is blowing me away this year, and especially for fall / winter. It is the best place for chic and affordable styles, hands-down. I wouldn't say the fit is always on point but sometimes you luck out with one that fits you perfectly.
ASOS
Especially now that I'm in the UK, I've been turning to ASOS more since the shipping is affordable. It takes a while to go through their vast inventory but it's worth it! Always a great place to look for affordable styles that are super on trend.
New Favorites: Reiss and & Other Stories
Reiss and & Other Stories are two retailers that are popular here in the UK that I didn't become familiar with until I started coming to London more. Reiss is a much more premium retailer and, therefore, the items you find there are going to be much more expensive than most of the retailers already mentioned. However, I do know that they are well-known for the quality of the products they sell and have a very good reputation here in the UK. I personally have purchased this coat this year and can't wait to sport it! & Other Stories is much more affordable but has some really classic and stylish pieces to consider. I snagged this one included in the style board above!
Outerwear I Still Have & Love
J.CREW COCOON COAT – The cocoon coat is probably the MOST WORN piece of outerwear in my winter wardrobe. It is the easiest to throw on over almost every outfit – whether casual or dressy – and fits perfectly over the chunky layers we all pile on. I'll let you know when they go on sale this year but this color [sandstone] IS back this year so don't miss out! I'm wearing a petite 00.
[LEFT: outfit details here | RIGHT: outfit details here]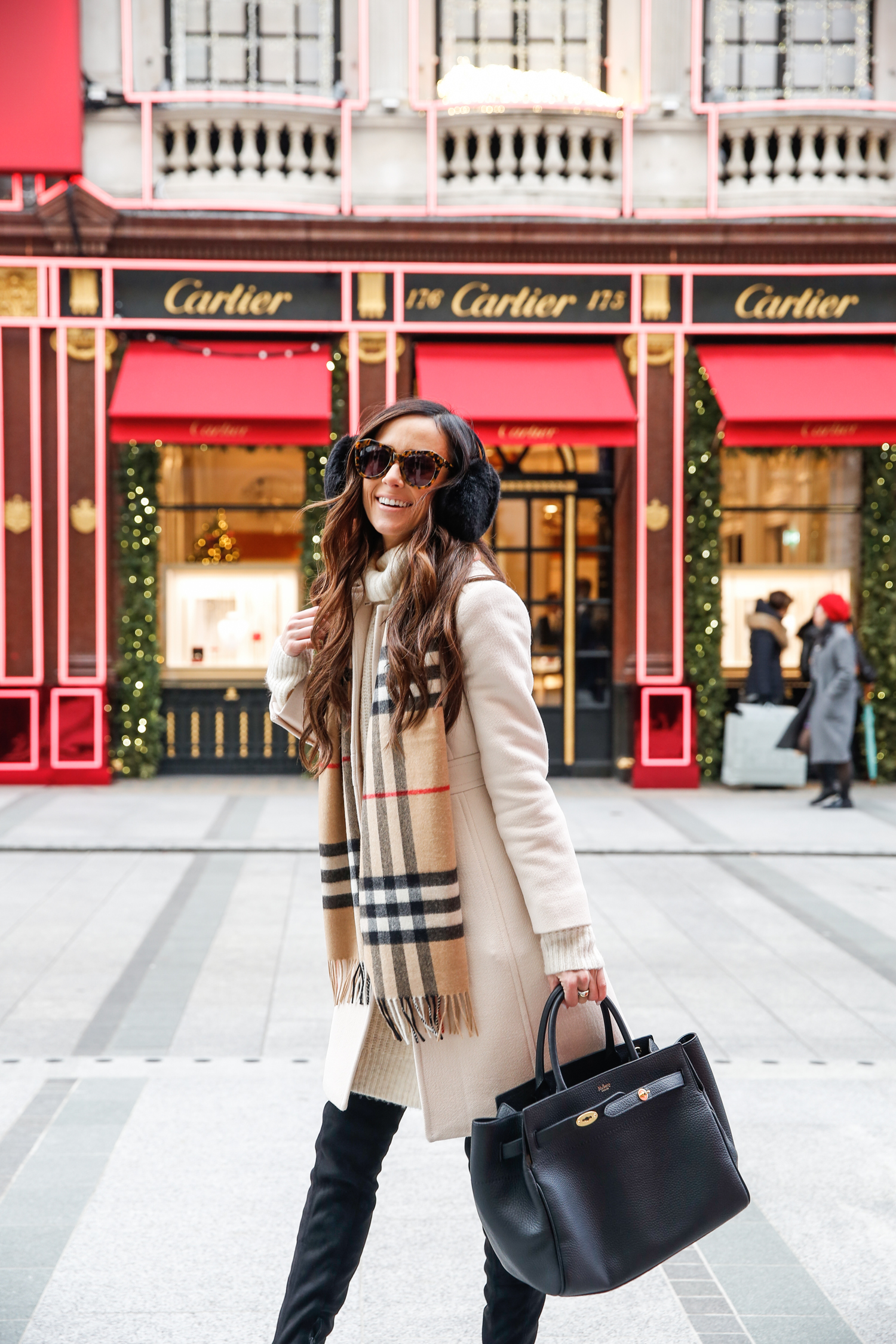 J.CREW LADY COAT – This is one of those timeless coats that you just have to have in your wardrobe! It goes perfectly with dresses during the cold weather months and never fails to keep me super warm! I'm wearing a Petite 00 here. I have it in cream and black and find those two colors are the ones I knew would get the most use and would be in my wardrobe for years. It's currently 40% off this weekend, as well!
[outfit details here and here]
ABERCROMBIE PUFFER JACKET – I got this puffer jacket last year and loved it so much I got it in the faux leather option in beige. I think that one will get a lot more wear than the pink and am absolutely loving the quality of the faux leather. It doesn't look cheap at all and I am seeing that they have released so many additional color and material options to consider! The price is a little steep so I'll let you know when I see it on sale! I went up to an XS to give myself some room for thick sweaters.
[outfit details here]
ABERCROMBIE 3-IN-1 MULTI-WEAR FAUX FUR HOODED PARKA – This is what I grab when the weather is a little temperamental or could become questionable! I love the faux fur lining — especially now that it's a darker, cognac color! This is the one I bought last year but the updated one is linked there for you and they're essentially the same. I'm wearing XXS.
J.CREW TEDDY SHERPA COAT – I literally feel the chicest in this coat! It is so cozy and provides you with so much warmth! I am wearing an XXS Petite here.
[outfit details here]
Alright, friends, that wraps it up! Hopefully that was extensive enough to cover any questions but as always, don't hesitate to reach out with any questions! Always happy to share more. Also, stay tuned for styled photos of some of the outerwear pieces I featured in the style board above because some have arrived, I just need to get some photos shot of them styled! I'll try to remember to hop on stories and review them so you can see each one and get their specifics! xo.