Happy Wednesday, friends! I hope everyone is having a great week so far! Is anyone else excited about the holiday tomorrow??
One of the most fun and joyous things that has come out of this holiday season so far is being able to shop for baby boy. If you would have told me this time last year that I'd soon be shopping for my first child, I would have told you you were crazy! But it's 2020 and anything is possible, hah! Which brings me to today's post!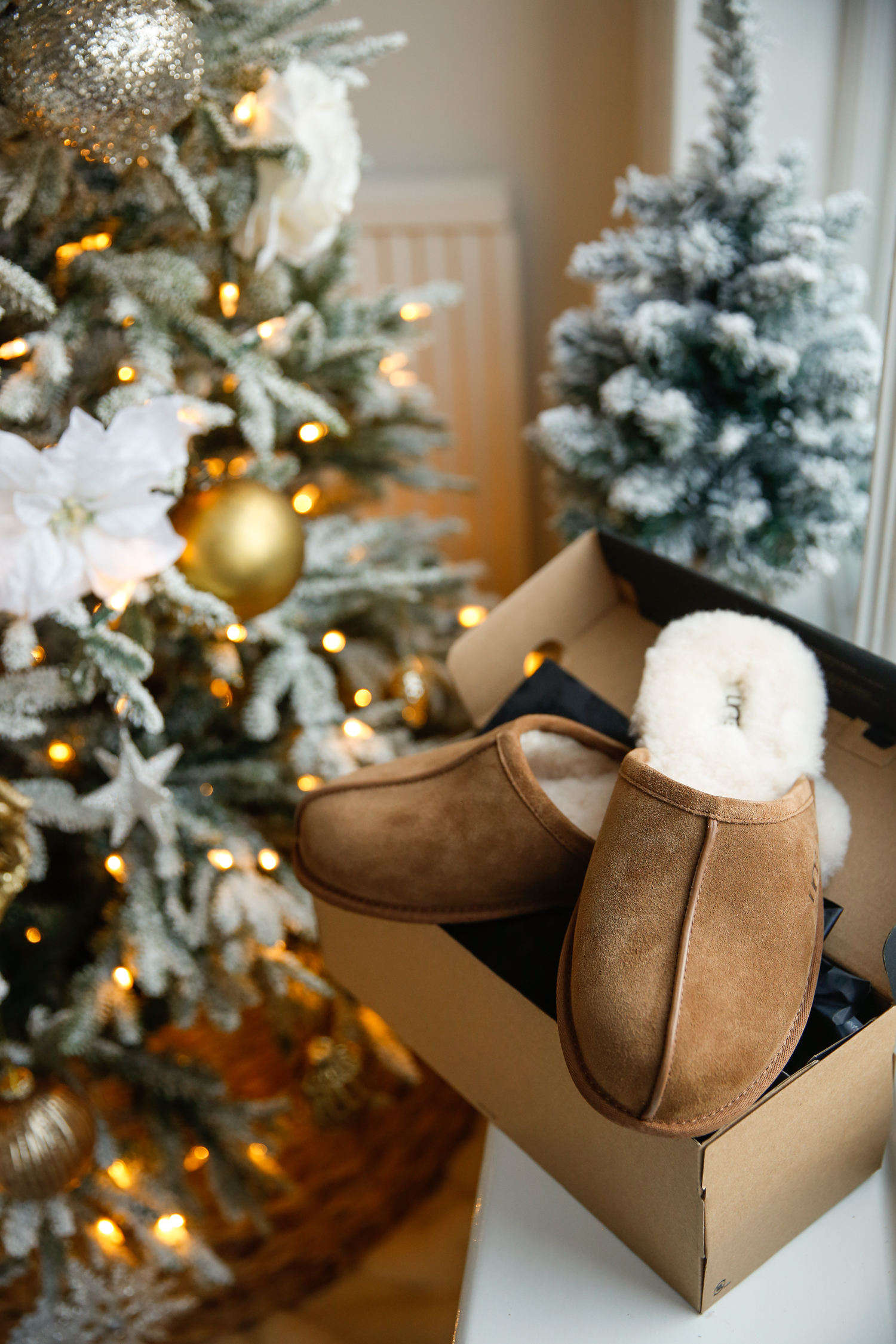 UGG boots and slippers have been part of my wardrobe since 2006 when I was so proud to buy my first pair on a trip to Colorado with my family. I've since had multiple pairs of boots and countless slippers! Last year, when John mentioned he needed a pair of house slippers, I knew exactly what brand to go with for him! I snagged him this pair from Nordstrom before I left for the UK and he LOVED them. He probably loved them a little too hard, though, if I'm honest. Poor guy has worn the inside down ALL THE WAY [which I blame on being home so much this year!] so, I recently ordered him some as an early gift for this year, too! [After I called it out he was like 'well now I can't wait until Christmas since they're sooo worn down!' Hah! Doesn't everyone want their loved one to use the gift you get them that much? I know I do!] Anyway, he requested the Scuff Slipper in cognac again and is so happy to feel the fluff and warmth again.
But what's extra special about this year is baby boy is getting his first pair, too! Yes, even before he gets here! When I found this baby pair on Nordstrom's site, I mean … can you blame me for not being able to resist? I'm dying over how cute they are and am just so incredibly excited for there to be three of us – to have a little one to share in all these fun moments between John and me and add to them!
I rounded up so many wonderful styles for the whole family to enjoy below. If you order soon they will get here in plenty of time to enjoy all throughout the holiday season. And if, for whatever reason, they don't fit you or someone you bought for, Nordstrom makes returning so incredibly easy and fool-proof!
I know it's a crazy week of shopping, so if you are in the market for a fantastic pair of slippers, or know a wee little babe who could use a pair, I can't recommend UGG enough. Nordstrom has such a great selection and the quality is unmatched, which is definitely a reason why I've been loyal to the brand for 10+ years.
Stay tuned for pictures of baby boy in his first pair of UGG's next year! Are you gifting UGG's to anyone this year? If you haven't already, be sure to check out this year's gift guides on the holiday page for more gift ideas! xo.