Hey there, friends! I can't believe today is the last day of January already. January always feels like one of those months that lasts forever but also blows by so quickly. I don't know, my internal clock might just be in overdrive right now because baby boy is going to be here in just five short weeks. What?! I'm trying not to stress, but also… kinda stressed, lol. Anyway, today's post is all about rounding up some of the month's most popular Instagram posts, especially those that have sales going on!
Also, one quick note, I'm really trying to make an effort to serve my UK girls more so you'll notice I also included UK links below. So, if you click on something and it takes you to a UK website, just come back to the post and click on the US option … or simply switch the site to the US one. It might even do it automatically. Ha, I seriously wish every website was set up the same so it wasn't so confusing. But, UK girls, I hope this is helpful!


This bump-friendly look was a popular one this month with the dress [uk link] making it into the top 10 best sellers from January. It's currently on sale for $30 and still available in most sizes so I'd be sure to snag it!


Very much in love with this quilted jacket [uk link]. I'm wearing the Champagne color and it looks like it's still available in quite a few sizes but, if this one doesn't suit your fancy, there are quite a few other options!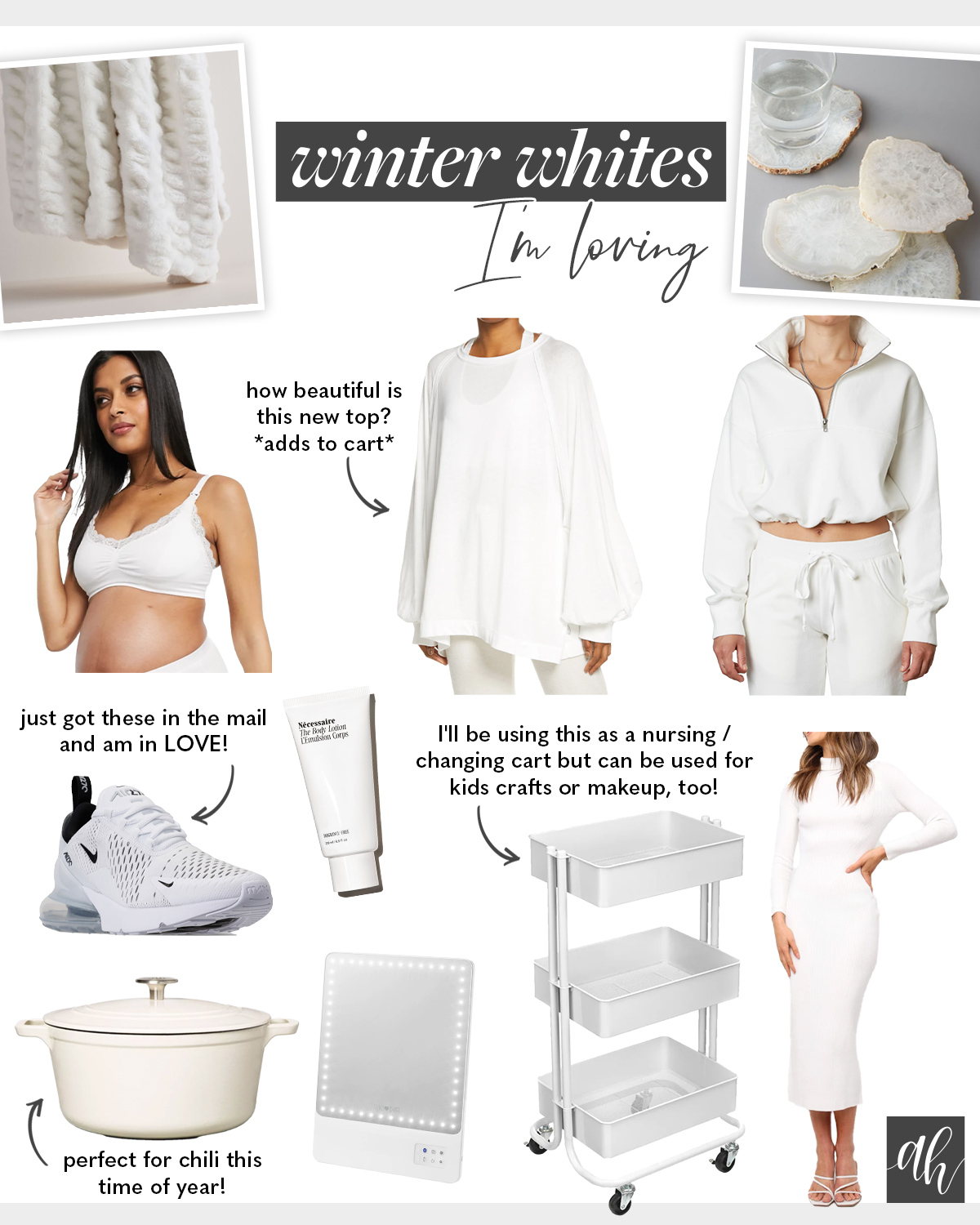 I've always been a fan of soft neutrals, but lately, it's the winter whites for me. From this dress [use code HALEY20 for 20% off the entire site], these gorgeous agate coasters and even down to my nursing bras [uk link] – very into white right now!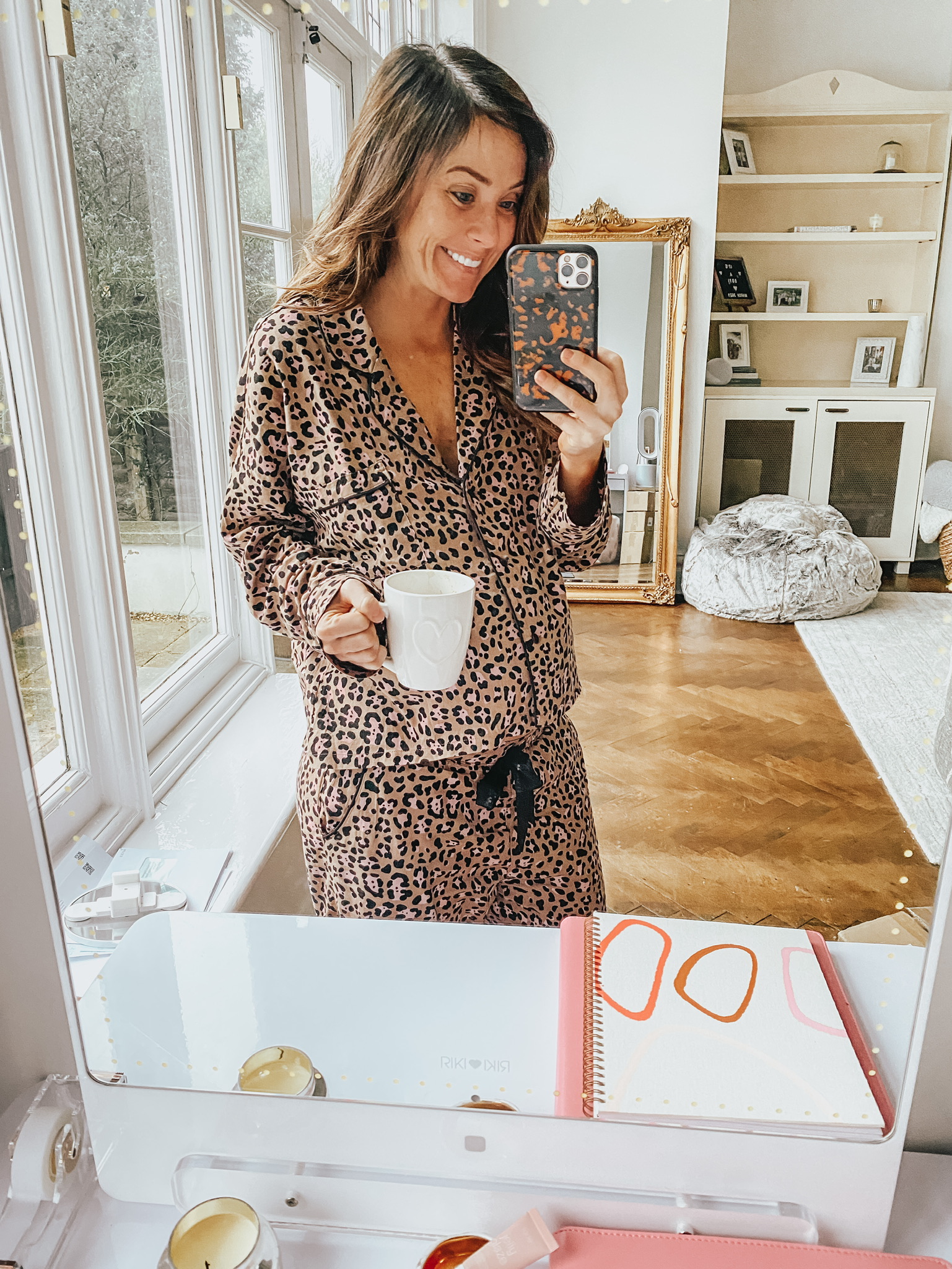 Can't help but laugh a bit at my belly hanging out the bottom of my top. Unless something is really oversized, this is how most of my clothes fit me these days, lol. Absolutely LOVE these pajamas though, especially for the price!


John and I are all about the afternoon walks these days and this is my go-to outfit nearly every day: joggers, a sweater layered with a jacket, a beanie and my favorite everyday bag [uk link].


I shared this roundup on LTK this month because so many of the items I wore weren't specifically maternity, but just bump-friendly so I didn't want you girls without a bump to miss out!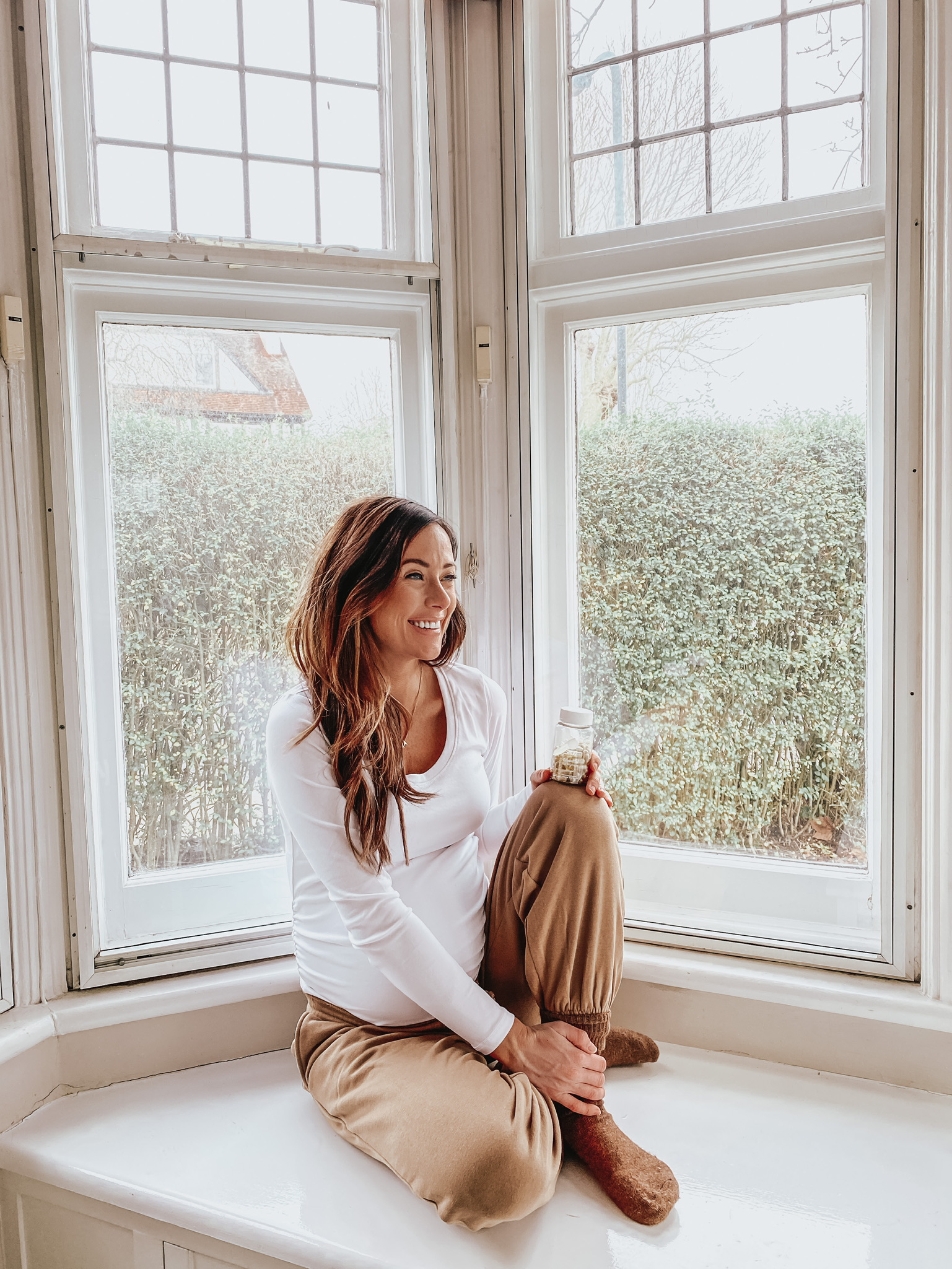 The best under $20 joggers [uk link] out there and available in so many colors! Also living in this long sleeve maternity tee [uk link] you can snag for $15 – by far my most worn top right now!


Something tells me you're going to be seeing A LOT of this top in the next month. It's not maternity but is very oversized so I recommend sizing down!


Finally shared some of what we've ordered for baby boy's nursery [which also doubles as an office and gym for John, but that's another story]. Hoping to snag everything else I need in the next couple weeks as I'm kinda running out of time! Head to THIS post for more info!


Another snap from our afternoon walks and me once again layering an oversized sweater with a jacket. It snowed in London last weekend and I was so excited we immediately went to the park by our house for a stroll. Definitely a highlight of the month! This puffer coat [uk link] kept me super warm and is on sale!


Really love these photos John snapped of me in baby boy's room a few weeks ago. This dress is honestly a pregnant woman's dream, however, I think it might be sold out so I linked some very similar options here.
Thanks for stopping by today, y'all! I hope you enjoy your weekend, staying safe & healthy! xo.