Happy Monday, everyone, and happy first day of February! I always love it when the first day of a new month falls on a Monday. For some reason it just makes it feel like even more of a fresh start to me and that gets me excited and ready for the month ahead! And I do have an exciting month planned for you girls as I took a lot of January to re-evaluate some of the blog content and will be introducing some new series this month that I think y'all will enjoy, starting with today's post!
Monthly best-seller posts aren't anything new, but I've decided to now include some of my favorite things as well – and not just clothes and products, but articles I read and loved, songs I'm playing on repeat, interesting IG accounts I started following, etc! I really wanted a way to share more of the things I get asked about [like links for best-selling items] but also incorporate things I think you girls would love that don't necessarily make it on Stories. It's my hope you guys will enjoy this first installment and come to look forward to these posts every month!
Alright, let's get into best sellers and then my list of favorite things for January!
Top 10 Best Sellers for January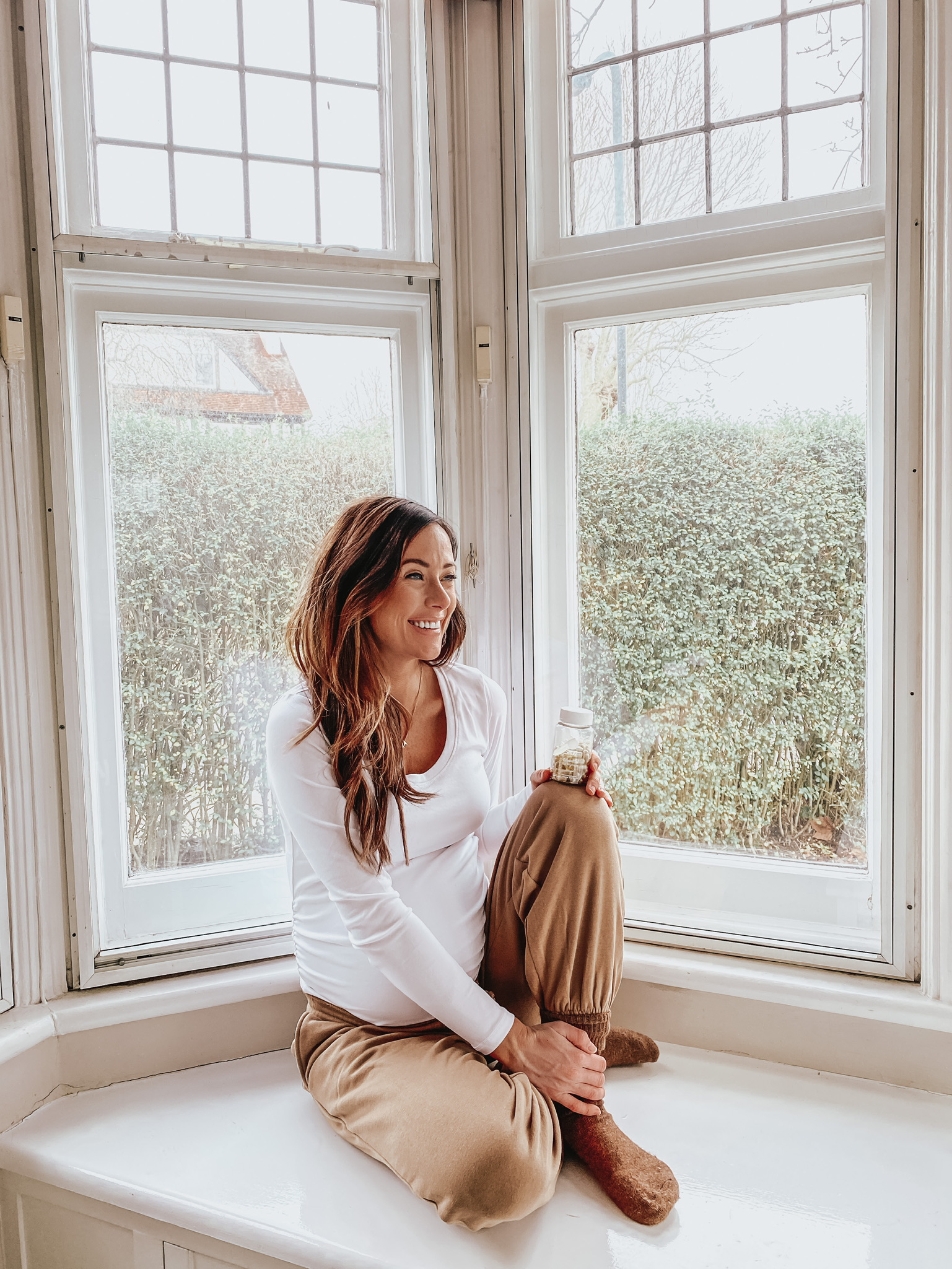 I'm not kidding when I say H&M leggings [uk link] and joggers [uk link] are getting me through this last bit of pregnancy right now. I went from only sharing loungewear because of the pandemic to only sharing loungewear because it's the easiest thing to get on my body at the moment, lol. You can snag this pair in several colors for under $20!
Love that you guys are as into this quilted jacket [uk link] as I am. Honestly, anything quilted I usually love.
Easily my most-worn bag [uk link] at the moment – partly because I'm not really going anywhere fancy and partly because it's just so dang convenient for all the walks John and I have been doing with the boys lately. It comes in a very pretty pink color [uk link], too, that would be great for spring/summer!
This necklace was a gift from my assistant in the States, Stacy. She knows I spell momma this way and it was so thoughtful of her to find one spelled this way and have it shipped over here. It's from a great Etsy shop where you can snag it for $40. Enjoy 15% off with code ALYSONHALEY!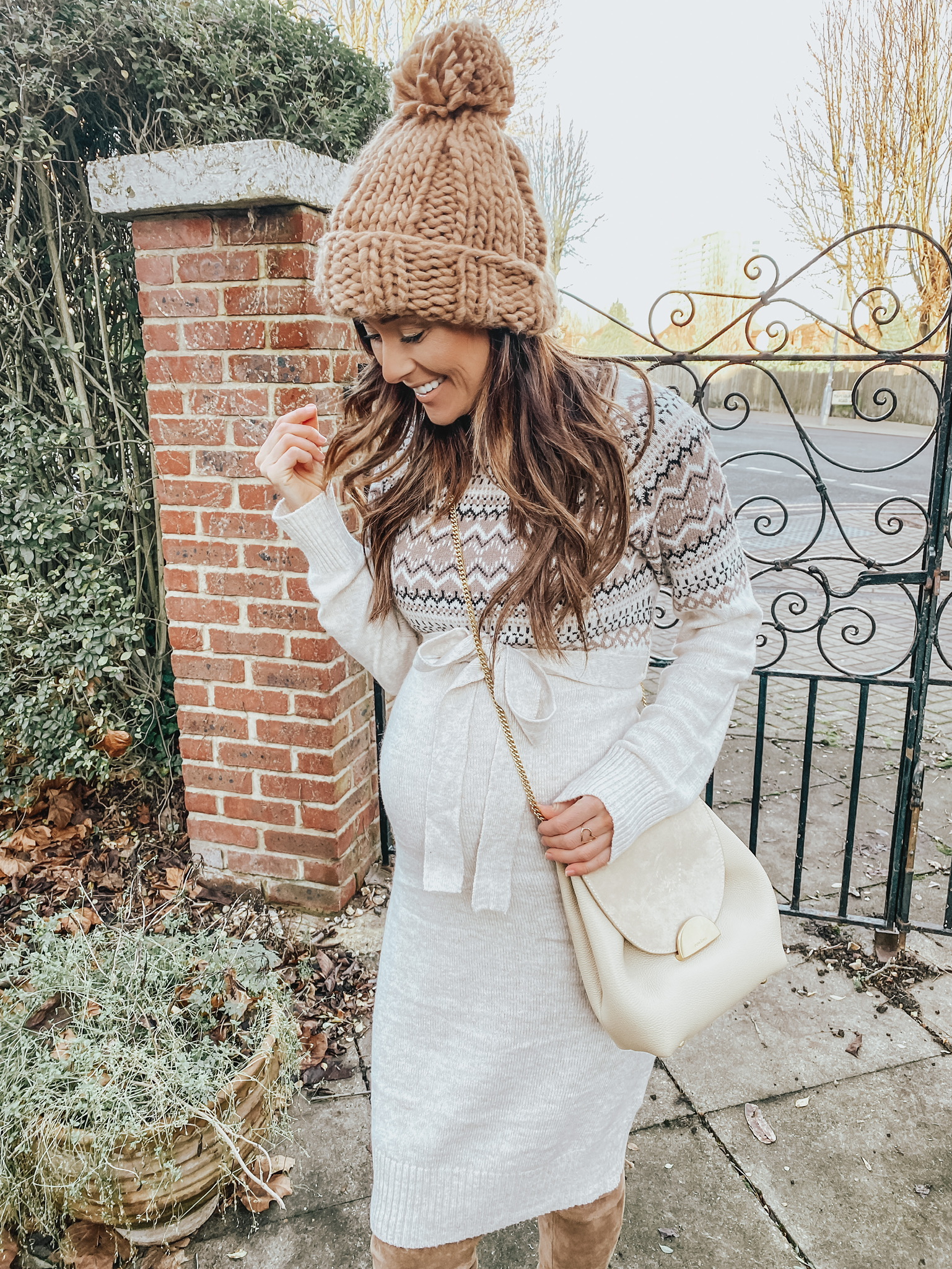 More bump-friendly cozies from H&M! This dress [uk link] was included in my haul from last month and is still available in most sizes!
These soft leggings [uk link] are unfortunately almost completely sold out but I'd sign up for the back in stock notification because I've been living in them and can confirm they're amazing!
It was one of you that pointed this tee out to me when I was chatting about graphic tees on Stories a few weeks ago. I SO wish it was available in the UK, but very glad several of you were able to grab it! It's still available in a few sizes and there are other colors/bands available as well [I'm really into the Nirvana one! [uk link]].
I was in desperate need of a good sports bra with a high neckline that would give some support to the girls and really love this one – I have it in several colors now!
You guys just get me and my love for a good band tee. Y'all sold this one out pretty quickly but this is another great option I've been eyeing.
It's been so nice to have some camaraderie among all the mommas-to-be. If I'm honest, I worry that I share too much maternity / pregnancy content but it's just the season I'm in right now and it seems like a lot of you girls are right there with me hence this top [uk link] being my best seller last month!
My 10 January Favorites
Alright, time for the new "Favorites" section! I'd love to know what y'all think of this so be sure to leave a comment with any feedback. Like I said before, these favorites aren't necessarily products, but just things I read/learned/heard/stumbled upon online that I loved and wanted to share! 🙂
• Find the Place You Love. Then Move There. [article] – It's been a while since I read something that I related to as much as I relate to this article. Definitely give it a read, especially if you're in an in between season where you don't quite feel 'at home' where you are.
• Lululemon Festival Bag – Apparently you guys are loving this bag as much as me seeing as it was also on the best sellers list this month. I wear it every time we go out as the black I have pairs really well with all my loungewear looks but I also love the pink color [uk link] it comes in. Definitely considering snagging it for the spring season.
• @sharonsaysso – Sharon is my absolute favorite recent follow on IG! She considers herself 'America's Government Teacher' and shared non-partisan FACT-BASED political information. She aims to help us all make sense of what is going on from a political standpoint without contributing to the noise with ANY of her own opinions. It's all facts and I love that she mixes fact with humor [go watch her Stories – you'll immediately see what I mean]. I've just found her really refreshing among so many platforms out there with obvious media bias with an agenda behind it.
• Free People Around the Clock Tunic Sweater – Very oversized, comfortable, and fits the bump – all my main criteria these days. Like I said, it is oversized but it runs very large so you may want to size down [it'll still be oversized]. It's such a great option for all of us, bump or not. Also available here!
• Bridgerton on Netflix – Need I say more on this one?? Did you watch?! I always love starting a new series that's guaranteed more seasons and in this case, eight more! I will also add a little bonus one on top of this binge watch and share that our latest binge watch is Married at First Sight Australia [season 6] — it is such trash but one of those that you can't stop watching once you get invested! Ha, I told John that we CANNOT watch this much mindless TV next month. Is the Mom in me coming out already? Boooo.
• Petal & Pup's new arrivals section – One of my favorite retailers for feminine and flirty dresses. Their new arrivals section is giving me all the Spring vibes right now. I highly recommend paying it a visit ASAP. You can use code HALEY20 for 20% off the entire site, too!

• How to Thrive in the New Year Based on Your Enneagram Type [article] – If you don't already know how I feel about the Enneagram, get caught up here and here, then read this amazing article about how knowing yourself in this way can help you thrive in 2021!
• Positive Birth Company Hypnobirthing Classes – I have been taking this hypnobirthing course, which so many of you have said helped you, and am finding it to be so useful! It's supposed to help prepare you mentally for what birth will be like since there is generally so much fear surrounding it. The content really aims to educate as well as attempt to reframe your thoughts surrounding birth. I have found it easily digestible as well as affordable – highly recommend looking into it if you're expecting!
• Ramen bowls – If you watch my Stories, you've seen my recent obsession with ramen bowls. They're a delicious and easy lunch in the winter and I love building them up with shrimp, an egg, mushrooms and topping with sesame seeds, chives and sriracha. I don't have an exact recipe I follow but the ingredients I listed have been my recent go-to's.
• TULA's New Toner Pads – I was so excited to try these out in January and am loving them so far. It's important to understand that they're different than the glycolic acid toner by TULA. Both have pH balancing power, like most toners, but the original has more exfoliating + hydrating power with glycolic + hyaluronic acid power while this new one has more purification of pore power with lactic acid. If you have acne-prone skin it could be a really great option for you but is great for all skin types as well. Enjoy 15% off on all TULA products with code ALYSONHALEY.
And that's what I have for you to round out January's best sellers and my top 10 favorites! Hope you loved it as I'm really looking forward to sharing more of these! Happy February, everyone! xo.