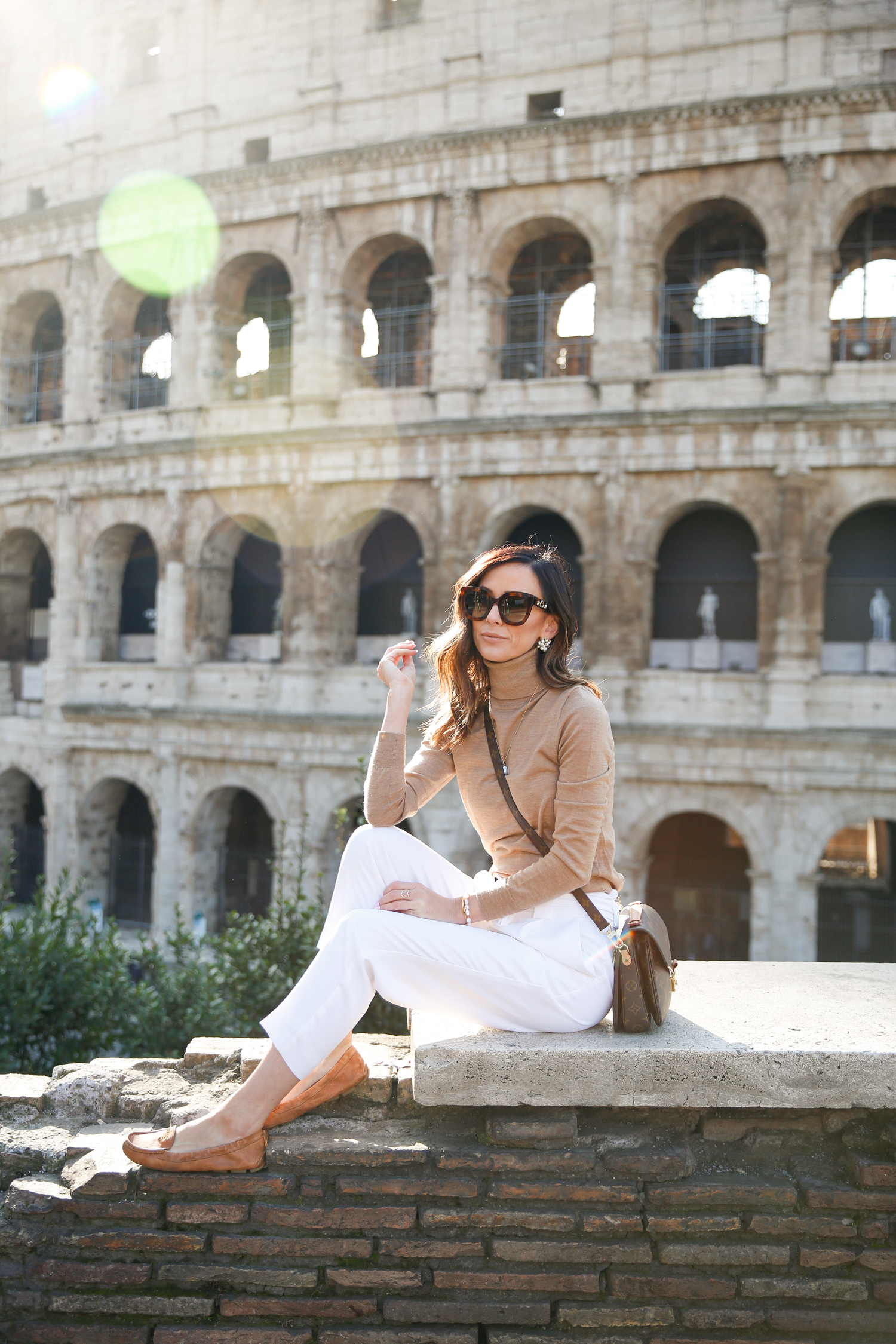 Hi friends! Happy Tuesday! Wow, how exciting to be back on the blog sharing a new outfit post + some styling tips for you girls! It may seem like a small thing [and in the grand scheme of things, it is!] but for me, it's a huge step in the right direction in terms of getting back to work. Staying home with Louie for the first ~10 months of his life (how has it almost been a year?!) has been such a blessing but I'm finally in a place to start really diving into work again, and I am here for it!
When I was thinking about what I wanted my first style post of the year to be, I knew I wanted it to be something super useful and actionable for you ladies. I decided to take a look at what links you all have been clicking on the most to get some inspiration and it seems like you guys are a lot like me! You're wanting to snag pieces for your wardrobe that make you feel and look put together. We've seen enough loungewear over the last two years — it's time to reclaim our personal styles! So, today, I thought I'd share some tips on easy ways to elevate your personal style if you feel like yours has gone flat! Let's get started!
Identify your personal style
This first one might feel intimidating but I believe it's key because you can't elevate a style that hasn't clearly been identified. Knowing your personal style not only makes you feel confident but also helps direct your purchases and makes getting dressed much easier. If you're not sure what your personal style is, take some time to think about a couple of things. What pieces have you gravitated towards in the past and then never worn? Once you've identified those in your mind, I would recommend identifying the key words that would describe those pieces. Why? Because it's easy to like certain styles and aesthetics but then never actually wear them. For example, I really love looks that are considered 'cool' and 'edgy' [like a graphic tee and oversized blazer] but after investing in both, I realized that I NEVER actually go to wear them in my everyday life. So, while I like that style, I've had to remember that it's just not MY style. It's not what makes me feel the most comfortable and the most like 'me'.
Once you've identified some styles and aesthetics that you like but never wear, I'd recommend also doing the opposite. When you look at the hardest working pieces in your wardrobe, how would you describe those pieces? Are they classic? Boho? Edgy? Feminine? Taking the time to identify how you would describe the pieces you wear the most will truly help you come to see and understand what YOUR style is. And, then, from there, you will be able to not only take that style to the next level but also stop making purchases that collect dust and waste money.
After doing the following steps, I feel like I was able to identify my personal style. I came to realize that I gravitate toward pieces that are more classic and feminine, like the outfit you see in today's post. I have owned everything I'm wearing for multiple years and, while the last two years has made it hard to wear them a lot, they are pieces that aren't going out of style anytime soon and will continue to get wear as our lives start to normalize.
Invest in quality pieces
Quality over quantity – always! Once you've established your personal style, try to move forward with a "fewer but better" kind of mindset. This will also help you actually like the items in your closet instead of feeling like you "have nothing to wear" every time you leave the house. Knowing you have items that are high quality, are in complete alignment with your style, and are timeless will also contribute to more long-term satisfaction with your wardrobe vs the instant gratification of something cheap (and likely trendy) that tends to fade very quickly. 
Avoid jumping on every trend
Alright, let's talk trends as I know I touched on them a bit above. First, I'm not against trends — at least not completely! It is totally understandable to want to jump on trends every once in a while. You see someone else looking really cute in something (or lots of different people on IG), so naturally, you want to give them a go. I totally get it! I just think it's important to remember that trends are just ideas and, just like when you listen to other peoples' ideas, you always have the option to agree or disagree with them. When it comes to elevating your personal style, it's important to either take or leave trends versus embracing every trend you see being embraced on Instagram. Knowing your style will really help you identify which trends are for you and which ones aren't. For example, wide-leg jeans are having a major moment but I'm not super into them as I don't feel like they're very flattering on me nor do they fit my personal style. So, don't feel pressured into embracing something that isn't you. You want your wardrobe to, at its core, be made up of classic pieces you find yourself reaching for over and over again.
Invest in tailoring
Tailoring your clothes makes them automatically feel more sophisticated because clothes that fit vs being too tight or too big can bring a look down a few notches and make you not feel like your best self when you're wearing them. It is an extra expense but if you're making that expense on items that are classic and timeless that you know will get worn for years, it's more than worth it to have something that fits you properly. It will truly make your look much more put together and elevated.
Choose items that suit your body type
And finally, knowing your body type and what flatters it will do so much to boost your confidence and make you feel good about your outfit. Like the wider leg jeans for me… they just don't do anything for me. Compared to skinnies, which I feel like flatter my shape more. It goes back to not feeling pressure to wear things just because they're popular. Instead, buy what you know flatters your figure and makes YOU feel good because once you have the going on on the inside, the outside is bound to shine!
This was a lot of fun for me to share with you ladies so I hope it was helpful to read too! If you're doing any Spring shopping be sure to keep these tips in mind so anything you purchase is something you're not only excited to wear but will elevate your style in a way that makes you feel sophisticated and confident! For more classic pieces and my latest Spring style picks, be sure to follow my LTK Shop! Okay, y'all – see ya in the next one! xo.