October is one of my favorite months of the year to get dressed, if I'm being honest. The weather is cool enough to layer a cardigan over a dress or tee, but not too cool that you have to put a parka, gloves, a hat and all the other things on before heading out the door. So you can really let your outfits shine. Because the weather is shifting, I've added a few pieces to my wardrobe. Today, I'm sharing what's new in my wardrobe for fall and a chic, yet comfortable, fall outfit.
If you missed my recent post on Louie's 18-month update, go check that post out, if you're interested. I'm answering all your questions about his sleep schedule, what he likes to eat and if our family is complete. 🙂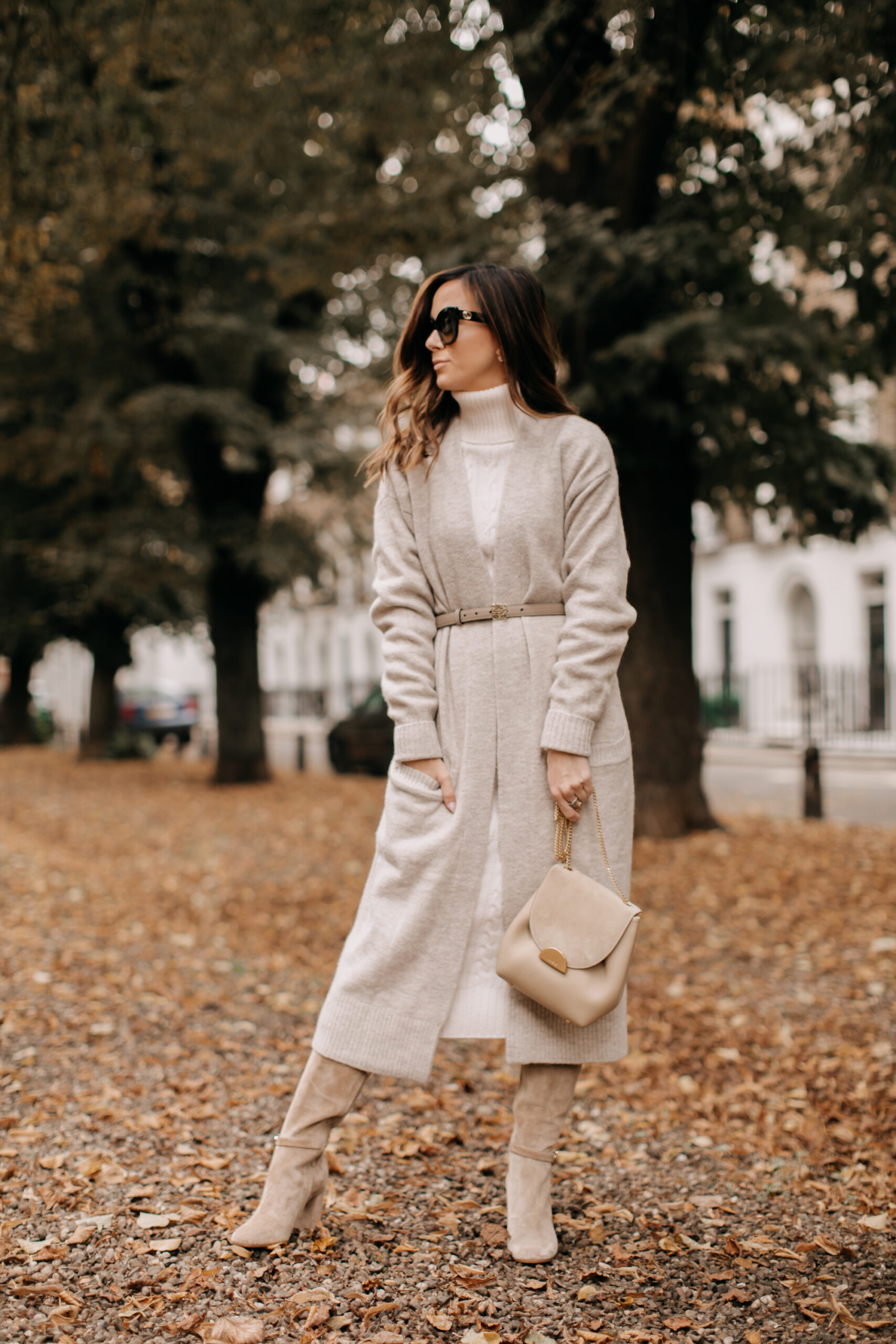 Chic Fall Outfit
Before we dive into the things I've recently added to my fall wardrobe, let's talk about this look. This cream long sleeve cable maxi dress is from a UK retailer called, River Island, that's available in the US, too. Some of their pieces can feel a little too young for my taste, but often have hidden gems. This little number is one of those gems, and stumbled upon it about a month ago! It's very soft and love that it's fitted, but not restricting. The dress also comes in a vibrant pink color.
For a more casual look, I layered a longline cardigan over the top of the dress. The exact one in the picture is not available, but it's from H&M. However, THIS ONE is similar, and it's available in four colors. If you wanted to dress this look up a bit, you could pair a blazer and pumps with the dress for the office or a happy hour.
To give the look a bit more structure, I paired my favorite Loewe anagram belt with the outfit. I love the variety of neutral colors they offer and the thicknesses of the belts. However, this is generally the thickness I go for. For a similar look, I also found this Tory Burch belt that is similar in width and color.
I completed the look with knee-high suede boots and a Polene bag [can't link in LTK]. These Gianvito Rossi suede boots are a new purchase, and couldn't resist because they match my Loewe belt perfectly. It's a monochromatic match-made in fashion moment. GR always has incredible craftsmanship. With that craftsmanship comes a well-made and comfortable shoe. The block heel makes them easy to walk in and love the buckle detail around the ankle. I always protect my suede boots or any suede shoe, for that matter, with suede spray.
What's New in My Wardrobe for Fall
As the season changes, it's a good idea to take inventory of your closet to see if there are any gaps in your wardrobe. That way, you don't purchase unnecessary items you might already have. I picked up a few great basics to easily build a multitude of outfits, using essential pieces that can be mixed and matched together.
Abercrombie has some of the best bodysuits. I picked up this turtleneck-style bodysuit for the fall and winter seasons to style with denim jeans, pencil skirts, maxi skirts and faux leather skirts. It's also great to layer underneath things like a jacket or cardigan. If the whole bodysuit thing turns you off, you don't have to snap the bottom. Just tuck the two ends into your pants – no one will ever know. But then I've talked to some that prefer bodysuits over a regular shirt. So whatever you prefer!
For more casual outfits, you can't go wrong with a fleece jacket for an extra layer. The combination of the fleece and quilt provides that texture variation that brings interest to the overall look. I wear this all the time, and love throwing it on to do a few errands.
This a-line mini dress was a recent find from H&M. It looks very designer-like for the price point. It's a wool-blend dress, so the perfect material to keep you warm throughout the cooler months. The details of the dress are beautiful with the bold, gold buttons at the waistline and the fringe accent at the ends of the sleeves and hemline. So beautiful!
Finding Your Personal Style
As my personal style has evolved, I've realized that I love a neutral color palette when it comes to clothing. I've come to realize that when you know your own personal style, it almost feels a bit freeing in a sense.
It's easier to pick out clothing because you know exactly what you're looking for and what looks the best on you. If you're unsure what your personal style is, that's OK! You can start by determining what types of colors you enjoy wearing. Do you like bright colors? If so, what colors do you enjoy wearing most? Or maybe you like a more neutral palette. Once you understand what you love most with fashion, it starts to become easier shopping and creating outfits.
As the seasons change, it's the perfect time to review your closet and overall style. And then start asking yourself questions like do I feel good in the clothes that I wear? If not, what would make you feel more confident with what you wear? Wearing pieces that make you feel good just gives you a little pep in your step, and really that's all we need to start our days off well.
What have you bought recently that you've loved? Let me know below! xo.