Happy Tuesday, friends! It's not often that I shop on Amazon for fashion items. And that's because I can't get behind how much false advertising I see from vendors. So that makes me very selective when it comes to clothing and brands on Amazon. However, there are a few brands I enjoy shopping from like Daily Ritual and The Drop. These particular retailers have a variety of great basics in solid colors, making them easy to style. In this post, I'm sharing Amazon fashion items I'm loving for fall.
Amazon Fashion Items I'm Loving for Fall
Wear a Dress Under Your Skirt
Have you ever worn a dress under a skirt? Because that's what I did with this look. The dress is from Daily Ritual and is a ribbed fitted midi dress. What's convenient about the dress is that it's short enough to wear with fashion pieces like midi skirts. The dress fits true to size and comes in multiple colors. And best of all, it's under $30!
Layer a Pleated Skirt Over Your Dress
I layered this beautiful chocolate brown pleated skirt [UK Version] over the top of the dress. It's from one of my favorite retailers to find fall wardrobe pieces from – Mango. This beautiful satin skirt comes in three other colors and love that you can wear it casually like I have it styled. Or you can dress it up more for the office and pair pumps, a blazer and a bodysuit with it.
Just because the temperatures are falling doesn't mean we have to stop wearing skirts. In fact, they give you more room than jeans for long johns to stay warm and cozy. Plus you can wear super warm socks with your knee-high boots. I'd argue I'm warmer wearing skirts in the fall and winter than jeans. And honestly, they're just way more fun to wear.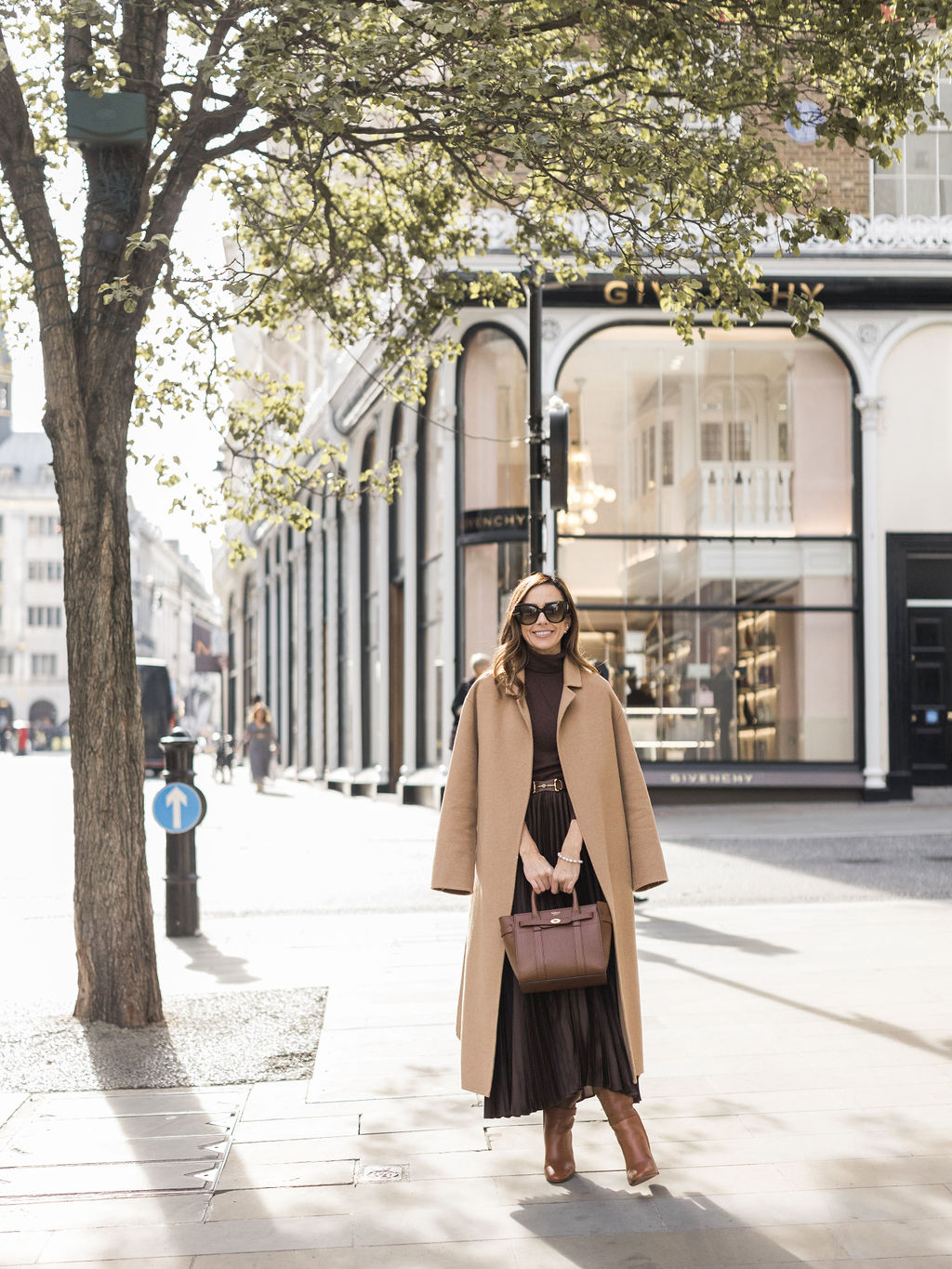 Keep Your Legs Warm with Knee-High Boots
Knee-high boots are the perfect shoe to wear with midi or maxi skirts and dresses throughout the fall and winter. They provide that extra coverage for your legs without having to wear stockings. My boots are Ralph Lauren [sadly unavailable in the US] and a recent purchase of mine. They're such a classic silhouette and I know they'll go with so many outfits during the colder months.
Finish the Look with Classic Accessories
I added a belt to break up the monochromatic look of my turtleneck and skirt with a Gucci belt. My exact one is old, but here is the updated version Gucci just released. And, of course, there's the always-on-trend Double G belt [UK Version] that you can consider. You could also wear this belt with a dress or denim to add more visual interest to any outfit. Then, I completed the look with the Mulberry Mini Bayswater satchel. Sadly, the mini does not come in brown on the US site. However, the small Bayswater does. It's just slightly larger than mine.
Additional Items I Bought From Amazon for Fall
I scored some great basics for the fall season. There's a variety of sweaters included in this roundup with a few being legging friendly. If you're looking for a great loungeset, this one is an elevated look that you could wear traveling as well. And we can't forget our feet need to feel warm and cozy, too. These sandal slippers are perfect for wearing around the house.
With my personal style, I enjoy mixing and matching high-end pieces with more affordable options. Amazon is a great place for those more budget-friendly items you're looking for. Do you have a favorite retailer on Amazon? Let us know in the comments below! Thanks for reading! xo