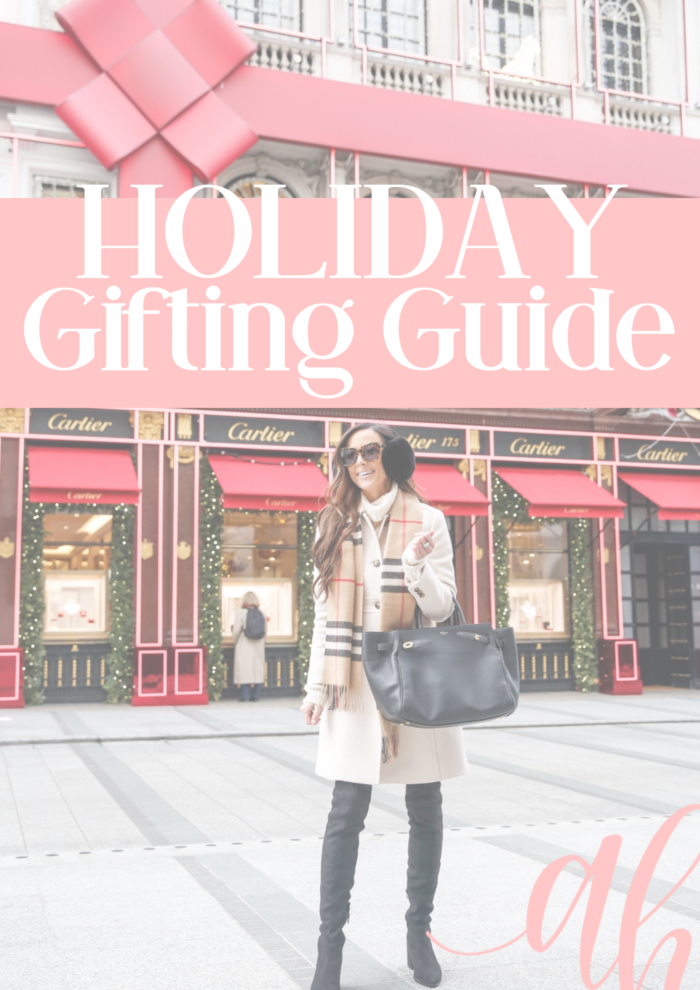 Hi friends! I hope you're having so much fun preparing for the holiday season this year. For some of us, the realization that the holiday's are around the corner can bring out feelings on both sides of the spectrum. But, no matter how you're feeling in this moment, my hope is that my Gift Guide Lookbook brings you both excitement and a sign of relief!
Gift shopping for family and friends can be a wonderful task, but it can also be a challenging one. Personally, I enjoy gifting my loved ones with thoughtful gifts that meet them where they're at in their current season of life.
Isn't it the best feeling to know that you nailed it with the gift you gave someone? I hope my Gift Guide Lookbook helps inspire your gift giving this holiday season. Gifts aren't the only reason for the season, but they can help us express our love and gratitude towards those who we hold near and dear!
A Peek at the Gift Guide Lookbook
I might be biased, but this one was the easiest to put together… I wonder why? Ha.
There were so many cute things out there to choose from. When shopping for the other women in my life, I like to think through what they frequently wear, what items they use often, what's going on their life at the moment or coming up, the type of person they are, and play off of that. For example, if the woman you're shopping for has a worn out work bag that she uses daily, you could get her a new leather tote, personalize it, and maybe suggest to a friend that you got her the tote and see if she wants to grab the matching laptop sleeve to go with it! Or if she just bought her own house, maybe 
When it comes to finding gifts for the men in your life, I find that you can never go wrong with elevating their everyday things! Do they have coffee mug they use over and over? Giving them a new Stanley mug is something they might not have purchased for themselves, but they'll love having it.
This same method can be applied to their favorite clothing items, too. Do they wear a leather belt every day for work? Maybe their athletic shoes are worn into the ground, or it's possible that their grilling gear could use an upgrade. For guys, it always seems to be the simple things that make them happy!
When it comes to shopping for parents and in-laws, I like to lean toward gifts they can use for enjoying time with family and friends! This Scrabble board is so aesthetically pleasing that it could be left out as decor, while still being useful for countless rounds of game play. With this personalized appetizer serving platter you can add to their serve ware collection. You know they'll love using it to host loved ones for many holidays to come!
In my opinion, gifts that are personalized just mean so much more – whether you're the giver or the receiver. But, personalized gifts often take longer to process and, therefore, get to you so ordering early is absolutely essential. I would say that by the end of the month, personalized gifts will be much harder to find because of this. So, I know life is busy but I would challenge you to really start to think about what you're wanting to buy for the closest people in your life. If it's something personalized, try to get those orders in in the next week or so. The graphic above can get you started with ideas for almost anyone on your life but I shared so many more HERE and HERE.
Alright, that is where I'm going to leave it. This post was essentially to give you a taste of what my gift guides have in store for you! If you want to check the rest of them out, you can download the Gift Guide Roundup [includes Gifts for Babies, Toddlers, The Traveler, New Moms, Beauty Lover, Dog Mama, etc] OR take a look at the gift guides I've set up in my LTK shop. I have so many more to add like gifts for coffee lovers, wine lovers, mom-to-be's, luxe lovers, the homebody, under $25, under $50, under $100, and the person who has everything! So, keep checking back and tuned to my stories! Also, be sure to keep an eye on my Holiday Hub, aimed to help you navigate holiday shopping this year. It'll be updating it daily with the latest sale announcements, new gift ideas, and ideas on what to wear to holiday events [updated weekly]!
My hope is that these gift guides serve as inspiration for you as we approach the holiday shopping season. Amongst the hustle and bustle of the season, I hope that these guides can help you cross all of the "to-dos" off your list so that you can spend more time soaking up the joy of the season with your loved ones. Last, but not least, I want to take a moment to thank you for being here – I'm so grateful that I get to do what I love, and it's all because of you! May this holiday season be filled with joy and blessings for you and your family. xo.