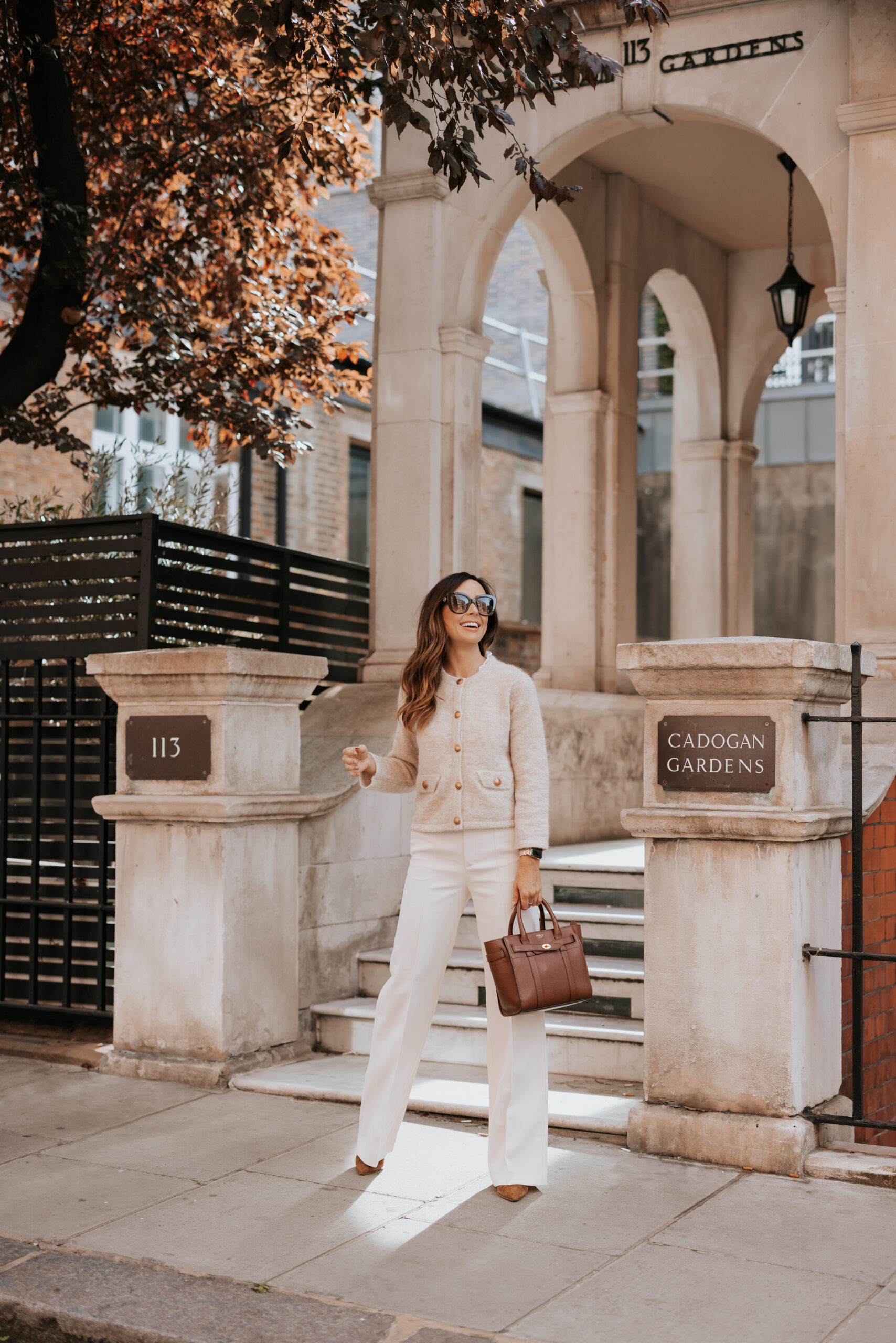 Hi friends! Do you find it a bit challenging to be putting together new workwear outfits for the week? If you're anything like me, some days, I find myself inspired and excited to get dressed for work. And other days, I experience the classic, "I have nothing to wear" feeling, especially working from home! Can you relate? If you also experience the rollercoaster of feelings about getting ready for work, you're certainly not alone. That's why today I'm sharing a round-up of workwear pieces to get you through the autumn and winter season!
This post was exciting for me to share, and I hope you feel the same reading it. I'm looking forward to having some timeless staple workwear pieces in my closet for the fall and winter seasons that I can style in a countless number of ways. And if that sounds like something that would be helpful to you as well, then today's post is right up your alley. Let's jump in!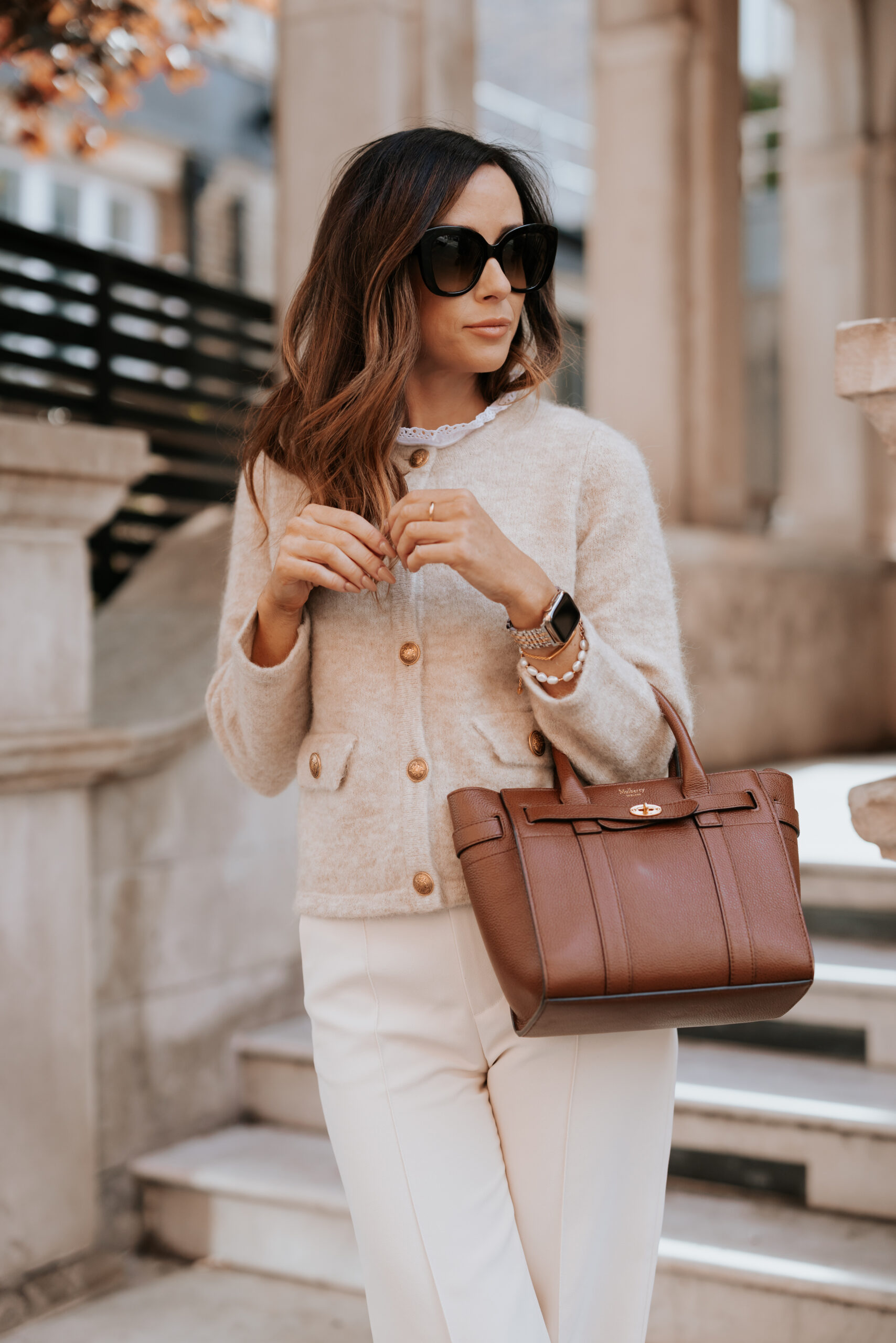 Light Neutral Workwear Outfit
Before we jump into the workwear pieces I have my eye on, I'm excited to share this look with you. Monochrome neutral looks are certainly in style, and they're appropriate to wear in the fall and winter seasons as well. For me, that's excellent news, because I'm a big fan of neutrals!
Starting with this stunning alpaca knitted jacket [global version], It seemed like might be a little itchy, but I'm happy to report that it's not and it's very nice. It's even more stunning in person, and I find that it runs true to size. I also found this similar style because the one I have is selling out quickly. The ruffle collar top I'm wearing underneath is an older top from ME+EM, but I found the exact top still available! I also found that they have an updated style of this top as well. I paired these pieces with these straight suit pants [UK version] that fit true to size and are so comfortable. The style of these pants is certainly on trend because I noticed that they're selling out, so be sure to grab them quickly!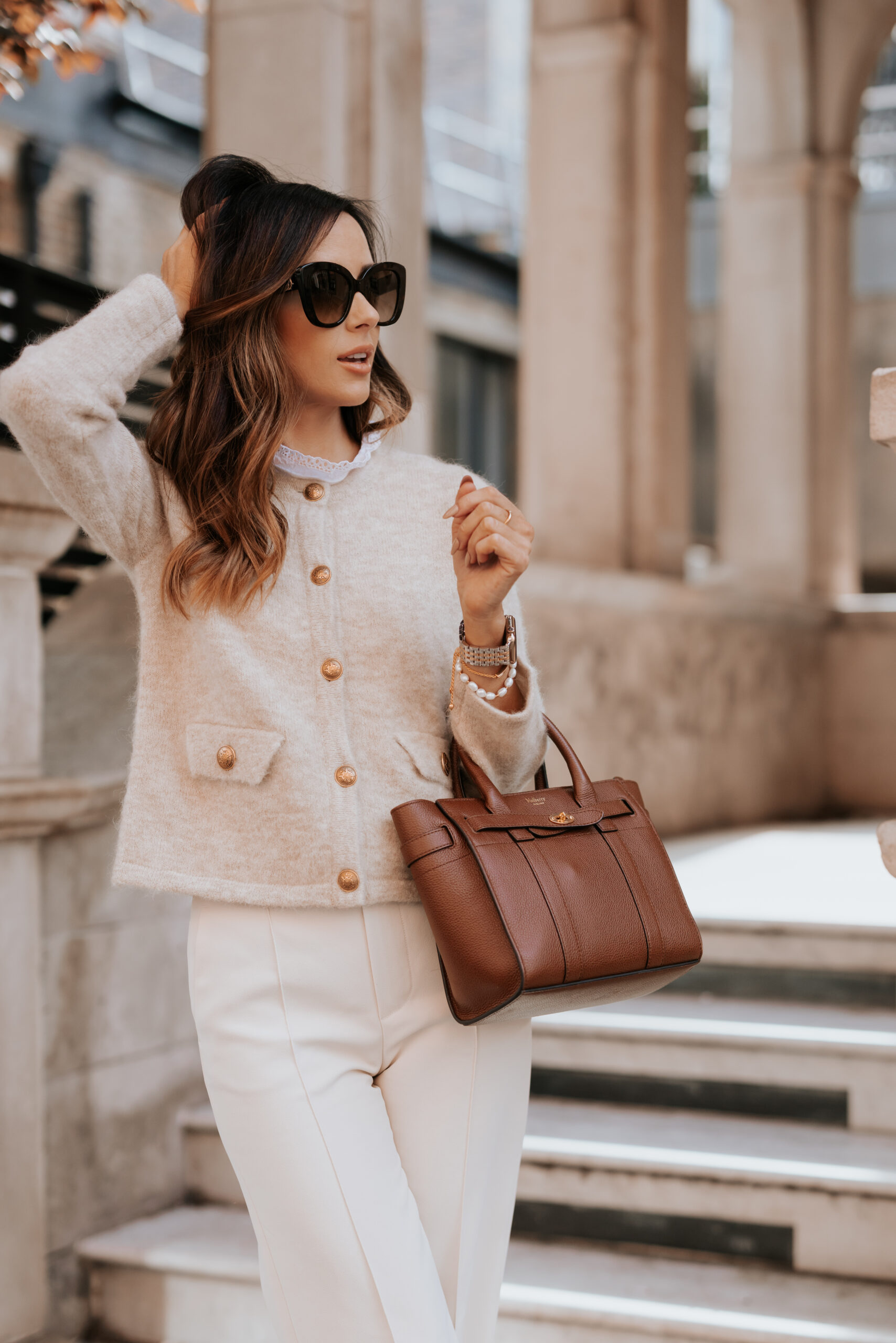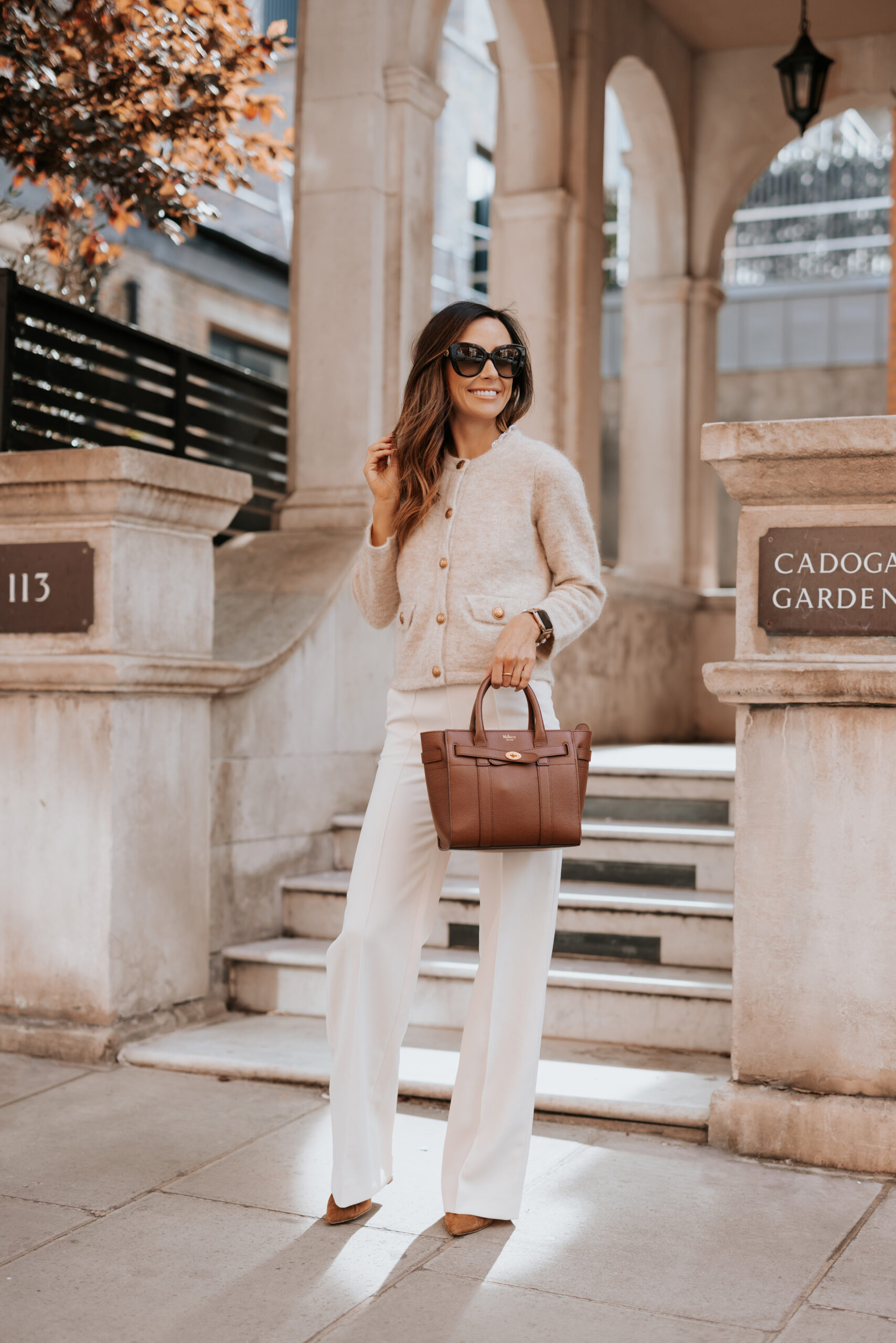 This outfit called for one of my favorite pairs of suede booties. These booties are old, but I found this similar style, another similar style, and yet another similar style to share with you. Can you tell I love this style of suede shoes for fall and winter? That reminds me, last year I dedicated a blog post to sharing how to take care of suede shoes – check it out for my best tips!
To accessorize this look, I grabbed one of my favorite, classic bags, my Mulberry Mini Zipped Bayswater. This bag is great for professional events when you might not need notes or your laptop. The Mulberry Bayswater tote bags are another great option for the office as well. For jewelry, I kept it simple with this pair of crystal stud earrings, this pearl beaded bracelet, and this gold linear chain bracelet.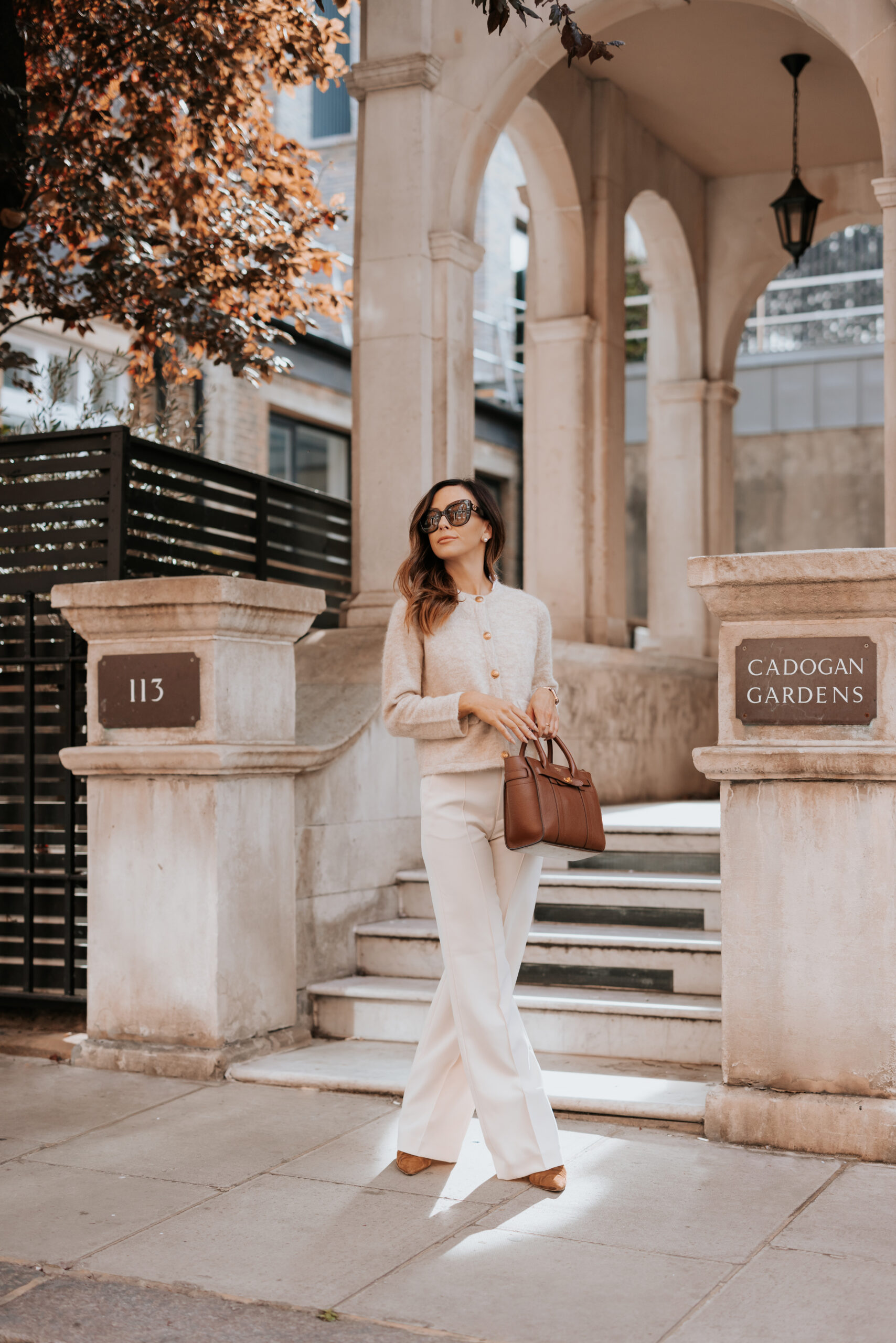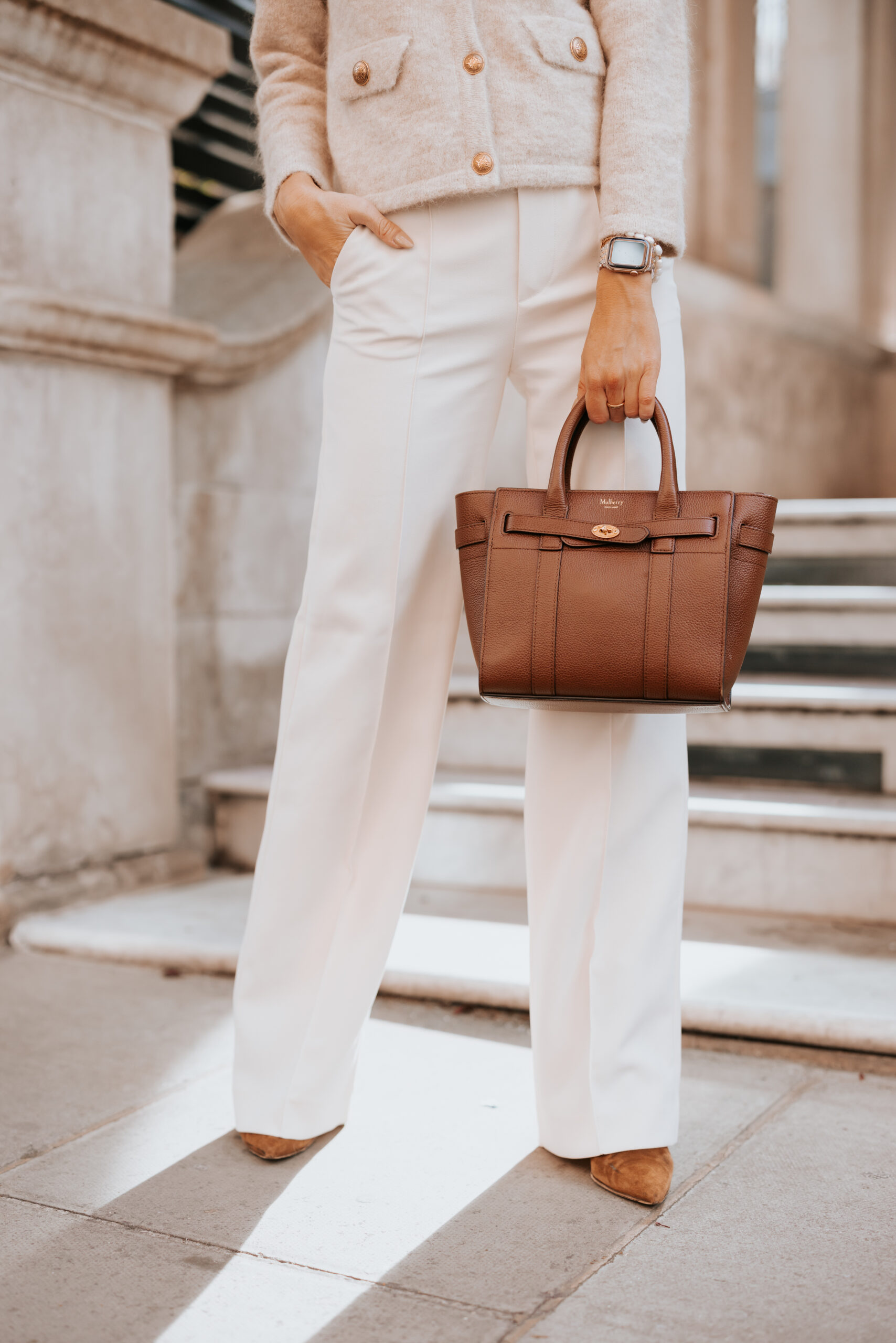 The suede booties that I am wearing have been a mainstay in my autumn and winter wardrobe since 2018. If you've followed me for awhile, you've likely seen them styled countless times. They are still going strong but, due to it being five years on, they likely aren't available in many sizes at this point. However, the designer, Gianvito Rossi [also here], always releases similar styles year after year. The Piper style [more here] currently comes in a tall boot style as well as a pointed toe block heel pump, both of which are stunning. I have been holding out for a chocolate brown bootie, preferably with a pointed toe. Candidly, I've always been looking for an ivory pair in the same style. Much to my surprise, Gianvito Rossi came out with THIS bootie and really came through on my desires, ha! My bank account wasn't too happy with this but I know that, like the pair I'm wearing, these two new pairs will be worn countless times and become a mainstay during these colder weather months.
Workwear Pieces To Get You Through Autumn & Winter
J.Crew Sydney Wide-Leg Pant
These wide-leg pants are a classic style that is a perfect addition to your workwear wardrobe. Not only can these pants be worn throughout the fall and winter, but they're great year-round pants as well. These pants can be styled in countless different ways, such as with a button-up top, a cardigan, or even a turtleneck.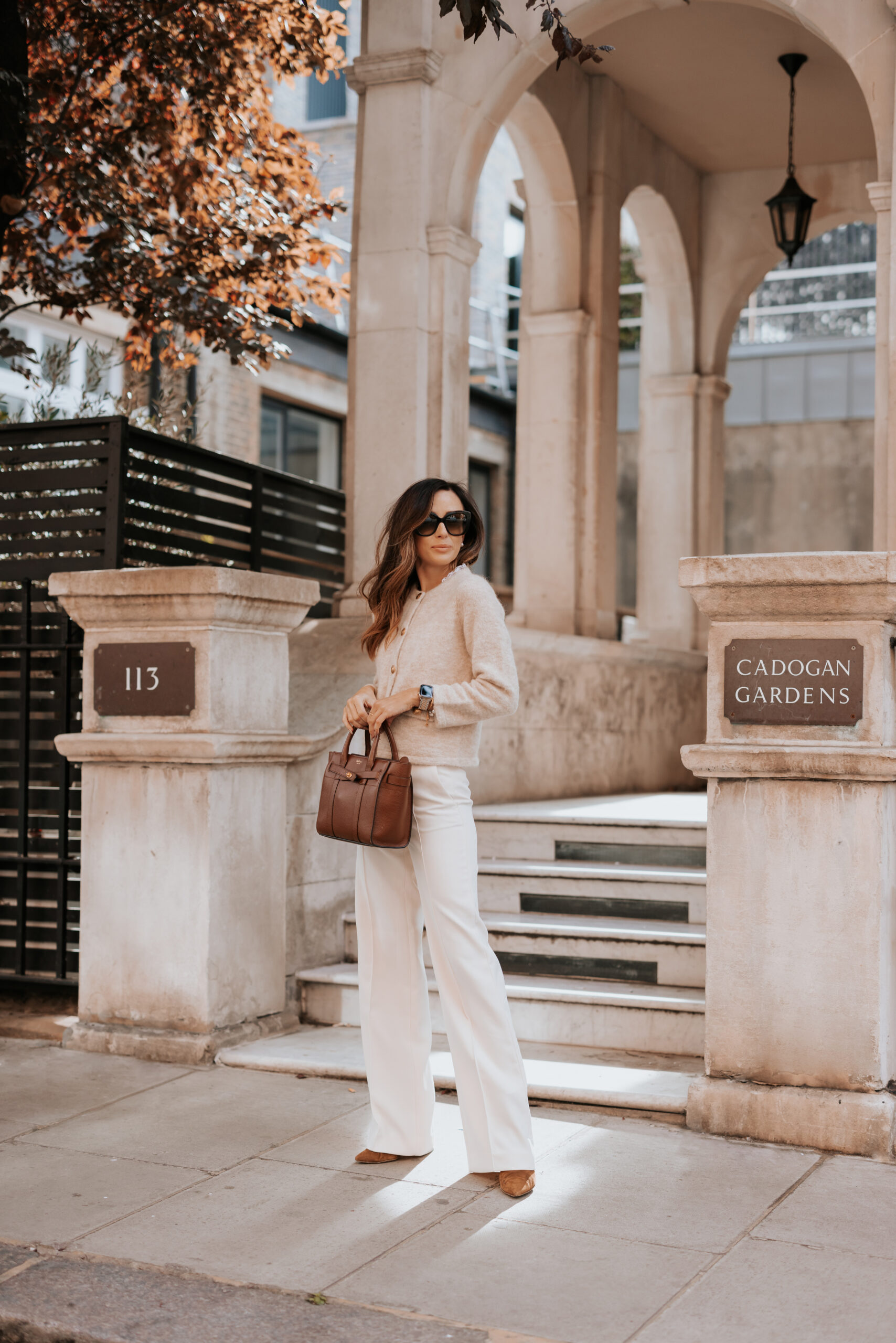 Mango Knitted Perkins Neck Dress
This knitted dress is certainly a versatile workwear piece to get you through autumn and winter. If you're someone who doesn't love to wear a full turtleneck, this dress is a great option for the season. The neckline is a lower mock neck style, sure to keep you both comfortable and warm.
Mango Pleated Midi Skirt
A fall-colored pleated midi skirt? Yes, please! This skirt is stunning, and it offers countless outfit opportunities. Not only will this skirt have you looking professional and put together for work, but this skirt can also be styled for other elevated fall events that you might have on the calendar.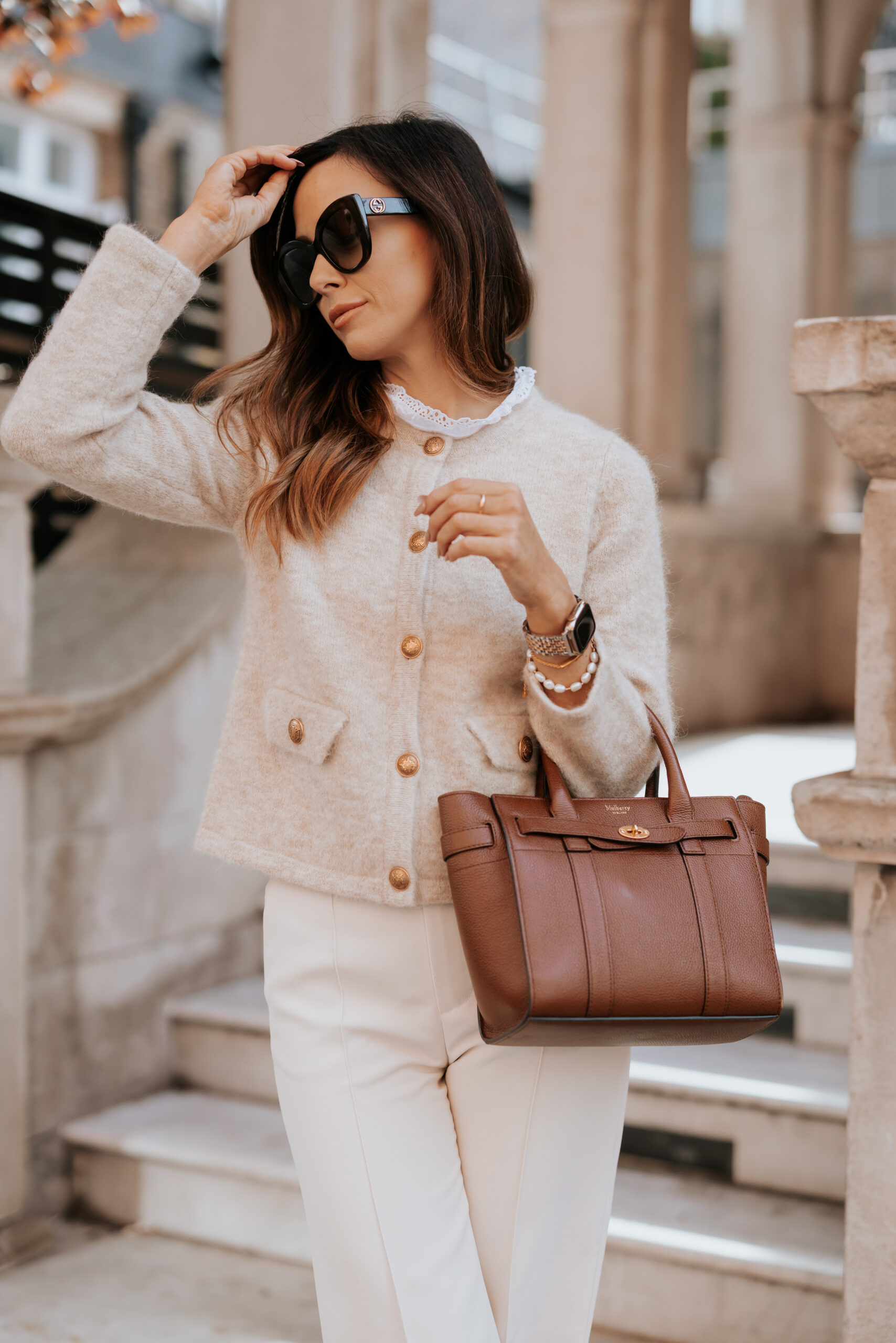 Madewell Oversized Knit Blazer
Having an oversized knit blazer on hand is a must for your fall and winter workwear wardrobe. This blazer is a perfect match for both trousers and pants, but also a pair of jeans and loafers for a more casual workwear look.
Abercrombie & Fitch Sloane Tailored Pant
These tailored pants sell out often, and I can understand why! The perfect everyday trouser that can be worn time and time again, and they come in several different color options for countless fall and winter outfit opportunities.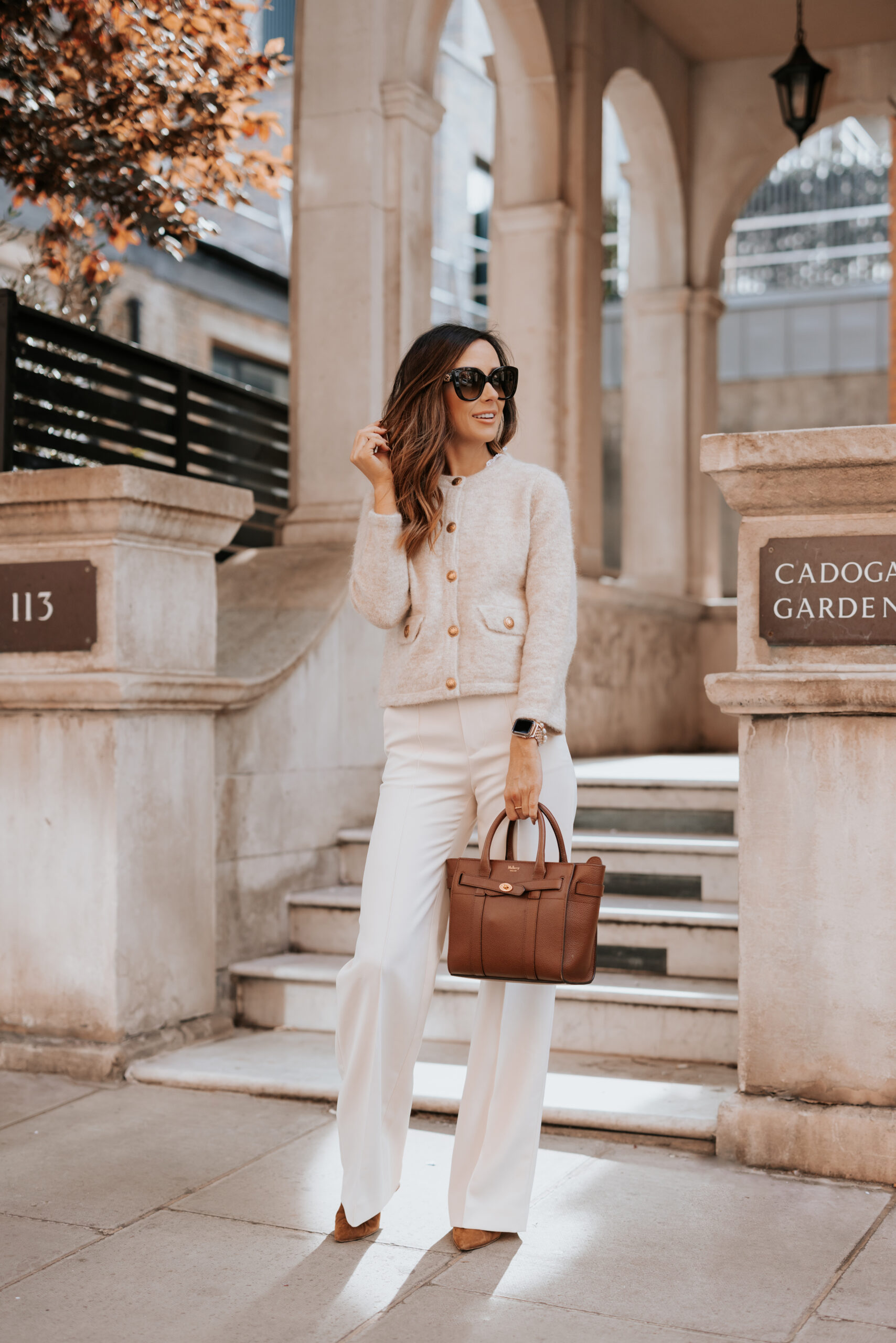 Which of these workwear pieces will you be grabbing from this round-up? Let me know in the comments! xo.