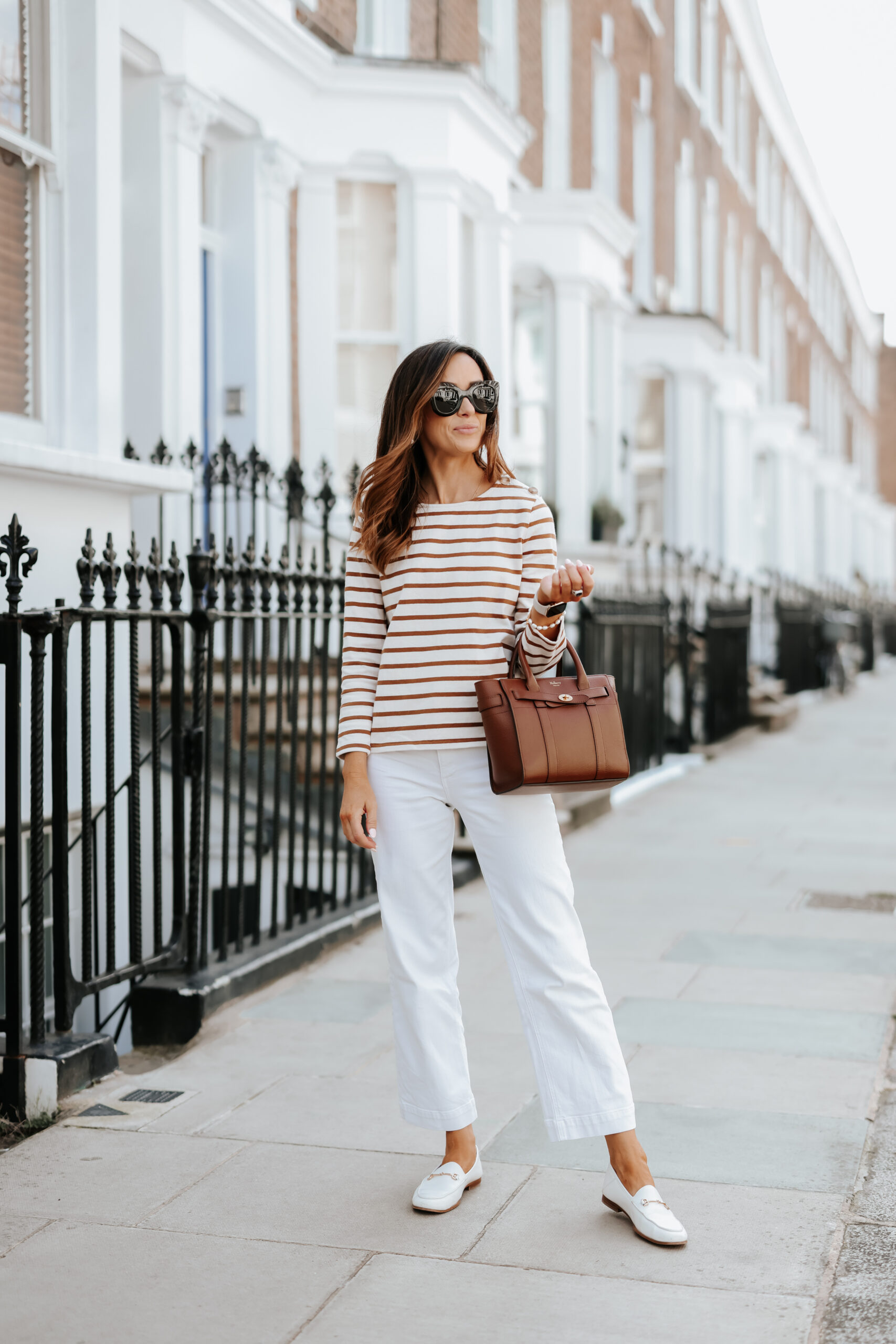 Hi friends! We will be turning our clocks back before we know it. Literally, next weekend for those of us here in the UK, which is wild! I'm not sure what kind of temperatures many of you are experiencing but it has definitely started to cool down over here. While some of you might already be needing your outerwear pieces, I know there are many of you that are still in that weird transitional period. So, I thought I'd share some easy, neutral pieces that will be great to grab on the lead-up to the holiday season and colder months. And, being that I'm always looking for classic pieces, these will surely be worn under your outerwear pieces throughout the Winter, as well! I'm always looking for pieces that can be worn and re-worn so let's jump in, starting with the outfit I'm wearing! Keep in mind – it would look great with a trench over it, which is actually how I wore it out last month!
Easy Neutral and Transitional Basics Outfit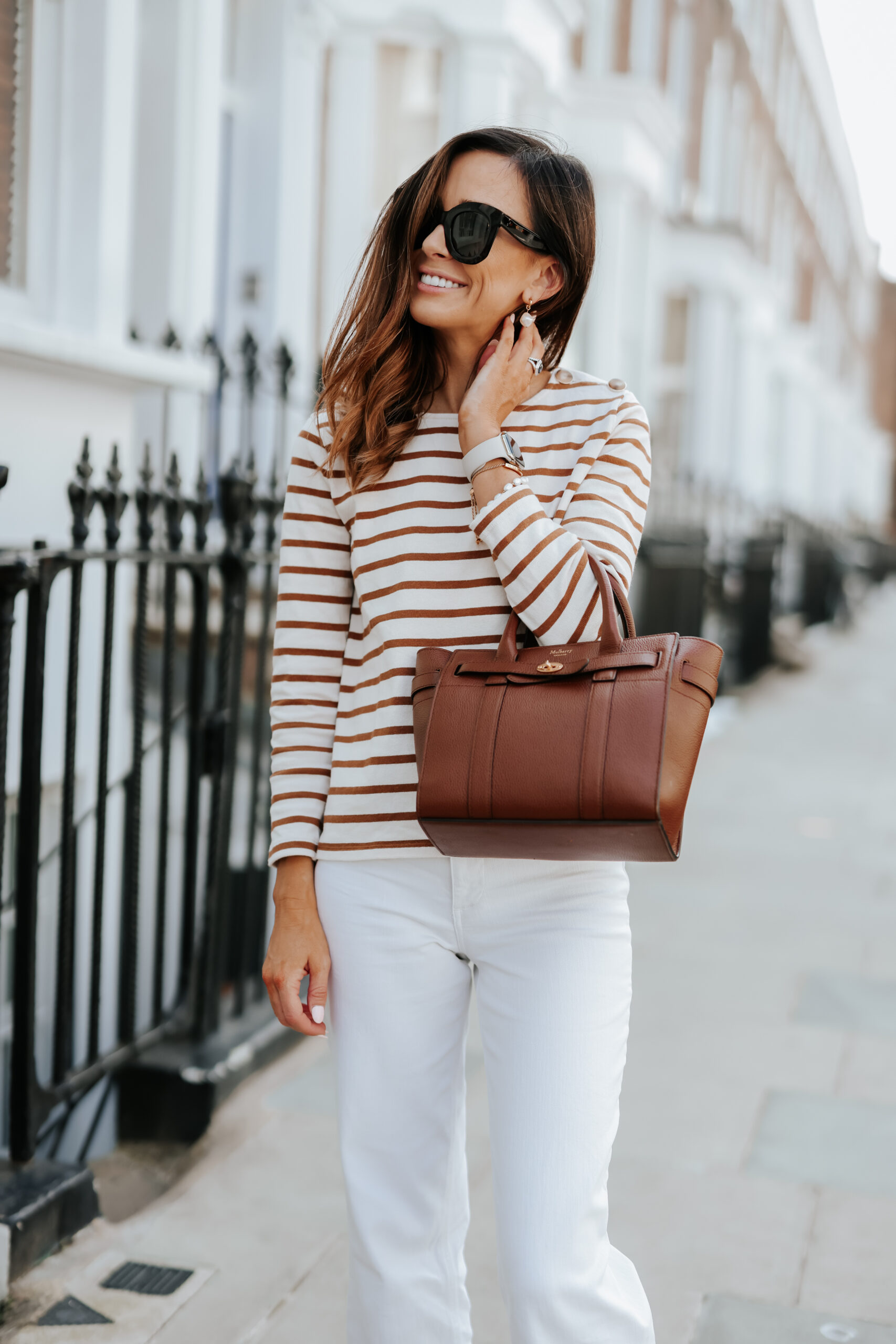 This outfit is a collection of some of my favorite high-quality basic pieces and it was a breeze to put together. The best part about this outfit is that it's timeless! These are all pieces that can be styled in countless different ways, and they will stand the test of time in your wardrobe. The focal point of this outfit is this classic camel striped cotton long-sleeve top from Sezane, one of my favorite retailers. I love that it has a comfortable fit, but still has you looking put together. The material is thicker than most stripe tops you find on the market which really elevates the look, as well. Sezane has a way of bringing something that could be seen as 'casual' up a notch, which I love.
I decided to pair it with these crisp white wide-leg jeans, which you've seen many times, to keep with the sophisticated casual vibe. I always love a loafer this time of year. We have to embrace these types of shoes before we are bundling our feet up in socks and boots in the coming weeks so, I went with my tried-and-true Sam Edelman leather loafers. This white pair is currently included in the Shopbop Sale going on right now so, enjoy up to 25% off [depending on your cart price] with code STYLE at checkout.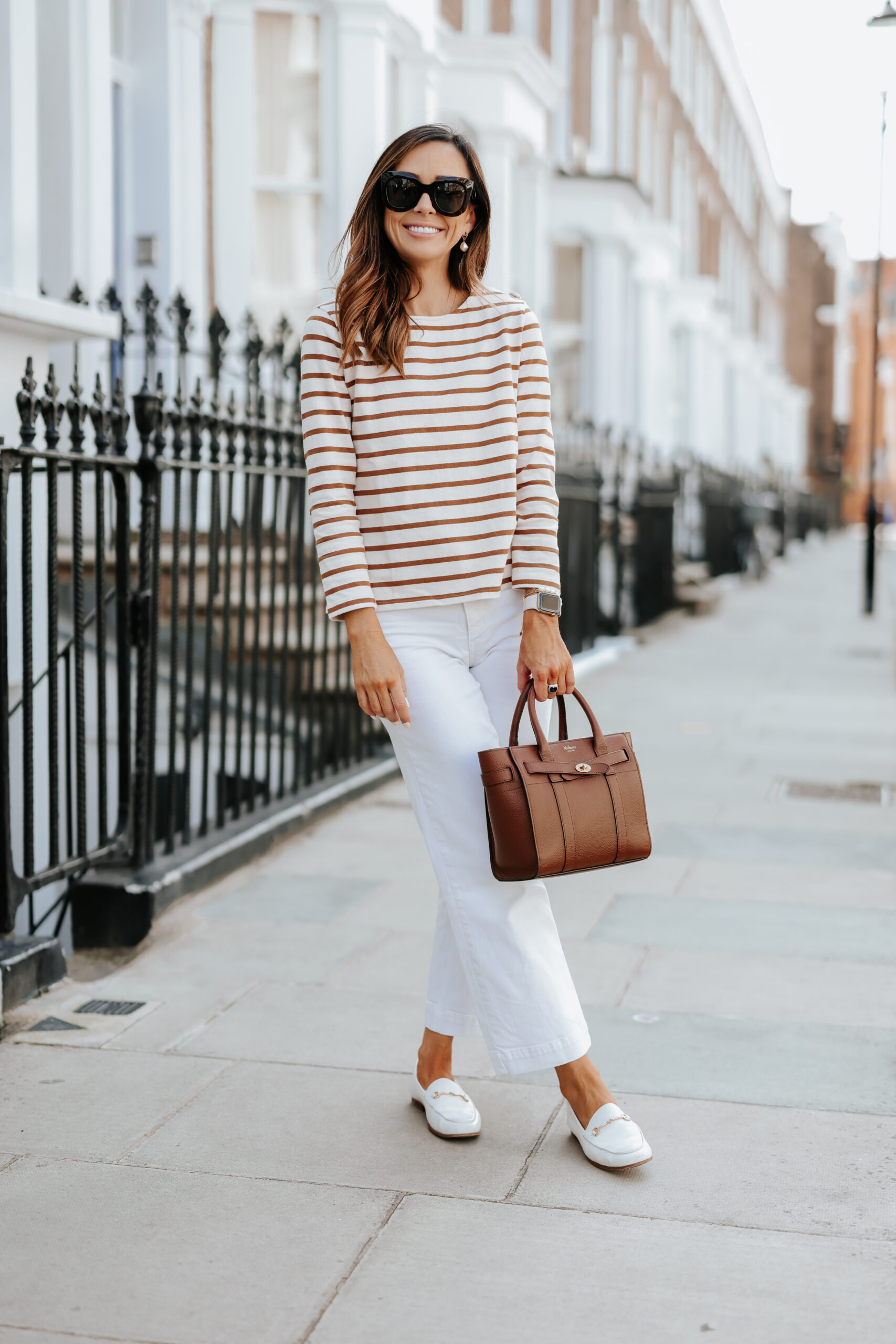 For accessories, I added one of my favorite handbags, this Mulberry mini leather satchel [with a zip closure and detachable crossbody strap], to play off of the camel tones in the stripes of the top. For the perfect touch of sophistication, I added these drop pearl earrings I recently got from Shopbop and this David Yurman ring. I grabbed one of my go-to pairs of sunglasses, my Apple Watch, and I called it a day!
Shop The Look

Easy Neutral and Transitional Basics to Wear Now
As you may have noticed, ballet flats are a big trend this season! Ballet flats are classic shoes that can be worn countless different ways throughout the seasons, but this fall, they are really in style. This pair of brown woven ballet flats really caught my eye! I love that the texture adds a unique element to a timeless shoe.

There's no doubt that a sweater dress is a versatile piece for the fall and winter season and this rich camel turtleneck dress is a stunning option. This dress would be perfect for fall family photos, a night out to dinner, and so much more. This dress also makes for a great layering piece to fit well under your favorite coats.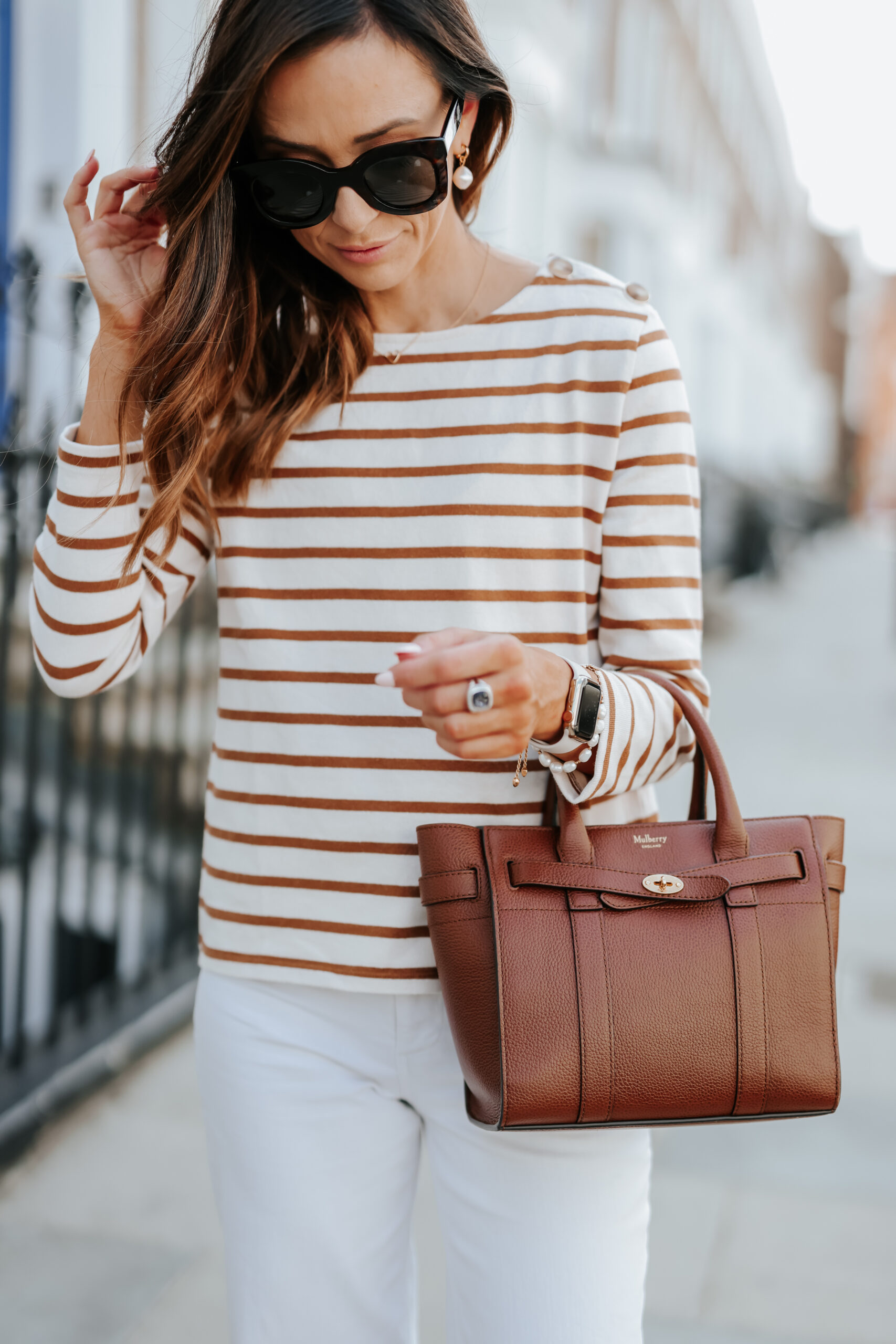 Much like the wide-leg white jeans I styled throughout this post, the style of these wide-leg dark wash jeans caught my eye for the season. Is it just me, or do the silhouettes of our favorite jeans seem to get wider and wider? I'm not mad about it! These jeans would be super comfortable, easy to style with flats or boots, and would pair well with a sweater.
For even more of the new fall pieces I have my eye on this season, see this post!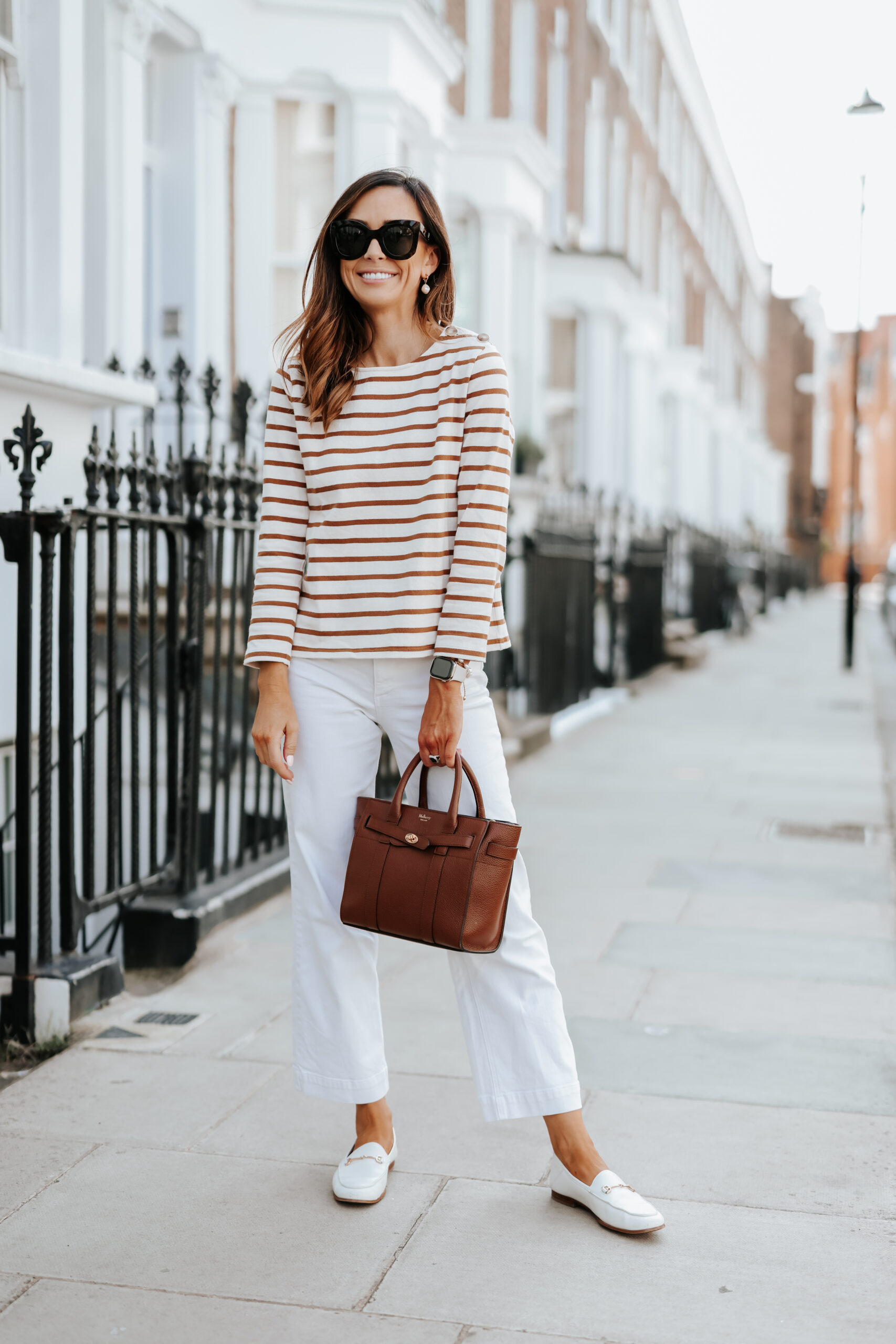 Before I let you go, I thought I'd point out that Shopbop's Sale has been extended so it is still on through tomorrow! Enjoy up to 25% off with code STYLE. It's buy more, save more and a really great opportunity to fill some of the gaps in your wardrobe! Here are some of my picks with some call-out's to what I bought:
What caught your eye from this round-up of easy neutral and transitional basics? Let me know in the comments! xo.