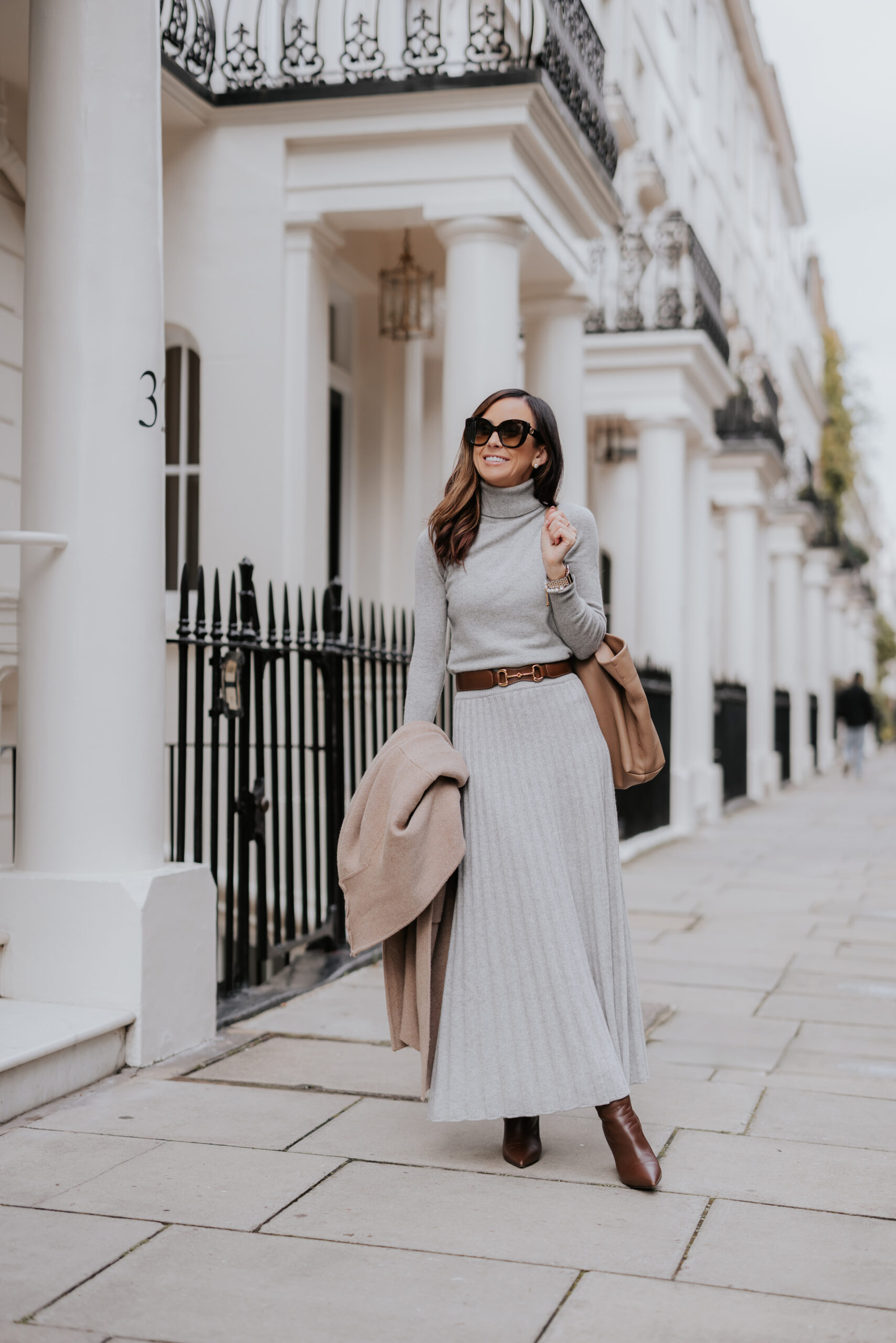 Hi friends! Have the temperature dropped where you are yet? Here in England, it definitely has! While I was said to say goodbye to the month of October, it has made me so happy to pull out my warm, cozy winter clothes again. From coats and boots to sweaters and knits, fashion at this time of the year is so much fun. I've also pulled the trigger on a few new fall and winter pieces that I thought would be great additions to my collection for the season. Today, I'm excited to share what's new in my wardrobe with you, and what I love about these pieces already. So, let's jump in!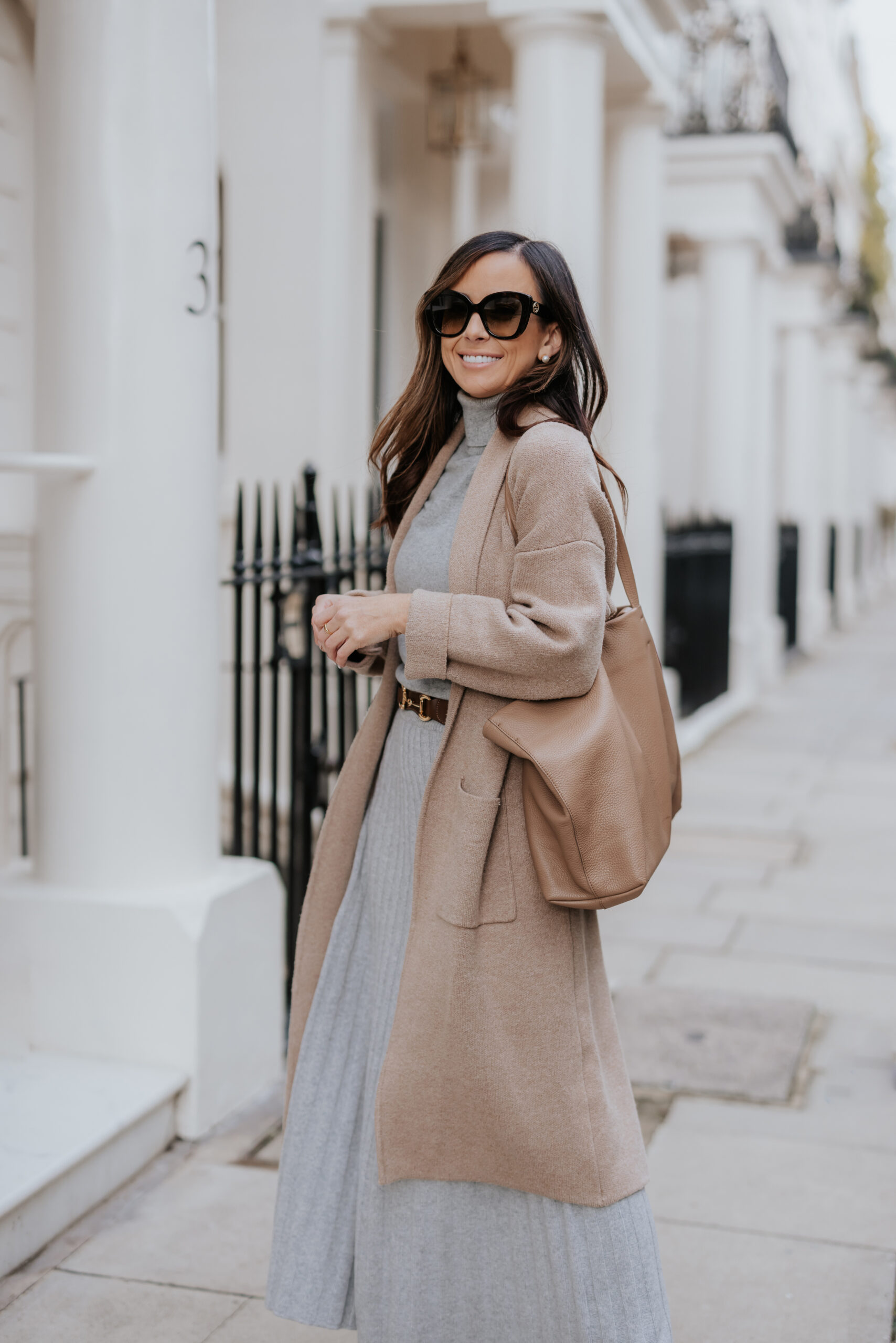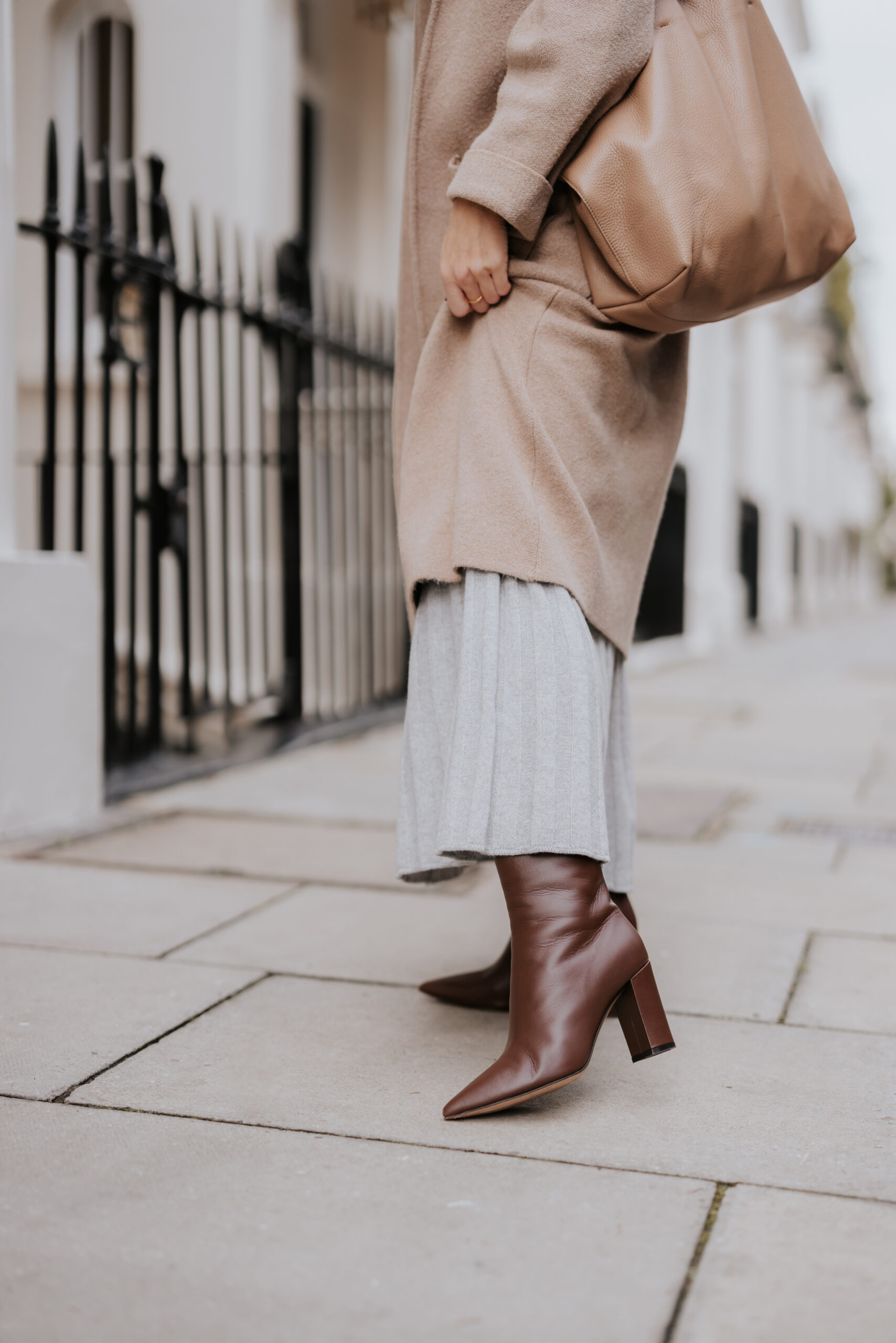 What's New in My Wardrobe Outfit
If I could wear this outfit all season long, I just might! This outfit is perfect for achieving the classic and refined look that is so in style at the moment. My favorite piece is probably the anchor of the outfit – this stunning sweater skirt. It's soft and warm, and honestly, I just wish it came in more colors. It is a little on the pricier side, but after wearing it, I can say it's worth every penny. I love to wear skirts like this in the fall and winter because I can easily slip into leggings underneath and socks under my boots for extra layers of warmth. This one runs true to size.
I paired this skirt with this cashmere turtleneck sweater that I love. Mine is from last year, but now there is a newer version available in a few colors. The only notable difference is that the new version is cropped, although it doesn't look that cropped if you know what I mean. To break up the tone on tone just a little, and to tie in the other leather pieces, I added this belt.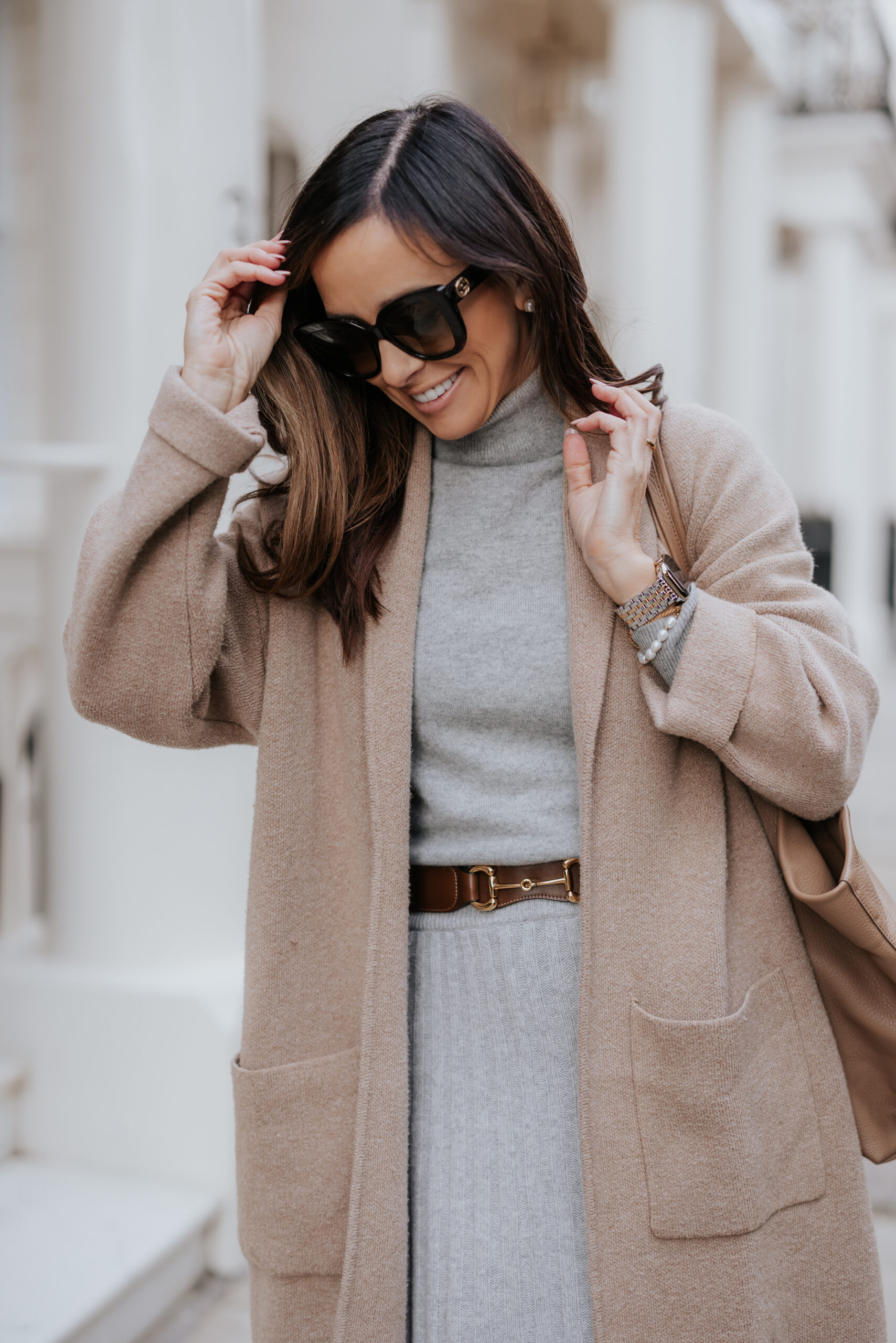 Speaking of leather pieces, for booties, I styled this look with these Gianvito Rossi Piper Booties. These are absolutely beautiful and the exact silhouette that I adore in a bootie. They're sophisticated and can elevate any outfit. This outfit would also look great with brown pumps or knee-high boots. For a bag, I added this soft pebble leather tote that I love! It's shapeless, but that means it's a great bag for carrying essentials like notebooks and a laptop. The quality of this bag is incredible, and Cuyana as a brand has a mission that I love to support!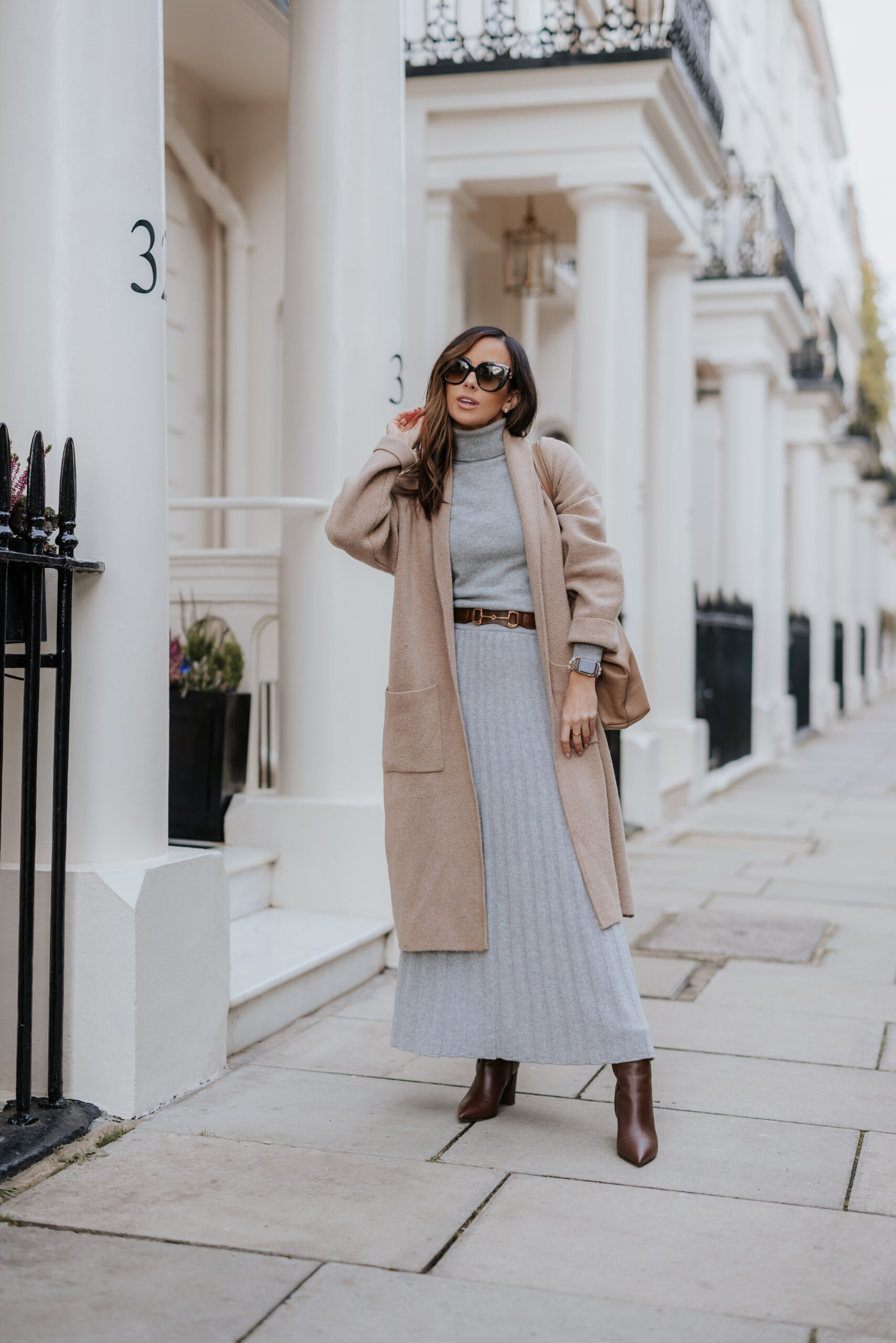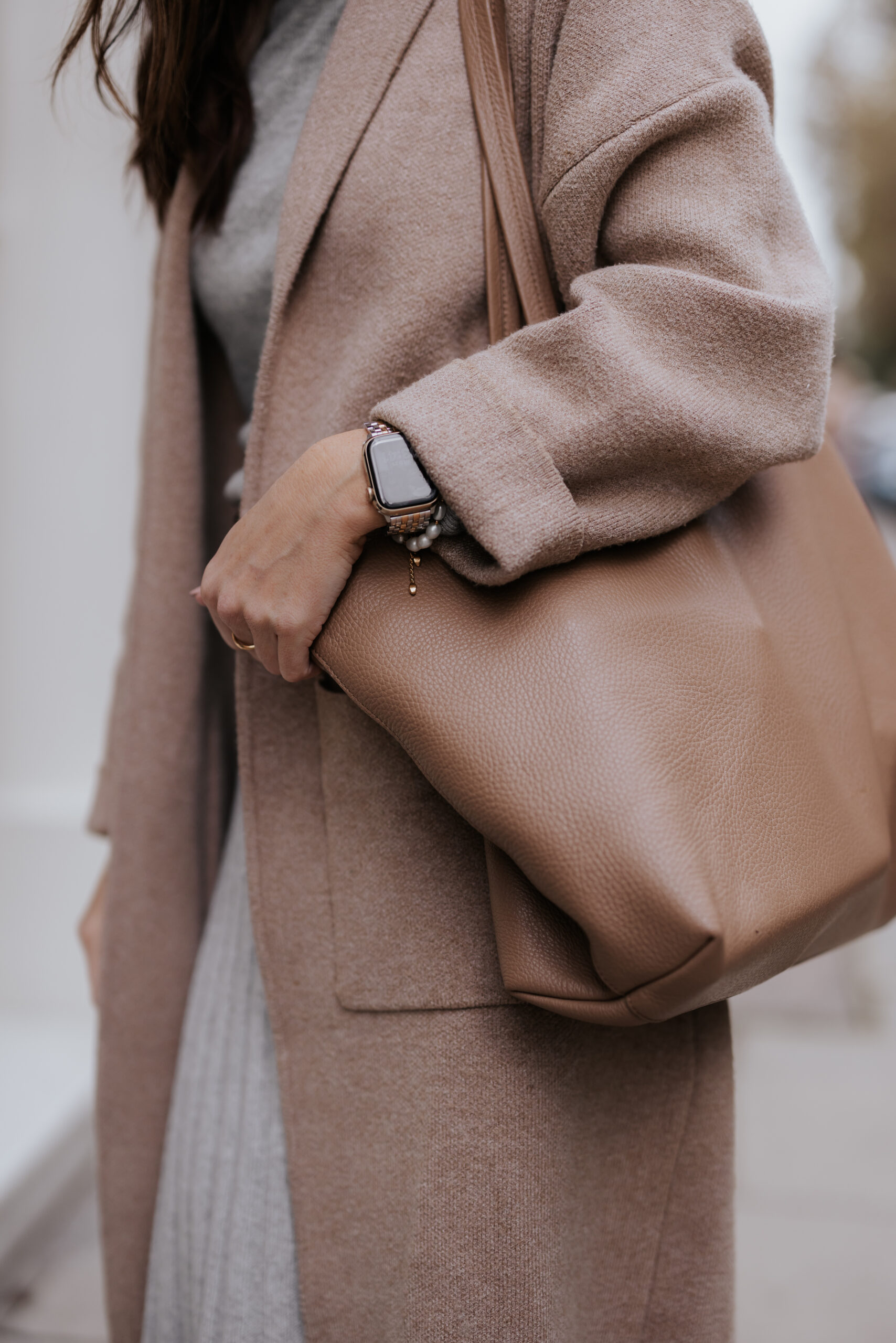 To accessorize, I kept it simple by adding one of my favorite and most worn pairs of sunglasses, this pearl beaded bracelet, and my Apple Watch that I've been loving.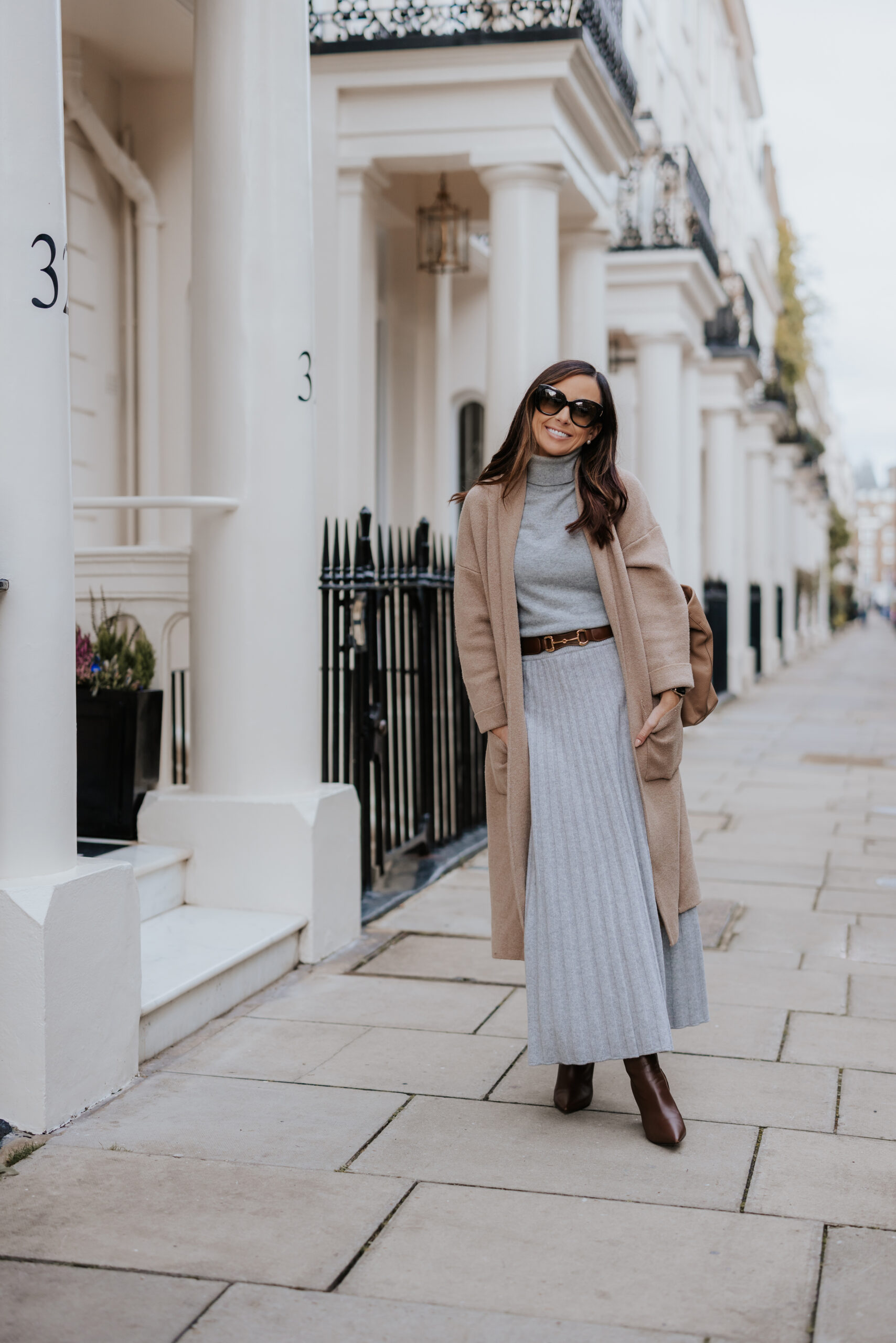 What's New in My Wardrobe
As much as I love to wear dresses and skirts, I've been on a mission to add more pants to my wardrobe this season. The khaki green color of these pants caught my eye! Although they appear to be pretty structured, they are super stretchy and comfortable. I'm also excited to style these corduroy pants for the season. When I saw that the color was described as toasted coconut, I had to have them! I've also been styling these wide-leg pants for workwear, and I've already gotten so much use out of them. For more fall and winter workwear pieces, see this post!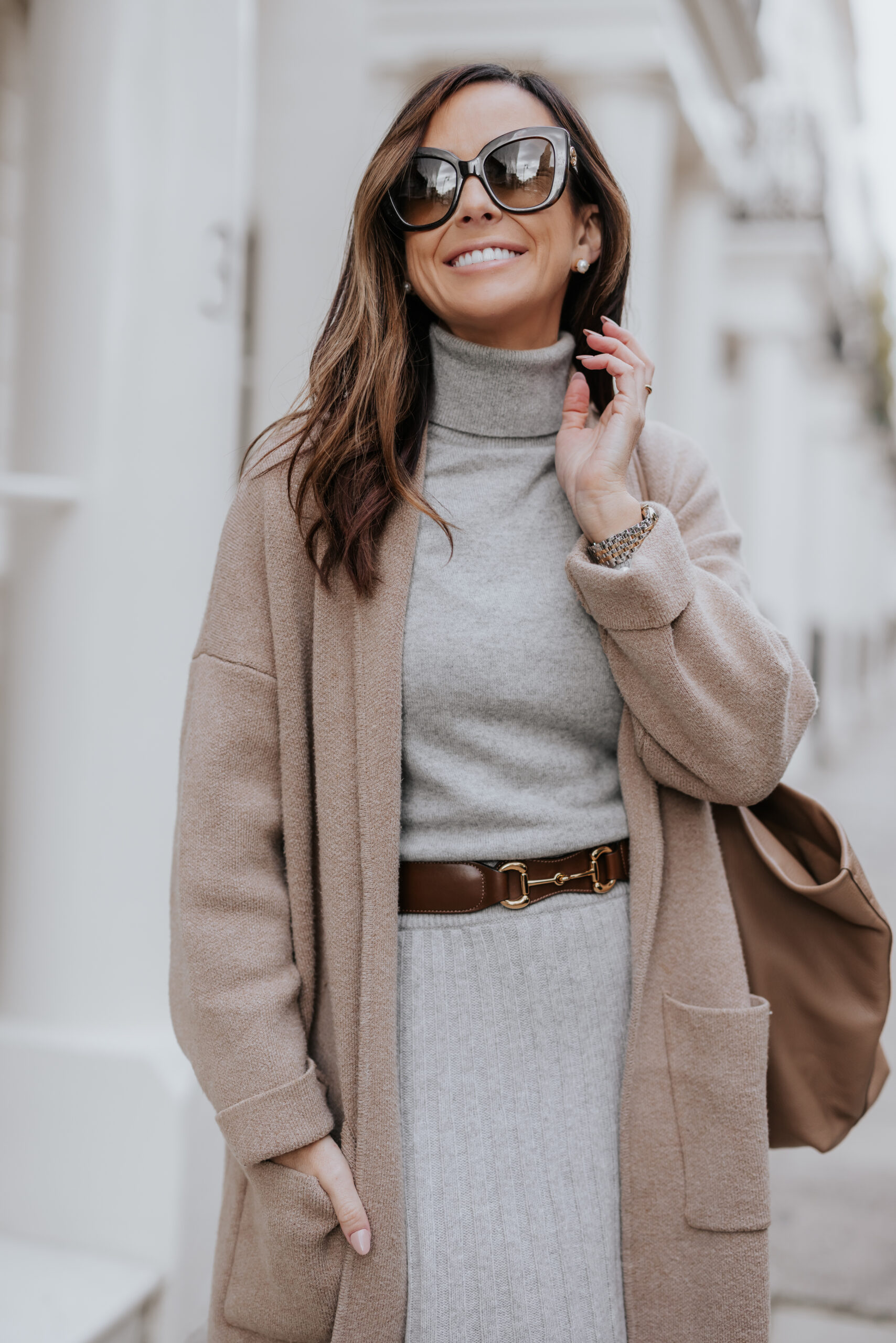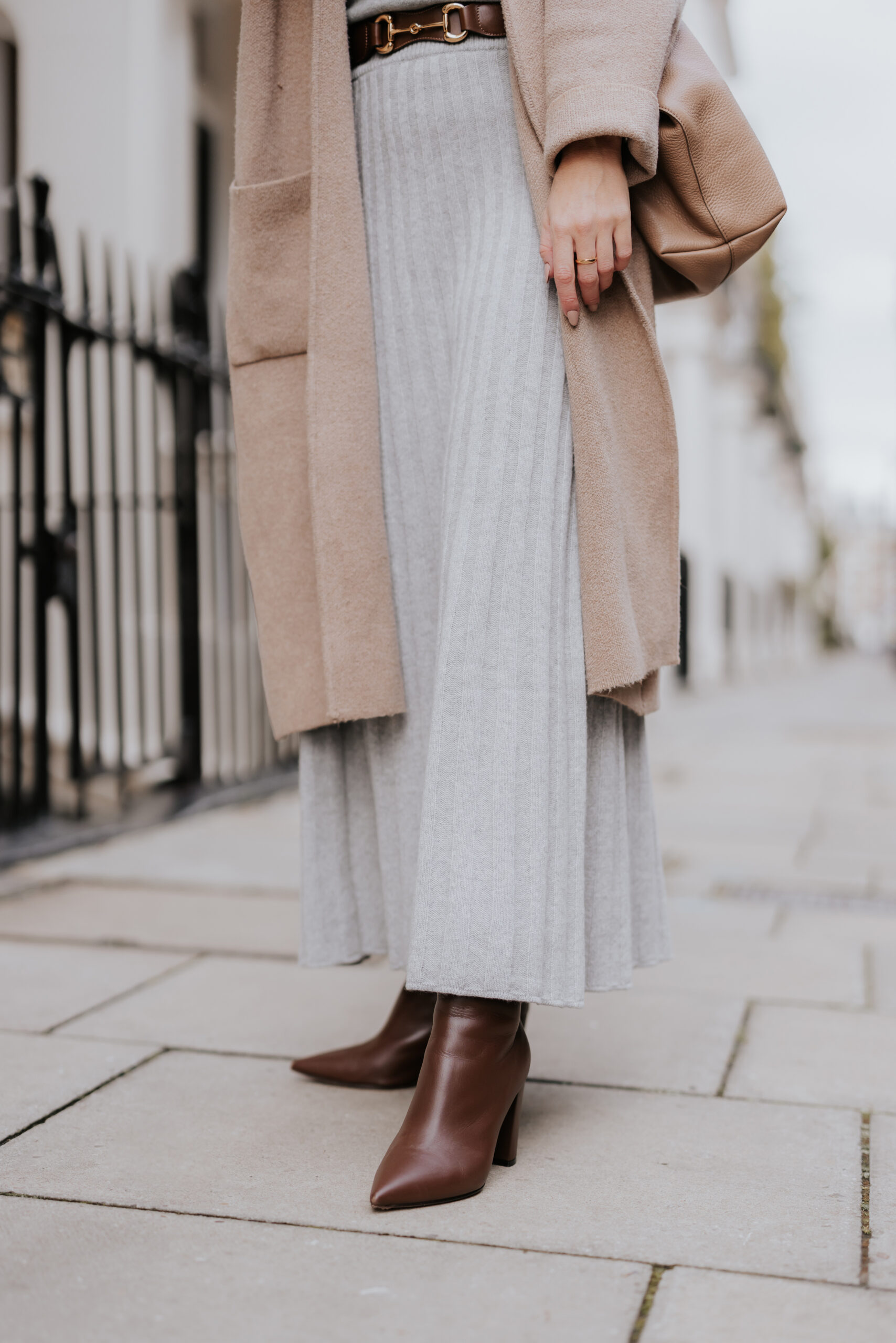 This diamond knit cardigan is a trendy, very distinct print, but I absolutely love it! And speaking of trendy, I finally added this pair of Birkenstocks to my wardrobe, and I have to say, I totally understand the hype. If you've been on the fence about getting yourself a pair, I highly recommend them!
I also wanted to add a few timeless pieces to my wardrobe, so I started with these suede booties. This style isn't going anywhere anytime soon, and I'm glad it's here to stay. I also snagged this classic striped cropped pullover, because I know that it will become an easy go-to of mine in no time.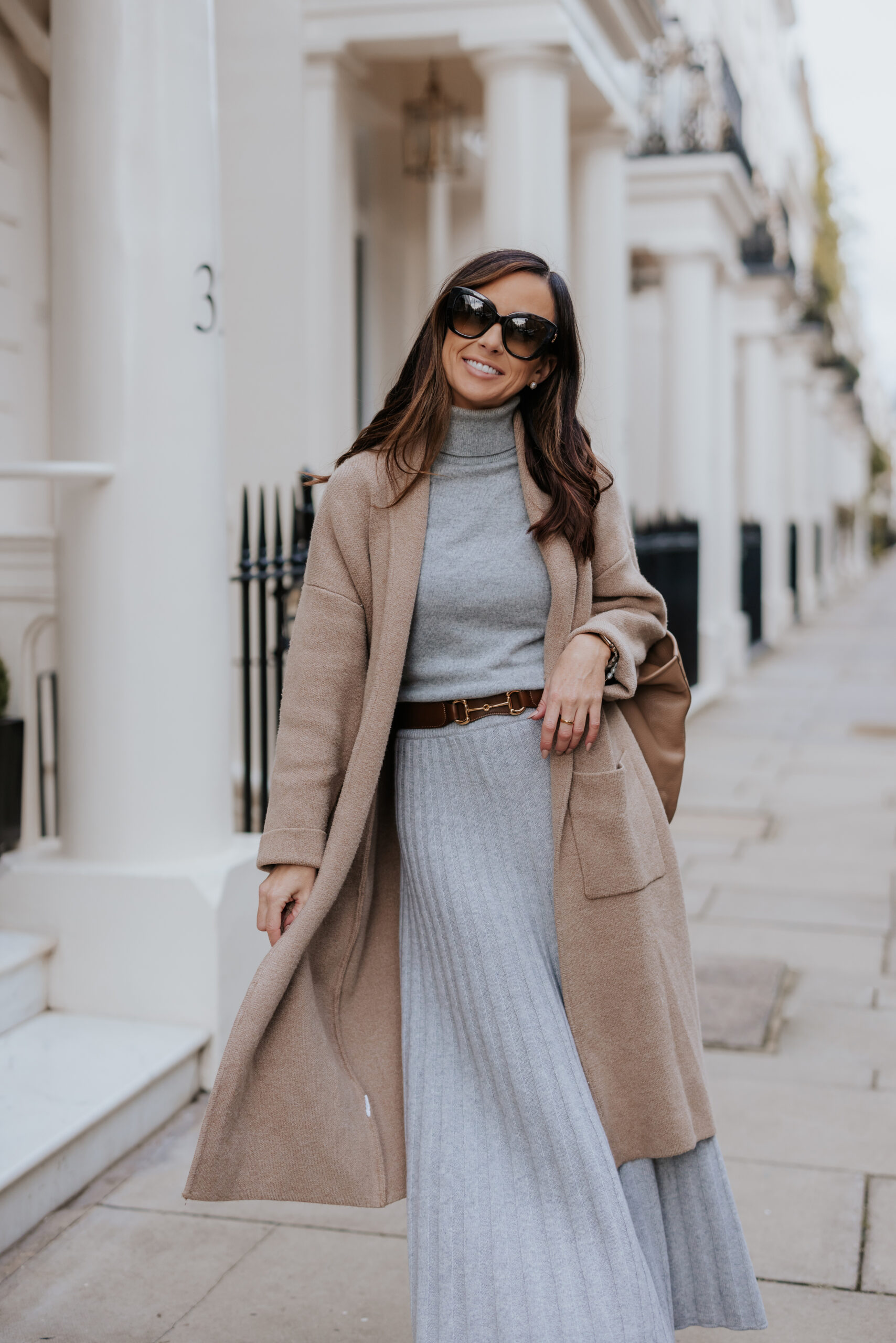 Which of these pieces is your favorite from this round-up? Let me know in the comments! xo.