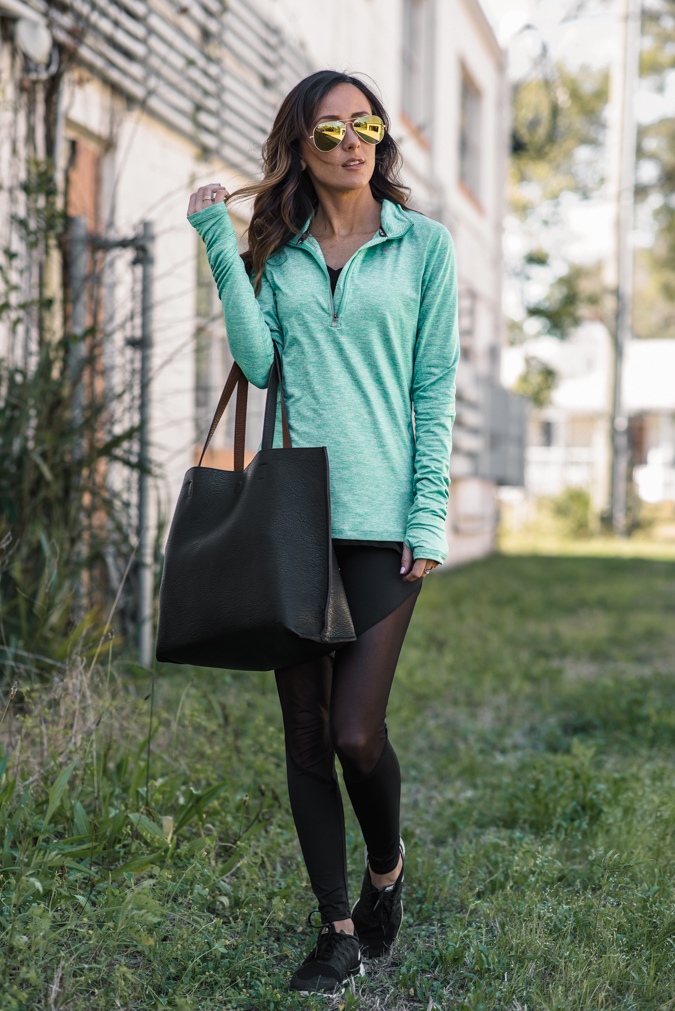 Hi there! Happy Saturday, friends! I have a 'throw on and go' mentality when it comes to style on the weekends! Whether I'm going for a morning walk on the beach, running some quick morning errands, heading to brunch with my parents, or catching up with and cheering on my girls at their weekly kickball game … you can find me in something super 'no fuss', low maintenance and casual. I recently found these fun mesh cut out leggings and think they're SO fun for just running around town. You can certainly wear them to the gym, as well, if you want!
One thing I would recommend, though, that you're not necessarily seeing here is … wearing a longer shirt over your leggings. I was a little embarrassed when I saw these photo's because y'all know I'm kind of crazy about the fact that, unless you ARE going to the gym to work out, I don't classify leggings as pants. SOOO, with that said, make sure you buy your casual top's a little oversized so that they be pulled down over your front and back. Sorry I failed you there, ha.. AND also don't dry them because, clearly … they can shrink. #bloggersarentperfect
I love my Dri-fit pullover by Nike. They're lightweight but not very warm. The weather down here has been beautiful lately, but I would recommend this Patagonia pullover if you live somewhere much cooler [which is likely, ha!].
Do y'all have any fun plans for the weekend? I got take out last night and went over to a girlfriend's house to catch up and let our pup's play. Tonight, I'm going to my sweet friend, Nathalie's, wedding in St. Augustine! I have an Instagram Round-Up coming up on the blog in the next day or two! Get excitedddd! Thanks for stopping by today, y'all! xo.