Hi there, beauty queens! Today, I'm excited to share a post that came from YOUR suggestions! I've been wearing this neutral / dark brown eyeshadow look quite a bit lately and y'all wanted all the details on how to achieve it yourself! So, without further adieu, here we go ….
Okay, let me set this up by saying, you can either do your face makeup first, before your eyes, or you can do your eyes before your face makeup. Some people have a particular preference. Most days, I do my face makeup first but if you tend to feel like you 'make a mess' of your face when you do your eyes, maybe do your eyes first and clean up the 'mess' with a makeup removing wipe when you're done.
The first step is to apply a neutral cream eyeshadow to your entire lid and crease area and blend it in to your skin well. You can use any brand that you prefer. The one I use is HERE and the color is called 'Bare Study'. I also love and have THIS great drug store option that works just as well! The formula is just a little thicker, but essentially does the same thing. This will act as a primer for the powder eyeshadow you will be applying next, and help it stay in place for a long time.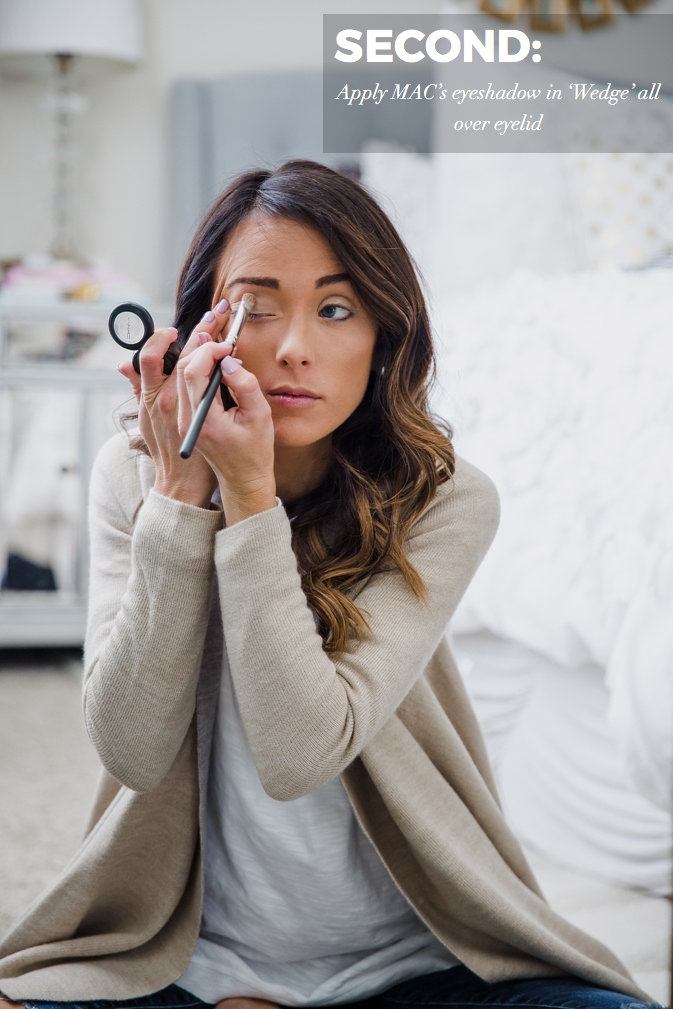 'Wedge' is a neutral beige color by MAC that I use more than any other neutral shade I have in my eyeshadow color options. It's a matte color and would look good on most skin tones. Apply it to your entire eyelid with THIS eyeshadow shader brush. It's the one I've come to like the most out of the many I've tried over the years! It packs the color on your lid really, really well, as well. I have two so you don't have to dip brushes in multiple colors.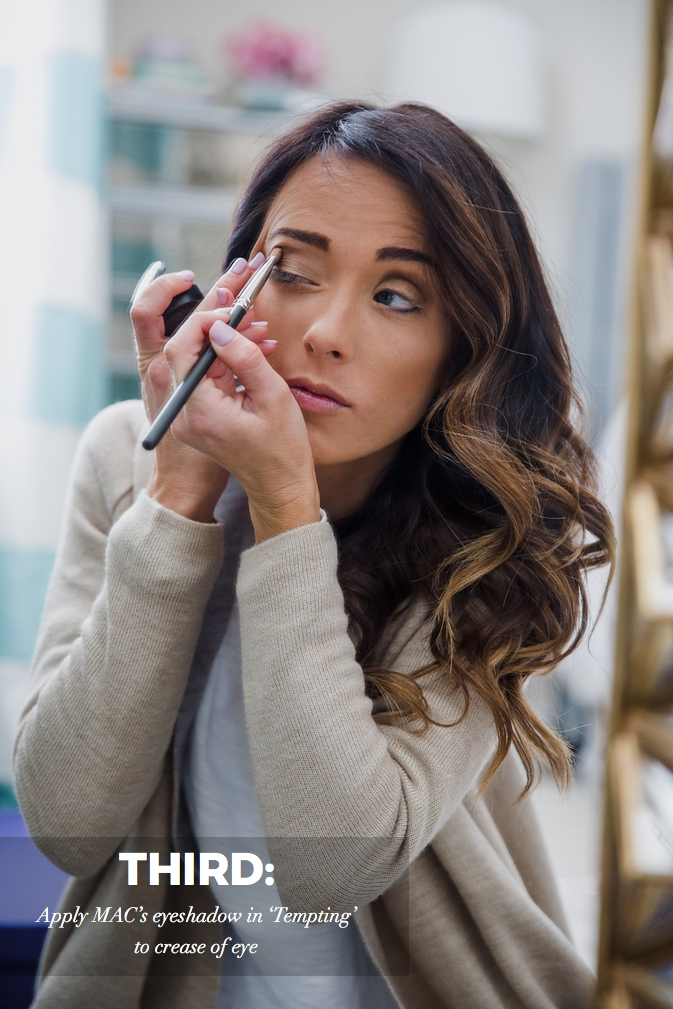 Next, you'll apply MAC's eyeshadow 'Tempting' to the crease of your eye a few times with the eye shader brush. This is the longest standing color in my eyeshadow collection. It's the prettiest shimmery medium brown color, and I wear it all the time! It's going to look a little intense at first, especially if you but don't worry! We're not done 🙂
The next step involves a different brush, but you can certainly just use whatever you have! I recommend the medium angled brush if you want to expand your eyeshadow brush options! 🙂 It is angled and full to give you the ability to apply and blend out those darker colors for your smokey eye. Then, with this brush, you'll mix the two colors that are second and third from the right end of Covergirl's 'Tru Nudes' to create the smokey eye in this look. I blow off a little excess once I've dipped my brush in both a few times, then I drag my brush, with the angle facing DOWN, from the corner of my crease to the edge of my lid in a downward motion. Next, I turn the angle IN so that the higher part of the brush is on the corner of my eye, where I started the line, and blend that line inward toward the middle of my eye.
Don't worry if the lines of the dark brown seems harsh. The next step will take care of that!
In my opinion, the medium angled brush is great with helping you create that smokey eye look but, because the brush is really full, I don't like to use it to blend out the harsh line the initial application of the eyeshadow creates. So, I use the Sigma Firm Blender Brush to blend out the harsh line to create a more natural look. To do that, I make small circular motions along the harsh line with the brush to soften it up.
Sometimes, I just stop here and then proceed to put my eyeliners and mascara on and call it a day! However, when y'all asked me to share the steps of this look, I had added on additional color to my lid but … wanted to make sure you knew that I love this look, as well, and this could be a stopping point if you wanted!
The next couple of steps are interchangeable.
For my eyeliner, I use two amazing drug store products. For my top lid, I apply L'Oréal Carbon Black Telescopic Precision Liquid Eyeliner. For my bottom lid, I apply NYC Classic Brown/Eyeliner Pencil in Black. Then, I typically apply Diorshow Iconic Overcurl Mascara. It's been my absolute favorite for a couple of years now, and I highly recommend the splurge! Lately, though, Rodial Glamolash Mascara and have been LOVING IT! If you want a great drug store option, I always have THIS in my collection! 🙂
To make it easier, I linked them all here:

Before you pack the color on to your lid from the brush, I recommend NOT blowing a lot of the color off of it. And, when I say 'pack', I mean firmly dab that brush on to your eye lid. Obviously don't hurt yourself but you should just dab it lightly but firmly on to your eye instead of how we normally swipe it from left to right across the lid. You'll want to stay above your eyeliner line but you can clean it up when you're done if you need to. I love how it changes up the entire look! The rich sienna color & shimmer will make your eyes pop, no matter the color!
For this, I use a small smudge eye brush for precision. Mine is from & other stories, but I don't see it on their website. You can get a similar one HERE.
And, that's it!
You can see it really well in another photo toward the beginning of the post, as well, if you want a better look.
The rest of my makeup is here:

Leave some questions in the comments below and I'll get back to you throughout the day! And if you didn't get a chance to fill out that survey for me yesterday, be sure to take a minute to take it HERE today! 🙂 All of your input has me SO excited about all the fun posts to come this year! Thanks for stopping by!  xo.