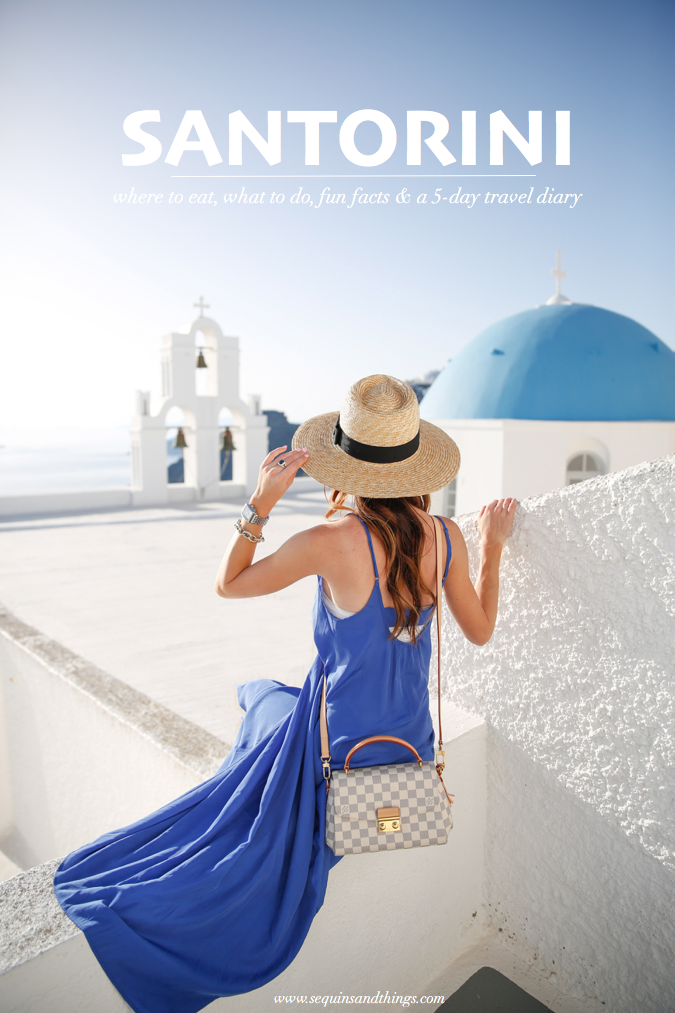 Hey there! I'm so excited to finally share my Santorini travel diary with you! We tried to squeeze as much as we could into our five days in Santorini as we could muster while also allowing ourselves to just enjoy it and relax a little bit, being that we were coming off of a week and a half of constant and fast travel. My initial thoughts on Santorini, upon arriving to our hotel, was that it's like walking around in a dream fully awake. It's too beautiful to be real … but it is. Let me tell you more about this place, our experience and what you need to know if you're planning on going!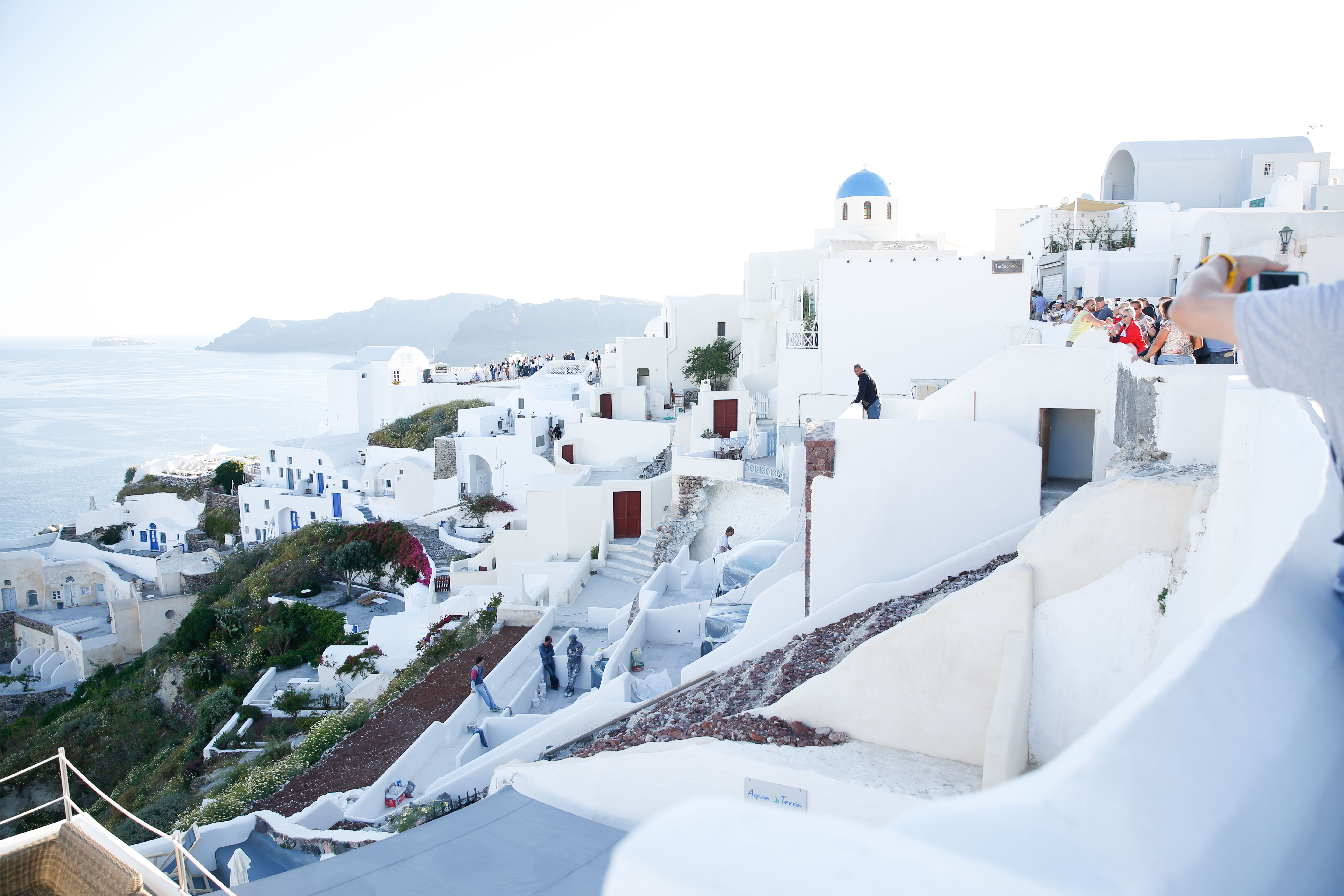 • The official name of the island of Santorini is actually Thira, but everyone calls it Santorini. Before it was called Santorini, it was called Kallístē, meaning 'the most beautiful one'. The name Santorini originated in 1153 by the Venetians and was the culmination of two words: Santa and Irenene (Saint Irene).
• Santorini was once one large round island. Now, Santorini is a crescent-shaped island that sits along the water-filled caldera of a massive volcano. There are four other islands that line the flooded caldera, as well. A caldera is a volcanic feature that occurs when a volcano collapses into itself, essentially forming a large crater that usually happens after the emptying of the magma chamber within the volcano following a large eruption. The eruption that caused the formation of the current caldera occurred in the 15th century BC and was likely one of the largest that has ever occurred! The last eruption was in 1950 and the volcano is currently sleeping.
• Due to the volcanic history, Santorini has white, black and red beaches. It's one of the only places in the world where you can experience all three in one place!
• The most popular cities on Santorini are Oia [pronounced ee-uh] and Fira [pronounced fee-ruh].
• Only 15,000 people actually live on the island of Santorini yet 1.5-2 million people visit every year!
• There are more church's than houses in Santorini.
• They say there is more wine in Santorini than water because of how little rain they get.
• There is so much white and blue on the island of Santorini because they are the colors of the Greek flag. Blue represents the sky and the sea and the white represents purity.
• Until 1960, there was no electricity. There were only donkeys and fisherman.
• The edges of each stair on staircases and walkways are traditionally painted white because the walkways and staircases used to be poorly lit. The white helped people determine where the edges were so they wouldn't fall over a cliff.
• Santorini's economy relies heavily on tourism. Greece's economy took a huge hit in 2008 and a lot of people are really struggling to come out on the other side since then.
We stayed at SUNROCKS BOUTIQUE HOTEL in Firostefani and had an amazing experience overall! I seriously could not recommend it enough! I'd love to go back for my honeymoon one day!
Here are some photos then I'll list some Pro's & Con's about our stay!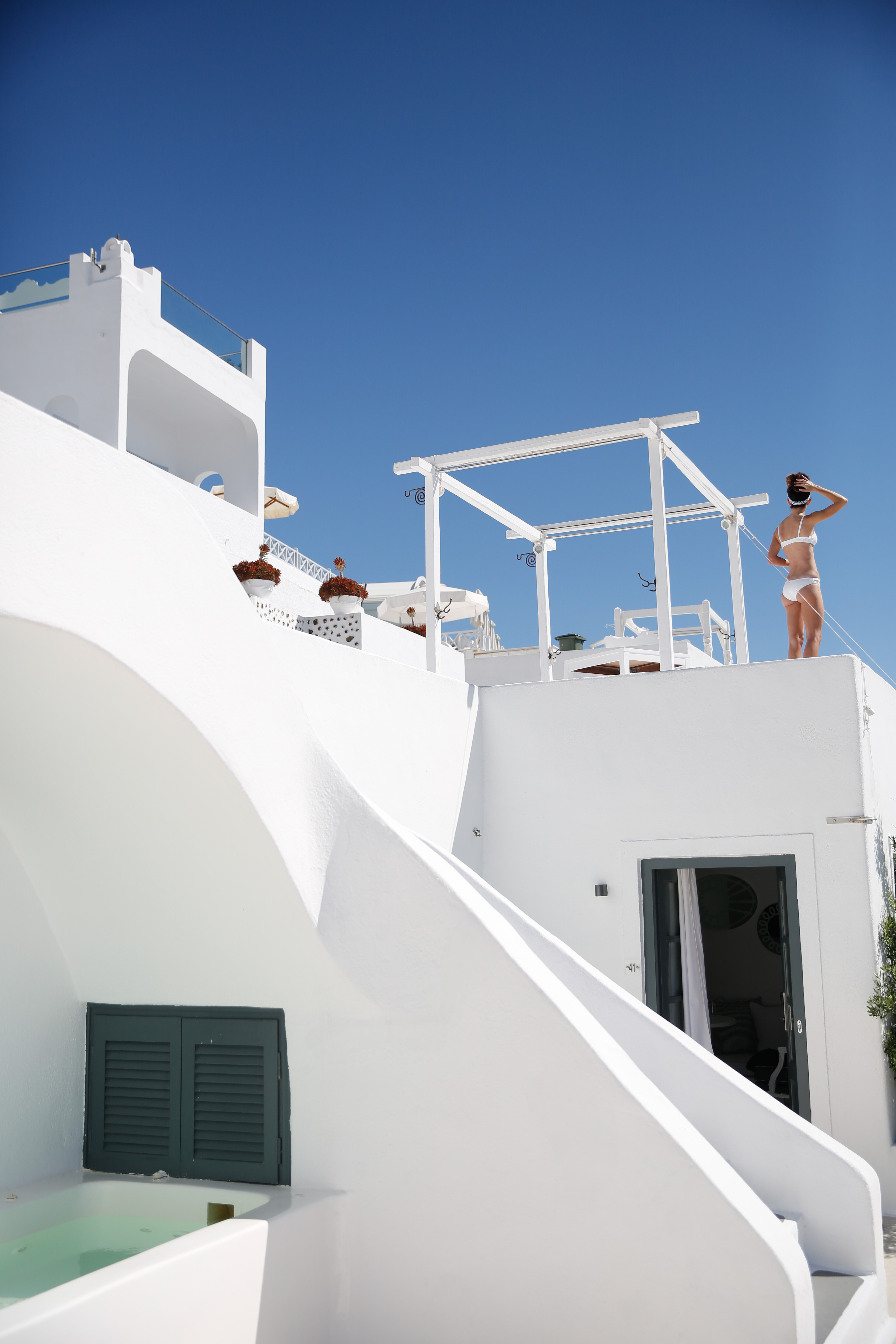 PRO'S
• This property was absolutely stunning. It is kept pristinely clean, is covered in white paint and has beautiful views of the Aegean Sea. You will often see private boats / yachts and cruise ships sailing by. It's hard to comprehend just how high up you are until you see the boats, then you're like … I know those boats are massive but they look so small from up here!
• Staff was extremely friendly and helpful. We had the same gentlemen serving us breakfast every morning. They were always so sweet and attentive. Definitely get the eggs with feta with toast! It was my favorite!
• Margarita, the property manager, and Costas, the gentleman who graces the front desk, always greeted us with a smile, asked us how everything was going and what they could do to help make our day run a little smoother.
• Victoria and I slept SO well here. The beds and pillows were extremely comfortable.
• It was a very quiet place to stay. Guests keep to themselves and everyone is very respectful of other guests.
• In Europe, you never know how the shower situation is going to go. But, here, you will surely have a hot shower. I burned my hands a few times when I went to wash them because I forgot to also turn on the cold water on, as well. Also, showers in Europe rarely consist of a shower head that is in front of you at angle. It's usually an above shower head and then a removable one that you has a hook at waist level. It's a little frustrating, being that this is one thing that I think Americans do better, but you learn to deal.
• You are given a small phone making it really easy to call the front office or office manager without having to worry about international charges. They encourage you to take it with you in case you need to call to arrange for a taxi to pick you up anywhere on the island.
• They have lounge music playing frequently throughout the property. Your room is equipped with a BOSE speaker and an iPod with a preset playlist that, I think, really adds to the experience. It helps you relax.
• Their staff took care of our luggage for us. The stairs are really intimidating and they never want anyone to worry about carrying anything down the stairs but themselves.
• Your room is cleaned twice a day! I mean …. who doesn't love walking into a clean room no matter WHAT time you walk into it? It was amazing.
CON'S
• The restaurant at the hotel was a bit pricey. Thankfully, breakfast was included in the price of the room, otherwise, we probably would have opted to get breakfast in other local cafe's.
• If you have joint issues, beware! There are A LOT of stairs, but that's true of anywhere in Santorini!
OTHER NOTES
• PARKING: Parking is available and free for guests of SunRocks Santorini.
• COST: Depending on the time of year, the rooms range from 200 to 800 Euro. Book in two-to-three months in advance for the best rate.
• WIFI: Available for guests in their rooms and in the pool area.
• LOCATION: SunRocks Santorini is located in Firostefani. It is a 20-minute cab ride from the airport, which costs approximately 25 Euro! Make sure you have cash available.
• AMENITIES: 24-hour room service, air conditioning, twice daily maid service, butler service upon request, hair dryer, nespresso coffee machine, direct dial phone, CD player, Satellite TV, mini bar, safe deposit box and comfort amenities such as bathrobes, slippers, etc.
• NOMINATED: I found out the other day that SunRocks Boutique Hotel was nominated for CondeNast Traveler's Readers Choice Hotel! I voted so, if you've experienced how wonderful a stay is there, as well, be sure to do the same HERE! Let's make sure they make Top 10 again this year!
Find out more information from their website HERE.
For the most part, the Greeks that we came across were very sweet and fluent in English so you won't get lost in translation too much, but just in case, it's common travel courtesy to try and know a few phrases in the primary language of the country you're visiting! Here are the ones that would be good for you to know when venturing to Santorini!
Kalimera – Good Morning / Good Day!
Kalispera – Good Evening / Good Afternoon!
Efharisto – Thank you!
• Baklava – pastry, honey and nuts; great dessert, really sweet
• Tzatziki – dip for bread made of yogurt, cucumber and garlic
• Suvlaki – pita with meat, tzatziki, potatoes [french fries], tomato and onion
• Greek Salad – tomato, cucumbers, onion, olives or capers, olive oil, vinegar, oregano, blocks of feta cheese, and sometimes green peppers
• Frappe – iced coffee with sugar and milk
• Spanakopita – Spinach pie
• Tiropita – Cheese pie
• Yaourti me meli – Yogurt with honey (always make sure you tell them if you have a nut allergy because sometimes they put walnuts on the top)
HOTEL RESTAURANT [Firostefani] – We got a lot of traditional Greek dishes like calamari, greek salad and octopus. I also got the sea bass, I believe, and it was all delicious but much pricier than other meals we had that were similar.
REMVI RESTAURANT [Firostefani] – This place is absolutely adorable in terms of aesthetic, and it has an amazing view of the sunset, however, I wasn't too keen on the food. I got the Spicy Prawn Linguine and it just lacked a little something. I love shrimp pasta dishes when I'm in America but, I'm learning from experience that they're just not as good abroad for some reason.
WHY NOT! SOUVLAKI [Firostefani] – On our last night, we really just wanted to relax and chill out in our suite so we put some warm sweaters and joggers on and walked over to this little place to get some good Greek takeaway. There was a line out the door, which we took as a clear sign it was authentic and delicious. And, it was. We got a Greek Salad, Fried Feta, Fresh Pita Bread, Pork Slovaki and Lukaniko [which is sausage on a stick]. It was DE-LICIOUS.
CAFE GALINI [Firostefani]- We popped into this little cafe down the street from Why Not! Slovaki because Victoria wanted me to try authentic baklava. It was absolutely adorable inside and we agreed we wanted to pop in again on our last morning to enjoy one last frappe with a beautiful view but we ended up getting done with packing and eating breakfast right as we needed to be checking out. But, the baklava was really, really good [a little too rich and sweet for me, personally, but still …]. Highly recommend!
TAVERNA LIMANAKI VLYCHADA [Vlychada Beach] – We got a few appetizers here before heading back to Thira on our last day after exploring Vlychada Beach. The food was okay. I personally thought the Greek Salad was amazing but the calamari was not. Also, based on some reviews I've read on Trip Advisor, I'd recommend NOT going for the 'catch of the day' if they offer that to you. Our server was nice but he also tried to get Victoria and I's number when we never gave the impression we wanted to get together with him. We felt like that was a little inappropriate.
RED BICYCLE [Oia] – This restaurant was given to us as a recommendation from multiple readers but, we called and they actually weren't going to be opening for the season until our last day in town. We said we would just play it by ear and see how we felt about heading back to Oia to check it out but, opted to do something different. But, since so many people recommended it … I'm letting you know you should check it out if you have the chance!
SUNSET TAVERNA [Amoudi Bay] – Amoudi Bay is the port just underneath the white-wash buildings and red cliffs of Oia, and Sunset Taverna is one of a few restaurants that sit right on the water where guests can enjoy delicious food with a stellar view of the sunset and boats bobbing in the water or passing through the port. If you're not entering the bay by boat, you'll have to walk down from the top of Oia, which takes about 20 minutes. Beware of donkey poo!
Also, be sure to make a reservation for this restaurant ahead of time if you are visiting during high season! You'll want to call at least two weeks ahead of time! We also got there a bit late because we didn't realize how far it is from the top of Oia and he said said they wouldn't have been able to keep our table for us if we were visiting during that time, as well, so be sure to give yourself enough time to get there before your reservation! Overall, we had a really good experience. When you reach the bay, you can see just how clear the water is. We could see LOADS of sea urchins clinging to the bottom and to cement blocks.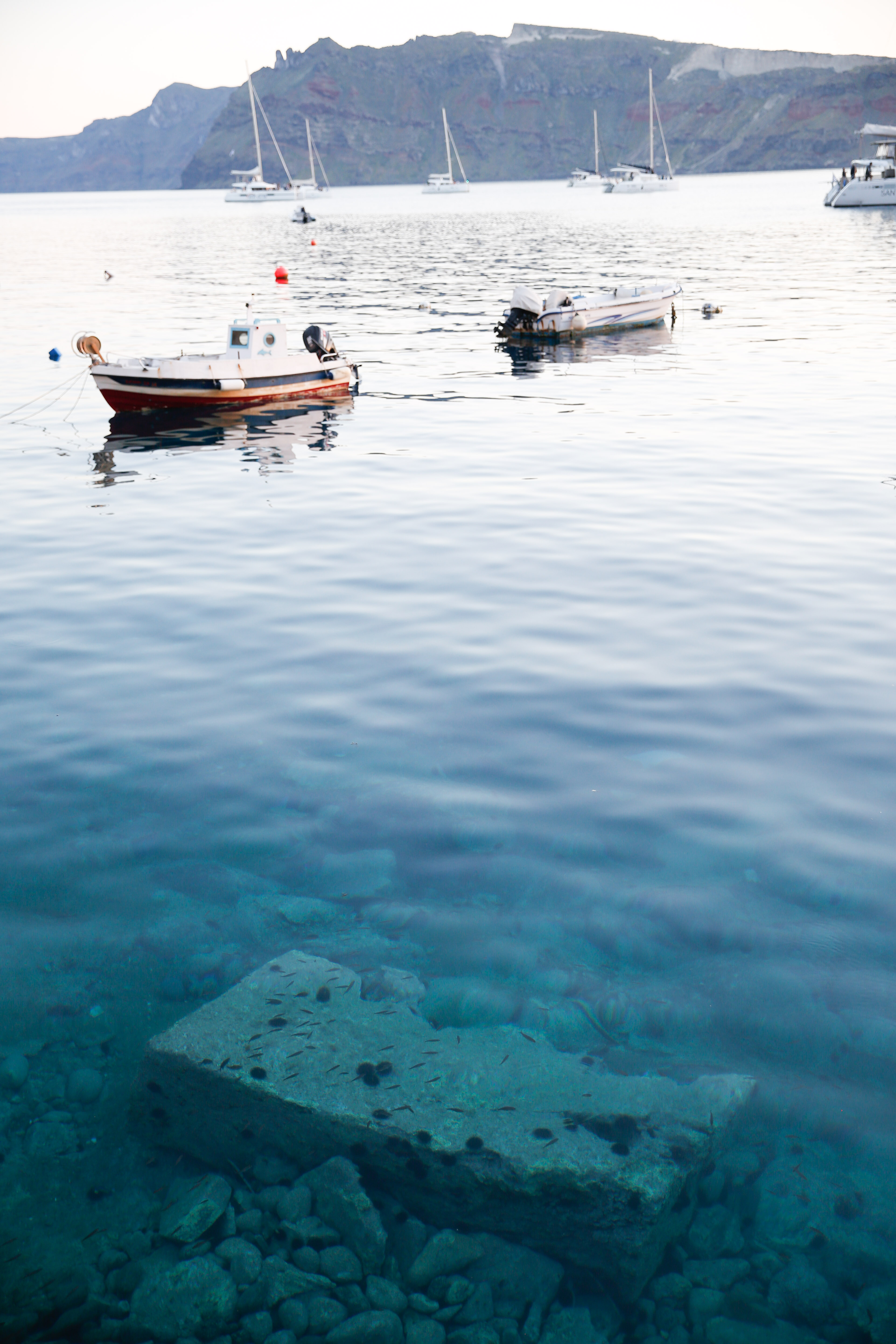 It was so interesting. Once you're seated, your waiter will have you come to the fish counter to pick out the fish they will make for you. He suggested four small red snapper for us and it was delicious. We also enjoyed Greek salad, octopus, and tzatziki among some other small plates. I really can't recommend this place enough! We really enjoyed it!
Check out the view:
There are so many things to do in Santorini and we weren't there long enough to do it all but I thought it might be helpful to lay out our itinerary over our five days and four nights in Santorini.
DAY 1 // We arrived in Santorini around 3:30/4:00pm and hailed a taxi to SunRocks Boutique Hotel in Firostefani from the airport, which was very easy to navigate It was about a 15-minute drive from the airport and cost 25 Euro! We were greeted by Margarita, the hotel's manager, who was so friendly and informative. She brought us down to our room and by the time we said goodbye to her and did a little bit of unpacking, we got changed to go enjoy the sunset and some dinner up by the pool, which is where the hotel restaurant is. We could NOT stop snapping pictures! It was SO pretty! Here's one I grabbed from my camera roll:
After we were done with dinner, we essentially ran downstairs to get into bed. We were SO tired… we couldn't wait to sleep!
DAY 2 // We SLEPT IN pretty late but made it up to eat breakfast before they stopped serving it at 11:00 then R E L A X E D on our terrace and sunbathed for awhile. It was SO needed. Honestly, after you travel for so many days in a row through cities like Venice, Florence and Rome, you're completely exhausted. We were really happy to end our trip in Santorini because it really allowed us to unwind and just enjoy being away from the hustle and bustle of being home.
We ordered frappe's and I literally just sat on our ledge and took the view in for a solid 5-minutes, uninterrupted. It felt good just letting myself be still, and should probably happen more often. I didn't know Victoria took this until she sent me all the photos from our trip hah, but this was essentially me just taking it all in from our terrace:
Eventually, I started venturing around to see if I could find an even better view and ended up finding this spot where they do weddings:
How STUNNING is this?!?!
After we spent the afternoon in the sun, we got cleaned up and decided to walk around Firostefani, the little city we were staying in just outside of Fira, and found this iconic location.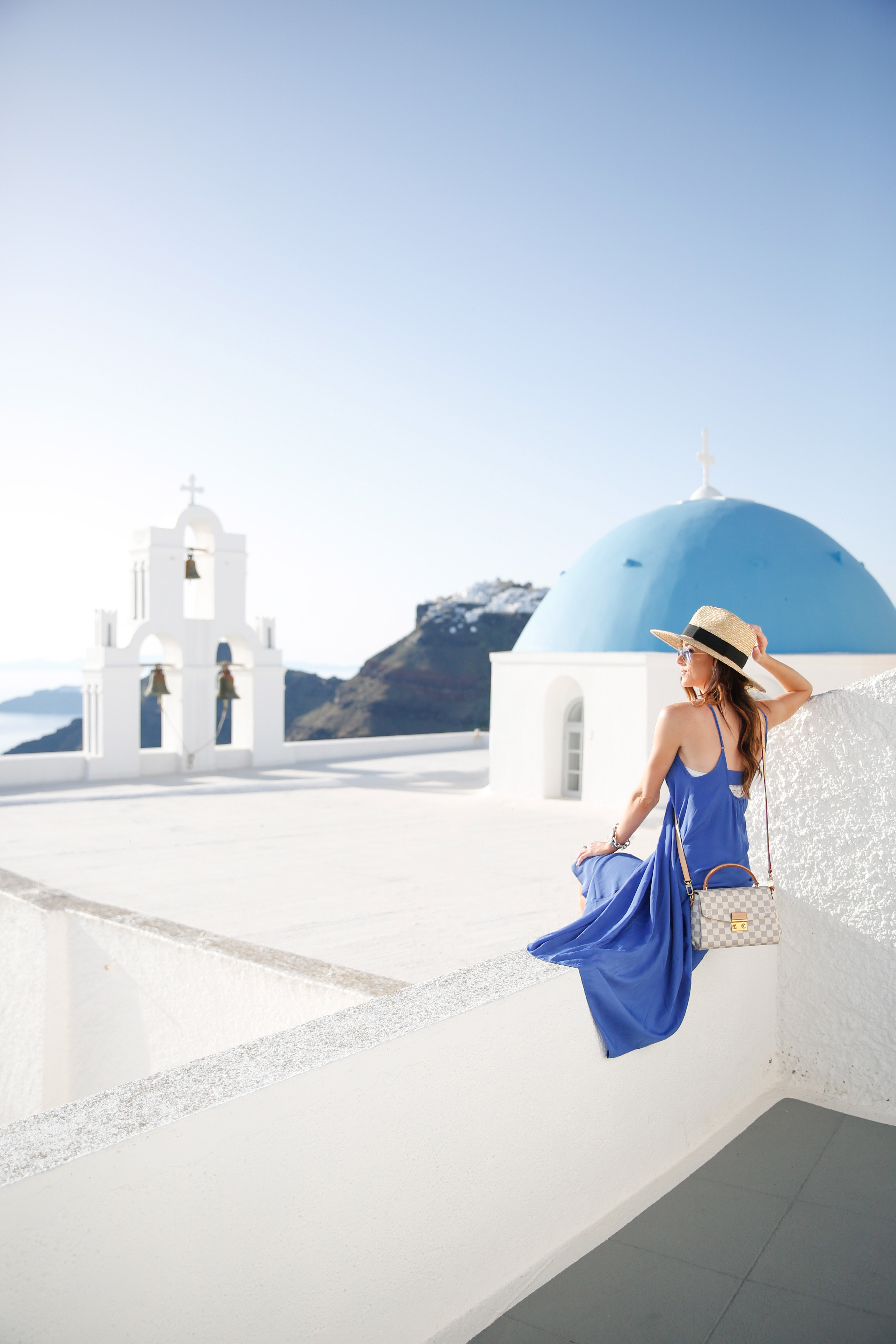 Then, we took a taxi down to Oia to walk around then eat dinner around sunset, which was about a 10-minute ride and was 15 Euro. We walked around a little bit but it was MUCH more crowded than we realized it would be. When cruise ships are docked, everyone gets out and flood the super narrow streets.
Here are some snaps Victoria snapped during our walk-through, despite the crowds:
We ventured down a long pathway to the bottom and enjoyed a sunset dinner at Sunset Taverna, a fish tavern at the bottom, right on the water. If you tell your waiter that you need a taxi before you leave, they will call one for you, like they did for us!
DAY 3 // We slept in a bit again, fully realizing just how much our nights of 4-5 hours of sleep had really caught up to us! We decided to enjoy breakfast from our little front porch / terrace instead of going up to the pool.
Then, we got ready and got a taxi to Santo Winery for a wine tasting after receiving so many recommendations. It is supposedly an amazing place to catch the sunset but we went just after midday and loved that it wasn't packed! [Again, keep in mind, we went in late April before the really busy season starts.] However, just as we were leaving, a big tour bus full of people came so we really lucked out!
We finished up around 3:30-4:00pm and got a taxi back to Firostefani and decided to walk over to Fira, the capital of Santorini, to check it out! There's a lot of hustle and bustle in this area and it's known for its nightlife.  We honestly didn't find it that appealing during the day. We thought the walk from Firostefani, where our hotel was, to Fira was really nice, though. You can see where the cruise ships port at the bottom and people taking donkeys up to the top, which was kind of cool. They don't allow donkeys to work for more than a couple of hours so they don't get overworked, which I really liked to hear. [What's with the donkeys? The Greeks would use donkeys to carry their fish and vegetables and imports up to the top, where everyone lived because it was so steep, in years past.]
Once we entered Fira, though, we realized that it was pretty crowded and unappealing so we decided to head back toward our hotel when we spotted the adorable Remvi Restaurant and decided to eat there for dinner. It was probably the cutest restaurant we ate at but, sadly, I wasn't super impressed by the food!
DAY 4 // Victoria and I ate breakfast at the hotel again – hi, it's free! – then asked Costas, at the front desk, where we should go. We decided to take his suggestion and head over to Pyrgos, the highest little village in Santorini.
Then, we ventured over to Vlychada Beach, a black sand beach with cliffs behind it that look like the moon. It was beautiful but we didn't realize that some of the locals see it as a nudist beach! Then, we ate at another fish taverna by the water.
When we got back to the hotel, we were given the key to the suite that we wanted to stay in the whole time … their SunRocks Suite with Private Pool! It was INSANE. If anyone wants somewhere romantic and beautiful to stay, I HIGHLY HIGHLY recommend this suite. It's such a romantic spot and, I mean, I got to enjoy it with one of my great friends but, if me getting to experience it with her leads any of you to getting to experience it with your man … than that will make me really happy 🙂
Like, y'all … check out this pool!!
I could have sat out there all day! We popped open a bottle of wine … which, the hotel gifts you when they welcome you into your room … and sat out there for awhile and chatted about our favorite parts of the trip and where we would potentially want to go next together! We are thinking somewhere tropical next time! Any guesses? 😉
After we got all settled in and chatted for a bit, we both just kind of took some time to unwind and recharge. Then, for dinner, we  walked down the street from the hotel to a souvlaki take-out place and took it back to our hotel. We needed to pack after that and we also had a lot of work to make sure we did while we were together being that this was our last night together.
DAY 5 // Victoria and I let ourselves wake up whenever as it was the day we were checking out and heading back to London, but our flight wasn't until later in the  day and it was direct. We went up and ate our last breakfast at the hotel restaurant and said goodbye to all the guys who had served us everyday and been so sweet  to us! The hotel staff brought up our luggage and we sad our goodbyes to Margarita and Costas. I promise, if you stay at SunRocks … you will be so sad to leave not just Santorini, but the people who work there! They were all SO nice!
We left a couple of hours before our flight, which was plenty of time! Santorini's airport is very small and their processes are a little unorganized. The airport was only boarding two flights at the time. Each flight was in a separate LONG line on either side of the entrances of the airport. They were regulating entry but the airport staff kept ensuring us that everyone would be let in with enough time to make their way through by the time we needed to board our flight, but it was seriously moving so slow AND we kept getting confused because every few minutes there was an overhead announcement saying that if you're flying to London, proceed to Gate 2 to get ready to board. So, we were so confused by the line and how slow they were letting everyone in but still making that announcement. Eventually, one of us walked up there and happened to mention that we had EasyJet's Speedy Boarding so they let us through to the front. It was really weird how they do the check-in process so … just a head's up!
• EXPLORE AKROTIRI – This is the archeological site of the ancient settlement that existed in the Minoan Bronze Age that was obliterated by an enormous eruption of the volcano around 1627 BC. Somehow all of the people that lived in the settlement at the time were able to evacuate so there were no people preserved in the ruins. But, you can see fine frescos, small objects and pieces of artwork.
• BOAT TOUR – This was something A LOT of people suggested and we just didn't end up pulling the trigger on it! HOWEVER, there are tons of companies in the area that put them on and we heard rave reviews about other guests who have opted to do them and LOVED it! We were told that a lot of times there is a morning tour and an evening tour and most of them end the evening tour at Oia during sunset. I think seeing Santorini from the sea would be really cool and special! Look into it!
• HIKE FROM OIA TO FIRA OR VICE VERSA – I honestly wish that Victoria and I had had time to do this! The hike takes about 2 to 4 hours, depending on your pace, and I bet it's incredible if you love being outdoors and doing active things! I've heard there isn't much shade so be sure to wear a hat, bring water with you and wear sunscreen! This path is called the 'Calderimi', the path along the caldera of the volcano.
• GO TO RED BEACH – Victoria and I kept going back and forth over whether to go to Red Beach or Vlychada and, ultimately, Vlychada won but Red Beach looks just as cool and stunning! You can definitely do both in a day so, don't think you can't just because we didn't! 🙂 There are some other beaches that were recommended to us, like Perissa Beach [another black sand beach; 5 Euro for 2 beach chairs] and Kamari Beach [pebbles].
• DONKEY RIDE UP OR DOWN IN FIRA OR OIA – Okay, this might not be for everyone and that totally makes sense. I didn't really want to seek out the opportunity to have one of those cuties take me up or down a long, steep, narrow walkway BUT, it is something you can do in Fira and in Oia. We were told that the donkey's only work a couple of days a week for a couple of hours so they don't get overworked. They said the donkeys are VERY well taken care of, as well. I don't know how valid that is, to be honest, and I didn't see any donkeys close up but, from the photos I've seen, they look very healthy and also pretty bored. I'm not sure how busy they get!
• VENTURE TO OTHER WINERIES: We enjoyed Santo Winery but were also told that were Arygros, Sigalas, Venetsanos, and Gaia Wines were worth checking out, as well! I don't think Greek wine is the best wine, just from personal experience, but who doesn't love trying out new wine?
 • RENT A CAR OR FOUR-WHEELER TO MAKE TRANSPORT EASIER – We kept debating about whether or not we should rent a car and I think it probably would have been more cost effective for us, to be honest. They drive on the same side of the road as they do in the States so I'm sure it would have been easy but, it was one more thing for Victoria and I to juggle when we were working as we were traveling through and exploring. I also will say to be careful if you do opt to drive! The roads are narrow and windy!
• GO CLIFF JUMPING AT AMOUDI BAY – This one is for the risk-takers! I really wish I had known about this before our trip. It looks SO FUN! This IS a dangerous thing to do and I encourage anyone who is interested in doing this to be VERY careful. HERE is an article I found that tells you how to get to the spot where you jump! It's right next to the little fish tavernVictoria and I ate at in Amoudi Bay below Oia.
• SANTORINI HIGH SEASON: March through May is when Santorini starts to see visitors, right around the Easter holiday. June through August is the peak season where you'll experience heavy crowds. September and October are great months to visit because there aren't as many visitors but the weather is still really pleasant! Be sure to book your hotel 2-months in advance to ensure availability!
• TAXI PAYMENT: Be sure to carry cash with you because taxi's are NOT equipped with card machines. Do your best to always have cash on hand, although we had two sweet taxi drivers who were willing to stop and let us get money out at an ATM. The rate to our hotel [which was in Firostefani] from the airport was 25 Euro. The rate from Firostefani to Oia was about 15 Euro.
• TIPPING: Add 7-10% tip to your overall bill!
• LANGUAGE: Most Greek's know a good bit of English but it's polite to at least greet them and leave them by offering a hello, thank you and goodbye in their native tongue.
• THE GREEK PEOPLE + CULTURE: Here are a few takeaways that I gathered through my time and experience in Greece, as well as through Victoria, whose Dad is Greek!
– In my experience, most Greeks are fun-loving, charming and easy-going, although definitely a bit blunt.
– Don't expect a lot of organization when you come to Greece, though! It's madness everywhere you go but that's just the way it is so do your best to know it ahead of time and not let it get to you! They say that's all just part of the experience and you just have to roll with it!
– It's also a big part of their culture to share multiple dishes amongst everyone at the table and then share a dessert. I never had a bad meal and the one that I didn't fancy as much was the one I didn't share with anyone! Ha! That was a bit of a bummer … should have stuck with the way the Greeks do it!
– Most of the time they will bring you a sweet dessert as a courtesy or a liquor at the end of your meal to help with digestion.
Your experience in some of the bigger cities is definitely dependent on cruise ships. From the Firostefani area, we could see the cruise ships passing through to get to Oia, however, we didn't put two and two together until after we went to Oia and realized that it's a madhouse when the cruise ships are in port.
– People usually eat really late in Greece so, if you are looking to go out … you shouldn't go out until around 1:00AM.
• GOOD TO KNOW: Everything is EXTREMELY expensive due to high import costs and because, well, they know people will pay the price because everyone charges around the same ridiculous price. I was an idiot and purchased sunscreen and after-sun cream when I was in Oia and it was almost 40 Euro. STUPID HALEY. That's almost 50 dollars! Ridiculous. Bring your own!
• WHO SHOULD VISIT SANTORINI: Santorini is a destination for anyone wanting a relaxing getaway, like couples, small families with children above the age of 12 or small groups of girlfriends. It's not really a place for anyone looking to have a bunch of crazy nights out. If that's what you're looking for, head to Mykonos. However, if you do want a bit of a night out, there are more places to go in Fira. There is only one bar in Oia.
We had an AMAZING time in Santorini and wish we could have stayed longer! However, I do hope this little diary about our time in Santorini and the takeaways were helpful if you are planning a future trip there! No matter what you do … you will leave with a new favorite place you'll be yearning to come back to as soon as possible! Thanks for stopping by today! xo.
Also, be sure to PIN this photo to one of your Pinterest boards so you can bookmark this post for future reference!