If there is one thing that is for certain about my time in London … it's that I did not go hungry! I ate quite a bit as you can see from this list of restaurants you have before you. My hope is that this post can provide you with some ideas on where to go if you are on the hunt for somewhere to pop in when you're in a particular area.
Before we get started, there are a few things I want to mention in regard to eating out in London:
[1] Remember that brunching on a weekend is as big in London as it is here in the States so if you have a lot you want to see on Saturday and Sunday … get an early start so you can beat the brunch crowd!
[2] MAKE. DINNER. RESERVATIONS. AHEAD-OF-TIME. London is slightly larger, population-wise, than New York City … PLUS TOURISTS and, while there are plenty of restaurants to dine in, I've found that residents of London flock to the popular areas of the city just as much as those visiting on holiday. So, do plan ahead as best you can! PRO-TIP: Don't venture from a neighborhood in East London then head over to West London  and then over to Central London. Try to lump together all the things in want to see in a few neighborhoods that are next to each other so you don't waste time in transit half the day. Designate a neighborhood to END in, then reference this post to choose a restaurant then make a reservation online.
[3] London is a pretty expensive city so keep that in mind in the months leading up to your trip. Put a little extra away each week to make it less stressful!
In regard to the layout of this post …
I've divided the city into three parts [West, Central and East] to make the organization of the neighborhoods a little more clear for you, especially if you're not super familiar with London, or not familiar at all. If that's you, one of my biggest recommendations to make navigation [and to make planning your trip by neighborhood] a little easier is to download the Citymapper app. I found it to be much more user-friendly than Google Maps, especially when analyzing tube traffic, train delays and the most efficient route to take to get somewhere. The names of the different areas of London are identified on CityMappers' map of London so, when planning, use those against my list to see the restaurants I have tried in that area. So, for example, if you know you'll be in Notting Hill in the morning one day, you'll see that Notting Hill is in West London, so scroll down the list of West London neighborhoods, find Notting Hill and read through the breakfast / brunch options I mention. Easy enough?
PRO-TIP: STAR the restaurants you want to eat at ahead of time for easy referencing and download the route when you connected to Wifi so that if you lose service for whatever reason, or don't have data while you're abroad, you can reference it without any difficulty.
Now, just a warning … this is not a 'best of London' guide to food and it's definitely not a complete list. This is the list of all of the restaurants that I can remember eating at in some way, shape or form while I was in London.
Here's a small guide before we get started on what some things mean:
[ meal ] = after each restaurant name I'll put in brackets the meal I ate while I was there; it does NOT mean that's the only meal the restaurant serves
* = personal favorite
I will also make mention of some of the restaurants that are still on my list to try and places I popped into for a catch up with a friend at the bar. Sometimes it's nice to grab a drink somewhere before you're dinner reservation or West End performance, and I get that, so thought I'd throw those in to this post, as well. I did NOT get into every quintessentially British watering hole [pub] that I've enjoyed a Sunday roast or proper English breakfast. I only listed two that left me with great memories. I also did NOT go into afternoon tea's because … that's a WHOLE other post, hah! I enjoyed many of those so I am holding off on that for now as this post is already going to be long enough 🙂
Okay … enough of my rambling! Enjoy!
The movie made is famous but it's this neighborhoods' charm and good eats that keep it relevant and bustling! It's easily one of my favorite neighborhoods in London. 
Granger & Co. [breakfast] – A laid back Australian-influenced atmosphere will cheerfully greet you as you walk into any of the Granger & Co. locations throughout London. Their menu is full of breakfast options that will fit anyone's fancy! Personally, if I could have their açai bowl everyday … I'd be a happy girl! They're so good!
Churchill Arms [dinner] – You would never guess that this very quintessentially British pub, named after one of the most famous Brit's in modern European history, actually houses a Thai restaurant in the back of it. It is absolutely stellar! I'd recommend grabbing a drink at Kensington Wine Rooms, which is right next door, or four being that it's so easy to try different wines there! 😉 If you make it out of there okay, head over to try your favorite Thai dish at Churchill Arms 🙂
Taqueria * [dinner] – If I'm being completely honest, this was my favorite Mexican restaurant that I tried in London during my time there. It. was. SO. good! First, get the guacamole. You have to. Then, I believe I got four of their tacos and I loved every single one. I definitely got the steak tacos and the jalapeño tacos. I really can't recommend this place enough. I went with a friend who is gluten intolerant and this might have been her favorite meal during her trip!
Eggbreak * [breakfast] – This new-ish restaurant is small and there's always a wait on the weekends, but it's definitely worth it! I remember I got the most delicious breakfast sandwich with sausage, egg and cheese. Their juices are really good, too. The friend I went with got one and I got another. We each tried both and wouldn't have been made if we had ordered what the other one had. Great little place. Again, go early or be prepared to wait!
Farm Girl * [breakfast] – Okay, if you are allergic to gluten or gluten intolerant, this is a really great restaurant. Everything is healthy and .. everything that is normally on a breakfast menu that isn't deemed healthy is made here with healthier ingredients … and as someone who is guilty of getting those unhealthy options … everything I've ever gotten here is so good! They're particularly known for their avocado toast and lavender latte.
Ladbroke Arms * [dinner] – This is one of the only pubs that seriously impressed me with the quality of their food and diversity of their menu. Don't get me wrong – I love British pub food but there was something different and special about this one. I also just loved the overall feel. It's a little off-the-beaten path in Notting Hill so you know it's a lot of locals getting together after a long week. Highly recommend!
 When I'm in Notting Hill, I always like to stop into Biscuiteers, a biscuit [cookie] shop on the backside of Portobello Road. So, it's not so much of a restaurant but I figured it couldn't hurt to mention it as it is an adorable little place to pop in and get cookie souvenirs for your favorite people back home!
I have a soft spot in my heart for this area as it neighbored my beloved Earl's Court – which doesn't have a lot of highly recommended restaurants, if I'm honest – and frequently ventured over to this area to just get lost and see where it took me. It's a short walk to some of London's [and the world's!] most esteemed museums and a bustling shopping district, known as Knightsbridge and Chelsea.
Kensington Square Kitchen [breakfast] – This was one of the first brunch places I went to after moving to London last year. I lived in Earl's Court, which is a really nice 15-minute walk over to this spot. Everything was super fresh. The food is all locally sourced. Personally, I always got the yogurt, fresh berries and homemade berries along with a side of eggs. Their lattes are pretty stellar, as well. CLOSED
Muriel's Kitchen [breakfast, lunch, dinner | multiple locations] – I ate at Muriel's quite a bit while I was in London. There's one in Soho that is really easy to grab a table in without a reservation before a West End production, if you're needing something in that area beforehand that isn't too pricey. It has a really casual, family feel and every meal I've had there has been amazing. I remember getting s
Brown & Rosie Cafe [breakfast] – If you want to pop in somewhere for a quick bite and a coffee, this is a great little spot. It's really casual with some really delicious and healthy options. Try the acai bowl!! It's so good!
Kensington Creperie [lunch] – I'm a sucker for two things: crepes and sidewalk cafes and Kensington Creperie has both! Double win! I always get a strawberry, banana and nutella with powdered sugar creme and a latte. Mmm! So so good! I would always go with a friend when there was a lot to talk about.
Brompton Food Market [breakfast] – Whitney and I popped into this place on a whim one morning before meandering over to the V&A. They had a lot of healthy and gluten-free options and I looooved their green juice! I think I also got the pancakes [I always go for the sweet breakfast *face palm*], which were pretty delicious! We really really liked this place, especially because it wasn't a place we had ever heard of before.
The Ivy [breakfast, dinner | multiple locations] – The Ivy has multiple locations around London and is pretty popular among locals, tourists and celebrities. I've eaten at the one in Covent Garden, Chelsea and Mayfair and I will say … I've never had a bad experience. I also LOVE that it's typically decorated pretty festively throughout the year. The one in Mayfair had one side of it adorned with blue feathers. It sounds crazy but it looked so cool. If you're there around the holidays, definitely make it a point to walk by one of their locations. And, if you're there for dinner … try the Shepherd's Pie! It will not disappoint!
Bluebird Restaurant [breakfast] – Marissa and I enjoyed breakfast one morning here. It was really quiet on the weekday morning we went but, from what I understand, it does get to be pretty busy with locals on the weekend. I thought it was great but, unfortunately, I don't remember exactly what I got.
I mention Sloane Square here because it's a very easy, breezy walk from the Chelsea area, but I didn't realize until just now that I actually haven't eaten in Sloane Square. There are quite a few restaurants in the main square but I seem to have always ventured into Belgravia to eat. 
 To get to Sloane Square, from The Ivy or Bluebird in Chelsea, just head 'up' or northeast on King's Rd, until you see the big Peter Jones department store. There's even more shopping to do in this area with a J.Crew, Kate Spade New York, rag & bone, Club Monaco and Tiffany & Co. all in the main square but equally as many little restaurants to pop into although I never made my way to any during my time there. I did thoroughly enjoy this area, and frequented it often, so I thought I'd make mention of it so you're aware of a cute area to explore.
Before reaching Sloane Square from King's Rd, don't miss Bywater Street [pictured above].
This is a very posh area of West London so be sure to take a look at menu prices before deciding on this area to dine in.
The Thomas Cubitt [lunch] – If you find yourself meandering around the Belgravia area, which guarantees to leave your jaw on the ground from the eye candy you'll be consuming, be sure to grab a table outside at The Thomas Cubitt for a very British dining experience. It has a very modern and elegant farm house feel and you'll see that it is obviously a favorite among the locals on the weekends. Honestly, I don't remember what I ordered but I do remember that Whitney and I both left very happy. It's in a really quiet area so it's the perfect spot to take a breather from the hustle and bustle of Central London. Save room for dessert and head across the street to Peggy Porschen cakes to satisfy your sweet tooth.
Peggy Porschen Cakes [snack / dessert] – This little cake shop has made quite a name for itself thanks to good ole Instagram. It's pink and its entryway is always adorned with a floral frame. While it's the outside that have drawn people in from around the world, it's Peggy's cakes, macaroons, biscuits [cookies], lattes and cupcakes that keep people coming back for more. They are top notch in taste in design. Everything is adorably decorated and classically 'Peggy'. Take a look at this seasons' cupcakes here to get an idea of what you can expect. I can personally vouch that the Strawberry & Champagne and Cookies & Cream cupcakes to be my personal favorites. Oh … they also make freshly squeezed orange juice, which was so nice to see on the morning I shot an outfit post there. I was feeling under the weather and it was such a nice surprise to see! Thanks, Peggy!
Bar Boulud at Mandarin Oriental [dinner] – This restaurant is in the Knightsbridge area, directly across the street from Harvey Nichols, nestled at the bottom of the newly reopened [after renovations] Mandarin Oriental. Whitney and I both opted for the chef's tasting so we experienced multiple dishes. They were all exquisite and creative. Some tempted me to get outside of my comfort zone, like the liver pate. While that might not have been my favorite, I love trying new things! You never know! There were SO many other dishes that I did love so don't let that deter you. Our sommelier also picked out some really amazing pairings for us, as well. Overall, great experience!
Harrods Food Hall – I always work up an appetite shopping in Harrods so popping into the Food Hall for sustenance has been necessary quite a few times. You literally have your pick of any kind of food, whether it's a sandwich or healthy salad but those choices weren't nearly as fun as perusing the decadent dessert area. Look at these! I swear … Europeans do dessert way better than we do here in America! I'm not afraid to say it. These are as good as they look! But don't take my word for it … stop in and try them for yourself 😉
Don't miss the champagne bar on the top floor of Harvey Nichols, a department store around the corner from Harrods. As if you needed another reason to stop in to Harvey Nic's …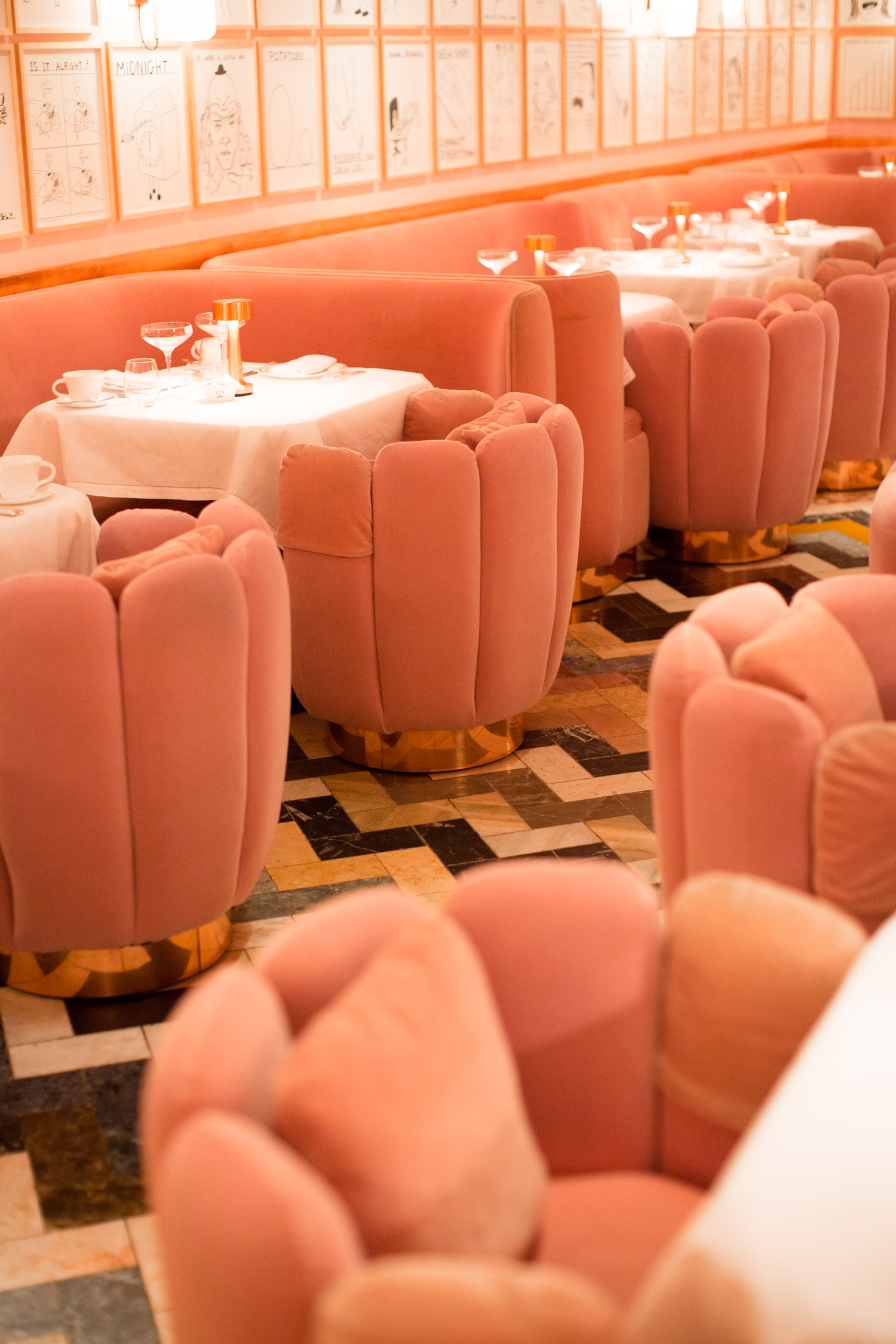 These are rather posh areas, as well. Marylebone is another neighborhood in this area that has the same feel to it. I personally love walking down New Bond Street and Old Bond Street when I don't have anywhere to go or be. It's fun to just window shop 🙂 During the holidays, the window displays are insane!
Cecconi's [dinner] – Whitney and I ate here on Thanksgiving Day last year when we were drowning in our sorrows about missing being with family. Nothing like satisfying our Thanksgiving craving with some delicious Italian food 😉 Hah! Anyway … this restaurant … is delicious but expensive [and also has an air of elitism but, I mean, that's Mayfair for you]. It does have an impressive wine list and the entrees we got were superb! They also have gluten free options. Also, stop in during the day … the interior design is absolutely STUNNING. [I don't know but I'm such a sucker for a restaurant that nails the interior design aspect of things]
Sketch * [brunch, afternoon tea & dinner] – Okay, if you've done ANY research on where to go and what to do in London, I'm about 90% confident you've heard of sketch. The most interesting thing about this restaurant is that every few years, artists are commissioned to transform the different dining areas within sketch in whatever way they would like. David Shrigley was commissioned to transform the Gallery of sketch, where you can enjoy afternoon tea and / or dinner, back in 2012. Last year, when I was there, they said they were supposed to have already commissioned a new artist to change it but … so many people love what Mr. Shrigley has done, that they decided to keep it the way it is now a little longer. This is another one of those places that will require a reservation. I've enjoyed breakfast, afternoon tea AND dinner here and I can tell you – you can't go wrong with any of them! However, if you want to sit in the pink room – then go for either afternoon tea or dinner. You'll sit somewhere else to enjoy breakfast / brunch.
Berner's Tavern at The EDITION Hotel * [dinner] – This was my first 'favorite' restaurant in London. I'm obsessed with the decor inside, with all of the dark, old frames practically on top of each other and the round booths throughout. The wine list is impeccable and you will not have a bad meal! Highly, highly recommend! Don't forget to call and make a reservation!
The Riding House Cafe * [breakfast] – I've enjoyed brunch at this restaurant twice during two different trips to London just before a day of getting lost around Selfridges. Definitely make a reservation ahead of time. It books up quick, even during the week. There are a lot of businesses in the area and people will make reservations for business meetings. That's really common in London. I highly recommend the Smoked Salmon Royale, the Granola & Strawberries and Brioche French Toast. One thing I will mention though is … I've gotten a side of scrambled eggs before and they come out .. 'wet' almost and it grosses me out so I haven't eaten them either time. So, just a head's up! Otherwise, I love this place and the wait staff is really nice.
Don't miss the Aubaine restaurant in Selfridges … I won't say why but, when you see it, you'll understand! It's so dreamy. [CLUE]
This is the entertainment and social area of London! Big time movie premieres are often held in Leicester Square [pronounced 'Lester' Square; don't be that American ;)]. The world famous Shaftesbury Avenue, the heartbeat of the West End, is here. Piccadilly Circus … the Times Square of London … is here. This area houses lots of social hot spots and bars and eateries. Enjoy it! It's a good time no matter what you do here!
The Wolseley [breakfast] – Dining at the Wolseley was such a treat! You'll feel glamorous sitting inside it's beautifully decadent dining area and the food is absolutely delicious. Try the French toast if dining in for breakfast! It's a great starting off point if you're wanting to take a bus tour, being that it's a short walk to Piccadilly Circus where a lot of the red buses leave from, or spend the day meandering through Green Park then over to Buckingham Palace. Highly recommend the second potential plan 🙂
Ten Room at Café Royal [breakfast] – Café Royal has quite the history attached to it, first opening back in 1865 during the time of pickpockets, pimps, and artists who all lingered around the Central London area. It has been carefully restored with a lot of its original workings still intact. I enjoyed breakfast here one morning and, maybe it was because I was there at 8:30am but I loved how quiet and peaceful it was compared to what you will likely experience just outside. Definitely make a reservation for this spot! It's definitely a sought after spot to dine in!
Fortnum & Mason [lunch] – Fortnum & Mason is an upmarket department store in the heart of Central London, just around the corner from Piccadilly Circus, and is the official grocer of Her Majesty the Queen. Fortnum & Mason is quite the mainstay in London, and frequented by many locals. You can buy wine, tea, hampers with goodies in them [those would be a commitment to bring back to the States with you, though!], homeware and holiday-inspired gifts. Not-to-mention, everything you pick up at F&M makes you feel like you're buying gold. Anything with a English / royal-looking emblem on it just screams 'I'm important!' or 'I run this place!', does it not? There are also quite a few dining options at Fortnum & Mason. A friend and me enjoyed lunch at 45 Jermyn St a couple of years ago. The menu is very British and pretty expensive, which I only mention because I know – for me – the menu items on a British menu took me a bit to get used to. Give a try if you in the area! I liked what I got, which escapes me now that it's been over a year, but it was likely fish of some kind.
Muriel's Kitchen [breakfast, lunch, dinner | multiple locations] – I enjoyed many meals at Muriel's during my time in London. The one in Soho was a great spot to grab a quick dinner before a West End production, like Les Miserables, as a lot of the theaters are in this area. I'm not sure I ever had to wait for a table, however, I never went to this location on a weekend. I would say call ahead just in case. It's very casual, which I quite liked. There are so many 'smart' [an English word for 'dressy'] feeling restaurants in London. I'm a bit of a carbivore so I can vouch for the fact that the pancakes with seasonal berries and the beef lasagne are absolutely delicious BUT there are some lighter, healthier options to choose from, as well as gluten-free options!
Zedel's [dinner] – 'Grand' is the only way to describe the ambiance within the main dining hall at Zedel's Brasserie. This traditional French restaurant is absolutely beautiful, with its Parisian chic appeal. The stunning atmosphere made the disappointment of a not-so-great meal, even more disappointing. My piece of salmon was extremely dry and almost tasteless. It's so beautiful on the inside, I really wish the food had measured up! However, I would recommend grabbing a cocktail in the Bar Américain [just outside of the main dining hall but in the same building] if you're looking for a watering hole to pop into before dinner in the area.
La Bodega Negra [dinner] – The London food scene is as international as they come. You can indulge in just about any cuisine you're used to or are craving but, if there's one weak area of the food scene here, it would be the authentic Mexican food options. Leave it to the American to realize this but, hey, there are FOUR amazing Mexican restaurants within a few miles of my home here in Atlantic Beach, Florida so it was hard for me not to notice that there just aren't a lot of Mexican restaurant options. However, I did find La Bodega Negra, which could satisfy your craving if you HAVE to have Mexican, or even just something familiar, during your trip. It's super swanky, with loud music and a sexy feel. I guess it's no wonder being that it's located behind an old sex shop, which you have to walk into to access the restaurant. You'll NEED a reservation for this place. It's very popular. It's a little different than most Mexican restaurants in that the menu is full of small plates for you and your group to share! I have sweet dreams about the tuna tostada and tuna ceviche but not so much about the lamb taco. Enjoy!
Blacklock Soho [dinner] – If you're in need of some major protein, this place will be your jam! This restaurant is set in the basement of an old brothel on a side street not far from the ever-popular Piccadilly Circus. The atmosphere is fun, true to the feel of Soho overall, and the food is outstanding! I believe the crew I went with and I ordered a bunch of meat options and shared it. There are side options to add just a tad of variety to your meal but, if you're not a big red meat eater … you may want to venture elsewhere!
Go shopping at Liberty London then pop in to The Clachan, directly behind the boutique department store, for pre-dinner drinks. Then, meander down Carnaby Street and head in to Kingly Court, where you'll have restaurants aplenty to choose from … three stories of them! Make friends with locals at a nearby table and see if you can get them to say Kingly Court … it's one of my favorite things I've ever heard a Brit say! Hah!
If you are craving a more dark & mysterious vibe, with handsome decor, be sure to head to the 'secret' top floor bar, The Blind Pig, of the Social Eating House on Poland Street. The mixologists' drinks are quite creative, so much so that it has been included on multiple 'Best Bars in the World' and 'Best Cocktails in London' lists. P.S. If you want to eat downstairs, you HAVE to make a reservation.
Covent Garden is a grand piazza in London and gives you an Italian feel … a little bit … with very English architecture, ha! It's always a little too crowded my liking. I love to eat in this area but I am always really quick to leave when I'm done. Embankment / Charing Cross is one of my favorite tube stops and it's not a far walk from Covent Garden. I love walking across the Golden Jubilee Bridge, just on the other side of the tube station, to take in the stunning view of the London Eye on your left and Big Ben on your right. It sounds so cheesy but I always get a little emotional standing there taking it in. Crazy how cities can do that to you 🙂 
Pasta Brown [dinner] – Anytime I walked by Pasta Brown, it was NEVER super busy but, I will say, it was one of the only Italian restaurants Marissa, from the blog StyleCusp, and I could find that served gluten free pasta AND … it was one of the best Italian restaurants I went to during my time there! I got the lasagne and it was SO good! There may be better in London [ I'm sure there is ] but I did NOT hate this place.
Sticks'N'Sushi **** [dinner] – There isn't a restaurant in London that I liked and have been impressed by more than this restaurant. And it's really not because I'm obsessed with sushi or anything. I like sushi fine but I wouldn't say I crave it a lot or anything but this place …. oh my gosh. Y'all. It is so good. I would always get edamame and three rolls: Crispy Ebi, Ebi Hot and the Spicy Tuna. I also like their grilled cauliflower and the Yakitori sticks. I'd always get the rib-eye beef ones. YUM. I know that sounds like a lot of food but I don't think I've shared how many times I went there, hah! Quite a few! Definitely call ahead for a reservation. This place has a lot of seating availability and it's always booked! So plan ahead!
Aubaine [breakfast | multiple locations] – Okay, so Aubaine is a French deli chain but it's a good one so give it a go if you're wanting a quick bite that won't take you long to consume! I know there are SO many restaurants in this list that are sit down restaurants and sometimes … we ain't got time fer that and I get it. There were many days where I was just popping into Pret-A-Manger or Costa for a large caffe latte 'take away' [don't say 'to go' here, you American! 😉] Aubaine is good but, I will say … Costa is my favorite place for coffee and I dream about the fresh croissants at Pret [which are all over the city; and I'm pretty sure I drool when I dream about them, too #theyrethatgood].
Don't miss the Aubaine at Selfridges! 😉
Balthazar [dinner] – Balthazar is a French bistro restaurant that serves breakfast, lunch and dinner. I went for dinner one night last year and remember I liked the salmon here much better than at Zedel's [see Soho restaurant list]. I wish I was more adventurous at these restaurants but I tend to play it too safe sometimes! The friend I went with got the filet and loved every bit of it, I remember! A great spot in another great location!
Bronte [dinner] – Y'all I'm terrible … I do not remember what I ate here. All I remember is that their starters were better than the mains and I really liked the bar area and the green and pink interior. BUT … Bronte is right next to Trafalgar Square, near the West End, so it's a perfect spot to grab a meal before or after a show! CLOSED
Don't miss Milk Train for a really fun way to satisfy your after dinner sweet tooth!
Frenchie is a restaurant I recently starred as a restaurant to try next time I'm in town because it's gotten great reviews, looks to have a delicious menu and an adorable aesthetic.
This area isn't a far walk from Covent Garden and Leicester Square. It's very close to Somerset House and some of the theater's, like Lyceum Theater, home of the Lion King production since 1999, as well. Drury Lane is close by, too! 
Holborn Dining Room + Delicatessen [lunch] – This restaurant has a very 'smart' feel. It's pictured above and is typically full of coworkers and colleagues enjoying their lunch meeting, talking business. It is a good restaurant, though. I literally went here right off of my plane from America, in sweats … felt SO out of place, but REALLY enjoyed the cod! Hah!
The Delaunay [breakfast] – I went here early one morning with a couple of girlfriends and devoured an order of their French toast. It was absolutely delicious. Of course, I did this very subtly being that walking in to this restaurant makes you feel somewhat out of place … only because there are few places in America that are this elegant and beautiful. The staff is very kind, so you quickly forget about that! It's also pretty quiet if you go before 9:00AM. Highly recommend! ** Also, this restaurant could arguably be in Covent Garden but … it's close enough to Temple so, whatever. If I'm technically wrong, whatever! These areas are all so close together it's hard to tell sometimes **
The Savoy Hotel and the rooftop bar at ME London are both great spots for pre-dinner drinks!

These restaurants could be located on either side of the Thames so refer to City Mapper to figure out how far you will have to go from where you are or where you are intending to be before your meal. 
Coppa Club – Coppa Club is a casual and cool restaurant that changes its outdoor aesthetic with the seasons, neighbors Tower of London and overlooks Tower Bridge. In the Winter, you'll find these warm igloos for guests to dine in and, in the warmer months, they've built these little pergolas adorned with greenery and wisteria. It always looks dreamy! Everything on their menu looked good to me but I went with the Coppa Club hot pizza. It was a great choice! This place would be a great lunch spot after touring Tower of London or walking over Tower Bridge from the Southbank. Book a table outside on their website ahead of time to ensure a spot!
Darwin Brasserie at SkyGarden – This might be one of my favorite spots in London. Aside from the fact that I have particularly sweet memories here, it also has arguably the best 360 degree views of London. I love it better than the view from The Shard [see next reference] because The Shard is such a staple part of the London skyline, whereas the building you're in at SkyGarden isn't so much … so you get to see all major players in the London skyline. You can't say that about the view at AquaShard. Both are worth experiencing, I will say … but if I had to choose, it'd be SkyGarden. Plus, I like the food better 😉 I've eaten breakfast and dinner at Darwin Brasserie and have only ever had delicious meals. Don't miss the pancakes and bananas 😉 There's also another restaurant, a nicer one, above Darwin Brasserie, called Fenchurch, which serves seafood. You can also just go up and grab a drink at the bar on the main floor and sit at one of the little tables or sofas with a blanket. Go at sunset. It's absolutely stunning!
It looks like, starting on July 7th, they're going to be doing some refurbishments to SkyGarden so head's up on that! You can make a reservation for a table up to 30 days ahead of time!
Aqua Shard – This restaurant is located at the top of one of the main staples of the London skyline, and the tallest one at that, The Shard. It's technically located in an area called Southwark [pronounced 'Suh-therk'] but you'll get off at the London Bridge stop on the tube. If you keep walking east, you'll run into Tower Bridge. Marissa, Kathleen and I went here on their last night in town last year and it was pretty fancy, I must say. I know that's what we were going for. We were celebrating the end of a fun trip so, for that I thought it was the perfect place. I remember liking my meal but also remember it was a pretty hefty bill. I would say if you just want to see the view … head up and grab a drink at their bar. You don't need a reservation for that!
The area these restaurants are in is also – technically – called Southwark. It is located south of the Thames, hence why you'll hear people mention 'walking along the Southbank.' This walk is seen in one of my favorite movies, Love Actually. 
Swan at the Globe [dinner] – Okay, now we're getting into the restaurants with amazing views of London. This restaurant is located next to the replica of Shakespeares' Globe Theater and is located on the South side of the Thames, directly across from St. Paul's. The dining area is on the second floor of the building so the view is exceptionally stunning, especially at night, of the iconic dome and cathedral. In addition to the view, the contemporary British cuisine isn't so bad either! I remember when Courtney Shields and her husband, Alex, were in town last year, we all left so happy and full! What we all got specifically escapes me but I remember we all made mention of how happy we were that we went there! Be sure to call ahead  and make a reservation!
Borough Market [every meal, haha] – So, this is a very well-known and popular market in London, maybe THE most popular market in London. It's not technically a restaurant but, I mean, on Saturday's … it's what people DO in London. They go and check out all of the food vendors and indulge in the ones that they feel led to so, I mean, if you're here looking for great places to eat … this is a great option! Go on Saturday with everyone else in London and, I promise, you'll be sure to have a blast. I don't love crowds but could appreciate it for the fact that so many people who live in London love it and still go, despite the crowds. Also, the door to Bridget's apartment, from Bridget Jones' Diary, can be found in this area. It's literally just down from where the photo above was taken. If you're standing where I am … walk to your right and it'll be on your left. 🙂
The area is north of the Thames. Shoreditch is a very artisty, cool area and Clerkenwell, along with Angel and Islington, are quiet residential areas of London. I've stayed in Islington before and  really enjoyed it.
Pizza East [lunch] – A friend and I went here on a whim one day for lunch and I was such a happy girl leaving this place! I think I got a diavola pizza … it had salami on it, I believe, but even if I'm wrong … whatever I got was SO delicious! Highly recommend this place!
Albion [breakfast] – This little spot is an informal, casual spot that is modestly priced and serves really good food. I went for breakfast but they're open all day. I definitely recommend this spot if you're staying in the area and want to grab something quick and easy before heading out for the day! It's also a little shop so you can take small food items away if you prefer.
Fifteen [dinner] – Fifteen is one of Jamie Olivers' many restaurants. It was actually his first. He has a really talented chef, Robbin, Holmgren, who leads the kitchen there as well as some uniquely creative bartenders on staff. Whitney and I went here for dinner one night and enjoyed the chef tasting here. Whitney and I both ended up unbuttoning our top button on our jeans after overindulging. This is a really, really good spot for dinner!
Pig & Butcher [Sunday lunch] – If you want to experience a proper Sunday roast, which is the Sunday meal of choice throughout England, this is a great spot to do it. It's definitely not the only place but it's where I went for mine and I wasn't disappointed! Pop into a pub near where you're staying and give it a go if this spot is kind of far from where you're staying!
Curry is HUGE in London. People are seriously obsessed with it, and one of the most popular restaurants in London to get a great curry dish is Dishoom. There are multiple locations throughout the city. Whitney and I were going to go to the one in Shoreditch one day but the wait for a table was so long and we had to be somewhere no long after we'd have been seated. She ended up going another time and said it was great. I was going to check it out and see if it was something I could get into. So, it's still on my list but thought I'd share for anyone who likes curry.
This area is on the north side of the Thames.
The Madison at One New Change – The Madison is the restaurant you'll find at the top of One New Change, which is a large multi-level shopping center with shops and eats. You'll want to make a reservation at The Madison to get a table, however, I wouldn't say the meal was worth the venture over as much as the view. They offer a lot of salads, burgers and 'classic' entrees. I got a chicken caesar salad and, let's just say, the way they do chicken caesar salad's at this restaurant is NOT what I'm used to and I wasn't a fan. Obviously, only eating there once shouldn't reflect on the entire menu, so do some research, dig through the reviews and decide if you want to give it a go.
Barbecoa  at One New Change – If you're a fan of red meat, you will find yourself in your happy place here. Barbecoa is one of Jamie Olivers' restaurants in London that features British and Irish meats with a
I would definitely say to head to the top of One New Change for this view and a cocktail at sunset more than I would say go to enjoy dinner. Victoria and I shot this look on the blog on the rooftop and the view is, seriously, just STUNNING. It can be enjoyed year-round. Anytime I went and it was cold, there were heaters out to keep people comfortable.
---
Wow! I cannot believe I have eaten in that many of London's restaurants. And to think I haven't even scratched the surface! There are so many others out there. Here are a couple of my last recommendations that are left outside of the neighborhood lists because … well, one of them … I don't really know what area it's in. I can't tell. And, the other one, is new and my friend just told me about it!
Duck & Waffle – Alright, this is another one of the restaurants with a view! I personally have only ever been at night … and I really feel like you can't really gauge how good a view is until you've seen it during the day … but it does seem very extensive, however, it's a little further out of the main city area so I have my doubts about it topping my beloved, SkyGarden. I will say … the menu for dinner at Duck & Waffle was not my favorite. So many people rave about this restaurant but it personally didn't impress me much …. channeling my inner Shania there, did you catch that??? 😉 I do want to try their brunch, though, because I've heard that's where it's at! Definitely make a reservation for this place! It's very sought after! I do remember our server was really enthusiastic, knowledgable in regard to the cuisine and funny, so I enjoyed that.
Nova Victoria – There aren't a lot of places to eat in the Victoria area, which is where one of Londons' leading rail stations is located, as well as the Apollo Theater, where Wicked plays every night. The West End production of Hamilton opens in December at the theater right next door, the Victoria Palace Theater. However, Victoria told me that Nova Victoria is opening soon, which will be a mixed use facility that offers contemporary apartments, world class offices and popular eateries so that's exciting! HERE is a list of what you can expect in regard to dining. I don't know about you but Sticks N Sushi, Barbecoa and Shake Shack all stand out to me, personally 🙂
Alright! And that does it! I hope – more than anything – that this has helped you plan an amazing trip to London! I couldn't cover every single area of the city because … well, I was only there for five months and London is a big city but I think this is pretty good and covers most of the areas you'll want to see! Please feel free to add your favorite place to dine in London. Let's help each other out with more suggestions 🙂 I'm not the end-all-be-all! Thanks for stopping by today, y'all! Leave some love in the comments below! xo.