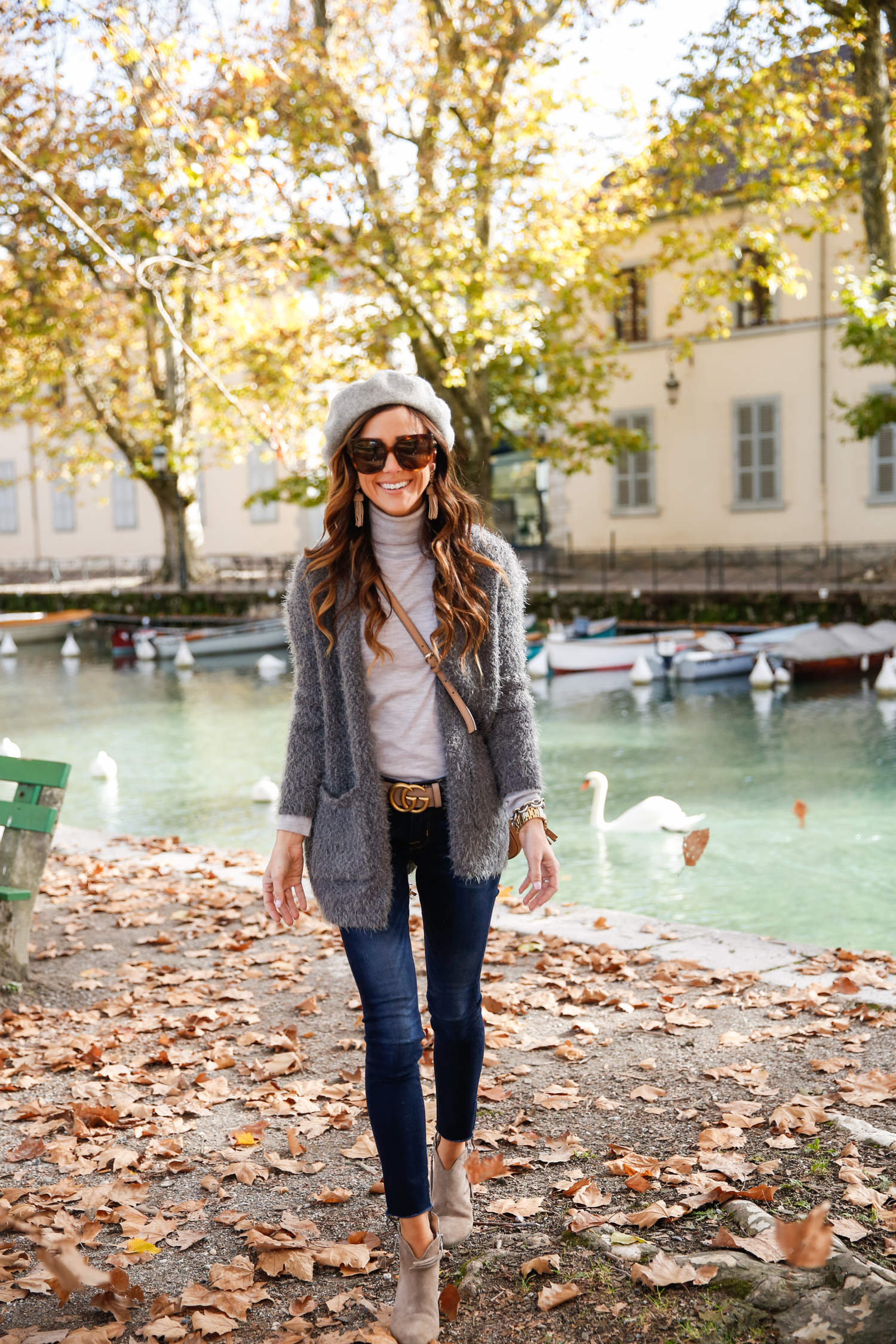 Hey there, friends!
When you don't live in a place where leaves turn colors and fall to the ground, you really relish in any experience you find yourself in where that IS what people get to experience this time of year. While we were in Annecy, France, Victoria and I were met with chilly temperatures and crisp brown and yellow leaves in the trees and on the ground. This little part of the city had me awestruck. The water in the canal was so clear and the prettiest light blue. The little bridge at the end of the path was right out of a story book with these gorgeous tall mountains in the background!
Mixing grays and neutral beige has been my jam lately, as seen in this outfit! I bought this light gray turtleneck last year [remember when I wore it in this post and this post?] and grabbed it in a hurry when I was packing for this trip. I thought for sure it would be re-released this year but I haven't seen one made of the same type of material yet. However, I found a couple of similar ones here and here made of cotton or other materials that might work just to get this same look. Neither are cashmere but if I see some new options come out, I will let y'all know. The cardigan sold out rather quickly but HERE is a really great similar option!
Everything else is linked – along with similar items to expensive products – in the product section below! 
UPDATE [11/5/2018] – The items linked in the widget at the end of the post are the original products seen in this blog post as some people like to see the original brand and retailer, even if it's sold out at this point. If you're wanting to recreate this look, I placed new, ready to order options that are extremely similar, if not exact, items available now to purchase! Everything I linked are items that I would SUBSTITUTE if I were picking items out for myself so try not to see them as 'lesser' options just because they're not exact! 🙂
Hope y'all had a great weekend! I'm heading back from Mississippi right now [my Dad's driving] after a bittersweet weekend with my fam. My Pappaw isn't doing well – health wise. It was good to catch up with family and be back in a place that I have so many great memories but obviously hard to see your loved one in a condition you're not used to. I'm sad about that and sad about the events in Texas this weekend. My thoughts and prayers are with those who are hurting and feeling the pain of enduring the loss of a loved one today. Appreciate you stopping by today! xo.