Last month, one of my best friends, Whitney, who runs the travel blog, Blonde Atlas, and I finally got to check Canada off of our travel lust list! Both of us really wanted to do a Winter wonderland getaway before the holidays being that neither of us live in a place that gets a lot of snow! While there are quite a few other places I want to venture to in Canada, Whitney and I decided to stick to two different areas this time and save others for another time. We started in Alberta, in the western portion of the country, where the Canadian Rockies are located, and ended in British Columbia, on the western most border of the country! We couldn't have had a better experience in Canada, overall, so I'm so excited to share the first leg of our trip, in Alberta, with you in today's post!
When Whitney and I first started dreaming up this trip, we knew a few things:
• we are staying in Lake Louise for 2 nights
• we are staying in Banff for 2 nights
• it takes quite a bit of time to get from both Jacksonville [me] and Chicago [Whitney] to Calgary International Airport, the closest airport to these cities
Taking all of that into consideration, we felt like it'd be a waste of a day for that first night in Lake Louise to be the day we arrive in Canada so we threw out the idea of adding a few days [two to be exact] on the front end of our trip so that we could truly make the most of those two days. With that said, we chose to fly into Calgary and arrive in the early evening. Luckily, we were able to fly in within an hour of each other. From there, we went through customs – which is a breeze for American citizens, as long as you're not breaking any laws – and went to pick up our rental car. We planned to stay in Calgary for the night because we didn't want to drive out to the mountains in the dark. From there, we thought it might be cool to stay in a cozy lodge somewhere just outside of Lake Louise to see and experience more of the area. We found a charming spot called Emerald Lake Lodge, located on Emerald Lake, just over the Alberta / British Columbia border and 20-minutes west of Lake Louise.
Since that's where our trip began, that's where the travel diary will begin. Here we go!
WHERE WE STAYED: As previously mentioned, Whitney and I stayed at Emerald Lake Lodge for one night. Right before you get to the lodge, you drive down this long white road lined with exceptionally tall, snow capped trees. For us, it was completely empty so it was almost like you were driving around in a snow globe or movie set. It was snowing making it even more breathtaking and magical!
We found the parking lot where cars must park and took their shuttle, that runs frequently, to the main lodge. Once we checked in, we had a friendly staff-member, who was actually from Sweden, take us to our room in one of their charming lodges. The rooms are complete with comfortable beds with feather duvets, a balcony [ours with a lake view!] and a wood burning fireplace.These lodges definitely make you feel like you're 'getting away from it all', most especially because the one thing these lodges aren't equipped with is WiFi. This might make this place a no-go for some people but Whitney and I chose to make the best of it. We did some work in the main lodge in the afternoon, which has WiFi, but then chose to catch up on sleep by getting to bed early. The next morning, we got the fire going, made some coffee, and curled up in our respective chairs and read for awhile before heading to breakfast. I don't know about you but I don't start enough mornings like that … slow and focused on getting lost in a good book or learning something new or sharpening my perspective on important things … so it was a really nice change! It was also quiet and beautiful in the morning after fresh snow had fallen overnight.
Overall, I adored staying here and would highly recommend it, especially because it was also very reasonably priced and everyone on staff was professional, kind and conversational.
WHERE WE ATE: Whitney and I enjoyed a small bite at the bar in the main lodge but enjoyed dinner and breakfast at the only restaurant open at the lodge while we were there, Mount Burgess Dining Room. I don't remember exactly what I got but I do remember it was one of the beef dishes. Regardless of what it was specifically, I do remember that Whitney and I left so full and happy. Our meals were absolutely delicious!
WHAT I WORE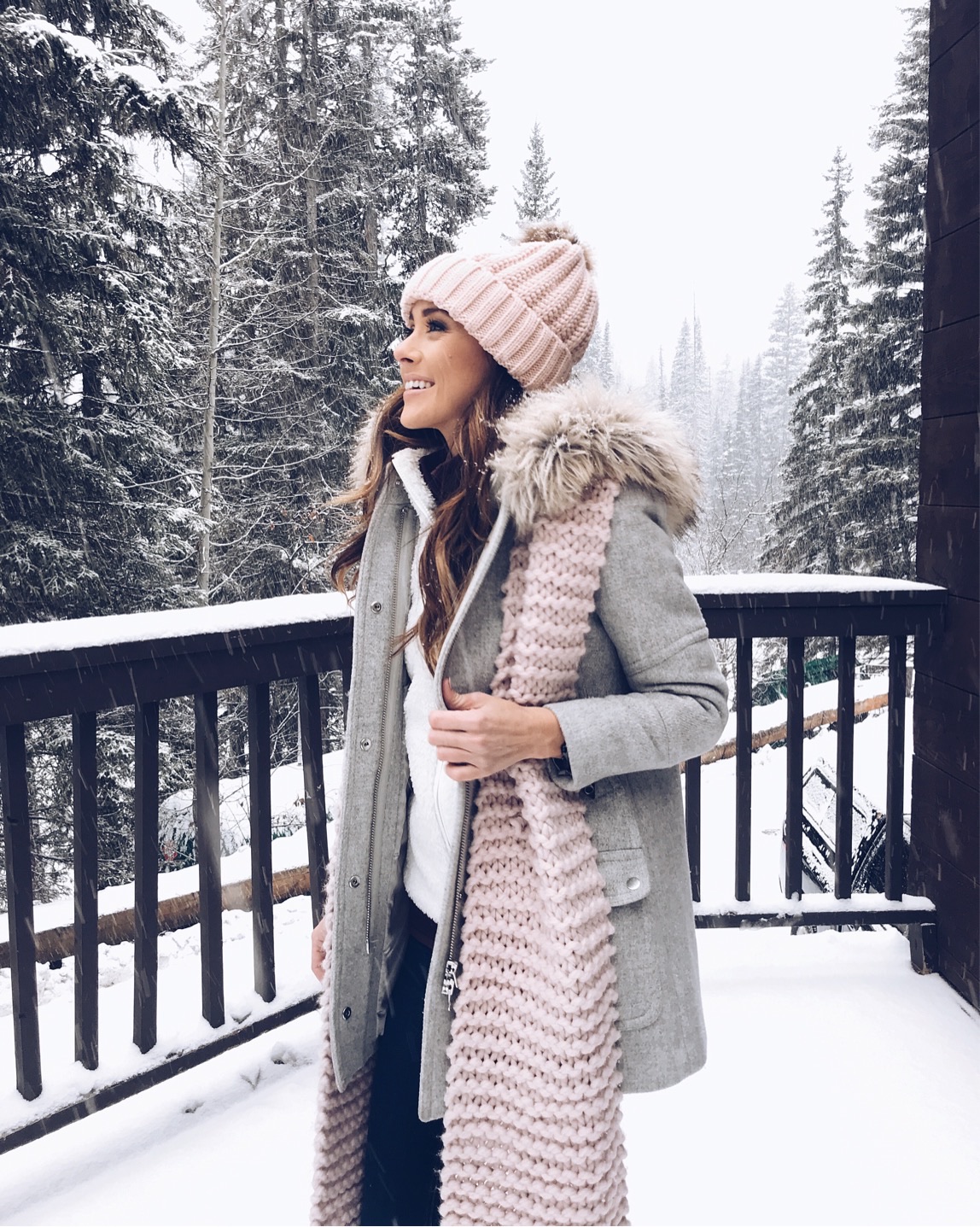 • Outfit 1: This is the outfit I had on the first day we arrived. You'll definitely need a wool coat and cashmere scarf to help keep you warm! If not cashmere, then I'd say this chunky knit one will do 🙂

• Outfit 2: This is the outfit I wore the next day, to explore the property and the area surrounding the lake.

• Outfit 3: I wore the above outfit on our road trip from Calgary to Emerald Lake. I cannot recommend this jacket enough! It's pricy but worth every penny especially if you live in a cold climate! You'll get so much wear out of it! Also, I bring warm undergarments, linked below, but also recommend fleece lined leggings!

WHAT WE DID:
We visited in December. The lake was completely frozen over and we only stayed for one night so we didn't do a TON but here is what we did do:
• Cozied up by the fire while drinking coffee in the morning: This was, by far, my favorite thing we did. Let's be honest. We live in a society that glorifies being 'busy' and 'connected'. Getting a break from this world can be something we 1. don't do often enough and 2. don't realize how much we truly need rest and disconnection from the constant notifications. It was so nice to not check my email right when I woke up and instead be forced to choose a slower, more serene start. It had such a positive effect on my mentality about what's truly important and what I SHOULD be focusing on day to day.
• Walked around the property and around the lake as much as the paths would allow: There were a few restrictions to where we could walk and explore due to the amount of ice and snow in and around the lake but everything being covered in snow made for the most magical scene. We had fun walking around as much as we could. In the summer, I know you can hike multiple trails in the area and around the lake. You can also rent canoes, which I think would be so fun!
• Got some work done in the main lodge while simultaneously getting to know staff members: While we definitely enjoyed unplugging at night and the morning we were there, Whitney and I both do have emails and deadlines to meet despite our travel schedules. So, while we were in the main lodge, connected to their WiFi, we worked while also chatting with the staff members, who were all so nice, funny and interesting! A lot of people you find working at lodges aren't even from Canada but from the other side of the world and are there because they wanted to be somewhere completely different for awhile! As a fellow dreamer, I totally love and respect that and found it to be so fun listening to their stories and desires for where they want to go in life.
• Enjoyed a snowy and magical walk back to our cabin from the main lodge after dinner: Y'all. I shared a little snippet of our walk on IG stories and so many of you responded with heart eye emoji's! We went to this Winter wonderland in December, right before the holidays, so walking back to our room with these charming lodges lining the pathways covered in snow amongst the tall fir trees with adorable lamps providing just enough light for us to navigate safely almost made me think I was walking in a scene you see in a Lifetime movie. As a Florida girl, it's just not a scene I get to experience very often. It was so dreamy and beautiful, making me completely forget about how cold it was.
Aside from that, we took a million photos because everywhere we turned was another beautiful vista. The mountain peaks behind the lake are breathtaking and the quiet of this place makes you feel so free, as seen in the photos shared above.
I truly enjoyed my time at Emerald Lake Lodge. It was a much-needed retreat that neither Whitney or I expected when we booked it.
GOOD TO KNOW:
• Emerald Lake is just that … a lake. There isn't a city or town surrounding it. There's a small community called Field not far from it and then there's Lake Louise, which has a little bit more of a town, 20 minutes east. If we had stayed there for longer than a day, I would think Whit & I would have gone grocery shopping somewhere to cut the cost on meals as eating at the lodge would have certainly been expensive over the course of more than a day.
• Distance from Calgary to Emerald Lake Lodge: 2 and a half hours
• Wifi only available in main lodge
WHERE WE STAYED: It's hard to hear about Lake Louise without also hearing about the gorgeous luxury hotel that sits on its banks, the Fairmont Chateau Lake Louise. Whitney and I had the pleasure of being hosted here for a couple of nights to experience it for ourselves and I can assure you, it did not disappoint! I definitely want to come back and enjoy some time when the lake is not, actually, frozen but I, honestly, thought it was so cool to get to see the lake completely frozen knowing, from pictures, what it looks like when it's not. It reminds me that even in the coldest times of your life, something beautiful is [absolutely] coming in the future!
Fairmont Chateau Lake Louise is a luxury mountain resort offering endless activities for its guests no matter what time of year you decide to come! In the summer, you can go hiking, horseback riding, canoeing, mountain biking and white-water rafting. They offer a kids camp, as well! In the winter, you can enjoy world-class skiing and snowboarding, snowmobiling and horse-drawn sleigh rides. They also have a relaxing luxury spa to take advantage of. It's truly a wonderful place to go in the winter to relax and recharge during the busiest season of the year!
The staff at Fairmont Chateau Lake Louise offered exceptional service to both Whitney and I. Everyone was so kind. We got to know one of the bartenders from Ireland and one of the servers from France, which was really fun! Our room was large and comfortable with a beautiful view of the lake. We also slept like babies because their beds are what dreams are made of!
If you've never seen Lake Louise when it's not frozen, see here and here!
WHERE WE ATE
Lakeview Lounge – With it's amazing view of the lake, Whit and I couldn't resist a stop in to the Lakeview Lounge a couple of times. It's a little more casual than a couple of the Chateau Fairmont's other restaurants. We popped in for a bison burger one night, which was delicious, and a glass of wine. We enjoyed the view of the frozen lake and mountains surrounding it and got a couple of hours of work done! The next day, after a cold and snowy hike, we warmed up at the bar and enjoyed the Canadian Flatbread and a Sassy Spiced Apple Cider. I highly recommend this spot for anyone who wants a yummy bite to eat or glass of wine after some fun day time activities. Dress is casual. To ensure a table, call ahead to make a reservation. It's open to the public but hotel guests do take priority.
Poppy Brasserie – This large casual dining space is THE spot to fuel up before hitting the slopes or getting your steps in by taking a long hike around the lake. Their extensive buffet is complete with fresh waffles, eggs, a complete selection of fruits and cold cut meats and cheeses, french toast, eggs, cereals and yogurt. Whit and I were complete set and ready for the snowy hike ahead of us after we finished with our plates!
Walliser Stube – If you're looking for something with a little more of an experience, you should most certainly make a reservation at Walliser Stube. It's tucked away in a small corner of the Chateau and offers you an intimate experience and delicious alpine cuisine, not to mention a very thorough wine selection! Whitney and I opted to share the Chateau Experience. We enjoyed the roasted garlic fondue, AAA Alberta beef tenderloin with an amazing béarnaise sauce and fingerling potatoes, and the milk chocolate fondue! It's impossible for me to properly explain how much I loved this meal. It was so many of my favorite things in three servings. Highly, highly recommend! Be sure to make a reservation as it is a small space!
WHAT I WORE

I wore this outfit for a short trek around the lake. We were limited due to it being frozen but the property at the Chateau is gorgeous year round so it was quite enjoyable! HEADS UP: I wouldn't recommend these saltwater duck boots for hiking in the snow. You'll need something like Sorel's but these will keep your feet dry on bluebird days when it's sunny out and there's snow on the ground! Hope that helps!

This is the outfit I wore to dinner at Walliser Stube. The restaurant requires is a little more 'smart' than the other restaurants on the property so, even though I wouldn't wear black booties in the snow normally, I wore them outside to get a quick snap to share the outfit with y'all! 🙂

I wore this on a hike up to the point that overlooks the whole lake and the Fairmont Chateau Lake Louise! It's such a stunning hike. You can see some of it in THIS post.
WHAT WE DID
We visited in December. The lake was completely frozen over and we only stayed for one night so we didn't do a TON but here is what we did do:
• Enjoyed the view of the lake and the mountain peaks surrounding the lake and dined in the Lakeview Lounge on our first evening: We drove over from Emerald Lake in the early afternoon and, after getting all checked in and lounging in the room for a bit, we decided to head down and enjoy the sunset from the Lakeview Lounge as well as some food and glass of wine. We were tempted to go outside and sit by the fire but … the temperatures were just a little too cold for us, hah!
• Hiked up to the lookout point that overlooks Lake Louise and the Fairmont Chateau Lake Louise! I highly recommend this. Be sure to ask the concierge to help show you where to go on the map but, once you find the trail, you'll certainly be happy you took the time to get up there. The view is insane!
Again, we wish we had time to do more in the area. We didn't want to book any other winter activities, like snowmobiling and dog sledding, because we only had ONE full day there so we wanted to enjoy the hotel and the lake as much as we could. During the summer, I definitely would have walked around the lake and looked up some other trails to hike. The hike we went on was a little slippery with the snow so I didn't want to go over board with hikes, but if it was warmer & drier, I absolutely would have! And, if we had stayed longer, you can count on the fact that I'd be clicking ski boots into ski's! I love to ski and would have loved to have gotten a few trails behind me had there been more time. 
Please trust that there IS so much to do here in Lake Louise in the summer and winter months, and I'd highly recommend staying for at least a week to take advantage of all of those! 🙂 Find the Summer activity guide HERE and the Winter activity guide HERE.
GOOD TO KNOW
• If you come in the Winter and want to hike, the hotel will provide hiking crampon's that are placed over your snow boots. This will provide your shoe with some ice-biting traction in order to prevent slipping. I thought that was extremely handy that they provide hotel guests with those on a complimentary basis!
• The Lake Louise ski base is about 10-minutes from the hotel. They have shuttles that run during the day to take people over there. Find more information, like peak and base elevations, restaurant options and daily and multi-day pass prices HERE.
• The Fairmont Chateau Lake Louise also offers ice-skating ON the lake during the Winter months, as well! Find out more information HERE. While we were there, they were just starting to get the lake ready for it as it hadn't been hard enough until then so we missed out, but hey, sounds fun!
WHERE WE STAYED: Tucked in Banff National Park, the world famous luxury resort, Fairmont Banff Springs is a shining beacon in this beautiful alpine town of Banff. In the summer, you can golf! In the winter, you can ski! There's also a European style spa for its guests to enjoy as well as delicious and locally inspired dining experiences. We went in December so the property just looked magical and it was probably the most deliciously fragrant hotel lobby I've ever stepped into!
Whitney and I shared a cozy room with a queen size bed and a beautiful view of the Bow Lake and the mountains in the distance with the Canadian flag flying in the background! See the picture I posted above! The hotel offers exemplary service to its guests and I can say that Whitney & I experienced that first hand.
WHERE WE ATE
• The Alhambra Ballroom – Located at Fairmont Banff Springs. We enjoyed breakfast one morning here and, although they have quite an extensive spread, we were a little limited due to getting there right as they were starting the transition over to lunch from breakfast. So, we were a little bummed about that, however, the food was very tasty!
• Rundle Lounge – After enjoying some fully dressed hot chocolate [from STOCK Food & Drink] outside, we decided to warm up inside at Rundle Lounge. I believe I only had a glass of wine but would highly recommend sitting near the window because the view is unbeatable!
We decided to head into town for some of our other meals!
• Block Kitchen & Bar – Whitney popped in here the day we got to Banff after having a walk around. The restaurant is extremely small and offers a global menu with Asian fusion. Be sure to get a side of the shoestring fries! I loved the Spicy Mayo. I know … that's not that healthy but, hey … just being honest! It was delish!
• The Maple Leaf – We heard great things about this spot but they had a private event they were prepping for when we popped in. We actually went across the street to eat at Block instead but then came back after the event for a glass of wine. We sat downstairs in one of their cozy booths and shared the charcuterie board, which was incredible! Don't miss that if you stop in!
• Saltlik – Okay, so this was probably my favorite restaurant we stopped in. Offering premier selections of steaks and an extensive signature wine and cocktail list, Saltlik is one of the most popular restaurants in the area and came highly recommended. I was so torn on what to get because so many things sounded amazing. I ended up ordering the lamb rack, with shrimp, scalloped potatoes and asparagus. It was … heavenly! I cannot recommend the restaurant enough. We got lucky with walking in but, during high season, I would recommend calling ahead for a reservation.
WHAT I WORE

I wore this the day we drove from Lake Louise to Banff. We valeted the car, checked in and then went for a walk around the town! It's so cute!

On our second day, Whitney and I walked around again and went up the lookout where you can see this beautiful view of the the "Castle in the Rockies", the Fairmont Banff Springs.

Then, on the same day we went up to the lookout, I spilled something on my sweater so went up to the room to change while Whitney got us some fully dressed hot chocolate! Such a great idea for as cold as it was! changed. Then, we went inside to warm up in The Rundle Lounge!
WHAT WE DID:
We visited in December. The lake was completely frozen over and we only stayed for one night so we didn't do a TON but here is what we did do:
• Meandered through the city of Banff: I've been wanting to go to Banff for a long time. It's probably the biggest city in the area and is surrounded by some magical pieces of nature! I found it to have a very classic ski town feel, very rustic and makes you feel almost like you've stepped back in time a little bit. You'll find modern, contemporary restaurants and a lot of shops selling winter activity gear, children's clothes, photography products, touristy knick-knacks, etc.  We enjoyed quite a few of the restaurants that we dined in! See the 'Where We Ate' section!
• Drove up to the lookout point that overlooks the "Castle of the Rockies", the Fairmont Banff Springs: We didn't spend too much time here but thought it was a great spot to get a couple of photos! The hotel is truly gorgeous and the service we experienced during our stay made it even better!
• Walked around the property, took in all the magical Christmas decorations and enjoyed some fully-dressed hot chocolate outside: We found a fire to sit next to outside but gave it up to a family with their children who thought it was the coolest thing, hah! We snapped some photos before enjoying our hot chocolate and then decided to head inside because it was SO cold! 🙂
Wish we had had more time to explore all of the things that there are to do in Banff like skiing, taking the gondola up to the top of Sulphur Mountain to overlook Banff, etc. but … this little taste of this area of the world has given more a huge desire to come back because it's FULL of things to do!
---
So, in summary, Whit and I spent 6 days on this leg of the trip before flying over to Whistler. You will most definitely need a MORE time than that to do these places justice. We squeezed a lot of places into a small amount of time, which limits all that you can do within that time HOWEVER, there is LOTS to do in these areas although it might not seem like it from my 'What We Did' sections. So, just keep that in mind!
If you need some insight on WHAT TO PACK for a Winter getaway, be sure to check THIS post out! I've got ya covered .. AND, if you're skiing, check out THIS post!
After Banff, we flew to Whistler and I'm really excited to share more from that trip in the next couple of weeks! Please feel free to ask any questions in the comment section below about this trip! I'd be happy to help and / or assist in your travel planning as much as I can!
Have a great day, lovelies! Thanks for stopping by! xo.