Buongiorno!
Venice is the capital of the Veneto region of Italy and is commonly known as the "City of Bridges" because it is located northeast of the mainland on an archipelago of 118 small islands in the Venetian Lagoon. All of the islands are connected by bridges, allowing foot traffic to safely pass over the official roadways of Venice … canals! Venice sits a mere three feet above sea level making it impossible for actual roadways to be constructed. With that said, there are absolutely no cars in Venice. Everyone gets around via vaporettos, also known as water buses, gondolas or by foot.
Arguably one of the most beautiful cities in the world, Venice is a wonder for the exceptional characteristics it embodies. My friend, Victoria, and I had an great time getting a quick peek at this beautiful part of Italy during our two day, three night stay last Spring. In this post, you'll find some fun facts about Venice, where we stayed, what we did and where we ate with the hope that it'll help you plan your future travels!
• There used to be over 10,000 gondolas navigating the canals as personal transportation of those who lived in the city of Venice but, today, there are only 430 and almost none are used for personal transport. The tradition of the gondola and gondoliere, the oarsman, lives on through their popularity with tourists.
• It's extremely difficult to become a gondoliere. The licenses used to be passed down from father to son but has since banned hereditary licensure acquisition. Now, all gondolieri must belong to the professional guild, which strictly controls membership. There are only a limited number of licenses that are issued. They are only granted to those who make it through not only an intense period of training and apprenticeship under an experience gondoliere, but also a comprehensive exam, which covers how to handle the gondola, the layout of the city, a history of Venice and foreign language skills. Needless to say, don't be afraid. You are safe with these guys!

• The job of a gondoliere was dominated by men until 2010, when Giorgia Boscolo became the first woman to pass the strict qualification exam.
• The narrowest street in Venice, and one of the narrowest streets in the world, is called Calletta. It measures only 53 cm wide! That's not even 2 feet!
• Is Venice a sinking city? In short, yes. Remember learning about plate tectonics in school? Well, Venice sits atop the Adriatic Plate and the subducting, or sinking, movement of the plate is causing the city to slowly sink, approximately 1 to 2 millimeters per year. Venice also struggles with major flooding four to five times a year. Make sure you look up the trends on when that occurs before booking your trip!
• Vegas wouldn't exist if Venice hadn't established the first public casino in 1638!
• The surface of Venice is gradually lowering, leading to the seasonal phenomenon of acqua alta, when much of the city's surface is covered with water at high tide.
• George Clooney and his beautiful wife, Amal, were married in Venice in 2014 and enjoyed accommodations at the Arman Grand Canal.
• As of 2017, it is estimated that Venice sees upwards of 60,000 tourists every day.
• Popular movies that were all filmed [or in part filmed] in Venice include The Italian Job, Lara Croft Tomb Raider, The Talented Mr. Ripley, Indiana Jones and the Last Crusade, and The League of Extraordinary Gentlemen.
• The medieval Venetian state was often called the "Republic of Music". It was said that in every home, someone was playing a musical instrument or singing.
• Venetian cuisine is characterized mostly by seafood, but also includes garden products from the islands of the lagoon, rice from the mainland, and polenta.
• There are 150 canals in Venice!
• Canvases, the common painting surface, originated in venice in the early Renaissance.
We stayed at Splendid Hotel, which is a pretty popular hotel.
[credit]
PROS
• This hotel is in a great location. It is close to the vaparetto station near the Rialto Bridge, the main bridge that crosses the Grand Canal, making transportation to the airport and from the train station really convenient. It's also close to lots of great shopping opportunities as well as St. Mark's Square, one of the 'must-see' spots in Venice.
• Victoria and I found the staff to be friendly and helpful, when needed.
• This hotel is kept very clean.
• The rooms include plugs in the bathroom, which is rare in Europe, and a world adaptor is built in to each side of the bed so it doesn't matter what plug you have. You can plug anything in, no problem. However, it did make my American battery charger plugged in and it did make my phone hotter than when I had it plugged into an adaptor. So, just beware!
• Victoria and I were able to book a room the night before we arrived at a pretty decent rate of  €175/night.
• This might seem like an odd 'pro' but, I've stayed in places in Europe where hot water is scarce but this hotel had an adequate hot water supply and the pressure was outstanding! It's the little things, guys … the little things!
CONS
• The hotel restaurant and room service are extremely expensive. I ordered a margherita pizza when we arrived and, while I can't expect every pizza in Italy to be freshly made, I am convinced it was a frozen pizza heated up. There wasn't even any basil on it. That's almost blasphemous if you've ever had a margherita pizza in Italy. I don't remember the exact price I paid for it but, for a frozen pizza, I remember it was way more than it should have been.
• If you book through booking.com, don't bother accepting their tempting 'upgrade' offer. In addition to €175 a night, I paid €40 extra each night for a room with a canal view. It was the tiniest room with a very small canal view. I don't need a massive suite but I do feel like the room we had wasn't much of an 'upgrade' than what the pictures showed of the type of room we booked online. It was very misleading so just be careful!

OTHER NOTES
• PARKING: You can drive TO Venice but you'll have to park the car in a parking garage, like Piazzale Roma, outside of the city. The price is pretty steep to do so, around €24 – €29, so I'd suggest turning in your rental car just outside of Venice, then take the water bus into the city and to the appropriate stop to get to the hotel.
• WIFI: Wifi is available and free for guests of the hotel.
• HOTEL SERVICES: Some of the hotel services include arranging for and reserving gondola and water taxi rides, laundry and dry cleaning, a safety deposit box, and a water taxi landing stage.
With tourism being such a large part of Italian economy, you will find many Italians speak English, especially in the larger cities like Rome, Florence and Venice. However, it's not safe to assume everyone will. It's common travel courtesy to try and know a few phrases in the primary language of the country you're visiting! Here are the ones that would be good for you to know when venturing to Venice!
Grazie – Thank you
Prego – You're welcome
Mi scusi – Excuse me/pardon me
Non parlo molto bene italiano – I don't speak Italian very well
Parla inglese? – Do you speak English?
Potrei vedere il menu? – May I see the menu?
Quanto costa? – How much is this?
Mi porti a questo indirizzo, por favore – Take me to this address, please
Mi chiamo Haley! – My name is Haley!
Saluti or Cin-Cin [pronounced Chin-Chin] – Cheers!
Venetian cuisine is much different than what we typically think of when we envision Italian cuisine like spaghetti and pizza. Historically, the city of Venice was somewhat isolated from mainland Italy as well as the ingredients that they so easily had access to. Venetians were challenged to create their own cuisine out of the ingredients that were accessible to them, which was rice, seafood, fish and vegetables. With that said, I encourage you to find restaurants that aren't showcasing 'typical' Italian dishes in order to get the most authentic experience.
Here are a couple of restaurant recommendations offering traditional Venetian fare, as well as a café that is quite iconic to the city of Venice:
• Trattoria a le Colonette: Victoria and I dined here on our first evening in Venice and, honestly, we wish we had put more effort behind finding a better restaurant. It wasn't too far of a walk from our hotel and it had a really cozy feel from outside. We had also tried to get into a few other places that looked nicer, but no luck due to no reservation. This restaurant was just … okay. It wasn't anything impressive or exceptional but it had food that filled us up. The staff was kind and attentive. Honestly, I'm sure there are better places to eat. [official website] 
• Bistrot de Venise: If you're looking for an elegant dining experience, make sure you make a reservation at this little place. It's known for its traditional Venetian dishes, like squid ink pasta with crustaceans and spaghetti with cuttlefish. My two recommendations are the veal lasagne [the 'lasagnetta with ragout' on the menu] and the tiramisu, both of which rank very highly on my list of Best Meals I've Had In Italy. The only downside was the portion size because, in Italy, you typically have an appetizer, first course [pasta], second course [meat] then dessert. So, if you don't get a second course, you might be think the first is a little small.
In addition to its delicious food, Bistrot de Venise also boasts an impressive wine list. The sommelier for the evening introduced himself to use early on in our meal and he happily paired wines for us based on our selections. He did a fabulous job and, overall, we had such a lovely experience here! It's also important that I mention that this restaurant is a little on the fancier side, so be sure to dress a little smarter than usual! [official website]
• Caffè Florian: Established in 1720, the Caffè Florian is the oldest coffee house in Europe. It's located in St. Mark's Square offering its guests both indoor and outdoor seating. Be sure to pop in for a delicious cafe latte and a few macaroons! You won't regret it, I promise! [official website]
• Harry's Bar: Guiseppe Cipriani opened the doors to Harry's Bar in 1931 with the idea that every customer be treated like royalty and like you would want to be treated. When you walk in, you can just feel a sense of hospitality and timelessness. We only popped in for a celebratory drink, clinking our champagne glasses and saying 'Cin Cin' to the fact that we had arrived to our last destination in Italy, but left wishing we could stay for more. Their menu is rather extensive and supposedly the food is phenomenal. I'd highly recommend taking a peek at the menu and making a reservation if the prices are in your budget. It's one of Venice's iconic spots so make sure you don't miss it … even if just for a drink! [official website]
I wish I had given myself more time in Venice so I could have given you more recommendations but, if you have a restaurant recommendation, please do leave it in the comments section below to help those using this diary to plan their trip!
• Took a ride down the Grand Canal in a water bus: This was the first thing we did upon arriving in Venice and, call me completely ridiculous if you want but, taking in the beauty of this city was a little emotional for me. It's a little bit like Santorini, where you feel like you're awake in the most beautiful dream. It doesn't look real. It might seem a little simple but this might of been one of my favorite experiences during our couple of days there.
• Ventured over to Burano for the day: This little colorful island is an absolute must if you have a full day to spare. It's a short 40-minute ferry ride from Venice and completely worth it! It's unique in a completely different way. I shared our experience in this post, the Quick Guide to Colorful Burano!

• Got lost meandering through the small streets of Venice: This one is not difficult to do in the slightest, ha! Embrace it! Victoria and I ended up in a beautiful square kind of far from our hotel and enjoyed an evening cocktail one night. Of course, I forgot to drop a pin on it so I do apologize I don't have it to share but … just trust me, meandering is always fun to do, especially in a place like Venice, where you literally can't see what's coming up ahead!
• Took a load off in St. Mark's Square to enjoy some treats, coffee and people watching: On our first day, after a bunch of walking around, we walked over to St. Mark's Square and took a seat at the famous Caffè Florian. It was such a perfect little spot to just relax and do some people watching. The kids chasing all the birds away was my favorite!
• Stopped by the Bridge of Sighs: The Bridge of Sighs is a beautiful enclosed bridge made out of limestone. The bridge connects the New Prison [Prigioni Nuove] to the interrogation rooms in the Doge's Palace. The name comes from the assumption that the prisoners would sigh at their last view of beautiful Venice from the windows of the bridge before being taken to their cells. In reality, however, you cannot see much out of the 'windows' on the bridge as there are stone grills that cover them. Still, it's a beautiful bridge and worth a quick stop after walking through St. Mark's Square.
• Enjoyed a glass of champagne at Harry's Bar and a bellini with a canal view: I'm a huge fan of popping in somewhere for a quick cocktail, especially a place like Harry's Bar, which is an iconic Venetian hot spot. Harry's Bar has served clientele such as Ernest Hemingway, Truman Capote, Charlie Chaplin and Jude Law. It's located along the Grand Canal on Calle Vallaresso. It's much smaller than you'd think it would be. Victoria and I clinked our champagne glasses here on our first evening in Venice.
• Check out the view from Rialto Bridge: This view is classic Venice and an absolute MUST!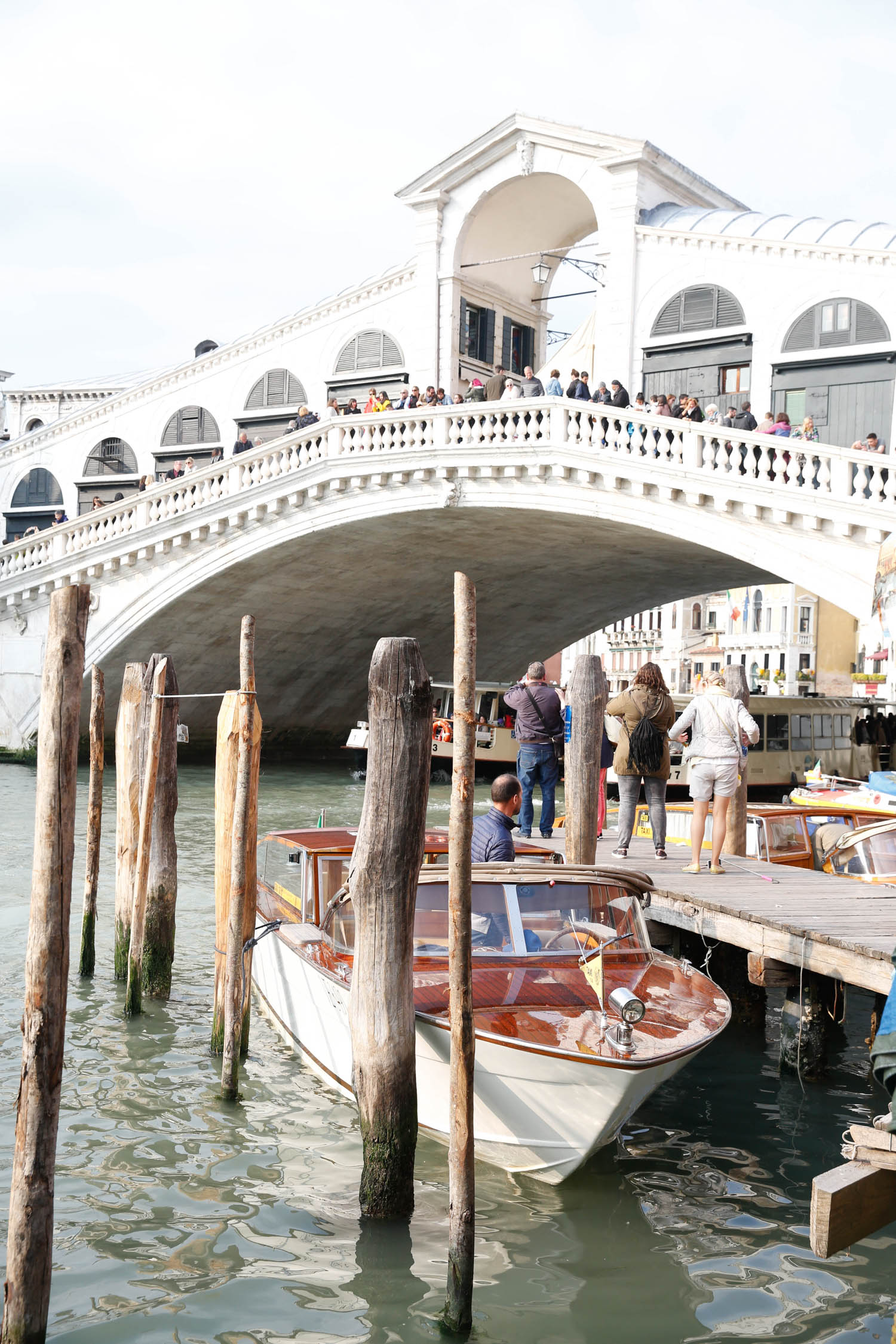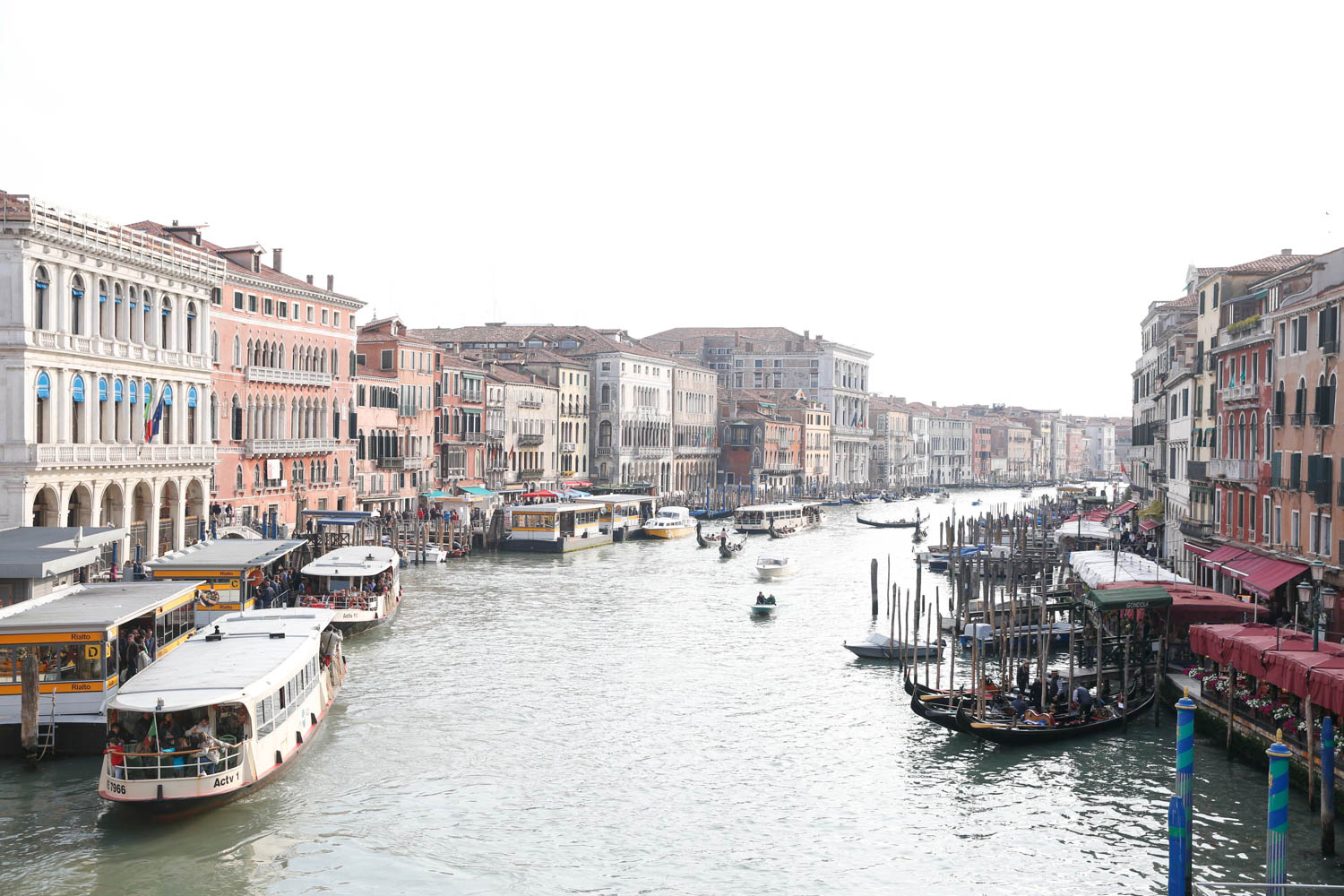 • Paid €60 to take a ride on a gondola: These gondola rides are why so many identify Venice as the "City of Love". Listening to the water gently hit the sides of the buildings as your gondola cuts through the canals and listening to your gondolier sing an Italian song is literally so dreamy. I can't imagine experiencing that with someone I'm madly in love with but I'm sure it's pretty incredible. A 40-minute ride will set you back €60, plus tip, and even more if you want a ride after dark!
It may seem ultra-touristy, and I'm all about going beyond the 'usual' things when traveling but, I mean … would you go to Paris and NOT make sure you saw the Eiffel Tower or go to Sydney and not go see the Opera House? It's just something you HAVE to do!

[credit]
• DESTINATION HIGH SEASON: The busiest season for Venice is July through early September. The best months to travel to Venice, or Italy in general, is April to June and mid-September through October. This is when the weather is more comfortable and the crowds aren't as intense!
• TAXI PAYMENT: Be sure to have cash on hand before getting in! They do not usually accept credit or debit cards.
• TIPPING: Add 10% to your overall bill!
• LANGUAGE: There are quite a few Italians in large cities, like Florence, Rome and Venice, that know a good bit of English but, out of respect, you should always do your best to communicate in basic Italian. They'll know you're English-speaking but they'll at least respect that you tried. Google Translate is a great tool to help you with pronunciation while you're prepping for your trip! 🙂
• GOOD TO KNOW:
– Water taxi's in Venice are called vaporetto's. Water taxi stations have a big 'Biglietteria', which means 'ticket point', where you will purchase your ticket. You will just need to make sure to know where you trying to get to so you get the right ticket for the right vaporetto. The water taxi's aren't like regular taxi's where everyone gets in a line and you tell your taxi where you're going. Each taxi has a different drop off point throughout the Venice city area, so you have to know what stop is closest to wherever you're going. If you have never been to Venice before,  I highly suggest trying to figure this out ahead of time. To do this, you can go HERE.
– Don't expect the people in Northern Italy to be as friendly as those in Southern Italy. They're known to be a little cold.
– If you're looking to take a day trip to Burano, be sure to check out my Quick Guide to Colorful Burano for the scoop on which boat to take and what time you need to get there to beat the crowds.

– To go coffee in Italy does not exist. You always drink your coffee at the cafe, whether you're at the bar or at a table. No 'to go' cups.
– Caffe Latte's are a morning drink so just know you may get an odd look if that's what you order after your lunch.
– Don't be afraid to be a little assertive when you need something from your server at a restaurant. In Italy, and most of Europe, they want you to enjoy your experience and the company you are with at their restaurant. They don't want you to feel rushed or like they're trying to get you to leave by coming to check on you every few minutes and bringing you your check after they clear your table. After they serve you your wine and main course, they will likely leave you alone for a long time. Make sure you have everything you need or you'll be waiting for awhile to flag them down. If you're ready to go when they take your plates, be sure to let the server know you're ready for the check, otherwise, they'll assume you will visit with each other while your meal is digesting.
– In Italy, you have the bar and the table setting / service. Most of the time, restaurants will charge a little more for whatever you order if you sit down. For example, at the bar of one cafe … our coffee's would have been 2.50 Euro but, since we sat down they added a 3.50 charge. It's not usually that ridiculous of an up-charge but just know that if you're bill seems a little pricey … and you're sitting … that's why. Typically, according to Victoria, it's around 1 Euro for an espresso or macchiato and 2 Euro for cappuccino or caffe latte at the bar. Always check the menu before you order at your seat!  
– Many businesses close during the mid-afternoon hours for their midday 'riposo'.