There are quite a few things I can say you can expect out of a trip to Positano and one is that you will eat more good meals than bad ones! In this area of Italy, a region known as Campania, the cuisine is somewhat different than the traditional Italian dishes we are used to in the States. Being situated so closely to the sea, you will find that the protein in pasta dishes to be seafood as opposed to meat. If fish and crustaceans aren't your thing, lucky for you, there are mountains on the other side of all of the towns along the Amalfi Coast with luscious fertile soil, perfect for growing fresh vegetables like tomatoes and eggplants, so seafood isn't the only thing you'll see incorporated into dishes here. Also, if anything has lemons in it, you are safe to assume it's going to be delicious! This area is known for its lemons so definitely venture outside of your norm and opt for a lemon sorbet or cake for dessert!
Some traditional dishes you will find in this area include:
Mozzarella di bufala alla caprese [Caprese salad with buffalo mozzarella]
Parmigiana Melanzane [Eggplant Parmesan]
Spaghetti con le vongole [Spaghetti with Clams]
Risotto alla Pescatora [Seafood Risotto]
During our eight day stay in Positano, Victoria and I ventured to some of the city's most popular restaurants. Today, I'm excited to share which ones we loved, liked and could have done without! Here we go!
SUNNIES | TANK * currently on sale for $16! | HEADBAND is from a boutique in Positano
This little spot was a last minute choice for Victoria and I one day for lunch. I was wanting something on the lighter side because we were going to La Tagliata that night, and I had heard that you needed to really come hungry, so I opted for a Caprese di Bufala, a caprese salad with buffalo mozzarella. My love for authentic buffalo mozzarella cheese is so strong so I was so happy to be back in this area to enjoy it! The salad delicious and a lot of their other dishes looked amazing, as well. I'd recommend as a lunch spot! Let me know if you go for dinner and enjoy it 🙂
Address: Via Regina Giovanna, 84017 Positano SA, Italy
La Tagliata is one of the most highly sought after restaurants to enjoy dinner. There is no menu and you have to have a shuttle take you up to it but I can assure you, it will be the most authentic Italian dinner experiences you will have while in Positano. If you're staying in a hotel, ask your hotel concierge if they can call to see if they have any reservations available [I would set this up when you first check-in to ensure you find a date that works] and then set up the shuttle to stop by and get you in the evening. From what I gathered, there are two shuttle pick-up's and drop-off's to the restaurant every evening. We were staying at an AirBNB so the person we talked to a La Tagliata asked what hotel was closest to us, so we told them, and they told us to be there at a particular time. MAKE SURE YOU'RE THERE ON TIME FOR PICK UP. We were arrived at the pick-up point RIGHT at the time of pick up and the bus was arriving at the exact same time. Thankfully we weren't running any later than that!
Now, on to the meal …. y'all, it was absolutely delicious and just when you thought it might be over, more would come out! So, again, there is no set menu. They make whatever 'Mama' feels like making that day based on whatever is fresh and available from the garden, which is located on the property of the restaurant. Everything is brought out family style and begins with antipasta [starter], a first course [usually pastas and vegetables], a second course [multiple meats], and desserts. All I can say is … pace yourself! It's a lot of food and it's all SO good! It's nothing like any other restaurant you've been to in Italy.
Unfortunately, we went late in the evening and the dining room is pretty dark so we didn't take photos but, I'd recommend going at sunset if you can. The restaurant is located up at the top of a mountain and overlooks Positano. I can imagine the view is beautiful! Something to also keep in mind that because there is no set menu and everyone gets the same thing, everyone pays the same price. It was €40, which I found to be fair considering how much food you get. You get wine that the family has made themselves with dinner, as well!
Overall, I highly recommend this restaurant! It's absolutely amazing and worth the effort to get up there … even though it really isn't that hard! It just takes a little bit of initiative to plan it 🙂
Address: Via Tagliata, 32B, 84017 Positano SA, Italy
On our first night, Victoria and I wanted to eat somewhere close to our AirBNB as it had been a really long day. We still hadn't wrapped our mind around where all of the places people had suggested were in comparison to where we were in Positano so we just picked Ristorante Bruno, which was a short 5-minute walk. After we sat down, I opened the spreadsheet I had made with all of your recommendations and was so excited to see that this spot came recommended! Gabriele was our server and he was so quirky and fun! I got spaghetti alle vongole, which is spaghetti with clams and a traditional dish of the area, in a red sauce! It was great but, I think I prefer this dish at Chez Black. But, please don't mistake that for my distaste for the restaurant overall! It was REALLY good and I do recommend you give Ristorante Bruno a try! Sit outside. The view is great!
Address: Via Cristoforo Colombo, 157, 84017 Positano SA, Italy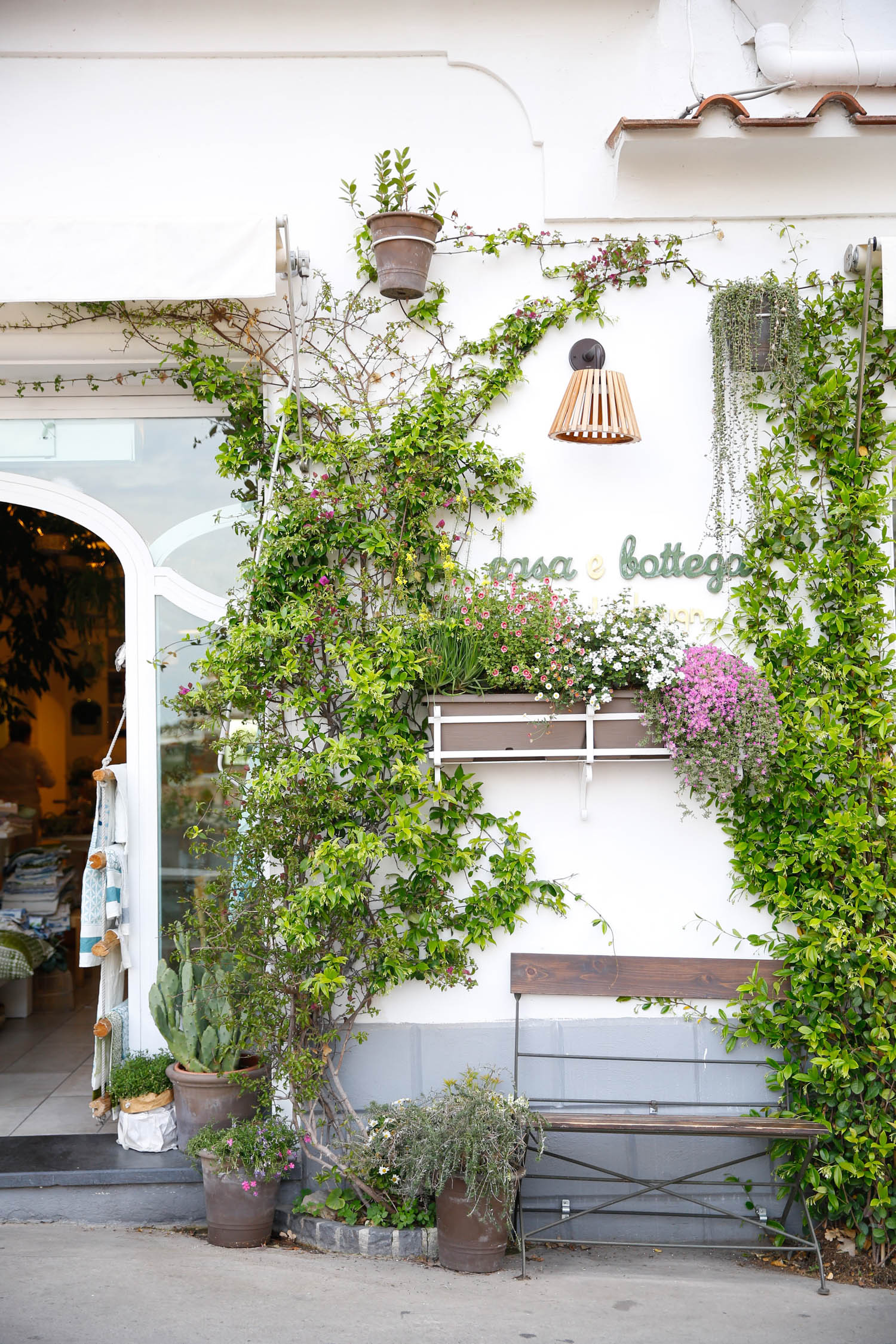 Casa e Bottega was probably one of my favorite spots and I'd highly recommend it if you're looking for a refreshing, light meal. If you are tired of pastries every morning or heavy pasta dishes, this is the spot to retreat to to enjoy high quality healthy options instead!
Victoria and I went for lunch one day. She opted for and loved the chicken salad and I inhaled the zucchini noodles with fresh tomatoes, buffalo mozzarella and parmesan. I wish we had gone back one more time because there were quite a few things on both the breakfast and lunch menu we wanted to try outside of those two.
They also have a little home goods section of the space where you can buy some kitchen wear and home decor items that are inspired by this area of Italy. I was so tempted by their tea cups and saucers. They were so cute!
Address: Viale Pasitea, 100, 84017 Positano SA, Italy
I'm not going to lie, we were a little unsure about Next 2 at first. We had passed it on one of our long walks one day and it looked a absolutely beautiful. With an all white outdoor courtyard with large umbrellas over all of the tables and climbing jasmine blossoming along the walls, it truly exudes an elegant and romantic vibe but seemed a little inauthentic to the area we were in and experience we were looking to have. I was almost positive this restaurant wouldn't offer the type of food we were always hoping to find each time we sat down to a meal. Thankfully, we were completely wrong!
We decided to commit to the 15-20 minutes trek from our AirBNB over to Next 2 on one of our last nights', despite our super long day exploring Amalfi, Atrani and Ravello, because we had gotten a few recommendations for it. Honestly, we almost didn't go but I am SO glad we did. It was one of my favorite meals of the trip. The presentation of the meal was always stunning but the taste was even better. The service was amazing! Our server was very attentive and would check in from time to time, which is rare in Europe! They also have really good looking Italian men working there which, for a single girl, was a huge perk! 😉
You can't go wrong here! Everything was good. Victoria and I both enjoyed and would recommend the stuffed zucchini flowers as a starter. We also got the same thing as a main, which was conchiglioni pasta stuffed with cheese and pork ragu sauce. My mouth is watering. Oh my gosh, I want to go back … just for this meal!
Address: Viale Pasitea, 242, 84017 Positano SA, Italy
We got so many recommendations for this spot. You definitely need to call ahead for a reservation because it is so popular! I was really looking forward to this meal but, there wasn't a lot on the menu that I was excited to try to begin with and what I ended up ordering was just okay. Victoria and I were also sat at a table to the side of the restaurant so we kind of felt a bit removed from the excitement brimming from the restaurant. I would read the menu before making a reservation. You can't go just off of my experience. There are a lot of other people who recommended this spot to us that said it was amazing. I just personally didn't love it!
Address: Viale Pasitea, 172/178, 84017 Positano SA, Italy
We came across Il Capitano on one of our first nights in Positano as we were walking around exploring. It is situated on top of a building and gives you a perfect view of the beautiful sea and the city of Positano to your left. If for nothing else, you should definitely go for the view! We called ahead and made a reservation and requested the corner table that has the best of both views!
I'm going to be honest. I didn't love what I ordered. I got seafood risotto because risotto is one of my favorite things. I also love seafood so I thought it would be fine but, something that I didn't realize, is that they cook the risotto in the seafood water. So, the seafood is cooked in water then they use that broth to make the risotto. Personally, it's not a flavor that I love. I kind of feel like it tastes too much like what seafood smells like before it's cooked. I hope that makes sense! But, Victoria got ravioli with tomato and melazone [eggplant] stuffed with ricotta and LOVED it. So, I wouldn't say this place is terrible in the slightest! I just chose poorly, ha!
Our server was very sweet and attentive! Make sure you call ahead! This spot is one you should not miss!

Address: Viale Pasitea, 119, 84017 Positano SA, Italy
Ristorante Max was also highly recommended by readers! It's situated in the center of the city and supposedly has amazing pizza! Victoria and I were craving something a little different so we didn't try it that night but that is the word on the street! So, here is where Victoria introduced me to stuffed zucchini flowers as a starter. I had never heard of them, much less had them, before! Verdict is in and y'all … you HAVE to try it if you come to Ristorante Max! They were SO delicious.
What's a zucchini flower? Supposedly zucchini flowers grow on the marrow plant and are only available in the Spring at market stalls in this region of Italy. They are prepared differently throughout the region but they are usually stuffed with Parmigiano Reggiano. Highly recommend!
Victoria loved the fish of the day as a main and I got the ravioli stuffed with cheese and eggplant and topped with a red sauce. We loved Ristorante Max. They were a little more hands off in terms of service. They answered our questions and everything came out looking and tasting beautiful in a short amount of time but they don't check in super often! Just a heads up! I recommend calling ahead, especially during June, July and August, as we heard this is one of the most popular restaurants in Positano.
Address: Piazza dei Mulini, 22, 84017 Positano SA, Italy
This restaurant is located at the L'ancora Hotel and was a short walk from both of our AirBNB's so we went here for breakfast one day and lunch another day. It offers a very traditional menu of Campania cuisine and both times we ate here, we were really happy with our meals. It's pretty casual and there didn't seem to be a need to make a reservation.
Address: 18, Via Nuova Provinciale Chiunzi, 84010 Maiori SA, Italy
Chez Black is hard to miss in Positano because it's located down by the beach along the main walkway. It's my unfair assumption that restaurants located along the busiest areas of a city can get away with having mediocre tasting dishes because their location almost guarantees business regardless of how good the food is. Thankfully for Victoria and I, who suggested we go here for lunch on our first day with our friends Stephanie and Neal, this was not the case! We actually ended up eating here a couple of times!
During our first visit, I got the spaghetti with clams, or spaghetti alle vongole, which is a dish that is particularly popular in Campania, the region of Italy that Positano resides in. They can make it in a white or a red sauce and, this time, I opted for white. To be really honest, I don't eat clams in the States because they don't taste like anything to me but, in Italy, they're delicious! [Same with anchovies! They're SO good. I promise!] This was one of my favorite meals of the trip! Absolutely delicious!
** Chez Black had the best spaghetti alle vongole that I consumed during my time in Positano. It was my favorite dish to order so I had it at three places and feel it's necessary to mention their's is the best! 🙂 **
Victoria and I enjoyed heart shaped pizza's on our second, and final, time dining at Chez Black. They had the best pizza, in our opinion! We also became best friends with a few of the servers, Antonio and Antonio [one of the most popular names in the area although we met more Luigi's than anything else, ha!]. To be honest, they really wanted to marry Victoria. A blonde who speaks Italian was seriously the way to their hearts!
Address: Via del Brigantino, 19, 84017 Positano NA, Italy
We frequented Collina Bakery during our stay in Positano. It was a favorite of mine last year. The staff is so fun and friendly and they allow you to take away your coffee, which is typically looked down on in Italy. The also have the most delicious baked goods, desserts and pizza! I also love their gelato! It's essentially a one-stop shop for anything you could want, except pasta dishes! 🙂
Special thanks to Guilia and Francesca for their kindness to Victoria and I. This isn't a sponsored promotion but they gifted us a couple of coffees after seeing that I shared them on IG stories, which wasn't necessary but very, very sweet of them!
Address: Via Cristoforo Colombo, 1/3, 84017 Positano SA, Italy
So, Covo dei Saraceni is a beautiful hotel that overlooks the beach of Positano. It has a couple of restaurants associated with it. They have a beautiful restaurant located on their first floor terrace that overlooks the sea. Victoria and I did not eat here, although it looks lovely! There is a smaller restaurant that they have underneath that restaurant, that you can access on your way our to the dock, where you board the ferry and rental boats. I ate breakfast there last year with my best friend and our Mom's and it was delicious! You can get eggs here, which is a rarity in Italy! Victoria and I also ordered pizza's to go on our last night from this spot and they were really delicious.
Address: Via Regina Giovanna, 5, 84017 Positano SA, Italy
Love gelato?

Gelato is essentially it's own food group in Italy! Here are a few of the places we enjoyed getting gelato from:
La gelateria della buca di bacco
Alright, y'all! That about does it! I've eaten at a few other places along the Amalfi Coast but will put them in my Quick Guide to the Amalfi Coast, which is coming to the blog soon, but I do hope this helps you navigate the cuisine scene in the beautiful city of Positano! Have a great time during your trip! Leave any other restaurant recommendations in the comment section below!
Buon appetito! xo.