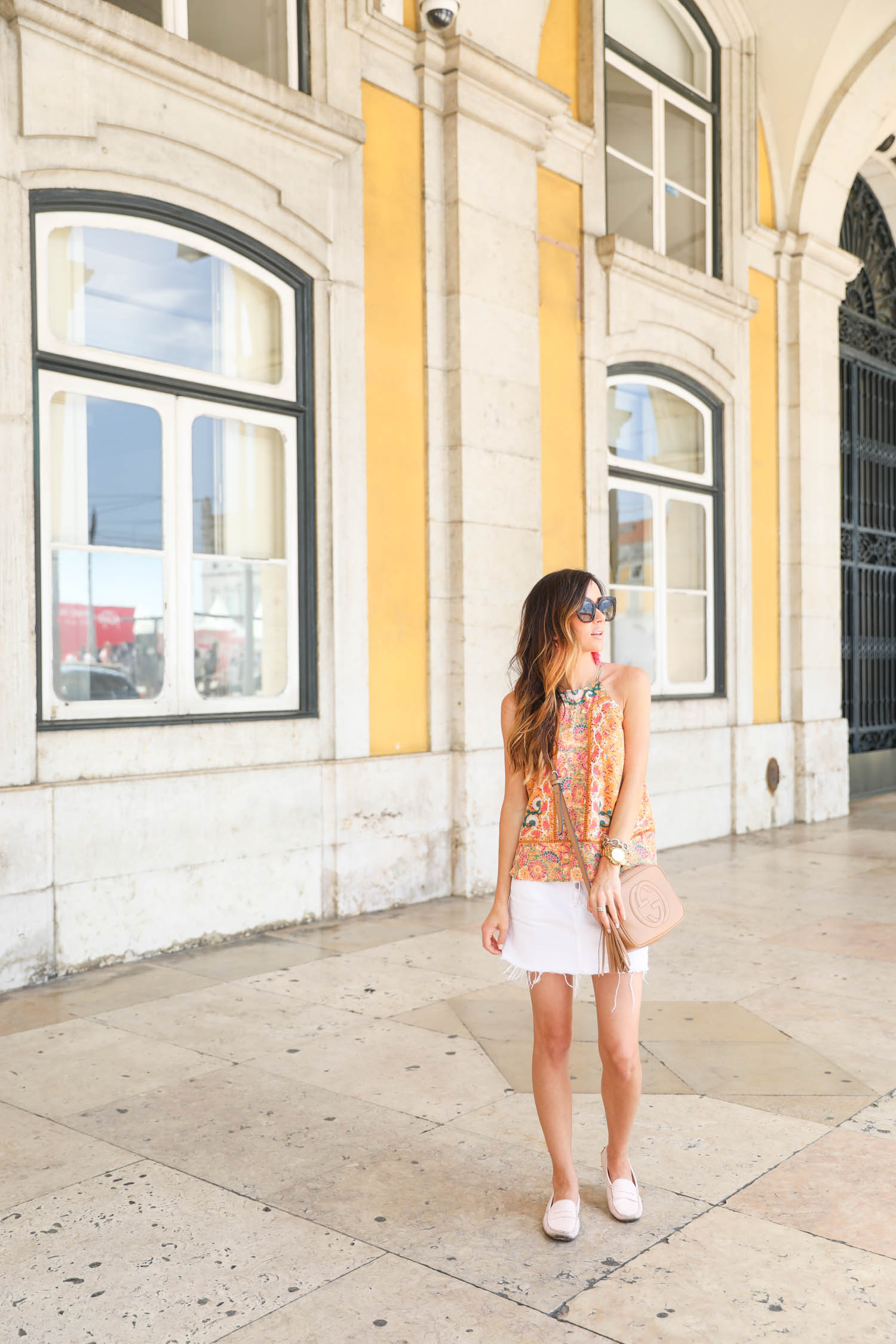 Hey there, friends!
Today, I'm so excited to share my second outfit post [the first can be found HERE] from my trip to Portugal. This was one that I chose not to share on Instagram so that it had a bit of a surprise factor for you guys, ha! It was actually one of my favorite outfits from the trip. I am slightly obsessed with all of the colors within the paisley print of this halter top and these statement earrings really pull everything together. I decided to pair it with this white denim mini skirt because it was so hot out but I think a pair of white distressed denim or white clean skinny jeans would be perfect, too. The skirts' sizing starts at 23, which always tells me it runs big, so I always size down to a 23 from my normal 24 and it fits perfectly. It is a little pricey so I found a really cute similar one for under $50 HERE.
Also, I'm just forewarning you … you will be seeing these light pink TODS loafers in a lot of my upcoming travel outfits. They are the most comfortable pair of shoes that I own to be in for long periods of time. They also have really good traction on the bottoms of them, which was especially important in Lisbon, the city of seven hills. I tried to remember to bring some different sandals with me but then I would just end up wearing these in the shoots because they tended to match most of my outfits, ha! So, just know … you can switch the shoes out for some cute Summer sandals like any of these here:

I'm wrapping up my work week this evening as I'm going out of town to be 'off the grid' with some friends of mine. I've got the Friday Five ready to go for you guys tomorrow, so be sure to stop by for that tomorrow! I've also got this months' Instagram Roundup ready to go for you guys on Sunday! There won't be a Saturday Roundup newsletter this Saturday, for all of my subscribers, because …. yep! That's right! The next Monthly Favorites newsletter will be going out on TUESDAY! And, I promise …. you do NOT want to miss it, especially if you are planning on shopping the Nordstrom Anniversary Sale! So, be sure to SUBSCRIBE now by selecting 'All Access' in order to get that delivered to your inbox!
Thanks for stopping by today, friends! xo.