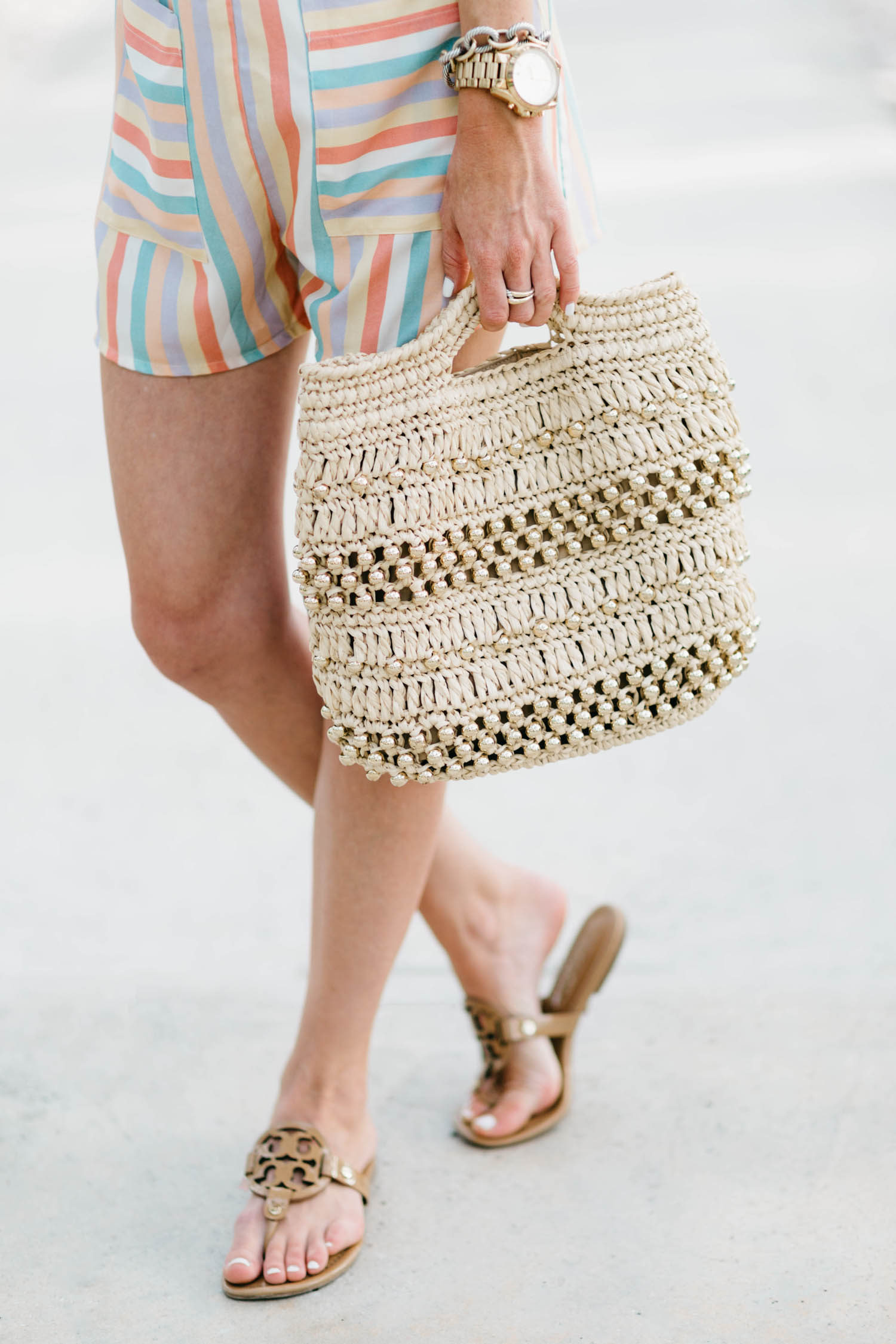 Hey there, friends!
I'm excited to share an outfit that I wore a few weeks back when I was down in Curaçao! It's a fun striped romper that is a great option for y'all this Summer. It's loose-fitting, made of really soft material and I love all of the colors. I thought it was a fun, unconventional design compared to some of the other rompers that I have. It could work well as a cover-up to your favorite bikini this season or you could, like me, pair it with a crew neck tank or fitted t-shirt to make it a little more appropriate for outings. I wore this on our last evening for dinner. We ate at this highly recommended restaurant called Kome. I shared a little bit about my experience in the Monthly Favorites newsletter that went out last week and am excited to share more in my upcoming Curaçao Travel Diary. P.S. How incredible are these palm trees? They were SO insanely massive and amazing!
Last week was a bit of a downer, I'm not going to lie!
The death of Anthony Bourdain and Kate Spade really weighed on my heart. I don't know what it's like to be plagued by deep and serious mental illness but I do know that every life is worth living and that there is so much love out there for you. So, stay with us if you are someone who has been struggling recently. I know you're likely tired of hearing people say that. So, I'll digress but I do mean it. I'm going to put some of my favorite quotes from Anthony Bourdain and Kate Spade in the Editor's Notes section of this post. They certainly added to the beauty and wonder of so many peoples' lives. Anthony Bourdain certainly inspired me to travel for the right reasons, to not only see the beauty and reality of the world we live in but to do it through getting to know the people who live in the places you're visiting. I love how he used food as the conduit to achieve this goal. Who doesn't love food? And, Kate Spade … gosh, how could I not be inspired by someone who created such a fun and happy brand and turned it into a worldwide phenom. I hate that they felt so alone and that this was the only way out. Their decision to take their own lives is tragic and it really begs for us all to remember that money, fame and living a 'glamorous' life, in whatever way you define glamorous, won't make your life better or solve your problems. Appreciate what you have. Love the people around you. Put your phones down. Be present and get some real face time in. Talk to people when you aren't feeling 'okay' and know that it's okay to not be okay but don't try to get through it alone. Life is meant to be lived in community. Know you are loved and live this beautiful, and sometimes brutal, life knowing that you are wanted here.
If you need someone to talk to, or have thought about hurting yourself, please call 1 800 273 TALK [8255]
That's just one thing that's been on my heart lately but will share the rest in the Friday Five later this week! I don't want this post to be a mile long, ha, plus all of that laundry I told y'all I had to put away yesterday took longer than expected [because I ended up re-arranging my closet …. we all know how those days go! ha!] so it's getting late!
On a lighter note, I've been trying out a lot of new beauty products lately. I'm highlighting seven of my favorites for Summer, featuring new and holy grail products, this week on the blog but I also mentioned a new foundation and eyebrow pencil that I've been using recently on Instagram Stories yesterday. I linked those two here, on the Instagram Stories page, that I'll be getting back to updated daily with sources for everything you see on IG stories. I'll even be doing my best to update this while I'm traveling, as well, so that y'all can get outfit details of my travel outfits quickly!
Alright, y'all! Hope you had a great weekend and the week is off to a good start! I have my Monday meeting this morning with Justine and Stacy then I'll be prepping tomorrow's blog post answering all of your Amalfi Coast questions for you guys + getting started on the packing process before I leave for my trip later this week! 🙂 xo.