Happy Weekend, friends!
With so many Instagram's being posted since the Nordstrom Anniversary Sale began last week, I thought it might be helpful to post the Instagram Round-up weekly during the sale. It might be pointless to point it all again at the end of the month as most everything will be completely out of stock. Next month, we will go back to the monthly Instagram Round-up's, unless y'all want them more frequently! We can probably swing doing them bi-monthly if that is y'alls preference! Let me know in the comments section!
My fingers are crossed you find the items you have been wanting to snag from the sale! There are still so many cute items on sale. I highlighted some of those on IG stories yesterday and shared them on the Daily Updates page!
So, here we go! Here are this weeks' Instagram photos with outfit details from each. At the end of the post, there are some weekend sales for you to take advantage of and I shared the giveaway winners from my Q&A blog post earlier this week! Thanks for entering!


Just had to take a pic of my travel outfit in this cute retro bathroom at the Miami Airport! Everything I'm wearing – including my pink luggage – is on sale.


These Spanx leggings were part of last year's sale, and I'm so glad they brought them back again this year. Under $65 and so comfortable. See more outfits with the leggings here!


It was a blast speaking at the LIKEtoKNOW.it x WeWork Influencer Panel in Miami this week! My top comes in two colors and pants are under $150!


Can't believe these pajamas are still fully in stock! They are an amazing price for the great quality.


The Nordstrom Sale is the perfect time to get cashmere, and I'd recommend snagging this cardigan while it's still available! It's such a gorgeous color in person!


My romper is still available in most sizes! And I love the color of these flats! I linked some similar options above.


Love this sleep shirt for under $45! It comes in two colors.


My pocket tee is one of my favorites from the Nordstrom Sale. And, YES! These shorts are as comfy as they look! They're mostly sold out, so I'm linking similar styles above.


I've been loving these Adidas sneakers included in the Nordstrom Sale, as well as this black denim that ended up being one of my favorite purchases in this year's sale!


This cardigan is crazy soft and the perfect price at under $80! My crossbody comes in multiple colors and is more than $40 off from the original price.


This was my outfit for the first day I was able to shop Early Access at Nordstrom! Did y'all shop more online or in store this year? Let me know in the comments!


In case you missed it, my Early Access Try-On Haul has tons of Nordstrom Anniversary Sale pieces styled multiple ways!


I love the fit of this pintuck top, and these jeans are under $200.


My uniform for shopping the first day of the Nordstrom Anniversary Sale Early Access! My headwrap is on sale for under $15.


There is a version of my Longchamp tote on HUGE sale at Nordstrom right now, and my Free People tee is still in stock in multiple colors!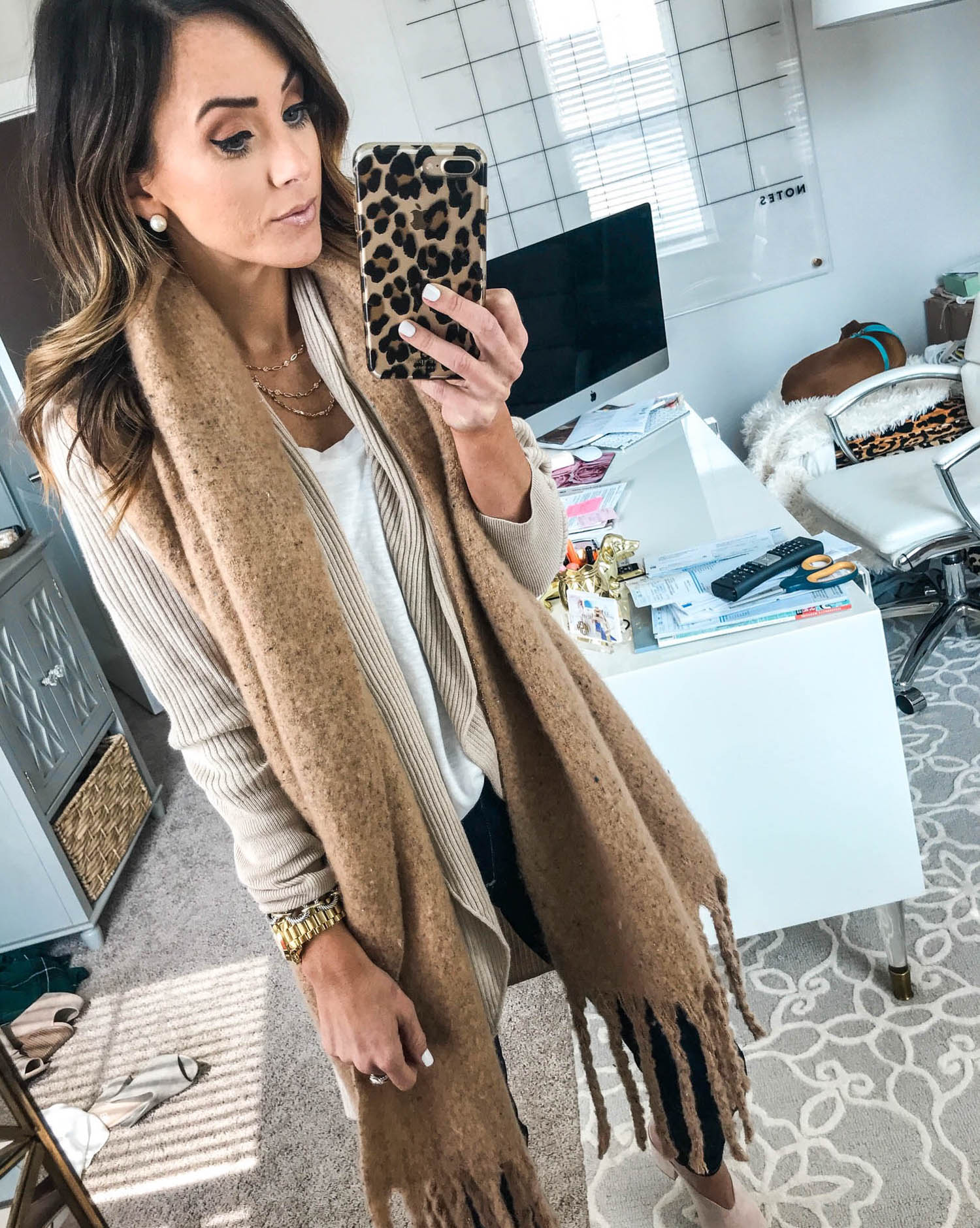 My chunky scarf is so soft and under $22 as part of the Nordstrom Anniversary Sale!
Weekend Sales
There are quite a few fun sales going on this weekend! Here are some of my favorites:
BAUBLEBAR – 20% off any order or 30% off your purchase of $50 or more. See homepage for codes.
LOFT – 40% off everything and extra 50% off all sale styles
J.CREW – 30% off your purchase and extra 40% off sale styles. Use code FRIDAY.
EXPRESS – Buy 1, get a pair of women's jeans for $9.90
Giveaway Winner
Thank you to everyone who entered the Q&A Giveaway! Here are the 10 giveaway winners of a $50 Nordstrom Gift Card:
ROSSY
MICHELLE HUTSON
DEBRA DALTON
COURTNEY CHEHANSKE
STEPHANIE FOOTE
MOLLY JANE
GABRIELLE HENRY
CASEY ADDISON
KELSSEY LAYTON
TORI JONES
Congrats, ladies! Send me an email here and we will get you confirmed and a Nordstrom gift card sent your way! Stay tuned to my Instagram and the blog for more giveaway opportunities! I still have a few that I am cooking up! 🙂
Enjoy your weekend! xo.