Did you get a chance to read my honest opinion on this Revlon Hair Drying Brush? If not, be sure to check it out here! And also, I am gifting it to one of you lucky readers this week over on Instagram so make sure to like + comment for a chance to win. You will absolutely love it!


This tunic is so comfortable and it comes in the most beautiful chambray color, as well! This would be so cute with black biker shorts, for all of my fellow 'biker short loving' gals! 😉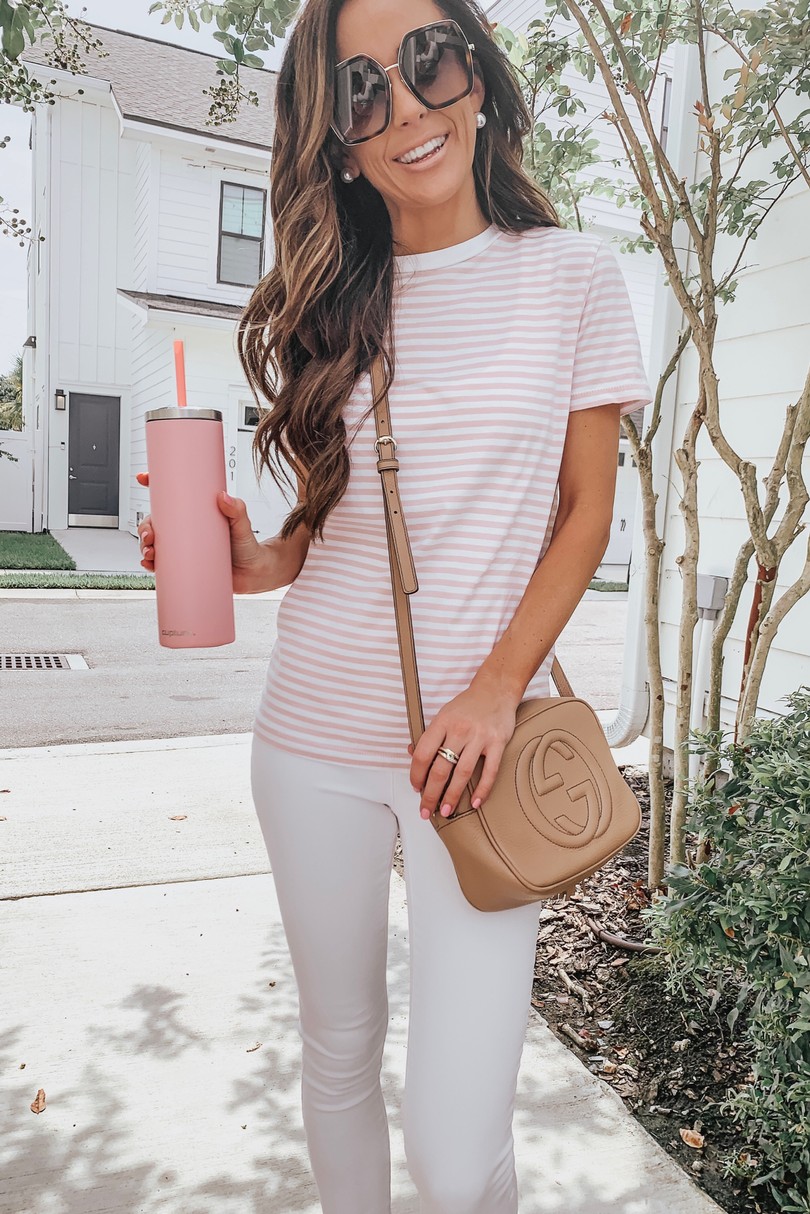 "Pink is my signature color" So many of you know that quote, and that is why yall are my people! This top is a steal at $24 dollars. It is a great back to school basic that you can pair with almost anything!


Love the look of a Louis Vuitton but not crazy about the price? This is the cutest dupe! I carry my skincare products in this when I travel!


These boys are my absolute heart & soul! This picture could not describe all of our personalities more perfectly! These sweat pants are half off right now. Run! Do not walk. They are so so comfortable!


This is my go-to travel outfit, especially for those over night flights when I get a little chilly. This jean jacket has gone with me to the ends of the earth and is still my absolute favorite! It is old, but this one is almost identical and under $50!


I was reunited with my bestie, Whit Whit, yesterday in London. We did lunch, then had a little work date before heading to happy hour and dinner with John! We all had such a great night! This is a throwback photo of her & I from my birthday trip to Cartagena. My whole outfit is under $50 on sale and would be so cute for any of you with a fun outdoor event coming up!
This Weeks' FAQ's
Where are the black packing cubes you shared earlier this week on stories from?
You can get them here!
Which two suitcases did you bring with you to London?
I packed all of my Italy items in THIS 29″ suitcase. I packed all of my London items in THIS 29″ suitcase.
How do Golden Goose sneakers fit?
I recently purchased these Superstar Golden Goose sneakers and ordered a 37. I normally wear a 6.5 and they fit perfect!
Can you share the strapless and sticky bra again?
Yes, the sticky bra is HERE and the strapless bra is HERE! I ordered this strapless bra before I left and love it, as well, if you want another option!
When you move to London, will you keep your hair extensions?
I guess time will tell. One of the hairstylists that has moved my NBR extensions up has a sister who splits her time between London and Utah. Her sister does hair, too, so she could easily do mine while she's in town throughout the year. But, who knows how I'll feel about keeping it up at that point. Time will tell. I feel like that's my attitude and thought for almost everything these days, ha! It kind of has to be with so much up in the air.
Did you ever share your Stowe Travel Diary last year? My girlfriend and I are going there this year.
No! I got the Burlington one out but, I couldn't get the Stowe one out quick enough, so I'll try and share that one in the next month or so.
What do Whit Whit & Victoria think of John?
Victoria has only met John once but they literally couldn't stop talking. They're both SO English. It's hilarious to listen to them. She thinks he's really nice and a great compliment to my personality. She said she loves how easy going he is and that you can tell he's very level-headed, which is great for someone like me who can sometimes get scatterbrained and flustered, hah!
Whit has spent more time with him but has said similar things. She thinks he's really fun and easy to talk to and be around. She loves how sweet he is to me, but also just to everyone else. He's always looking out for people. So, anyway, she approves!
Curious if you're close to your brothers as you've mentioned them very briefly in the past.
I love my brothers! They're both hilarious and super fun to be around. Jarrod moved to Dallas almost a year ago, which is why I don't see him much. Earlier this year, when I was in Dallas for work, I grabbed brunch with him before I went home. Beau lives in Jacksonville but lives on the other side of town. I feel like when you work in social media and share a lot of yourself with an audience, there's almost an assumption that all aspects of your life that you're proud of get shown online but the ones you're not proud of don't … and that's just simply not the case. I love my brothers dearly but, we don't see each other often and I always want to respect the time we spend together by putting my phone away. One of my brothers doesn't care about being shared on Instagram but I know the other one would like it so, I never put him in that position. Everyone has different comfort levels with being shared online and when you love being online … that can be hard to remember sometimes. I've never wanted to force my friends or family to conform to what has become normal for me in my day-to-day life, which is to share myself and what I'm doing online. I don't think that's fair, you know?
What airline do you prefer to fly when you book your flights to London?
Virgin Atlantic or Delta!
Can you direct us to a credible site to shop for second hand designer items?
Yes! I love using Vestiaire Collective!
Do you feel safe in London? Is the tube easy to navigate?
Maybe I'm too laid back for my own good but I've never had a moment in London where I have felt unsafe. The truth is … terrible things can happen ANYWHERE and I do not believe you are any less safe here than you are in the States. It's important to remain aware of your surroundings. It is a big city and it's quite busy as it is truly shared by Londoner's and tourists alike. So, use the CityMapper app and stay one step ahead of the navigation so you don't look like a tourist, even if you are one. Looking like you know where you're going can potentially ward off anyone in Central London who may be looking to pickpocket tourists. I'm not saying something bad can't happen here or never has … but I am saying that I've never felt unsafe. I travel around the city ALL the time by myself. I've probably traveled around the city more by myself than with people and I've never had anything bad happen. And, yes, the tube is super easy to navigate. Figure out which direction on the line you're going then make note of the LAST stop on the line as that is usually what will be on the front of the tube train. It's hard to explain the intricacies on here so, like said, use the app! I promise … it's fool-proof.
This Weekend's Best Sales
Abercrombie: 50% off all jeans
Aerie: Take up to 40% off your online purchase with code STAYCOOL
ASOS: Get up to 40% off wardrobe faves
Banana Republic: Friends & Family Event: 40% off regular price styles with code BRFRIENDS
Backcountry: Up to 50% off select styles
Goodnight Macaroon: 40% off pre-Fall collection sale with code PREFALL
J. Crew: Up to 50% off select Fall styles
One Kings Lane: Last Chance Outdoor Sale, Up to 60% off outdoor pieces
Revolve: Up to 65% off Select Styles
This Weeks' Top Selling Products
Thanks for stopping by today, yall! Have a great weekend! xo.