Hi friends! Today, I'm excited to bring you the luggage review of the new luggage I purchased recently from BÉIS [also here]. I purchased the 29″ spinner as well as their carry-on spinner and have used them on my last two trips in July and August. Many of you have inquired how I am liking it so I'm happy to share some of the highlights here for you! Before leaving for my last trip, I mocked up my suitcase so you could see how much can fit in the 29″ spinner so, that's what these photos are from.
IN CASE YOU'RE CURIOUS, THE OTHER TRAVEL BAGS YOU SEE ARE LINKED BELOW:
TRAVEL COSMETIC CASE | JEWELRY CASE | SKINCARE CASE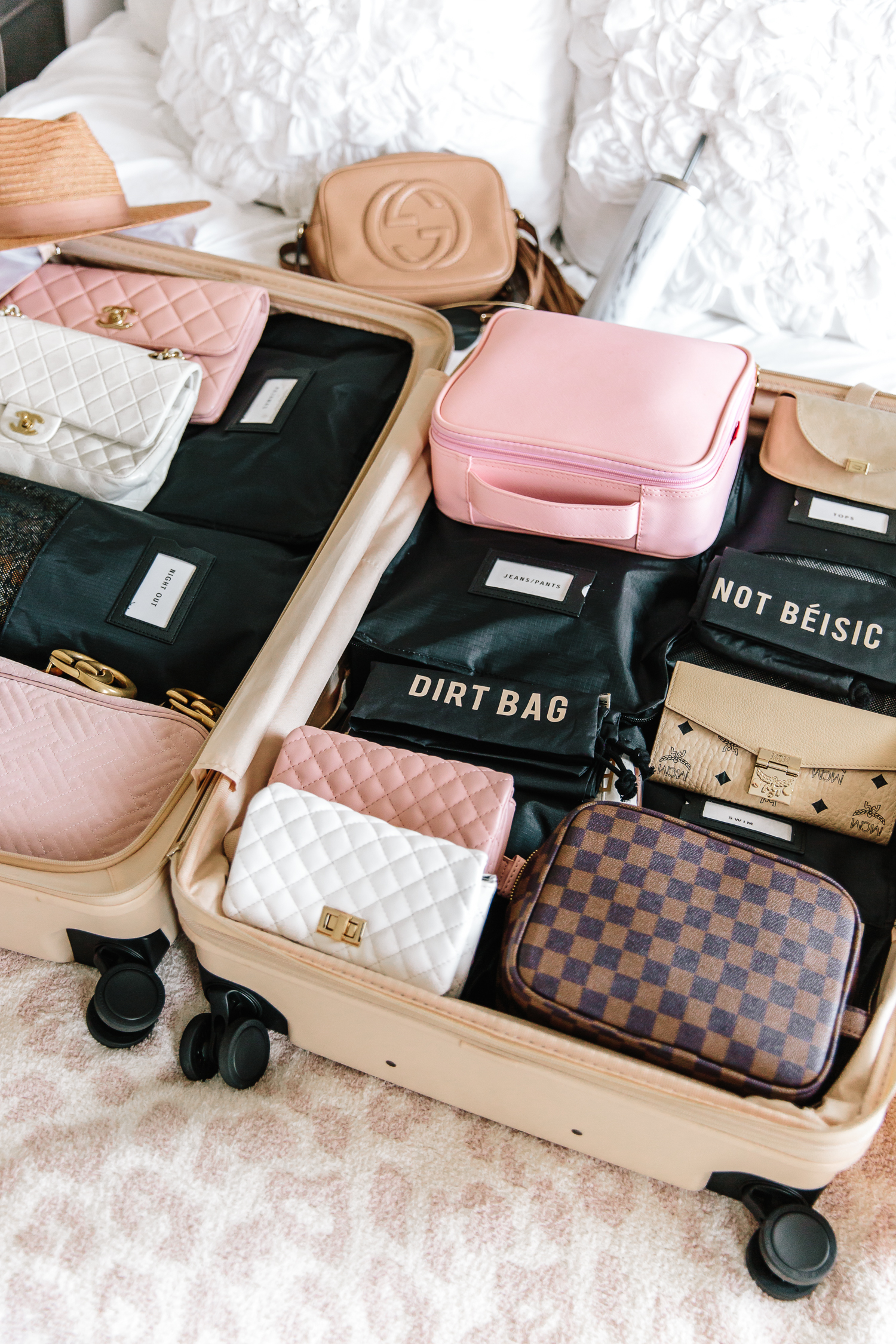 Exterior Features
Not only are they aesthetically pleasing, these BÉIS suitcases [also here] are constructed with durable hard-sided materials and a water-resistant zipper tape making it a travel companion you can rely on for years! I had a few scuffs on the exterior of mine after my last two trips, which is to be expected for checked bags, and they were easily removed with these Mr. Clean Magic Erasers. This luggage glides so easily next to you through the airport and down sidewalks thanks to their high quality 360° wheels. Your hand will enjoy the most comfortable handle situation you've ever come across on a suitcase. The cushion underneath the handle feels like a pillow for your hand!
As a chronic over-packer, two other exterior features I love are an over 50-pound indicator on the side carry handle and a zipper allowing for two additional inches of space.
• Over 50-pound indicator – On the side carry handle, you'll see a little indicator window that turns red when your bag is over 50 pounds! That's a stress saver that every gal needs in her life before heading out on a trip! No batteries are required for this feature.
• 2″ optional expansion – Throw in that extra pair of shoes, girlfriend! You can expand the suitcase to accommodate a few extra things by unzipping the extra space zipper around the exterior of the suitcase. This will be especially helpful for travel during the Winter months where everything you're packing is super bulky!
And, finally, you will enjoy TSA-approved locks on the exterior of this luggage as well as retractable bag-attach strap that can hold small bags and neck pillows. I did find this bag strap to not be very strong so you'll need to keep an eye on the items you have attached there!
Interior Features
Both the 29″ spinner and the carry-on suitcases have spacious interiors with compression straps and flaps and pockets galore allowing for you to pack everything you need in an organized fashion! Above, you can see that on the left hand side, there is a flap with a zip closure. When that is zipped, you will see two separate zip pockets for intimates hidden by a clouded material. I absolutely love the privacy it provides! On the right side of the suitcase, there is a detachable compartment that you can store delicate items you don't want touching anything else. On this side, you have compression straps and that compartment lays flat on top of everything.
Another way I stay organized is through the use of packing cubes! I love these from BÉIS because they come with labels that you can slip into the sleeve on a few of them to indicate what is in them. There's also a mesh part that allows you to see a little preview of what's inside, as well. Personally, I need two sets of packing cubes to accommodate my packing needs, but having everything labeled makes getting ready each day during my travels super easy because I know where everything is. I also love that there is a bag just for your dirty clothes! It's so helpful to have somewhere to keep those!
Overall, I absolutely love the luggage I've purchased from BÉIS [also here]. Not only do they look sleek and chic, but they are spacious and functional with so many great features as outlined above! If you're looking for a new suitcase, give this one a try! I shared how I packed my carry-on suitcase before leaving on my last trip and I put that in a highlight on my Instagram profile if you want to check it out! xo.