Did you catch the Paris Travel Diary? It might be one of my favorite ones to date! I'm tackling where to eat, stay and play along with sharing some fun facts and helpful tips!


One of my favorite coats for winter is currently on sale this weekend! Use code WEARNOW to enjoy 35% off, plus 20% off with code THESKIMM.


Needing some inspiration for what to do this season? I covered five things to do before the end of fall yesterday on the blog! And enjoy 15% off my sweater with code ALYSONH15 at checkout!


Slouchy sweater, leggings, cognac booties and fun accessories … this has always been my go-to fall look! Before you see me repeat this outfit 100x this season, know that you can actually score this look for under $120 from Walmart!


This outfit is still one of my all time faves from the Fall Shoe Roundup! My skirt is 20% off when you spend $100 with code NEWLEAF!


Did you catch my J.Crew try-on?! If you happen to miss it, I saved it on a highlight on my Instagram!


The actual coziest of tee's for running some last minute errands this week!


I am still convinced I am not quite cool enough for this jacket..ha! But it is on sale so snag it while it is still available!


I am absolutely loving my new skincare regimen. If you missed the update, check it all out here. I am breaking it all down for ya!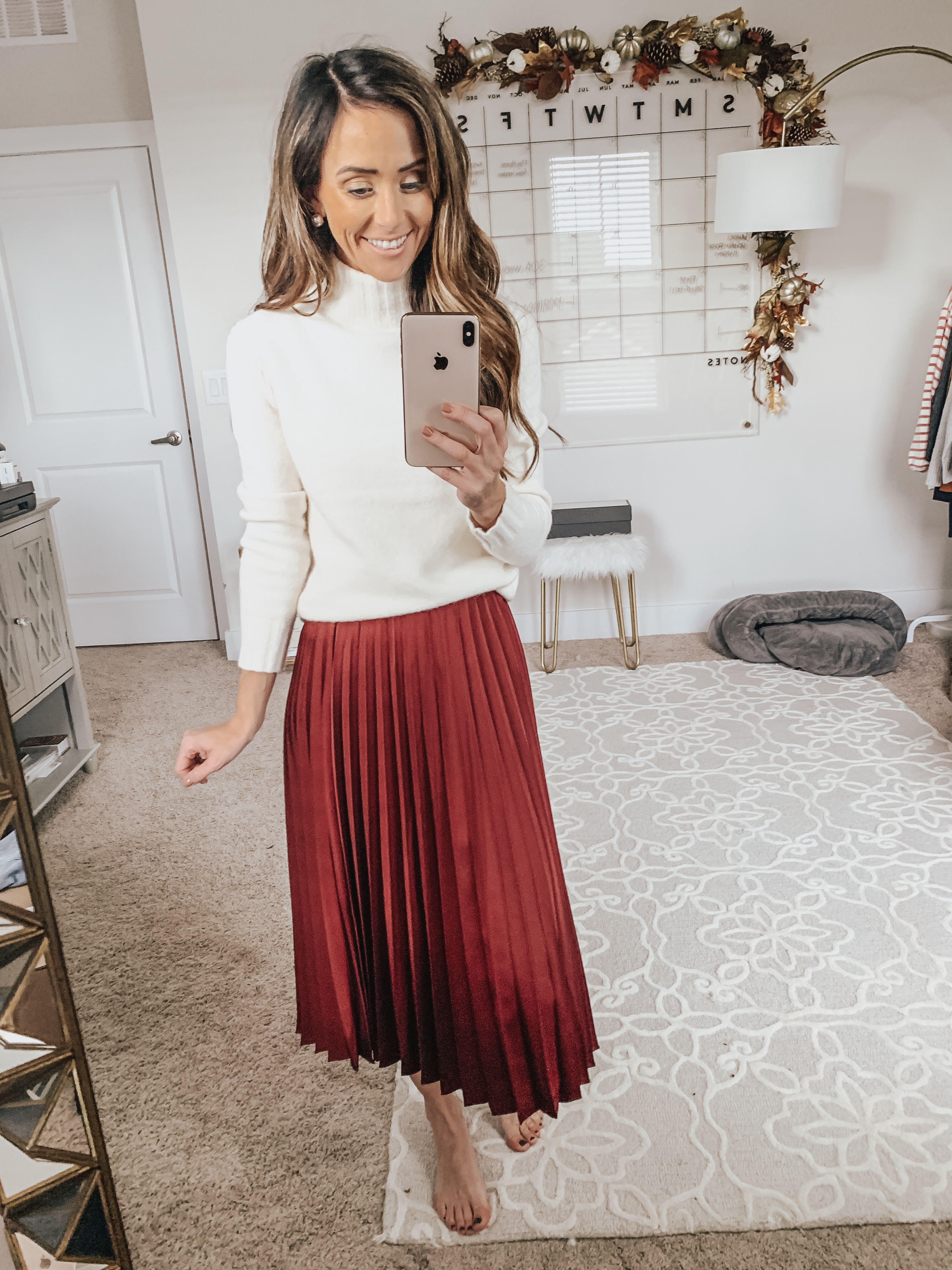 This skirt is perfect for those holiday pictures you have coming up! It is 35% off this weekend with code WEARNOW, plus 20% off with code THESKIMM.
This Weekend's Sales:
Abercrombie: myAbercrombie Members – 20% off entire purchase + free shipping on jackets & coats
Anthropologie: Take an extra 40% off sale items
American Eagle: Buy one get one 50% off all AE jeans & joggers
Madewell: 20% off when you spend $100 or more with code NEWLEAF
J.Crew: 35% off full-price styles with code WEARNOW
Pier 1: 25% off all furniture, rugs & lamps
This Week's FAQ's:
Q: Hair extensions follow up? Still loving them? Maintenance advice?
A: I am still loving them and actually putting together a follow-up post to THIS ONE I did last year after first having them put in. Be sure to stay tuned to the blog over the next few weeks for that and if you have any specific questions you want to make sure I answer, leave them in the comments below!
Q: I am planning my trip to Colombia and was reading your blog about it. Such good info, thank you! Can I please ask, what did you use to edit your photos there? The filter is so beautiful!
A: Thank you so much! I'm glad you found the Cartagena Travel Diary helpful. I created my own Lightroom filters within the program for those photos. I wanted them light and bright, as I felt it matched the destination. Sadly, those are available for purchase so I do apologize but I am considering launching Lightroom filters for desktop and laptop computers in the future.
Q: Where are the shoe shelves that I saw on your stories from?
They are from IKEA. You can find them HERE. I switched out the knobs with cuter ones from Anthropologie.
Q: Where is that eyeshadow palette from that you showed us earlier this week?
Yes, that is available now and you can purchase it HERE! I love that it comes in a few different color options. I showed y'all the Highway Queen one. I love it!
Q: Wait. Did I miss something? Why are you packing? Did you get your visa?
Noooo, I wish!! I've had to delay applying for the visa until returning from this upcoming trip to London & Abu Dhabi for a few reasons. I am confident that I will be able to get everything sorted in order to apply once I get back. However, due to the amount of things throughout my townhouse to sort through, I wanted to go ahead and get started. There will be SO much to do and we felt like it might be smart to utilize the time I'm away by Stacy starting to make donations, post winter wear items and certain home decor items on Shop Alyson Haley, and start organizing the storage unit. I want to be sure that sorting through my things doesn't get in the way of making the boy's and getting their paperwork prepped and ready my #1 priority because that is going to be my biggest stressor. So, even if it seems silly, I feel like … if I get this, I'll be SO happy I started the process of sorting through things early!
Q: The code for the Skinsei diagnostic test is not working. What do you advise?
I am awaiting a response from the brand on what the issue is and I will report back next week as soon as I have an answer. I am so sorry the code didn't work!
This Week's Best Selling Products:
Thanks for stopping by today, y'all! Have a wonderful weekend! xo.