Good morning, friends! October was a super busy month filled with travel, family time and other new adventures. I also enjoyed putting together a lot of fall fashion content for you, and hope you've been enjoying it and finding it helpful. Today, I'm rounding up October's top sellers, plus some of my monthly favorites as well. I'm always so interested to see what everyone has loved the most, and also helps me with planning content for the future. There was quite a good mix of pieces that are included from outerwear to cozy slippers.
Top 10 Monthly Favorites from October
Shop the Post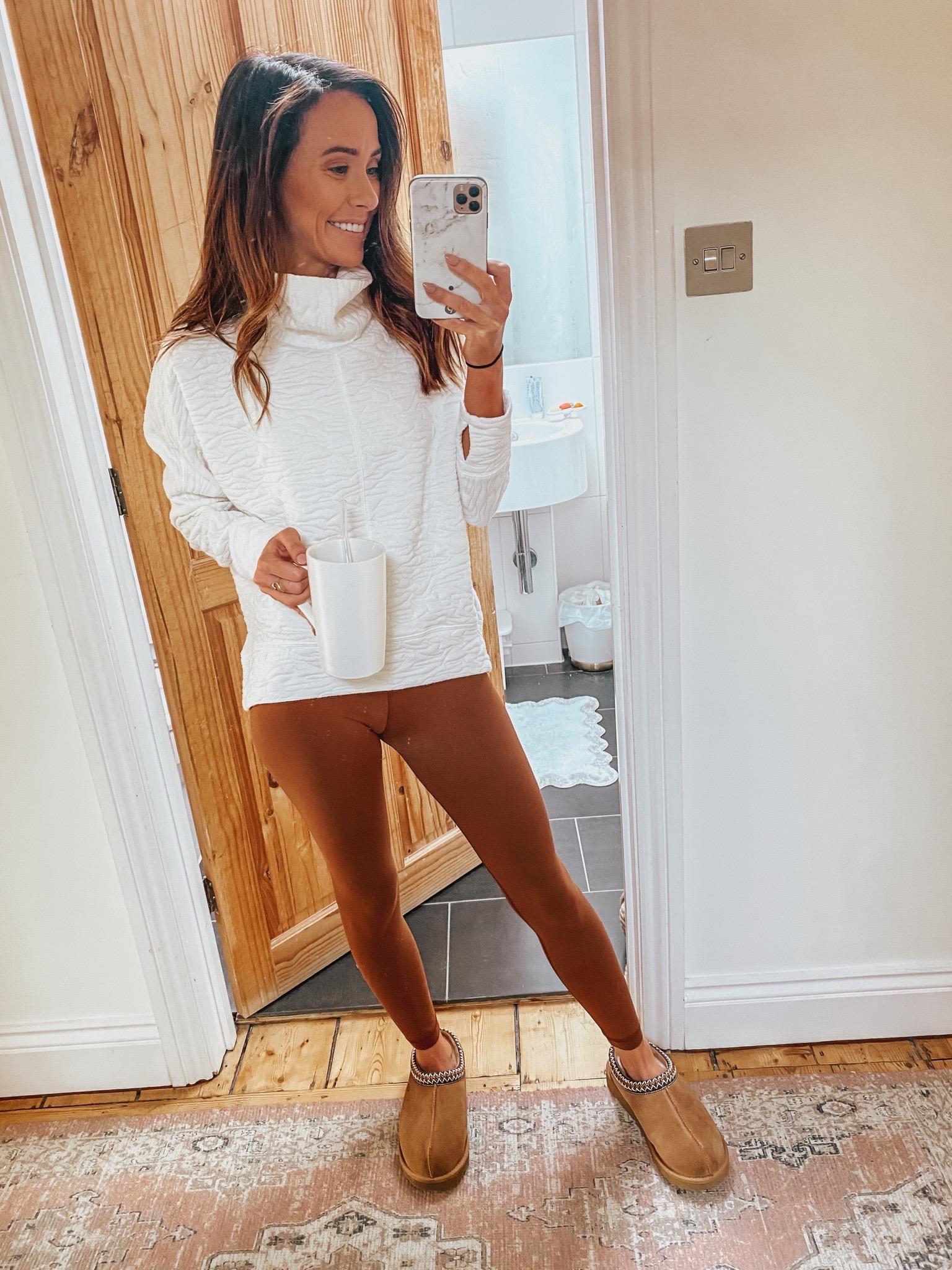 I'd seen these Ugg slippers everywhere last year, and tried to resist them but ultimately gave in. I thought they looked so cute on and perfect for running things out to the trash or walking over to Louie's nursery for pick-up.
These come in seven total colors, and run a bit small. I'd suggest sizing up a half size. Because they're UGGs, they're super warm, and I always feel like UGG's stand the test of time.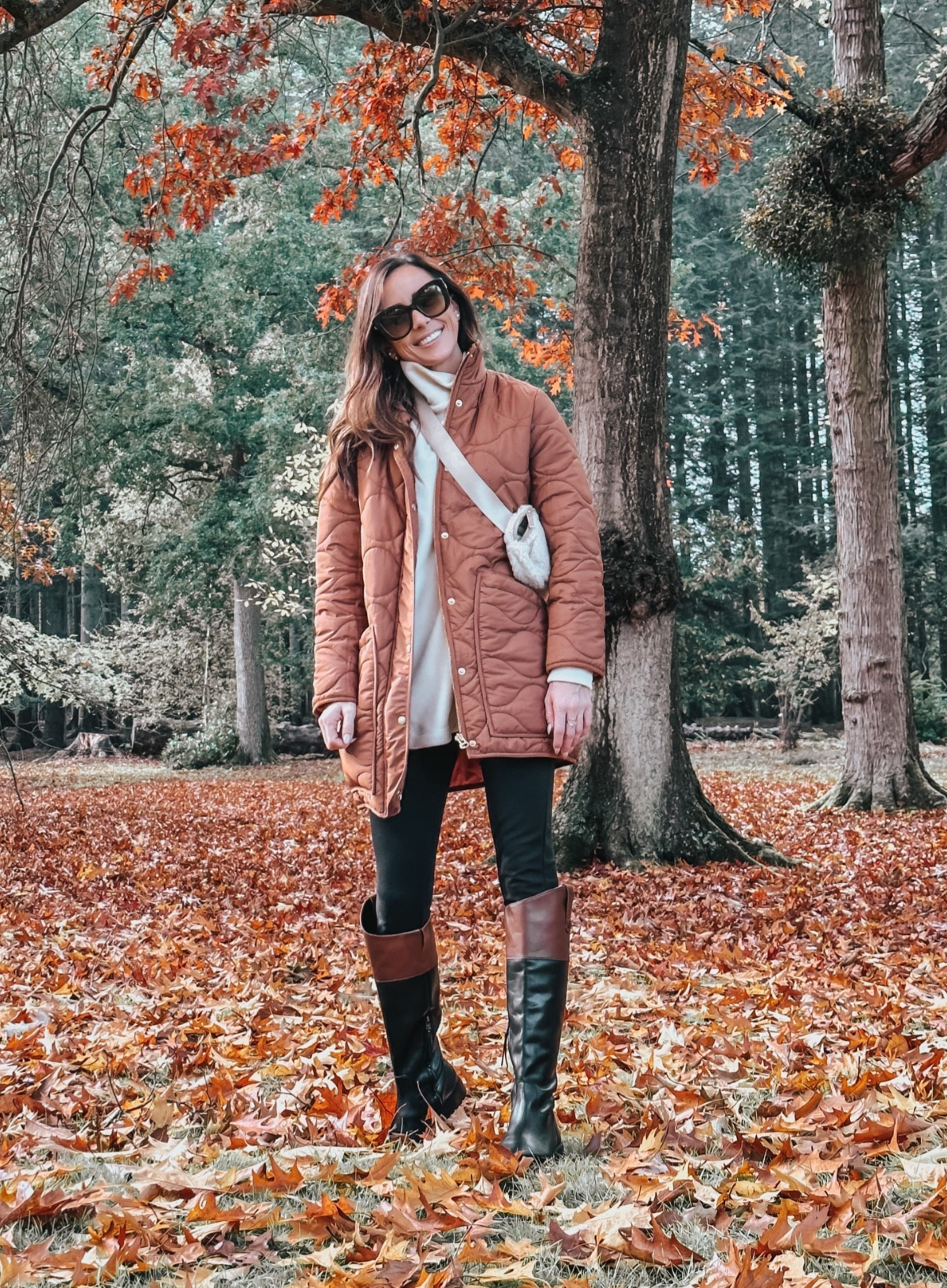 The next item in this October's top sellers roundup are these J.Crew Pixie Pants. I'd describe these as an elevated legging. They're high-rise with a small exposed zipper at the top back of the pants. They're perfect to wear with boots or knee-high boots because they fit close to the leg, and don't cause any bunching inside the boot. They come in sizes XX-Small to 3-XL, with varying lengths in classic, petite and tall.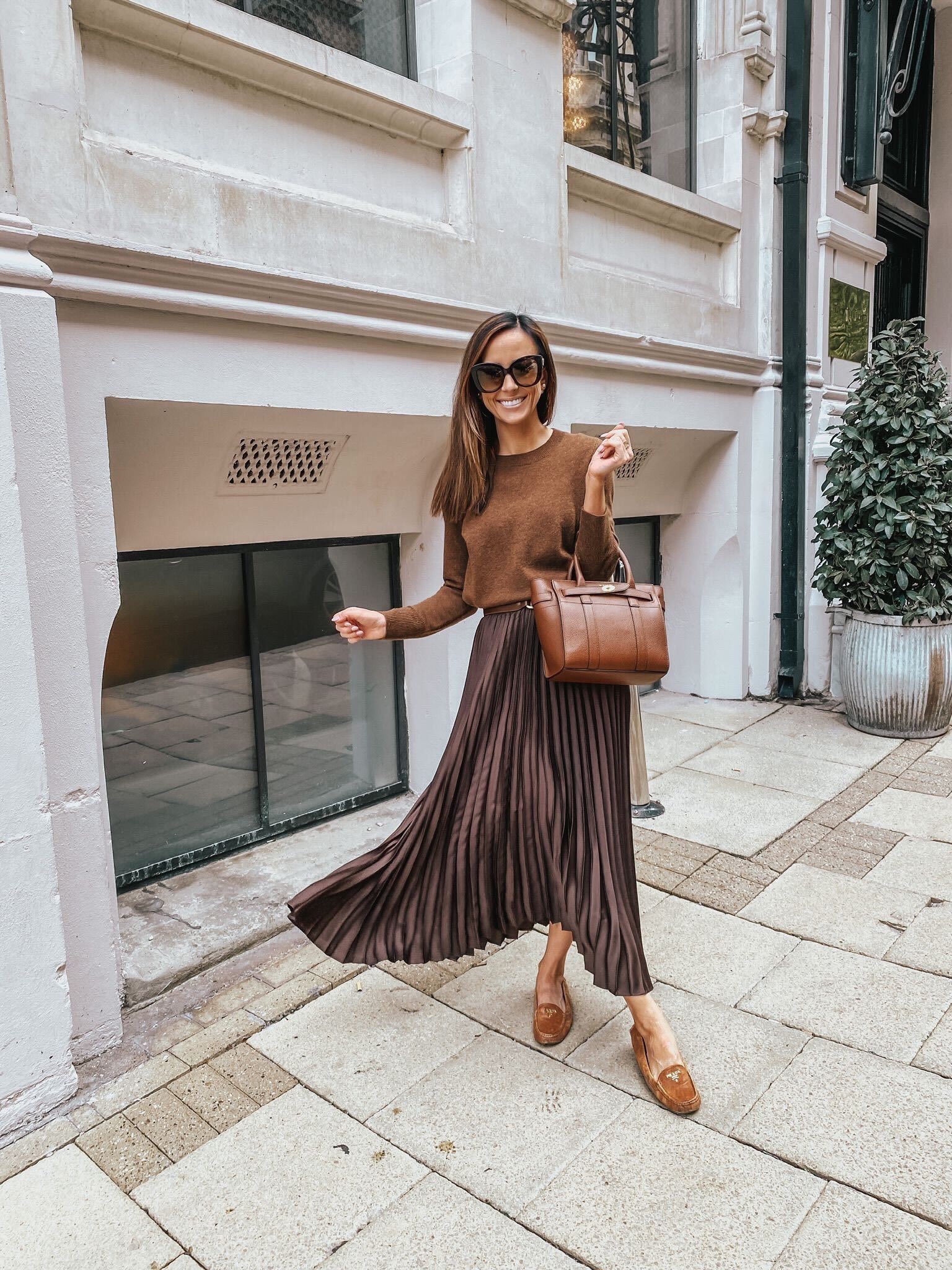 This beautiful satin skirt from Mango [UK Version] comes in three other colors and love that you can wear it casually like I have it styled. Or you can dress it up more for the office and pair pumps, a blazer and a bodysuit with it. Just because the temperatures are falling, doesn't mean we have to stop wearing skirts. In fact, they give you more room than jeans for long johns to stay warm and cozy. Plus you can wear super warm socks with your knee-high boots.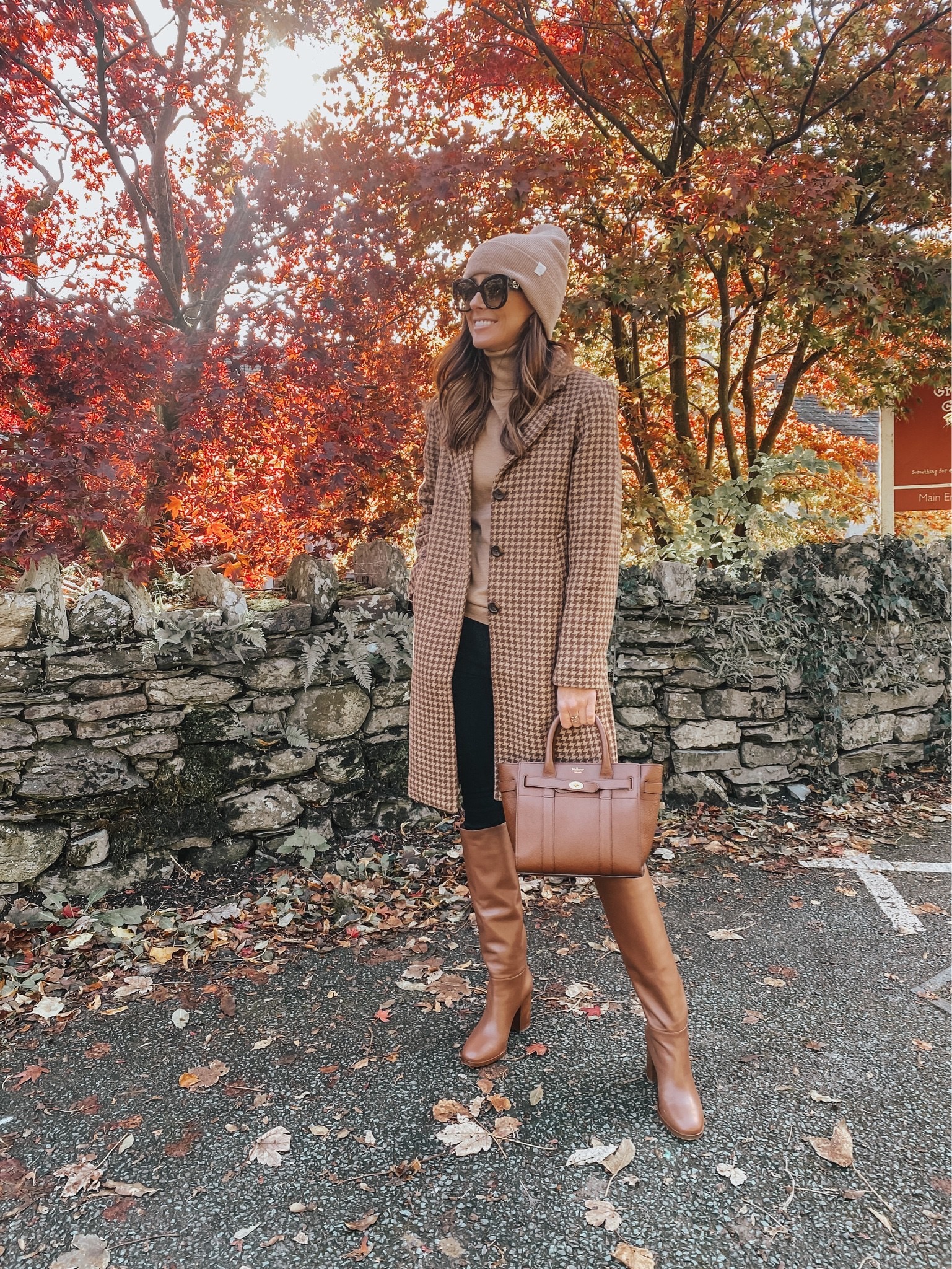 I've been wearing this Dad coat from Abercrombie on repeat throughout the fall because it pairs well for casual and dressy outfit options. It comes in seven other colors and patterns, and also comes in varying lengths. I'm wearing a pair of old black skinny jeans in this look but you could easily wear the J.Crew Pixie Pants here, too.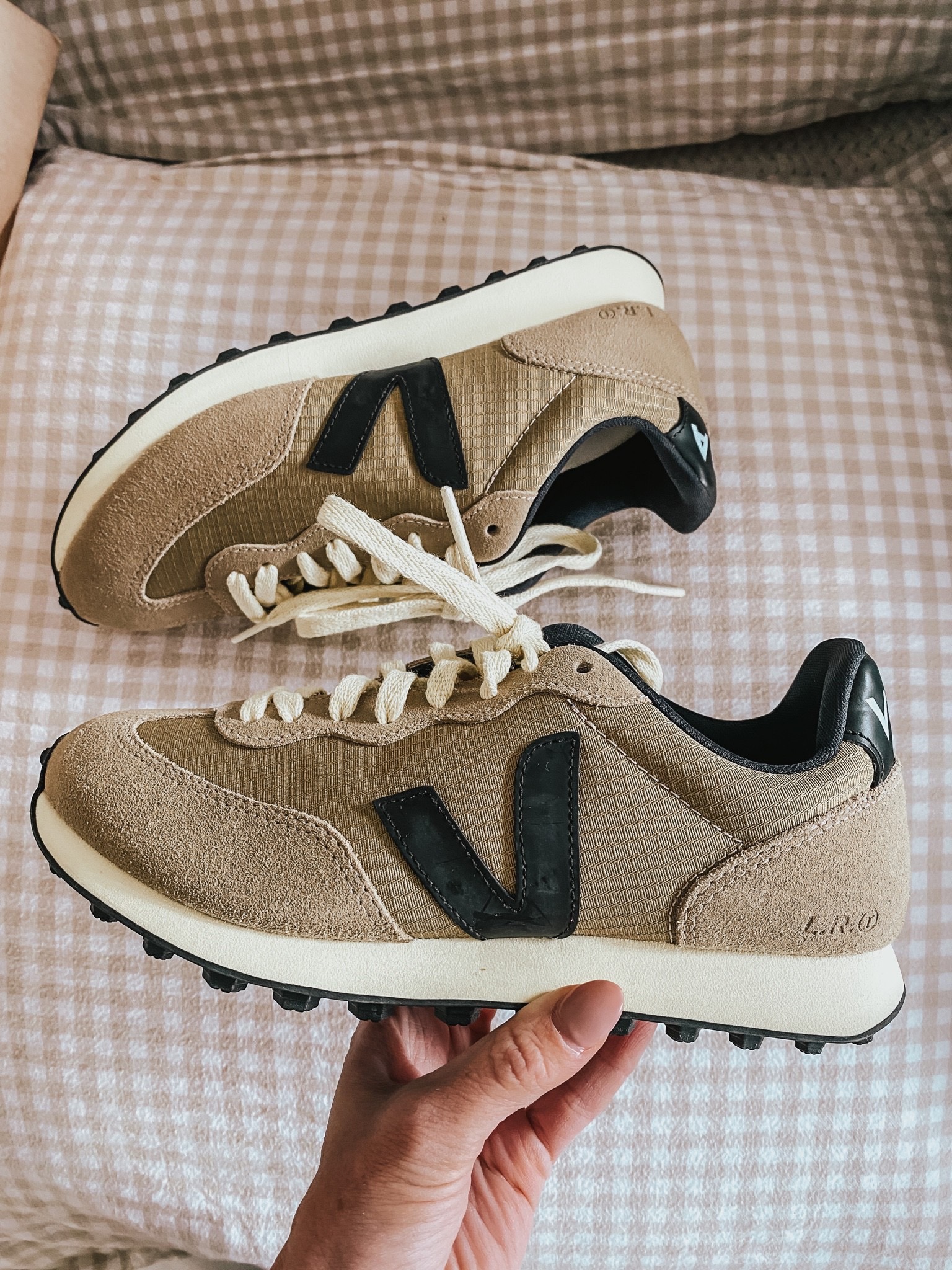 Your love for Veja sneakers runs as deep mine! These Veja Rio Branco sneakers were the sixth top seller in October. Unfortunately, this exact color combo is pretty sold out at the moment, but there are a few other colors available, if you're interested HERE and HERE.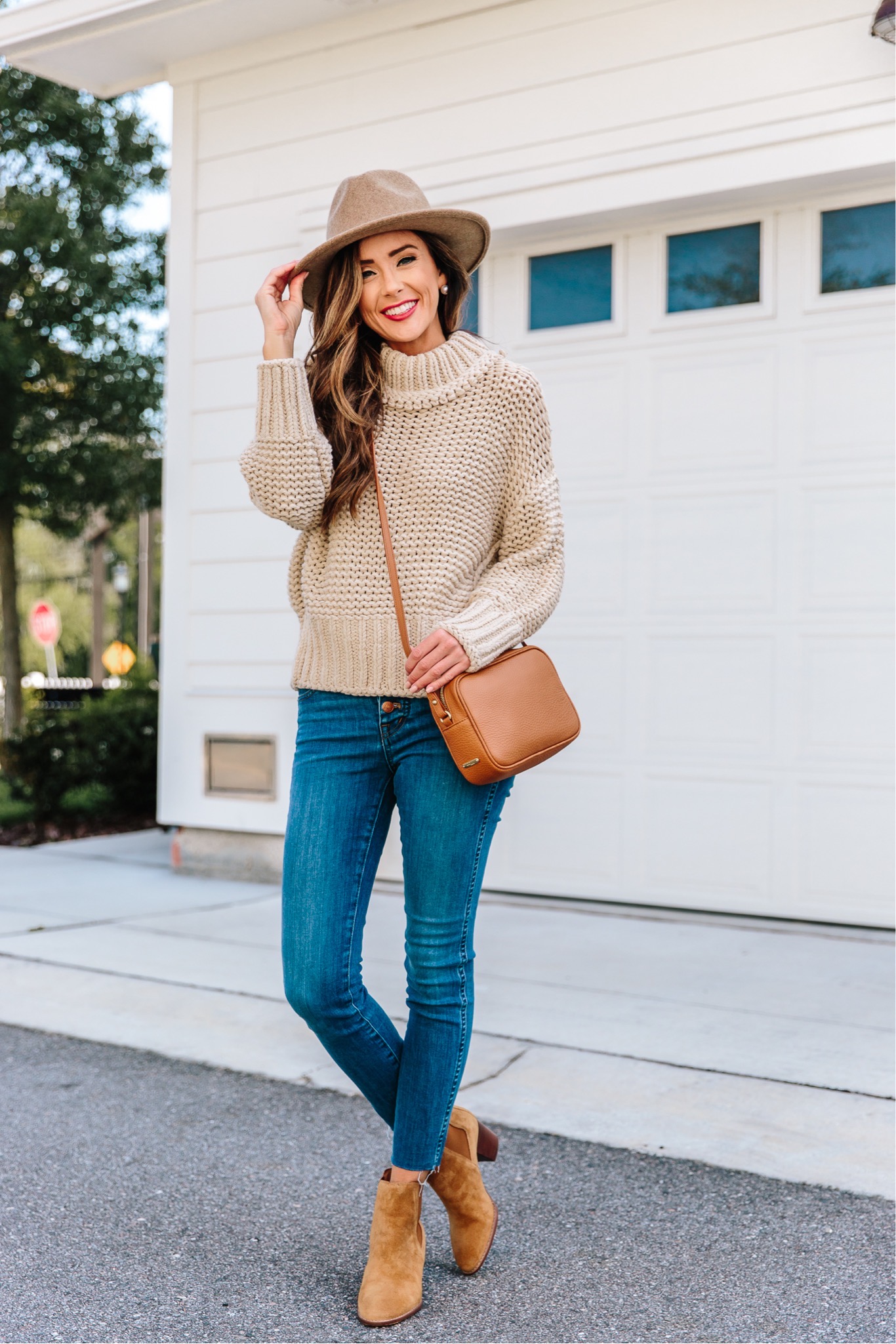 This Free People My Only Sunshine Sweater in the color 'linen' came back in stock and brought a lot of excitement! It has an incredible texture that makes you think of warm and cozy fall vibes. The sweater has a cropped fit, which is helpful to pair with a variety of bottoms from skirts to jeans. It comes in three other beautiful colors, and a great staple sweater to add to your wardrobe.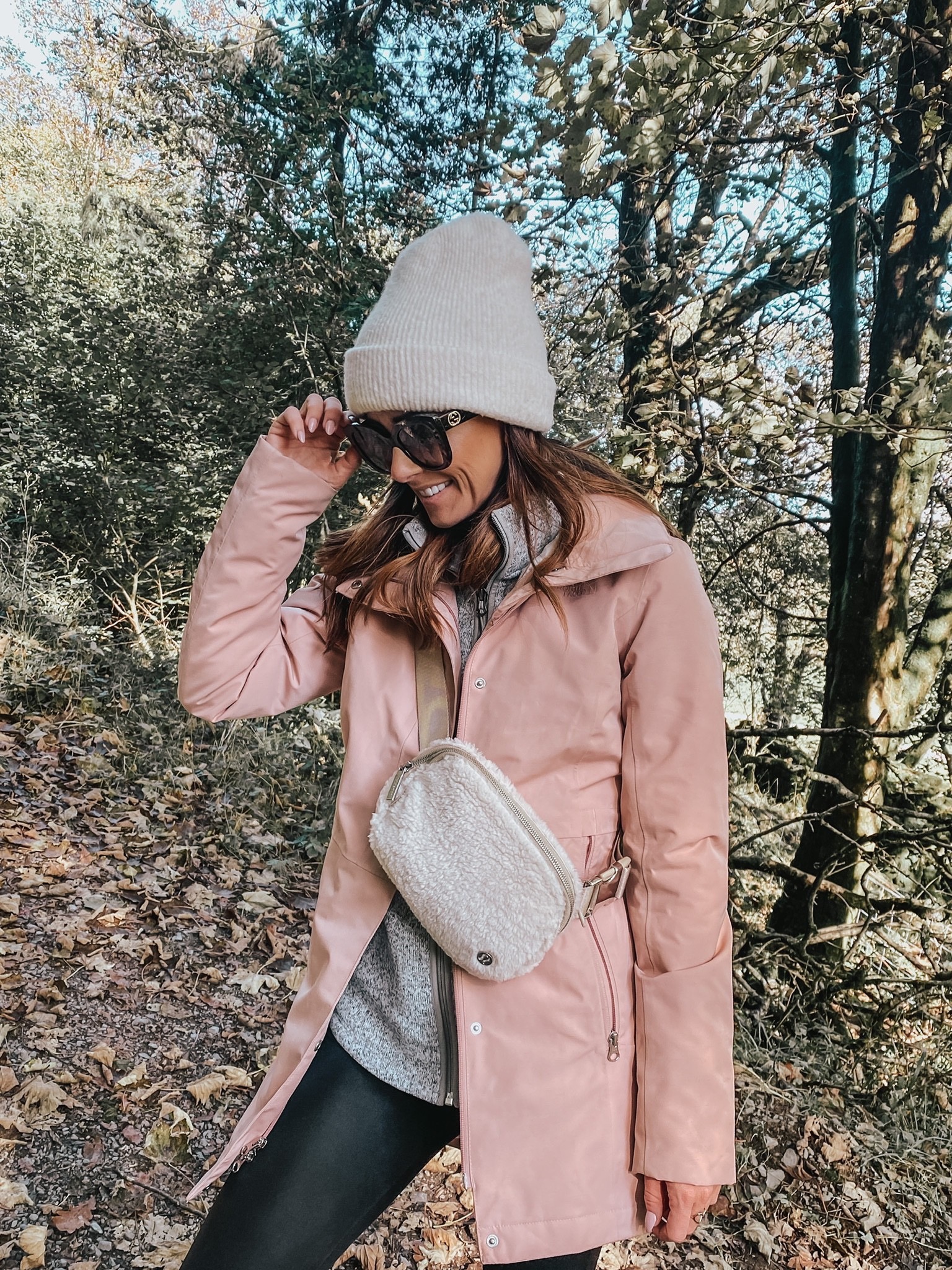 Everyone knows and loves the lululemon Everywhere Bag, but love this new addition with the fleece! It's currently sold out in the US. However, it's still available in the UK in several colors. I'm hoping they restock this for the holiday season, but we will see. It's so convenient to bring with you when you travel to keep your important things close by. However, it's also great to bring with you on walks in your neighborhood to bring your phone and a small wallet too.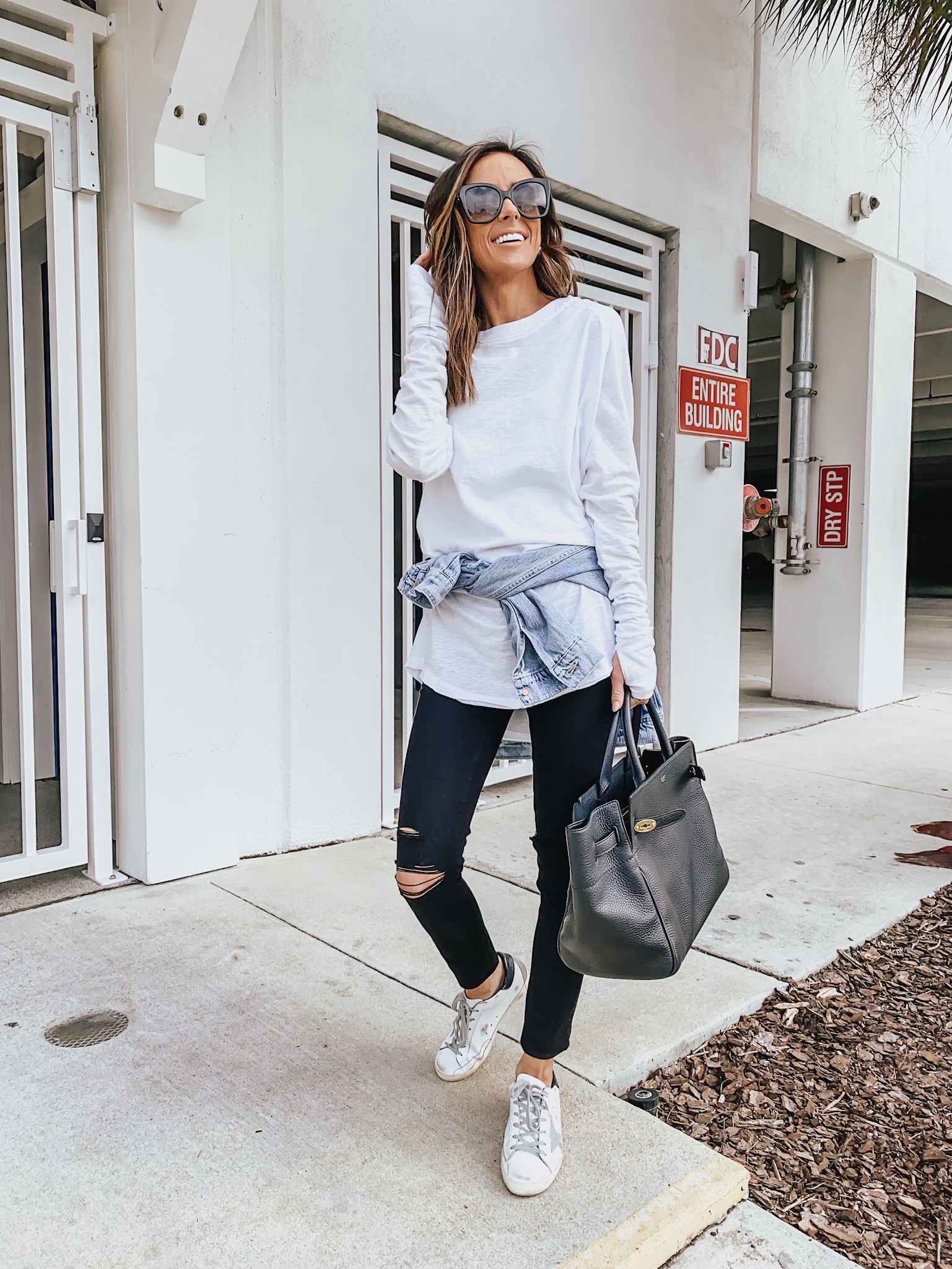 I've had this Free People tee for several years now, and it's held up so well. It's legging friendly and can pair with jeans, leggings, faux leather leggings etc. It also makes a great layering piece under jackets and sweatshirts. I wore this under a few layers while we were in the Lake District. This tee comes in six other colors, and I know you'll reach for this basic again and again.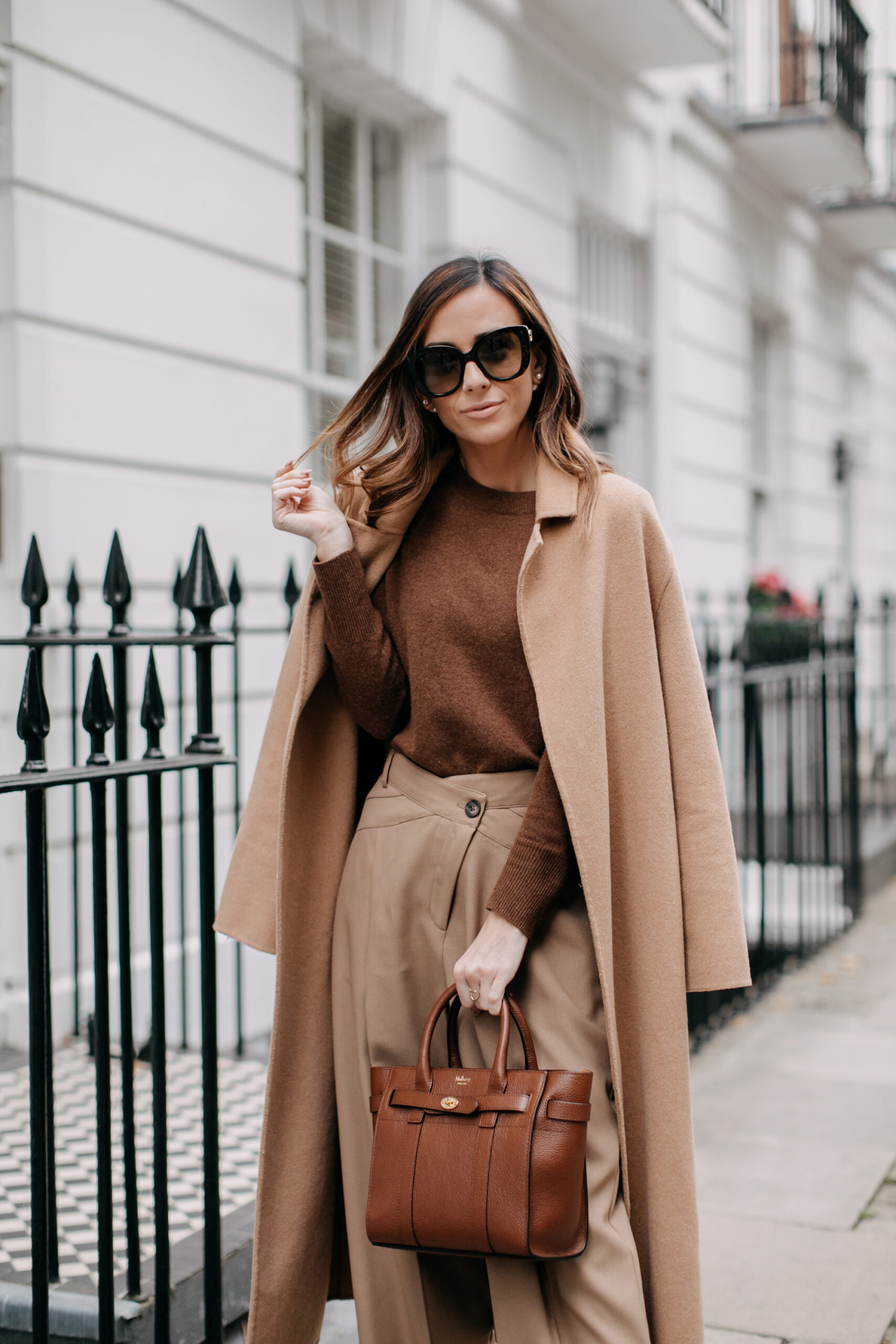 If you ask me, there are lots of autumn wardrobe essentials, but if there's one that I find to be the hardest working, it would be a cashmere sweater, like this one from J.Crew. It's easy to layer under your outerwear because it's not chunky. However, it's very warm because it's made of cashmere. This particular sweater comes in a TON of colors, and looks so polished when worn.
A puffer coat is an essential fall piece to have in your wardrobe. But love how elevated and different this J.Crew Cocoon Puffer Jacket is compared to other puffer coats. It's length keeps you extra warm, and the perfect piece to pair with casual looks. If you prefer a different color to brown, they offer four other color options in this same style of coat.
My Personal Monthly Favorites

I'm always looking for neutral coffee table or books to pop around the house that match my decor color scheme as well as my lifestyle. I'm really into home decor and how to create a cozy and beautiful home so this new book I picked up this month ticks, literally, all the boxes.
These tailored relaxed straight pants from Abercrombie are an on-trend silhouette I had to try! They pair perfectly with a fitted top like the cashmere crewneck sweater and suede boots. They come in three other colors and varying lengths.
These knee high boots are comfortable and chic with the low heel and brown and black color combination. They pair perfectly with the J.Crew Pixie Pants, and are great for everyday wear.
If you've ever worn anything by Dudley Stephens, you know there pieces are comfortable and easily styled. I love this cropped-style that's great for pairing with denim jeans. The structured neck makes such a chic statement.
I'm a diehard Tarte Shape Tape lover, but recently tried this Kosas concealer in shade 02W. I've got to say it rivals the Shape Tape, and color corrects the dark circles well. The brand Kosas is also extremely conscious about the ingredients they put in their products. So it's super clean ingredients.
I found these pants at Target for Louie when I was visiting the States back in August and love them so much! My Dad and his girlfriend, Karen, kindly picked up the next size in a few colors for him. They're a great quality for the price point and Louie can move so well in them.
H&M has been killing it with their fall and neutral pieces. I've been really inspired lately to work blazers into my wardrobe with more casual looks. This oversized fit is super on-trend and love that this jacket is under $40. Here's the UK link, too!
I've had a pair of lululemon Align leggings [UK version] for years, but bought the roasted brown color this year. The color is perfect for the fall and winter and have been wearing them on repeat. They come in varying lengths of 25″, 28″ and 31″.
This cashmere wrap can be worn like a ruana, a scarf or a blanket when traveling. I recently purchased this as my long-time favorite White + Warren cashmere wrap had finally succumb to moth bites. I found this one on J.Crew for a more affordable price point and was happy to see that the quality was just as good.
I have been lusting over these stockings for two years now and I finally got my hands on them without spending an exorbitant amount on shipping! And I picked up FIVE so I have them for future babes – God willing! They'll match the neutral holiday color scheme absolutely perfectly!
If you're not wanting a conventional-looking slipper, these Amazon open-toe slippers are a great option. They're lined with faux rabbit fur to keep your feet feeling nice and toasty.
We all know parenting is one of the toughest, yet equally rewarding and amazing experiences. I picked up this book "Good Inside: A Guide to Becoming the Parent You Want to Be" that gives practical advice for the modern parent to help raise resilient and confident kids.
I picked this leather satchel up recently and love the mixture of the gold hardware and neutral color. It can be carried as a handbag or a crossbody, and is 9.25″ wide by 6.5″ high by 4″ in diameter.
Alright, that does it! Moving forward, my personal monthly favorites will be sent exclusively to my newsletter community so be sure to subscribe here. My newsletter community is also who will be getting ALL of my holiday gift guides on MONDAY, November 7th. I'm sending them out all at once so you can utilize them throughout the entire holiday season rather than waiting for the one you need help with to go live on the blog. So, with that said, I'll only feature FOUR holiday gift guides here on the blog and the rest [twelve plus!] will be exclusively available to my newsletter community so, again, subscribe here if you're wanting those in your inbox! My hope is to be a resource for you to help gift buying easier and stress-free. Who do you need help buying for? Let me know below! xo.