Good morning, friends! This past weekend, we spent time in Cornwall visiting John's parents. My dad finally got to meet them, and was wonderful having us all together in one place. It couldn't have gone better! And, then, yesterday was obviously Halloween and we had such a great time getting our home all festive before taking Louie trick-or-treating. We are so spoiled to have my Dad and his girlfriend here to help us because it would have been so much to do between just me and John. So grateful for this time with them!
Being that today is the first day of November [omg!], we are obviously going to start thinking our next holiday, which is Thanksgiving – at least for those of you in the States! I love Thanksgiving because it's all about being together, being thankful and enjoying good food. There aren't gifts involved, just good quality time with your family and friends. To help you with what to wear, I'm rounding up 15 Thanksgiving dinner outfit ideas you can wear on the big day. There's a little bit of everything from elevated looks to super cozy and comfy. So no matter how your family/friends celebrate, I think you'll be able to find the perfect outfit inspo in this roundup.
Also, if you missed my Sephora Holiday Savings Event roundup, you can see that HERE.
15 Thanksgiving Dinner Outfit Ideas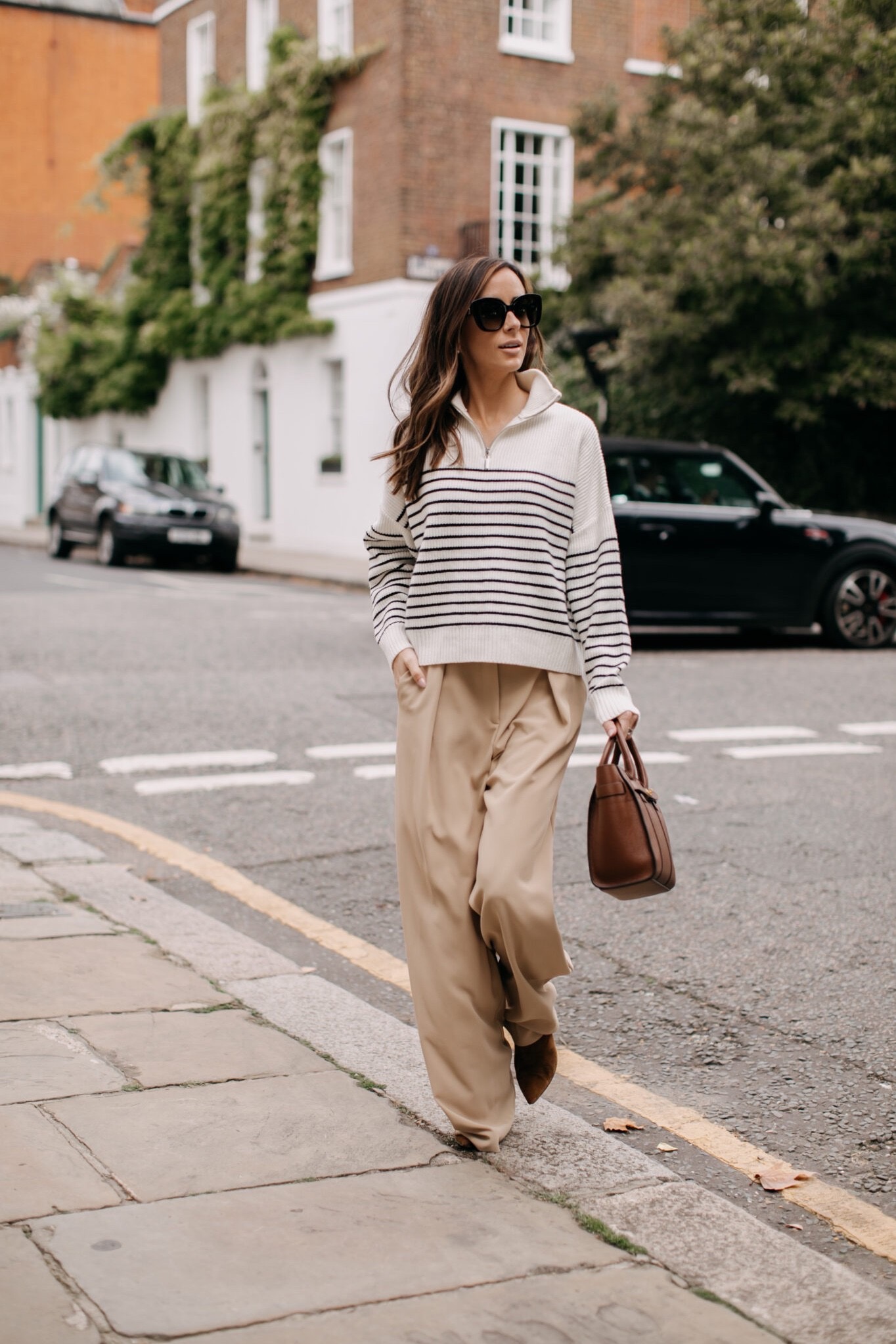 Shop the Post

I first debuted this look in the wide-leg trousers blog post found HERE. And honestly, it's one of my favorite looks as of lately because it's trendy, mixed with lot of comfort too. The specific trousers I'm wearing are from River Island. What I love most about these is that they have a concealed zipper and button. With this feature, it gives the front of the pants a seamless and smooth look. This is a great example of an effortlessly chic look for your Thanksgiving meal.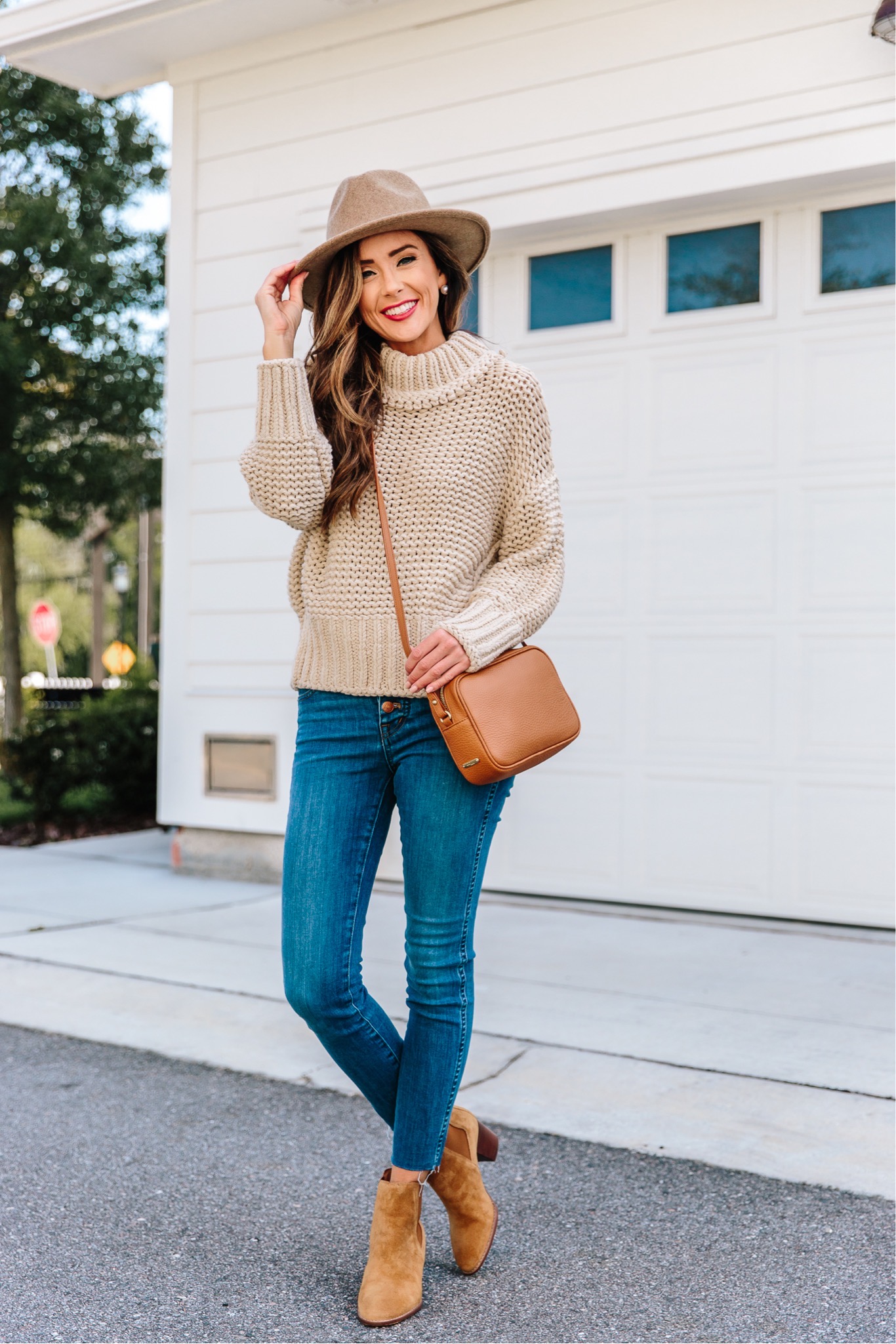 Shop the Post

This outfit is what I call the perfect fall uniform, pairing skinny jeans [sorry Gen Z – will probably always be my favorite] paired with a sweater and booties. This Free People sweater is a favorite among many because of its detail and texture. Finish the look with a felt hat.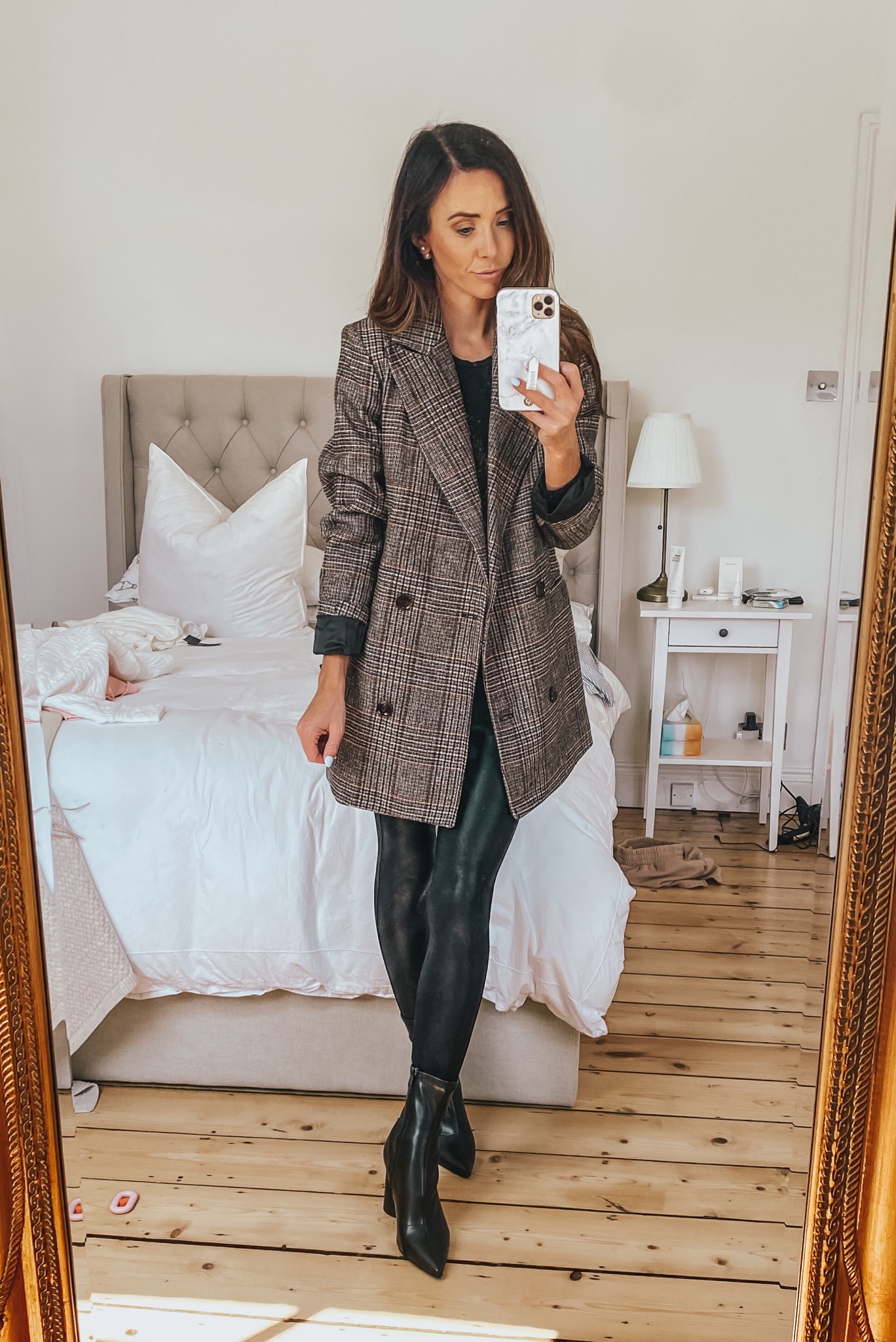 Shop the Post

If you want to dress a little more elevated without sacrificing on comfort, may I suggest wearing the Spanx faux leather leggings? They're super comfortable and look beautiful with so many pieces like an oversized blazer [similar here and the UK version is HERE]. There are so many options to choose from now that they're really on-trend, and love the pop of pattern the blazer gives to the look. I paired the outfit with black booties and a basic black tee underneath.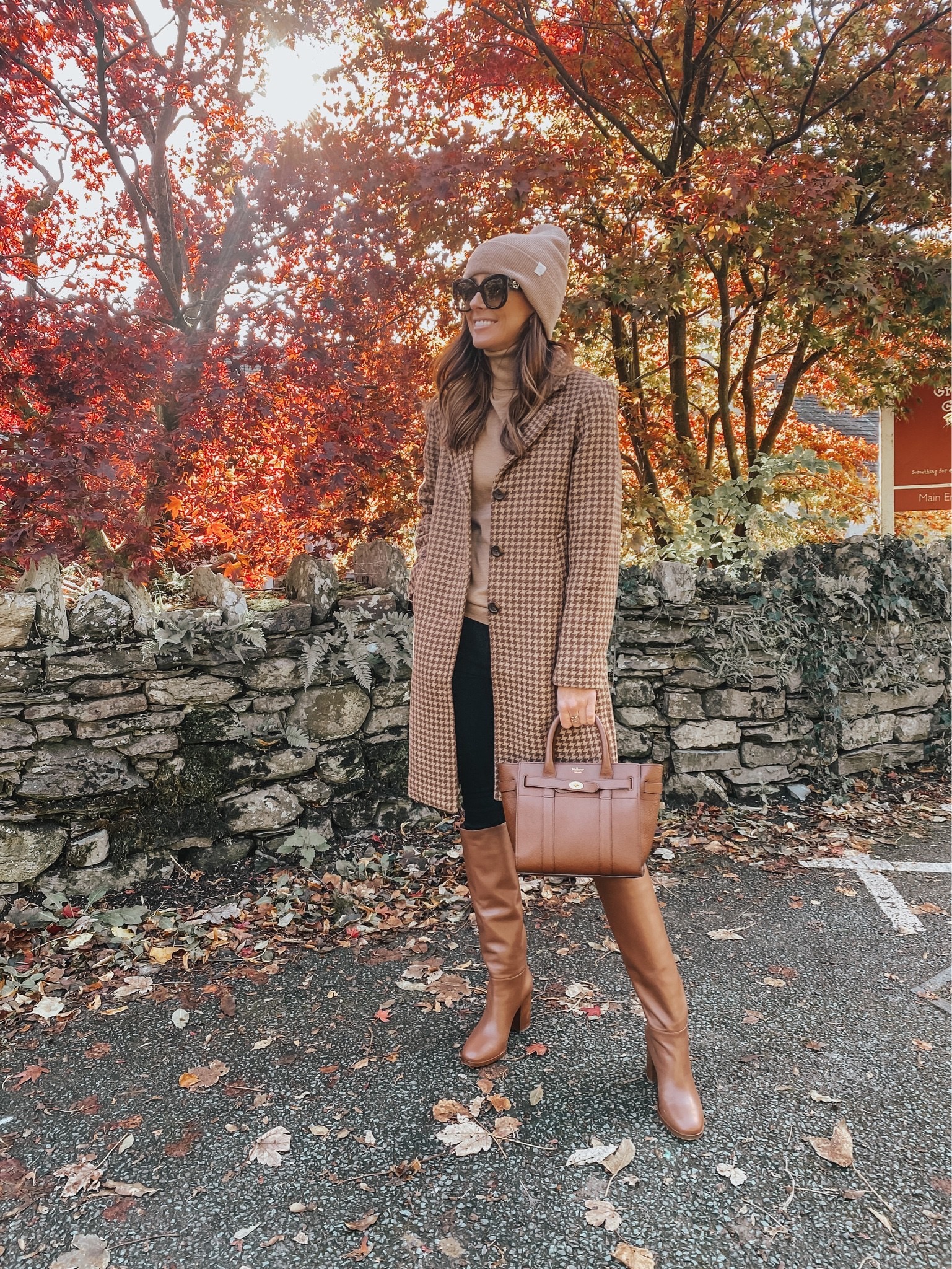 Shop the Post

If it's nice enough to spend some time outside on Thanksgiving Day, this outfit would be perfect to wear. This wool-blend Dad coat dresses up the look, and keeps you nice and warm outside. I know it's especially nice to get outside if you have kids to let them run around and burn some energy off.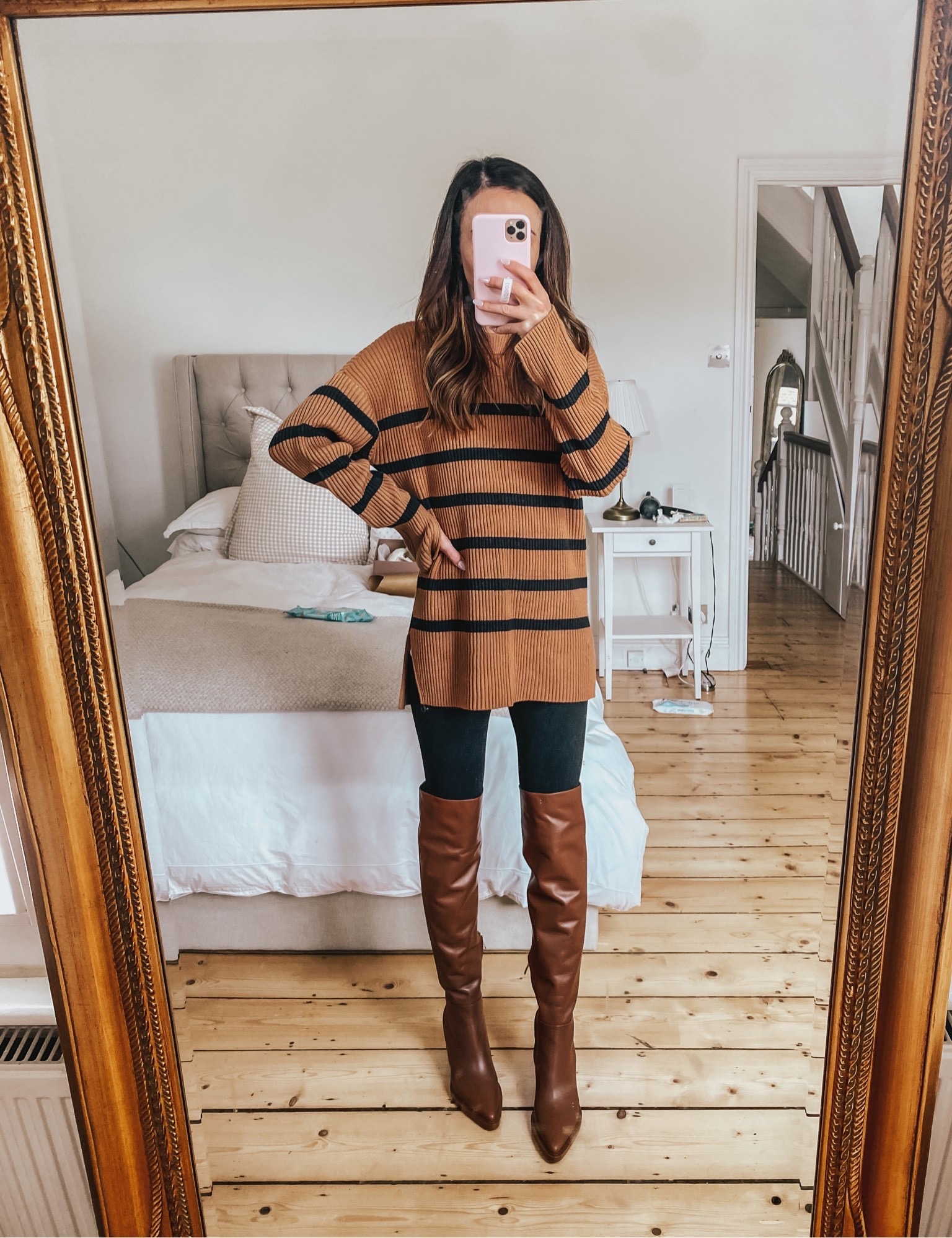 Shop the Post

This is the perfect look to wear on Thanksgiving Day because the top is a forgiving fit, and will feel comfortable all day long. The tunic style top gives you coverage on your backside too to wear with leggings or skinny black jeans. Mixing brown and black is super chic and great fall colors to wear.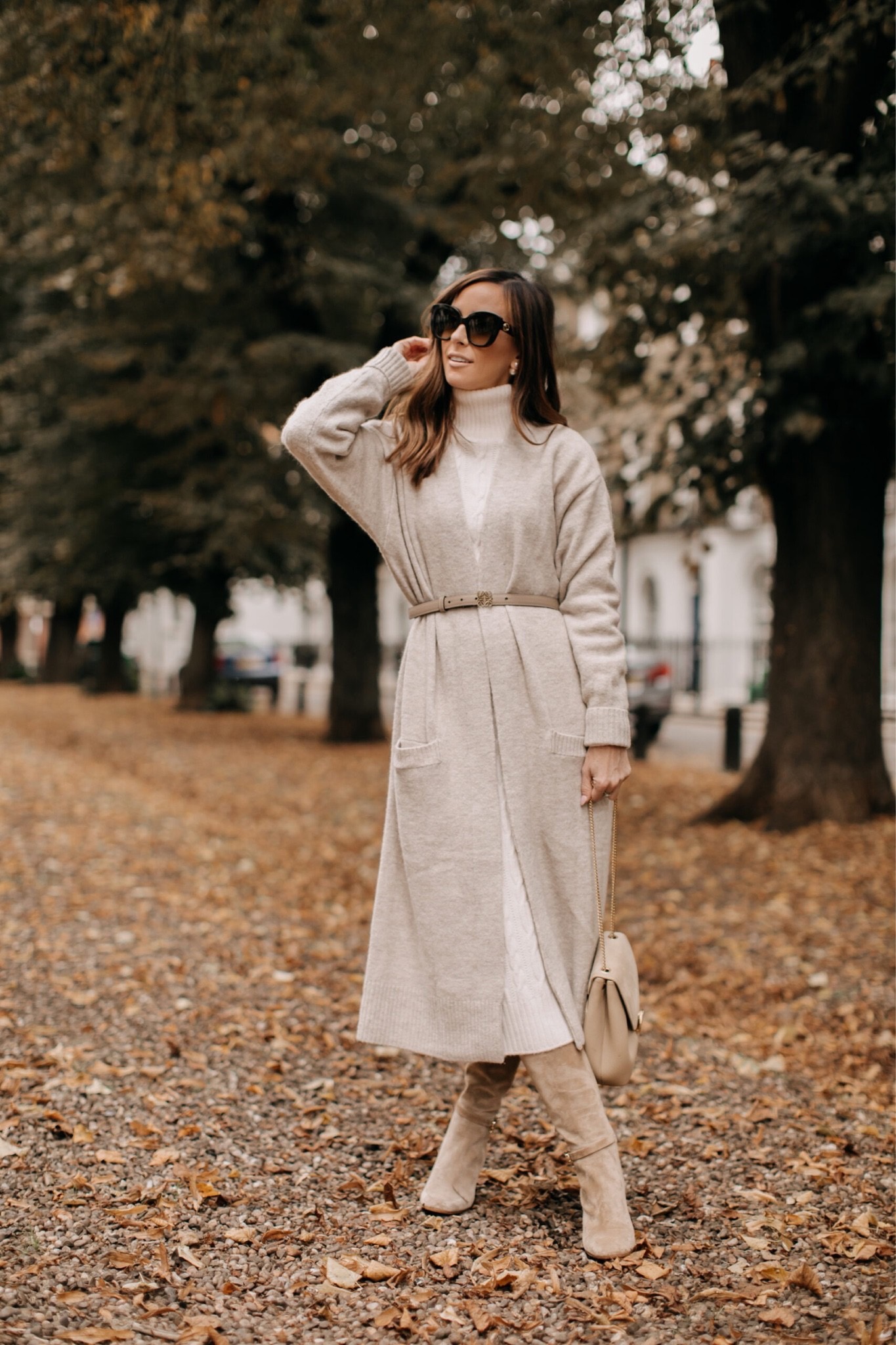 Shop the Post

Dare I say this might be even more comfortable than wearing leggings? This turtleneck dress is also a forgiving fit, and a midi length. Layer a longline cardigan [UK Version] over the top for extra warmth. If you want to add to belt to your waistline for more structure, that's what I did in the photo above. But you can always take the belt off after you eat. 😉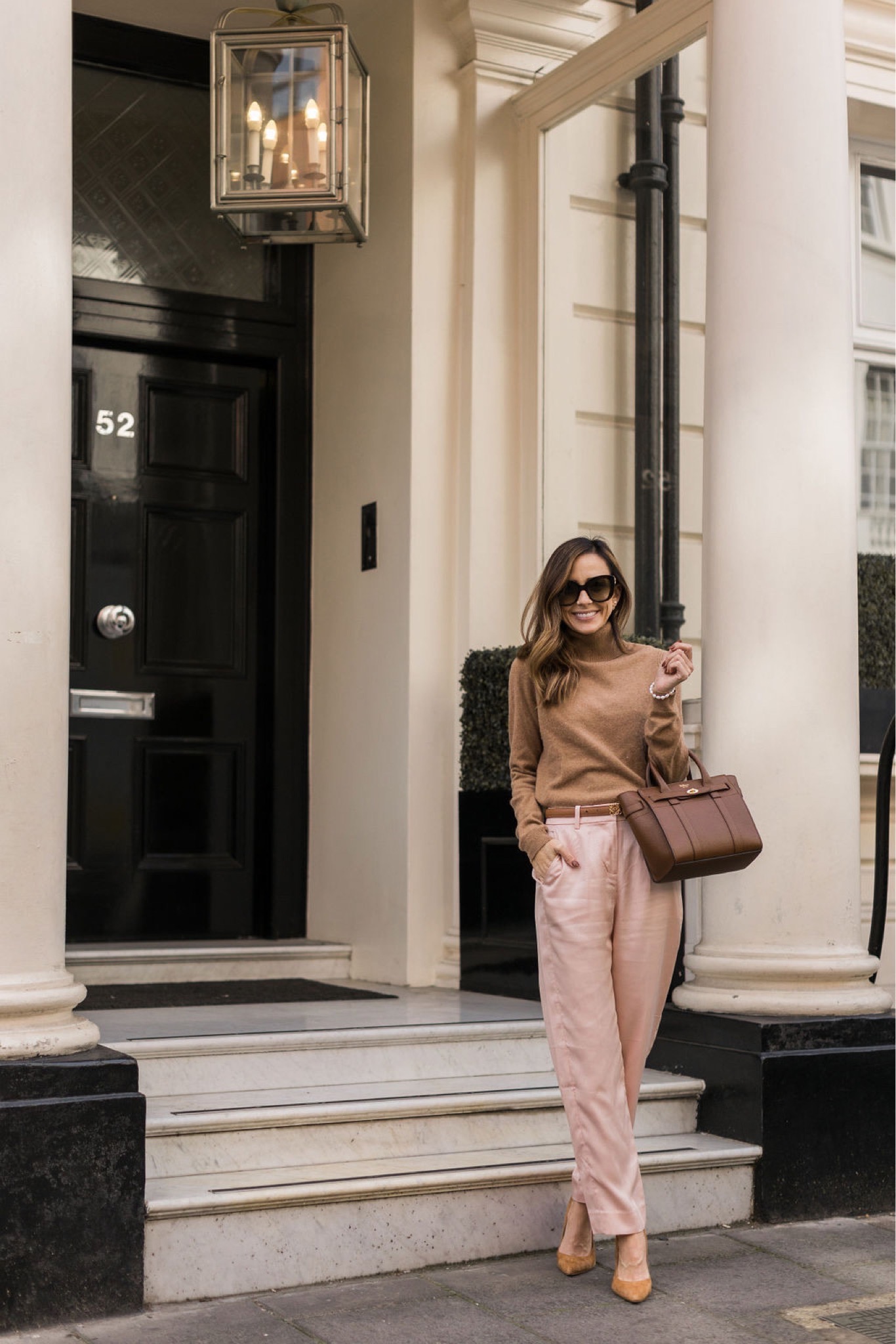 Shop the Post

For a fun change up on jeans or leggings, these straight leg trousers have the cutest fit. I like to pair these with a more form-fitting top to balance out the overall look. Then if you want to dress the look up a bit, you can pair with pumps. You also could do a pointed toe flat if you prefer flats to heels.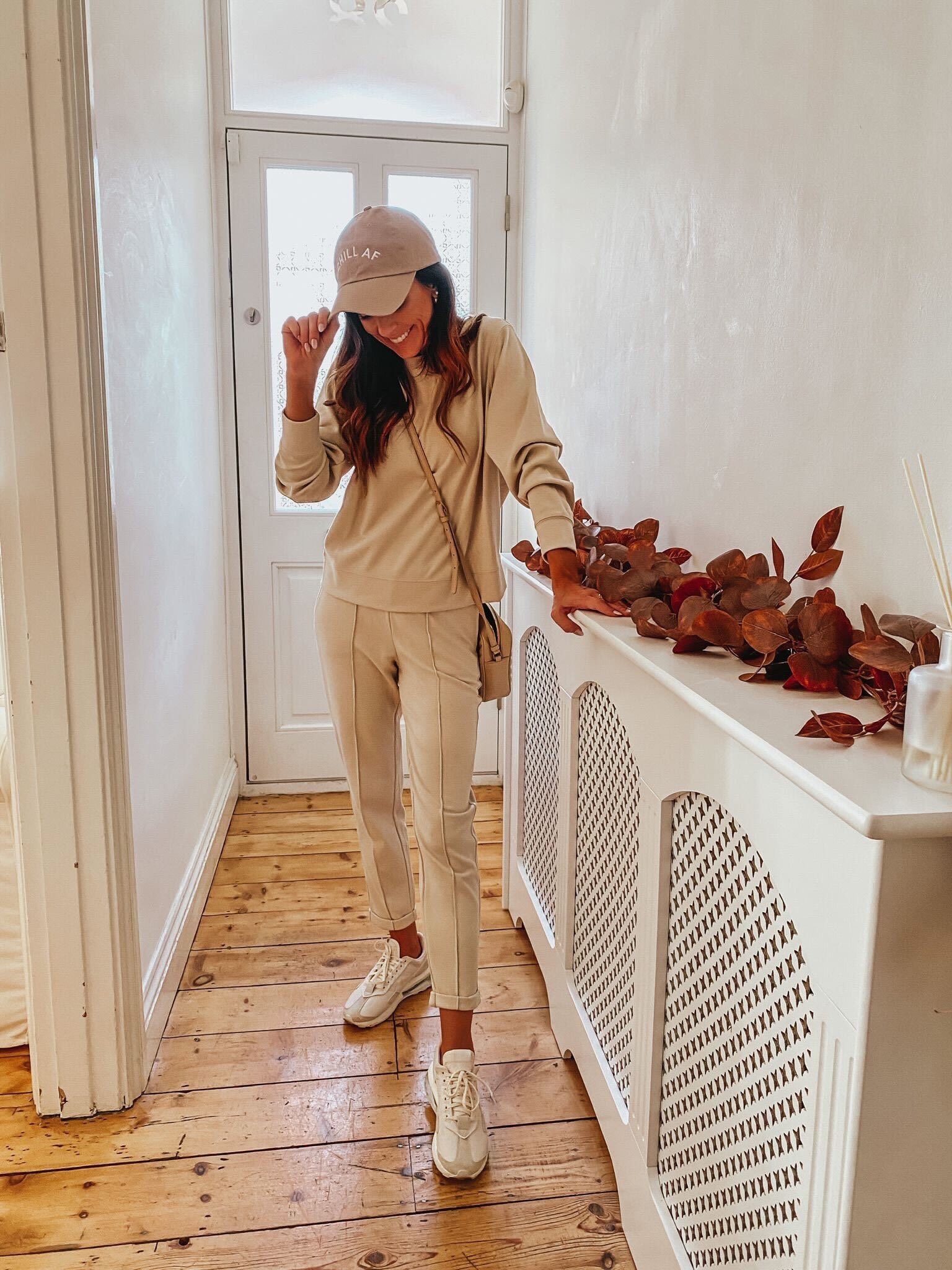 Shop the Post

This matching sweatshirt and joggers could work for a lot of different reasons on Thanksgiving Day. First, if you're on Thanksgiving food prep duty, this would be the perfect look to wear on the night before Thanksgiving or the day of. Or if your family's Thanksgiving vibe is traditionally more laid back and casual, this would also be the perfect look to wear!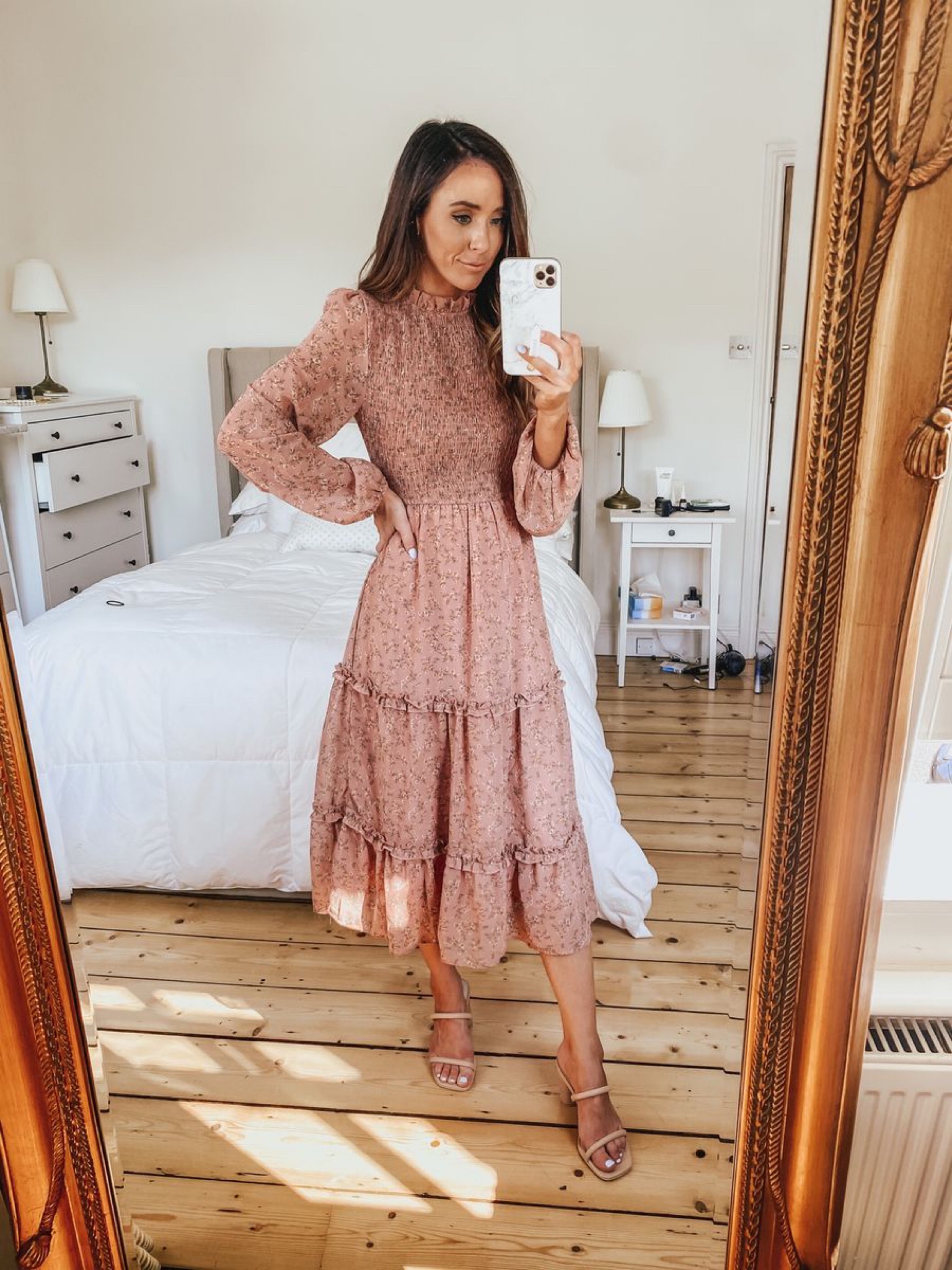 Shop the Post

This midi dress would be a great Thanksgiving Day outfit to wear to brunch. The high-neck ruffle detail mixed with the smocking are beautiful, feminine details that make this dress a showstopper. And bonus – it will definitely be comfortable to wear and even bump-friendly.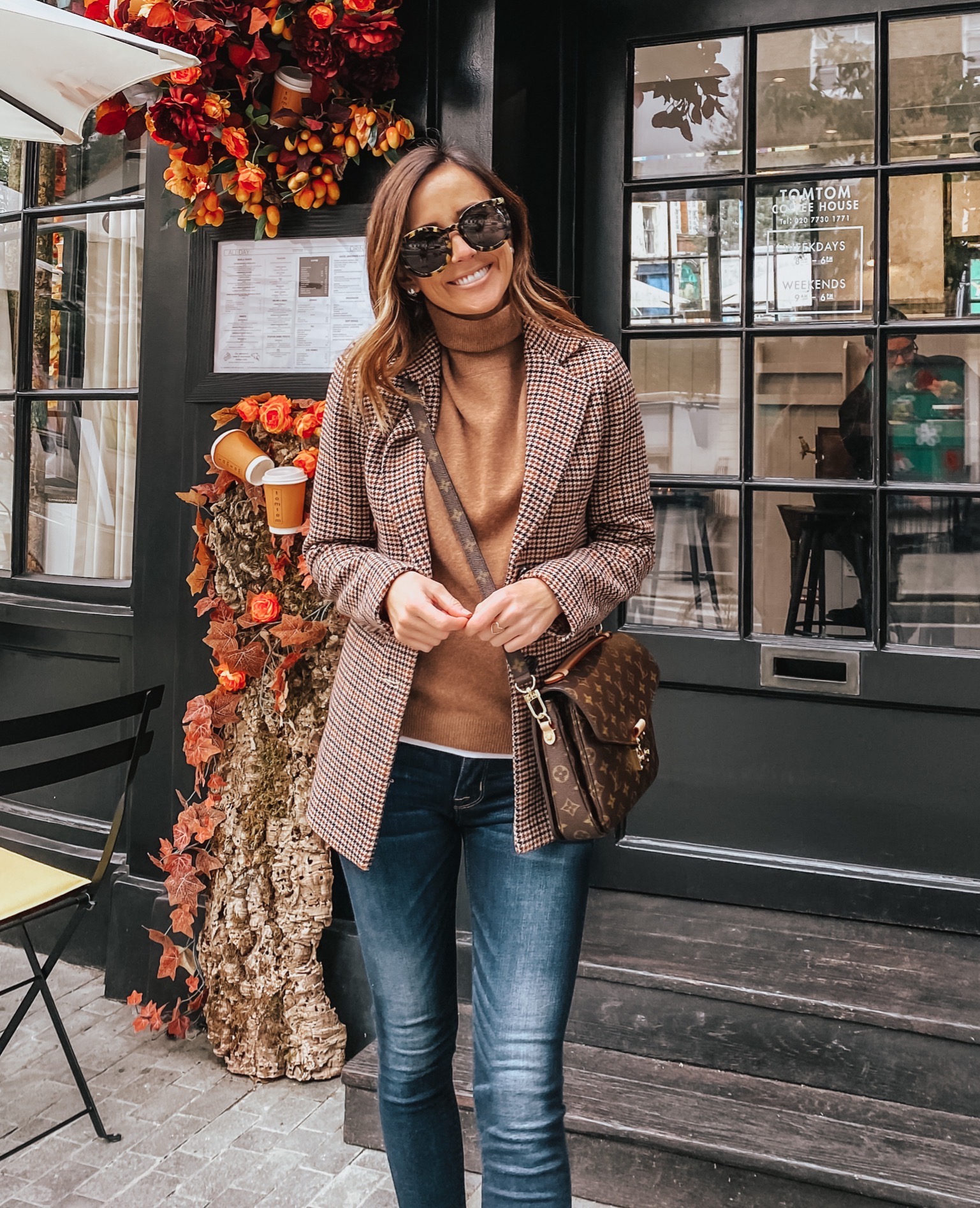 Shop the Post

If you're into blazers, like I am right now, I wanted to share this look with you for some inspiration. I paired this blazer from Abercrombie [mine is old but I found one with a similar pattern here] with a pair of my favorite skinny jeans and a camel-colored turtleneck underneath. It's an easy way to keep with the elevated look a blazer automatically gives and pairs quite nicely with the casual feel of the jeans. A lot of retailers are leaning more toward oversized blazers but, if you like a traditional and more fitted silhouette, I'd recommend looking at the current selection at J.Crew. They're offering 35% off your purchase right now, too, so you may be able to snag one you like on sale!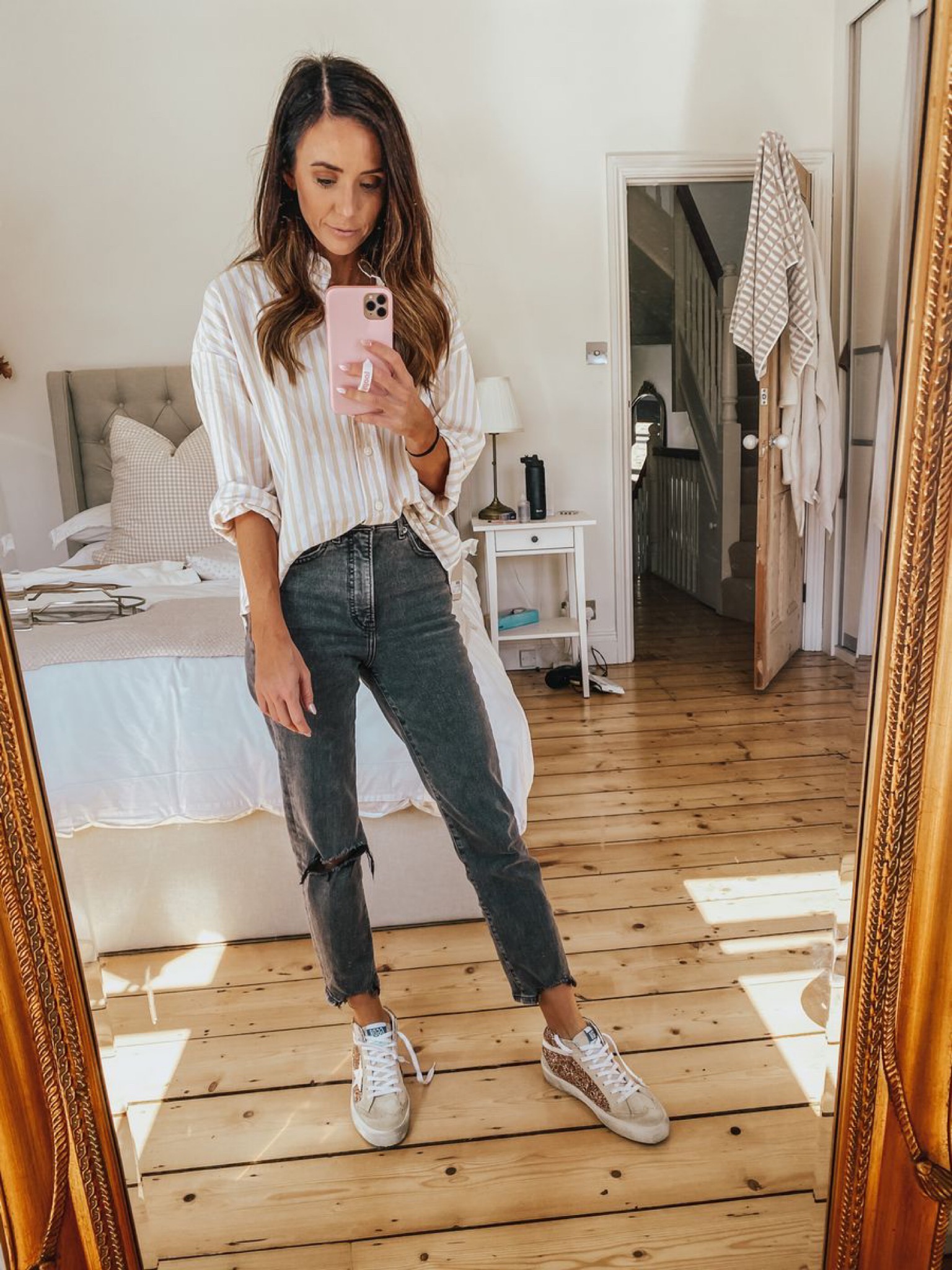 Shop the Post

The next look in this Thanksgiving dinner outfit ideas roundup is for those of you in a warmer climate. I love this striped boyfriend button down and it's an easy way to look put together for a holiday while also feeling comfortable. I front tucked the shirt into the high-rise jeans and left it untucked in the back for more of a casual look. You could leave it completely out or tuck all the way in too – whatever your prefer. And I completed the look with my Golden Goose sneakers. Love the pizazz they bring to any outfit.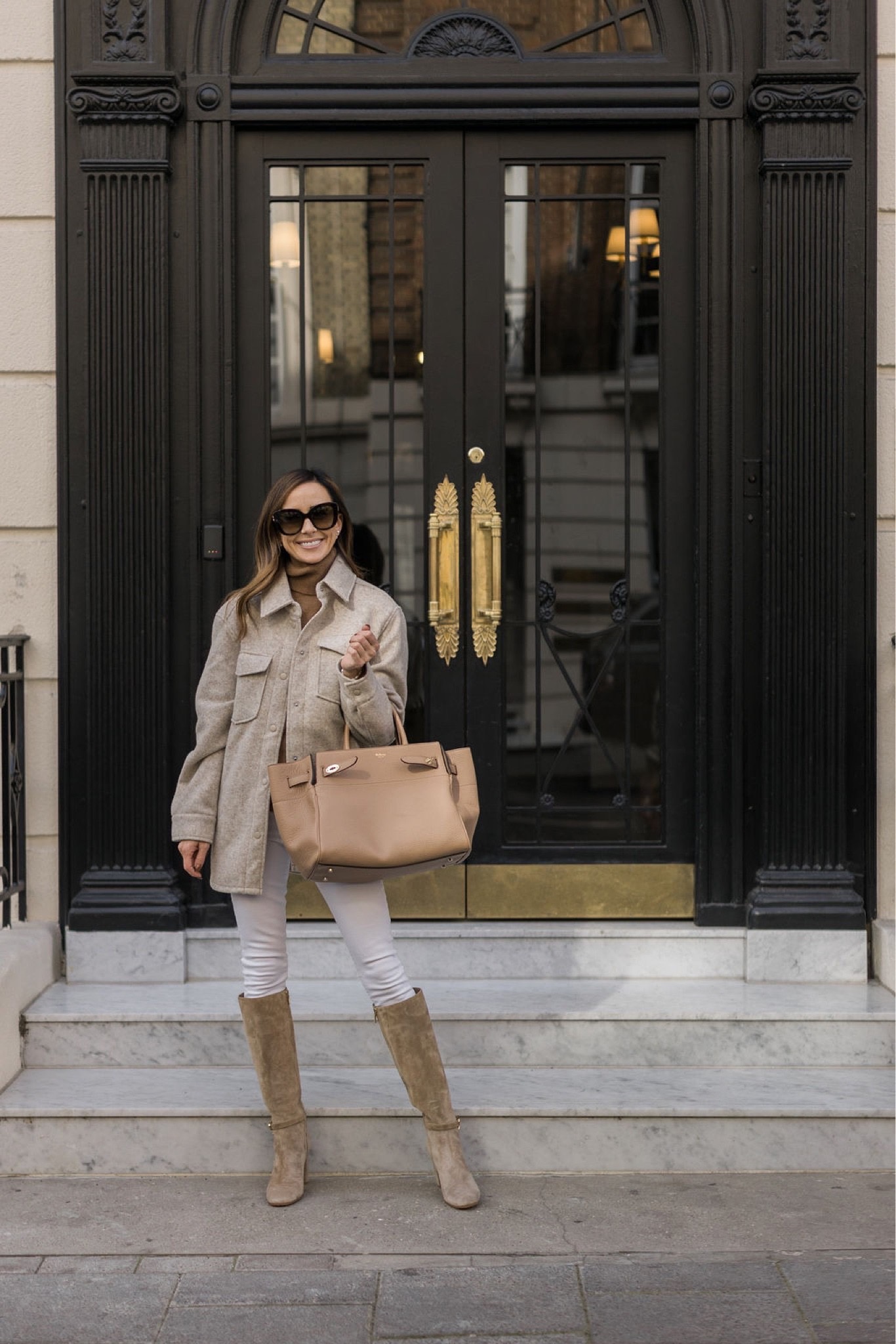 Shop the Post

A shacket [here's the UK version] is another great option to wear on Thanksgiving because it's on-trend and so comfortable! I did a whole blog post on shackets under $100 found HERE. They first came on the scene a few years ago, and think they're a trend we will see for a while. You can wear them buttoned up or left open with a turtleneck or simple tee layered underneath. Also won't quit the skinny jeans for the foreseeable future.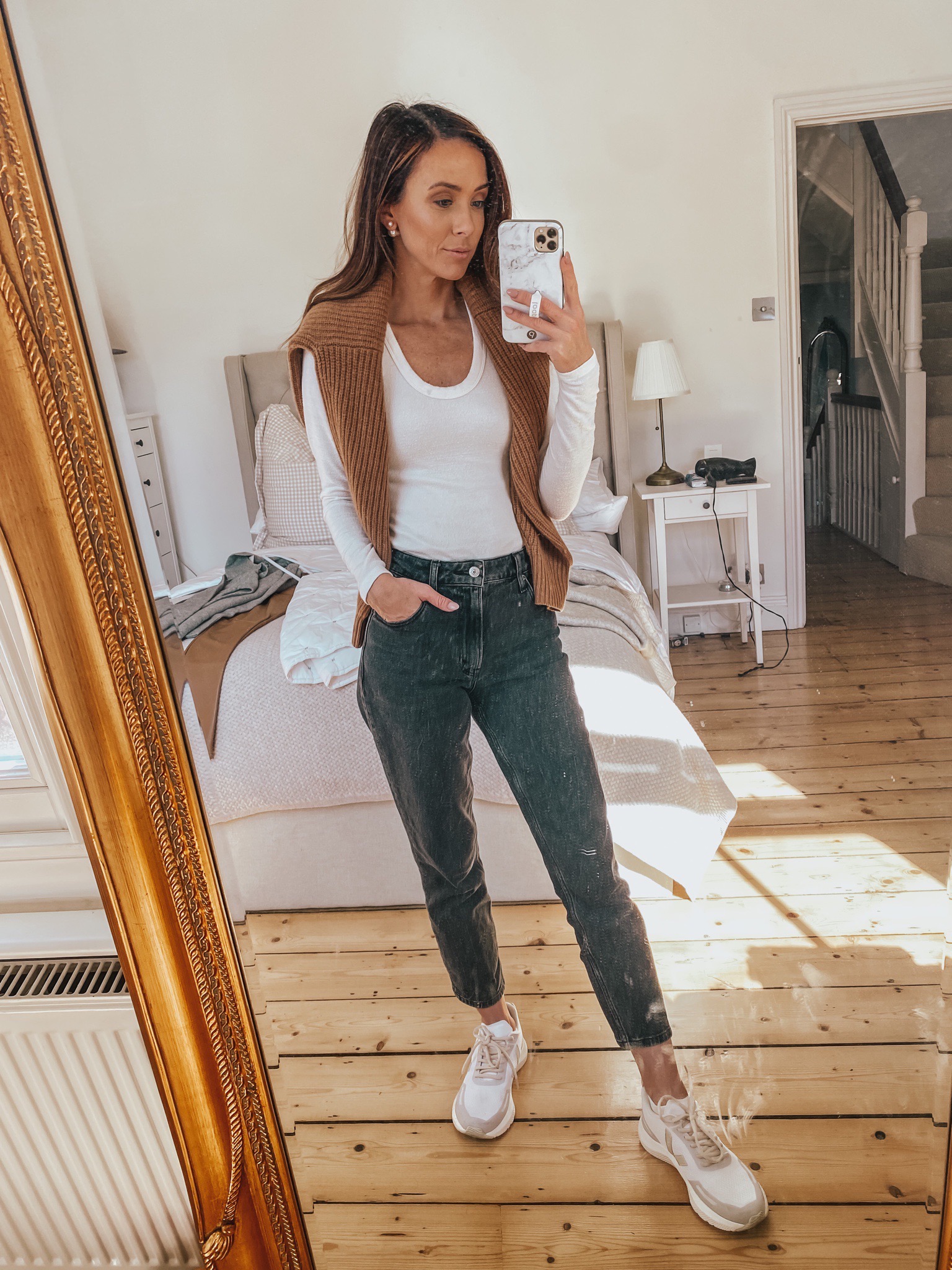 Shop the Post

You all have been loving this look, and think it's because it's such a classic. A pair of faded black straight-leg jeans are a great fall staple to have in addition to the regular blue jeans. They're a fun change up and look gorgeous paired with a brown sweater like I have draped over my shoulders. Feel free to wear booties with this outfit since it's a holiday or, if you prefer, stick with comfy, like I have here, with these Vejas. It's good to dress in layers on Thanksgiving because it can get hot really fast in a home with everything cooking.
Shop the Post

These vegan leather leggings in a pretty sand color have a functional side zipper and a seamless look. Like the Spanx brand, these come in varying lengths too. Pair them with suede booties and an oversized tunic sweater to complete this chic look.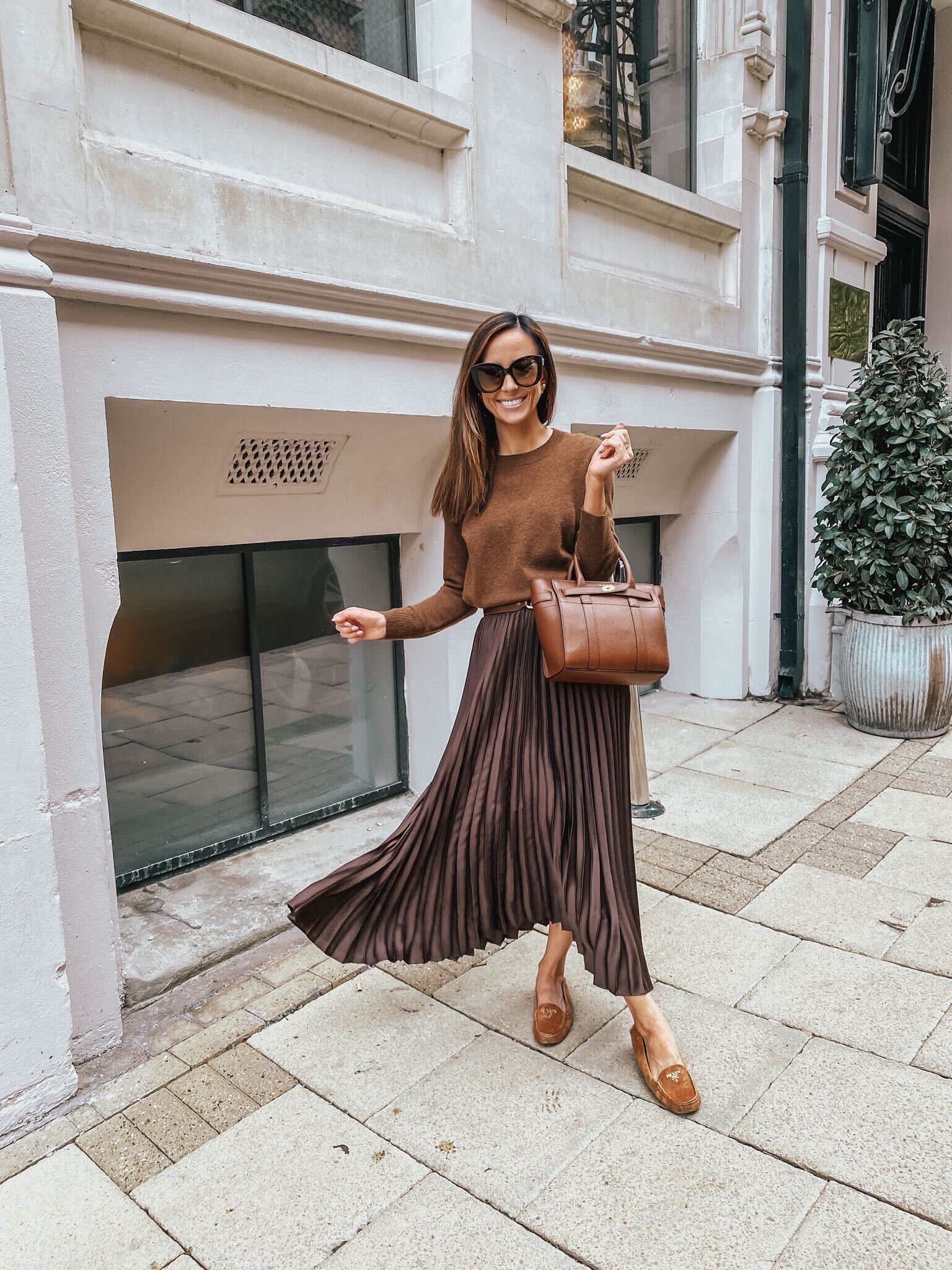 Shop the Post

The last outfit in this Thanksgiving dinner outfit ideas roundup is a pleated skirt [UK Version] with a cashmere sweater. Satin pleated skirts are so much fun to wear. I created a monochromatic look with this chocolate brown midi skirt and the cashmere sweater. You can wear flats or pair with knee-high boots to give more coverage to your legs. You can add a belt to your natural waistline to breakup the look if you want or just simply tuck the ends of the sweater into the skirt.
Sometimes it's nice just to keep it casual with Thanksgiving, but also love any reason to get dressed up. I hope you all had a fun and safe Halloween!
 What do you normally wear on Thanksgiving Day? Let me know below! xo.