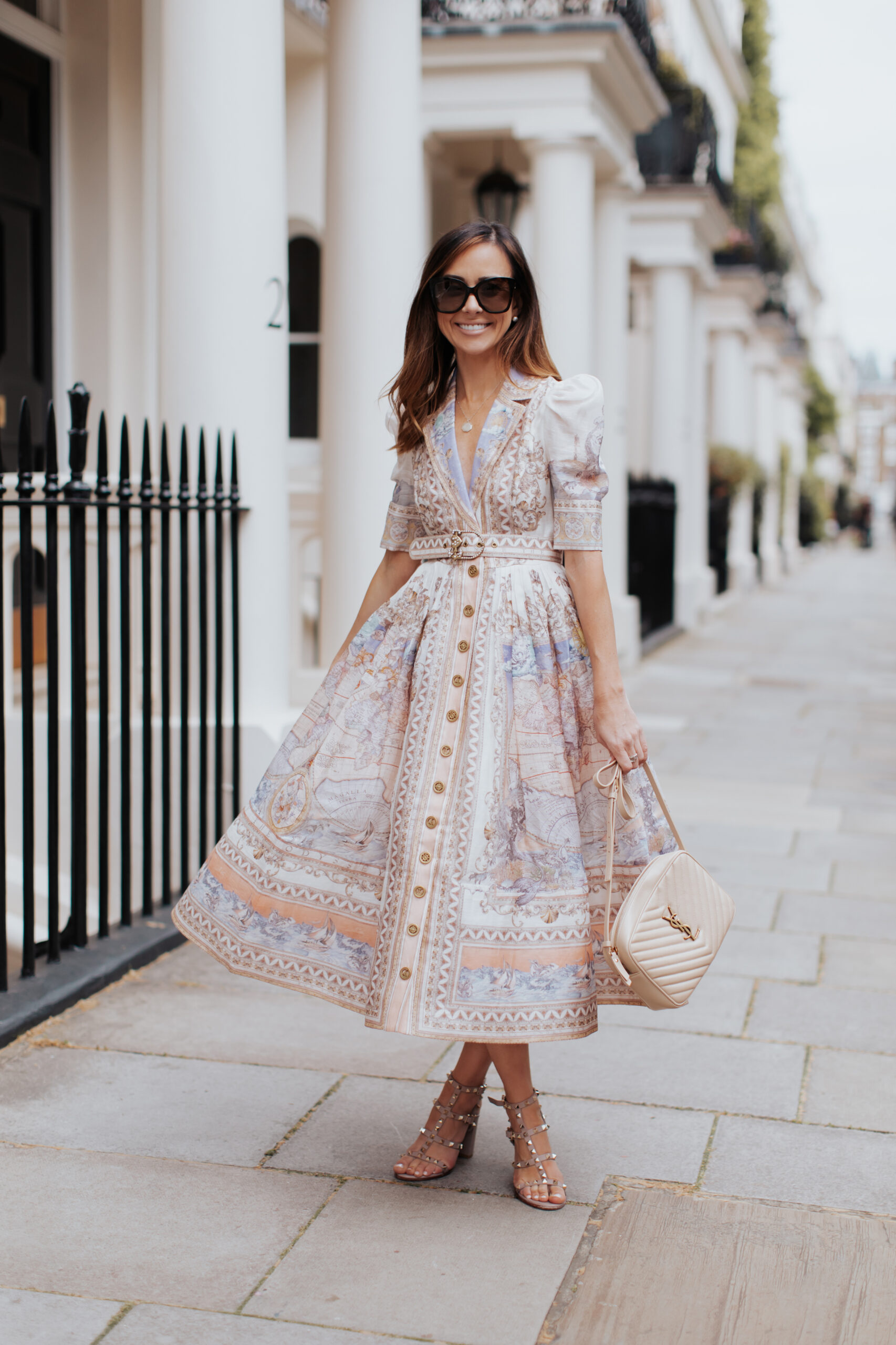 Hi friends! As you may have seen, I arrived in Ireland yesterday with Louie and John. It's been almost TWENTY years since I visited Dublin for the first time. It was the first place in Europe I ever ventured to and I absolutely loved it so I'm excited to get reacquainted with the city. We're actually here for a wedding for one of my good friends from college. Her wedding was actually delayed due to the pandemic, so I'm really looking forward to finally celebrating with her. Her family is actually from Ireland, and it's always been her dream to have her wedding there! I'm looking forward to celebrating with so many of my good friends that I don't get to see often.
Lately, I've realized that summer weddings are truly such a great way, especially as we grow older, to reconnect with old friends again. And of course, who doesn't want to look their best at a wedding? At times, deciding what to wear to a wedding can be tricky. I've been there, too! From wedding dress codes, or lack thereof, to differing venues, indoor or outdoor, weather, and time of year, there can be so many factors to consider.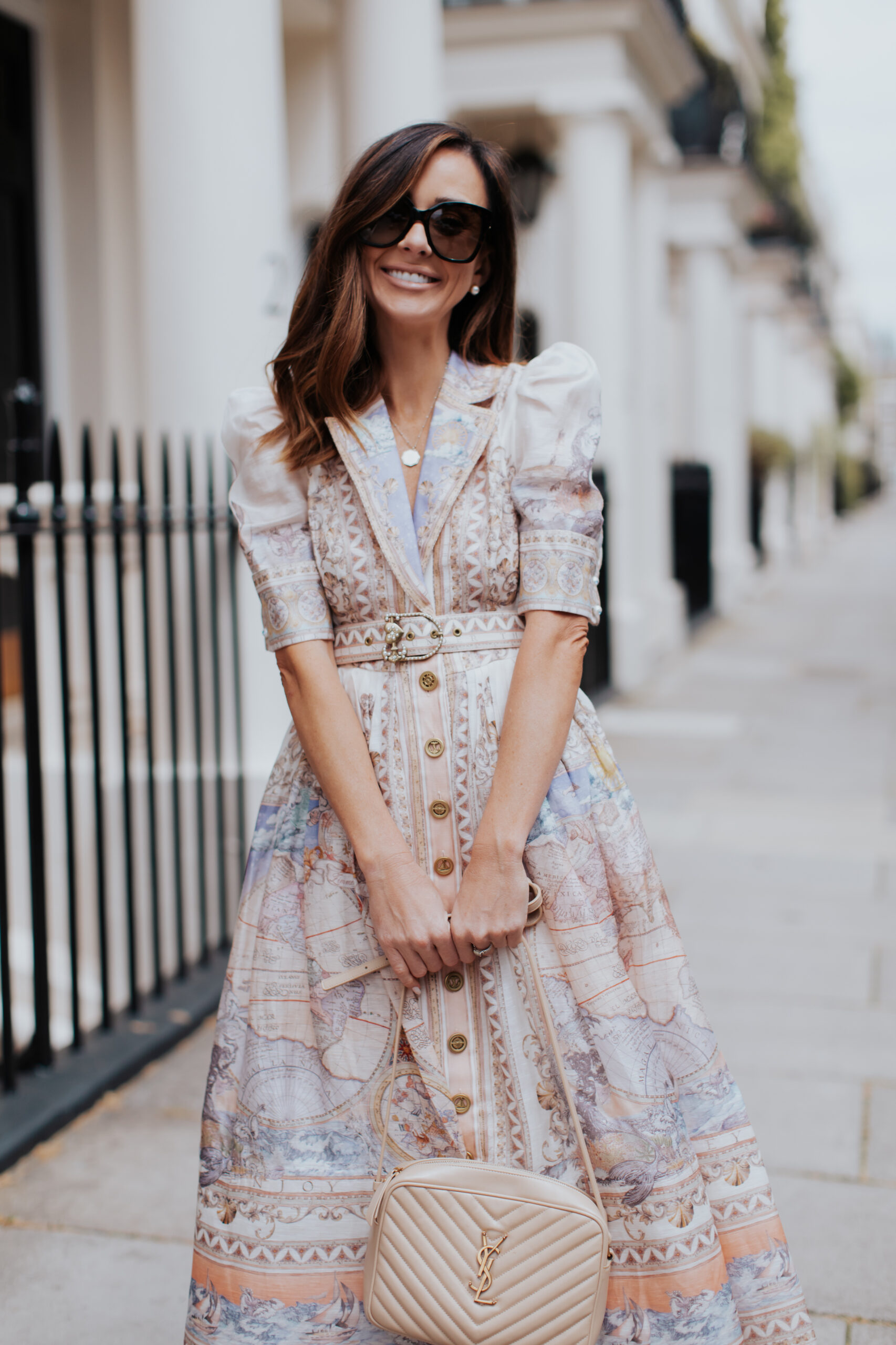 For all of these reasons, I've pulled some general wedding guest dress inspiration that stood out to me while I was on the hunt for a dress to wear myself! Some lean more casual, and some lean more refined. And some are more appropriate for a cocktail or formal dress code. I pulled options from across the spectrum, so hopefully, no matter what type of wedding you're headed off to soon, I've found some options for you! So, let's get into it!

High Tide Map Print Midi Dress Outfit
Recently, I added this stunning high tide map print midi dress to my collection, and I'm so glad I did! [And, side note: the only reason why I did was because I got it at an insanely good price!] This dress features a gorgeous collar with a deep neckline, puff sleeves with pearl detail at the back of both sleeves, and a very full A-line skirt. The colors on this dress speak for themselves, and they stand out in person as much as they do in these photos. The mix of lavenders, pinks, and a slight touch of yellow work really well together. There are also several nods to astrology all throughout the print of this dress. In so many ways, this dress embraces several of my interests, and I just feel like it was made for me.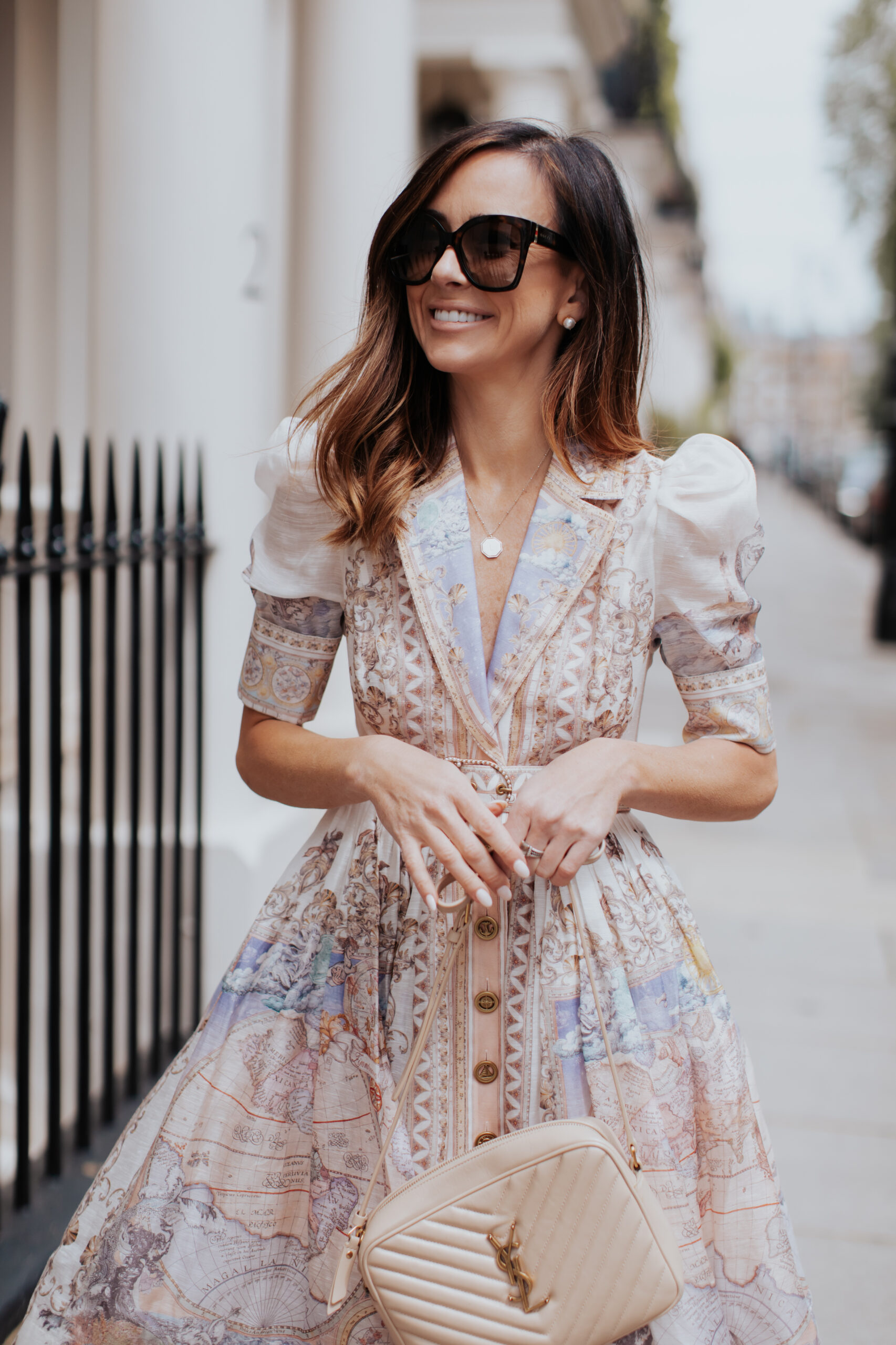 I paired this dress with my Valentino rockstud sandals because I love the way the studs complement the belt hardware, while the neural tone of the sandals balances out the colorful print. I added one of my favorite, classic crossbody bags, my go-to square sunglasses, and a pair of delicate stud earrings to finish off the outfit. To see me unbox and try on this dress, check out my recent vlog!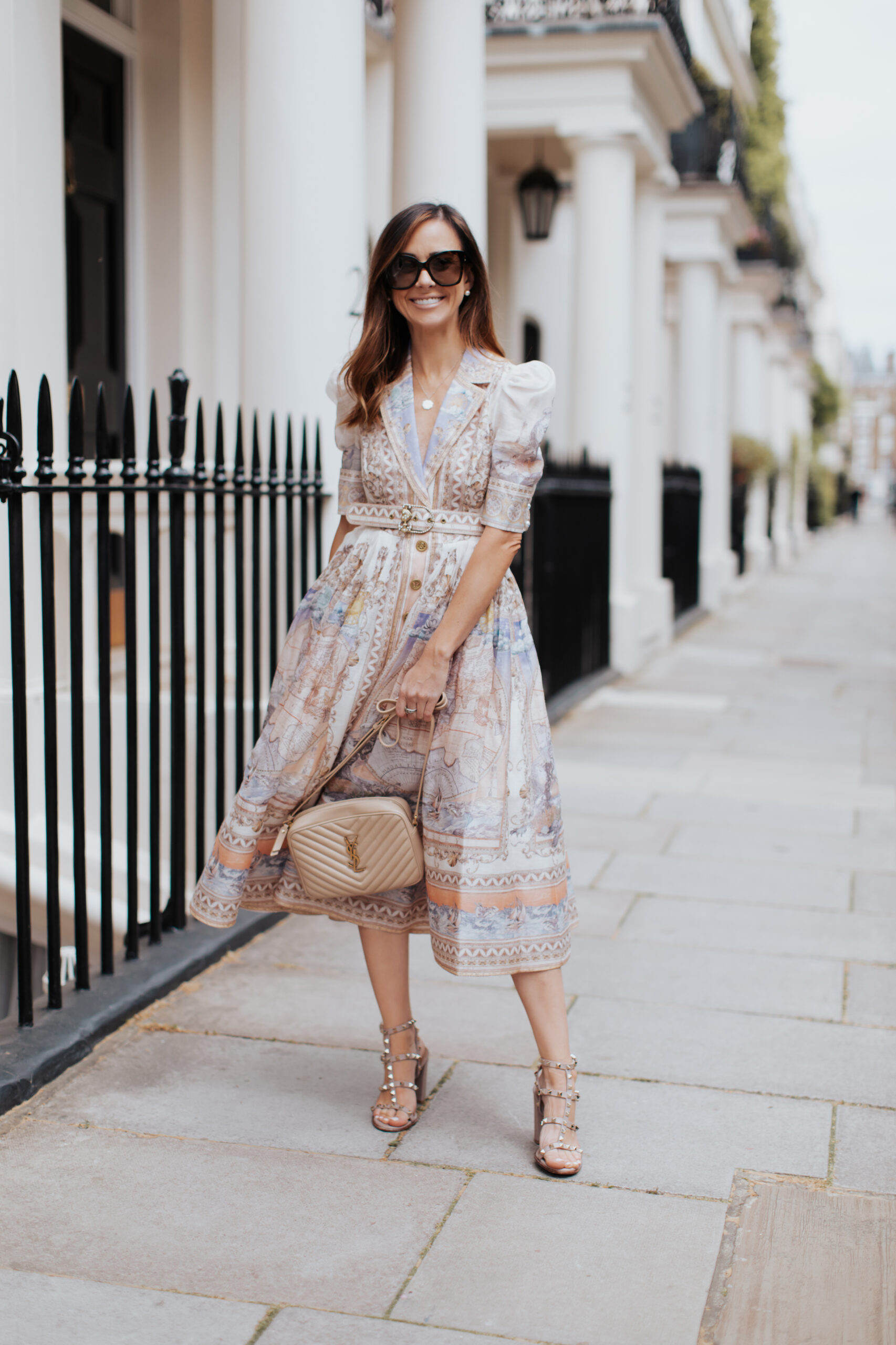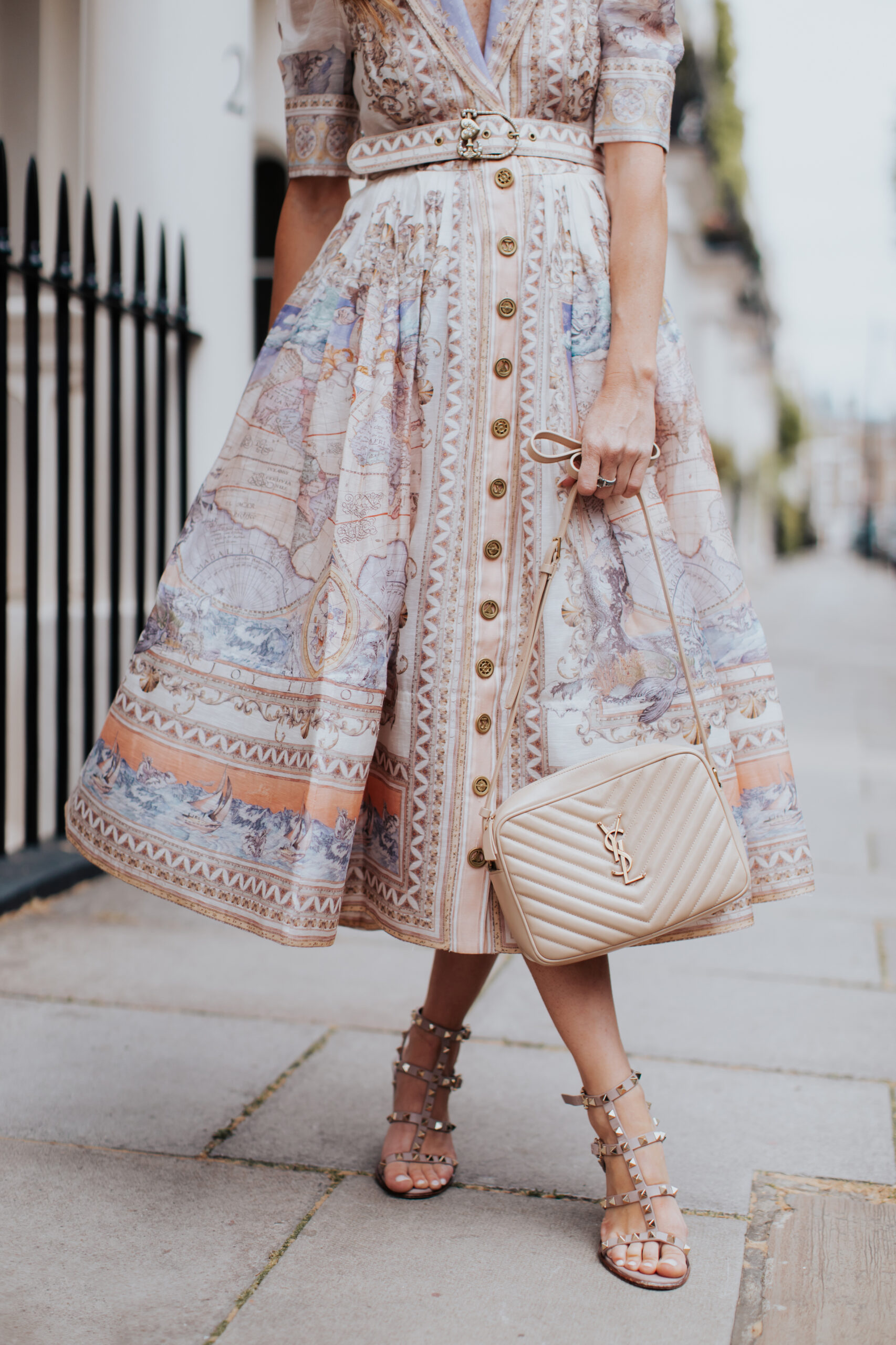 Wedding Guest Dress Ideas For Summer
When deciding on the perfect wedding guest dress for yourself, it's best to always make sure you know the dress code for the event and abide by it. If you're anything like me, the last thing you want to do is to unintentionally stand out like a sore thumb!
Also, go for a color that you believe the bride would approve of. If you think the bride won't love it if you show up in a bold color, for example, it's always best to check if it's a color you're considering. And of course, don't get anywhere close to wearing white unless it's part of the dress code!
I looove all of these bright colored options! I also found THIS really cute hot pink option after I submitted these to my graphics team so don't miss it as it is such a statement for under $65!
I also love all of these more cool-toned options. I have this one from Abercrombie and think the silhouette is so classic! I thought about bringing it to the wedding I'm going to in Ireland this weekend but ultimately chose something a little more formal due to the dress code. For even more wedding guest dress inspiration, see this post!
Ultimately, when it comes to landing on the perfect wedding guest dress for the summer wedding you're attending, be sure to select something that you feel you're best in! As a wedding guest, you have the opportunity to embrace your personal style while still adhering to the wedding dress code. Remember to consider the venue, time of day, and formality level when making your decision. No matter what you decide on, make sure you feel confident and comfortable in your choice. And of course, be sure to have fun!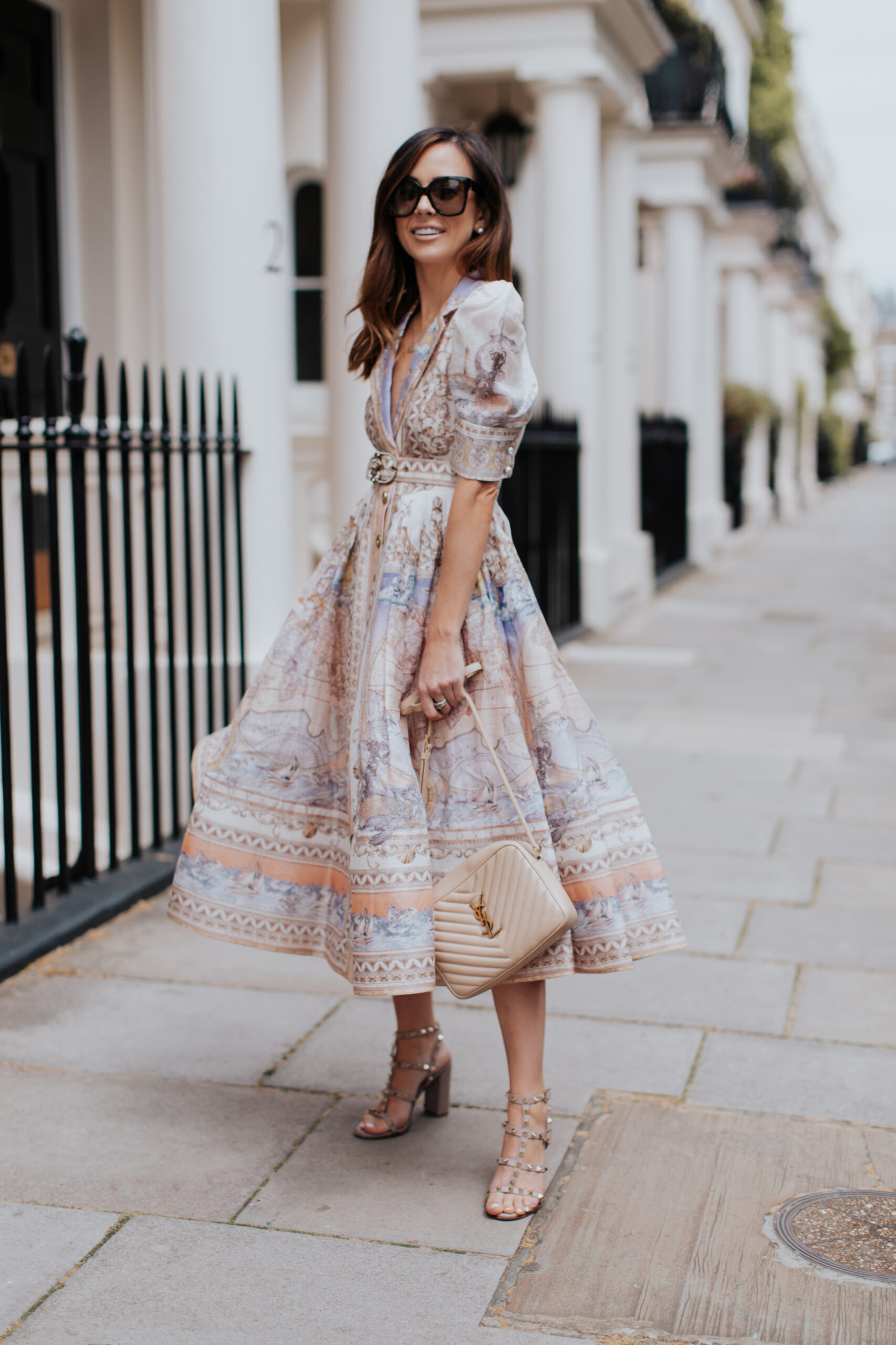 Which wedding guest dress was your favorite from this roundup? Let me know in the comments! xo.