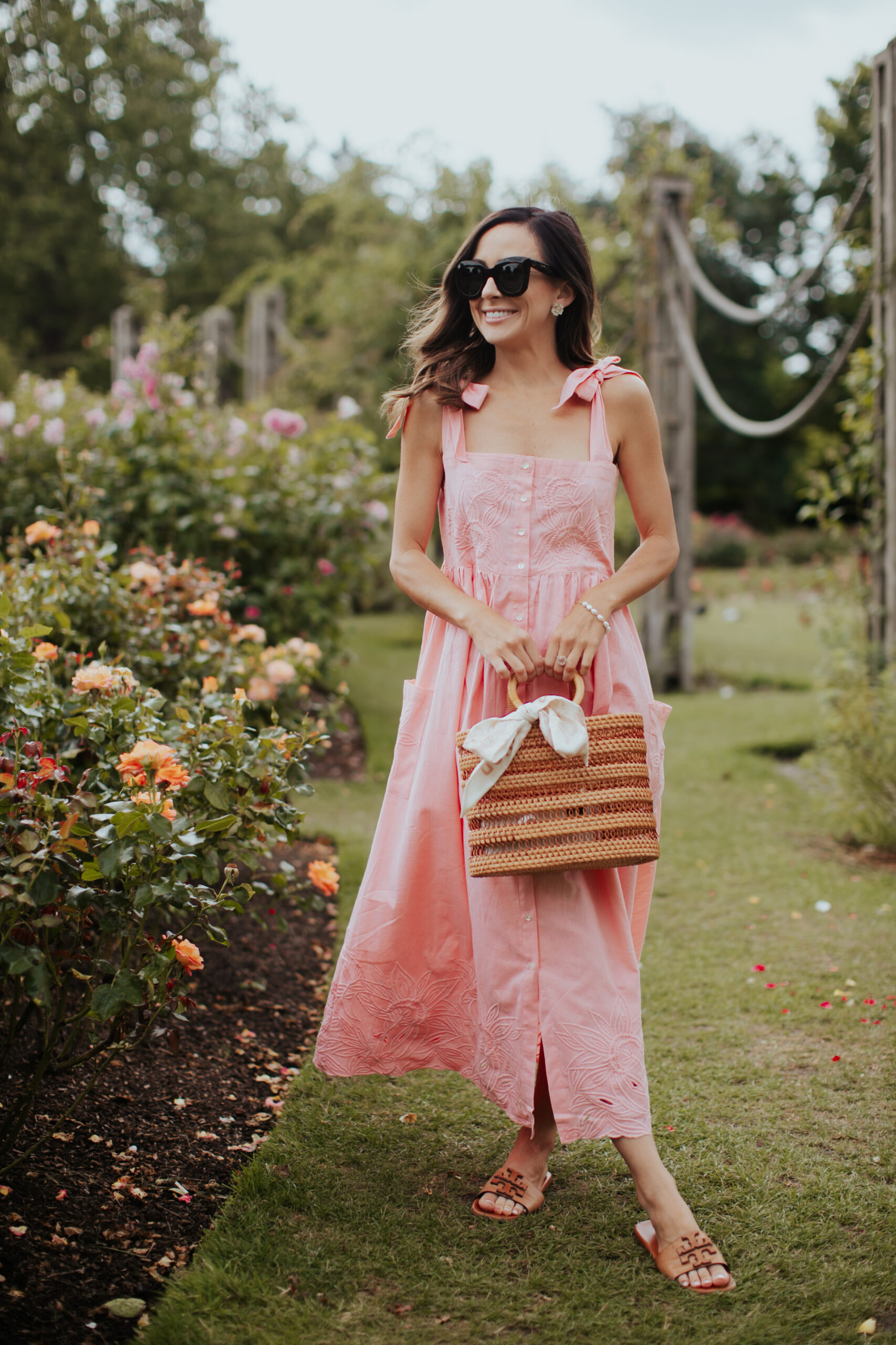 Hi friends! Can you believe we're over halfway through the summer already? For me, it still feels like I'm getting settled into the summer season, and it's crazy to think that it'll be over in the blink of an eye. For that reason, I'm soaking in all the summer outfits that I can before the fall and winter seasons sneak up on us! I thought I'd share this beautiful new-in Juliet Dunn dress with you guys plus a few other favorites that have come into my wardrobe and home over the last month!

Let's jump in!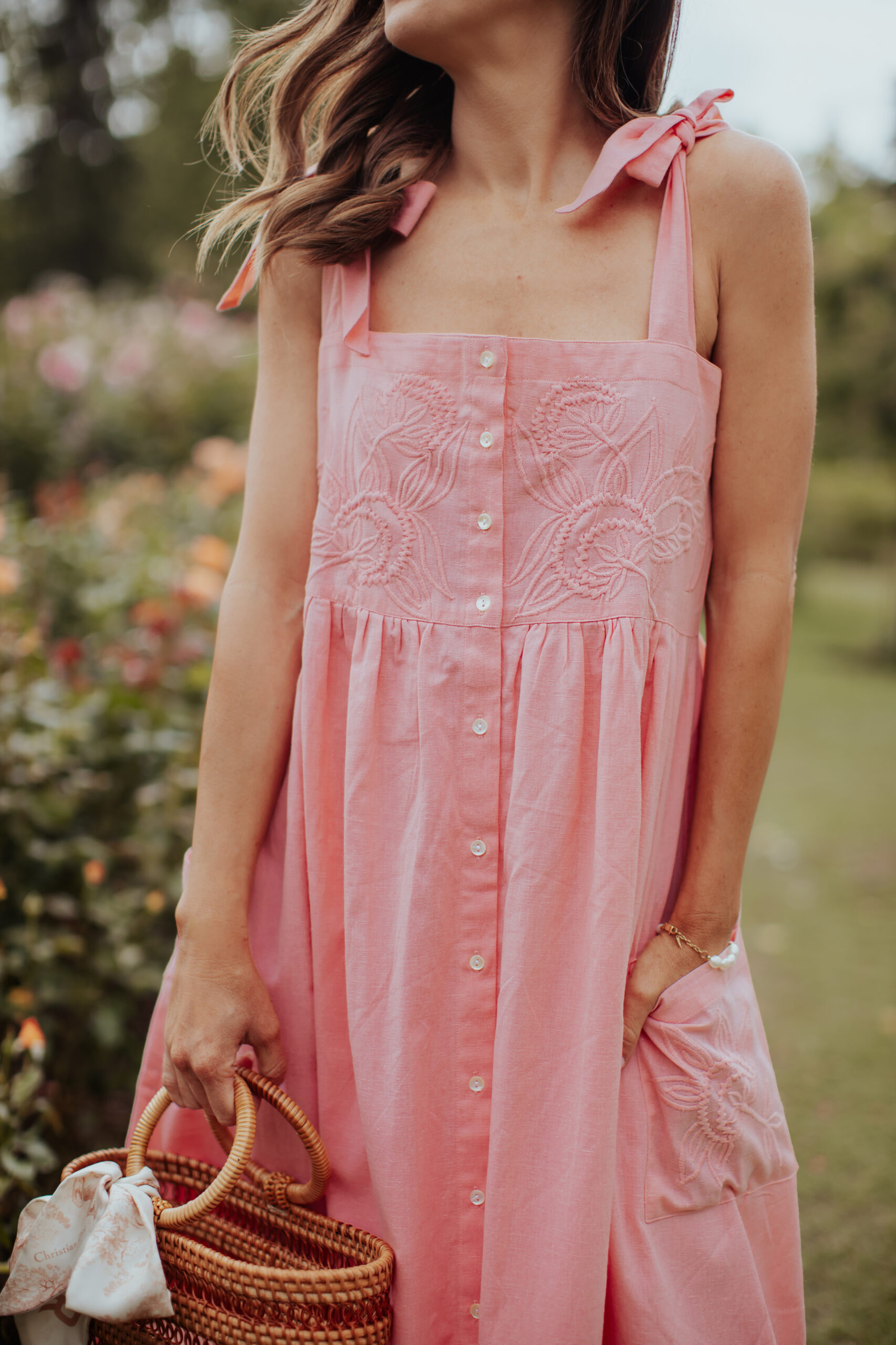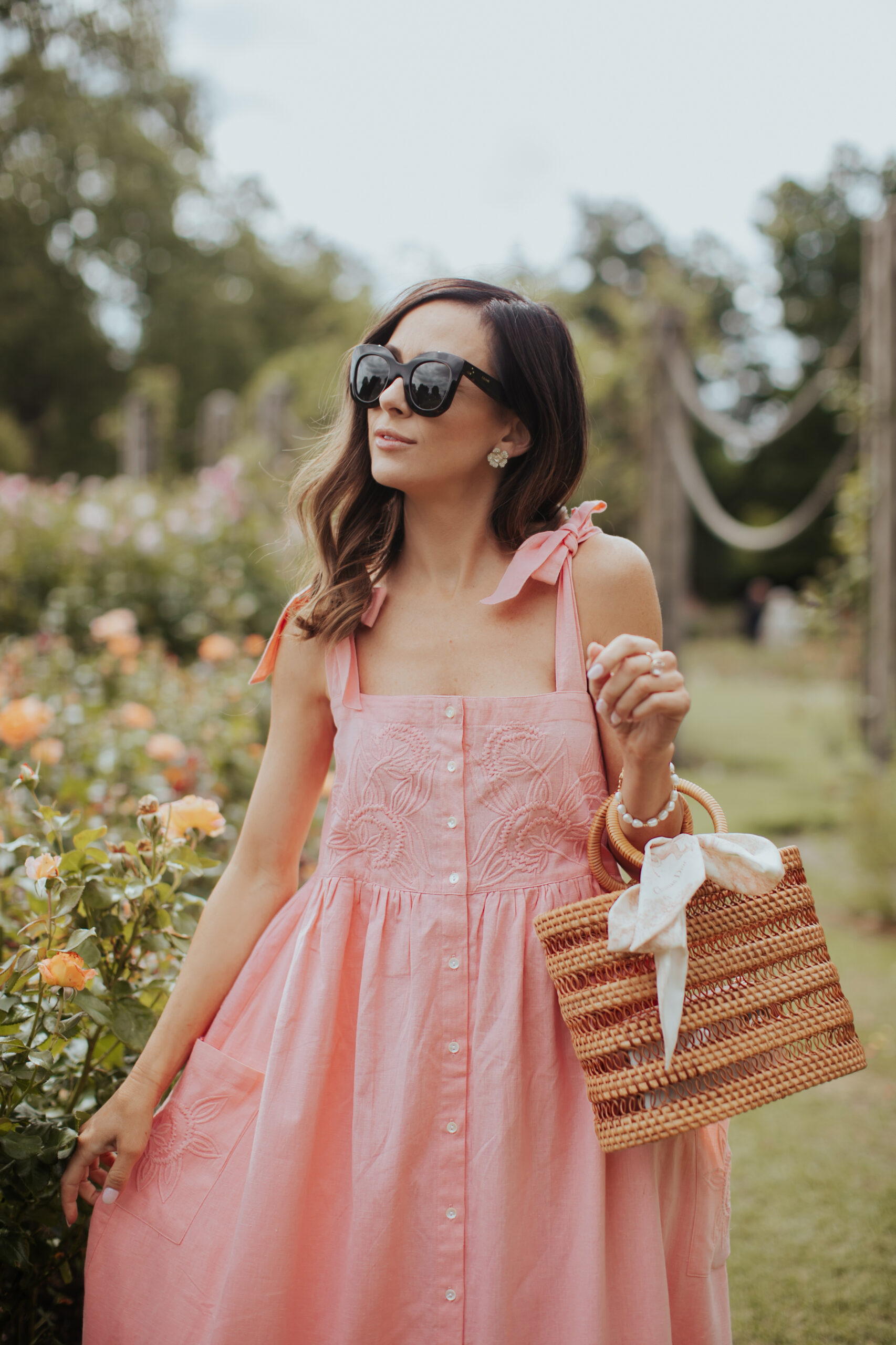 Tie-Shoulder Cotton Midi Dress Outfit
This tie-shoulder cotton midi dress (UK) by Juliet Dunn is so stunning for summer. When I picked out this dress I knew it would be perfect for the warm weather and one of my favorite features is the really beautiful embroidery detail adorning a few areas. It elevates the dress in a really lovely and subtle way. The functional tie shoulders allow you to get the perfect fit, while the square neck at the top offers a flattering look. This dress also has functional buttons on the front from top to bottom and pockets on the side.
To style this dress for summer, I paired this dress with these tan leather slide sandals. These slide sandals are the perfect summer sandal because they are comfortable, but still elevated, and even though they are flat sandals they can still take any summer outfit to the next level. I also added this woven rattan top handle bag to add a touch of summer with texture, and also to tie in my tan sandals. To take this look to the next level I added this pink and off-white Dior silk neckerchief to my bag. I thought it was the perfect touch!
For jewelry, I went with simple but elegant choices with this classic square halo ring, these stunning statement earrings by Nicola Bathie [another one of my favorite new arrivals this month], and this gorgeous beaded pearl bracelet. Pearls felt like the perfect touch to compliment the gentle pink color of the dress.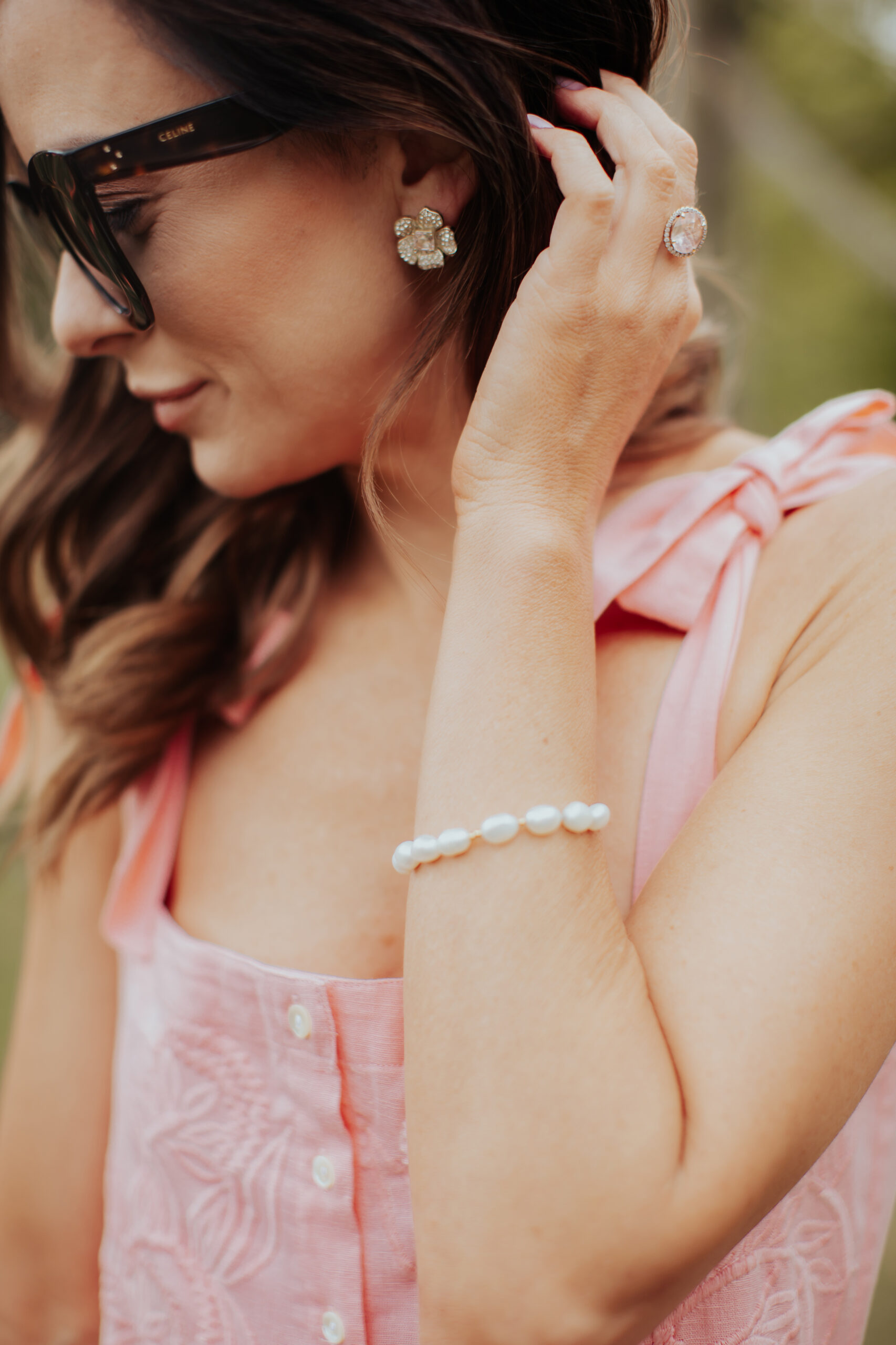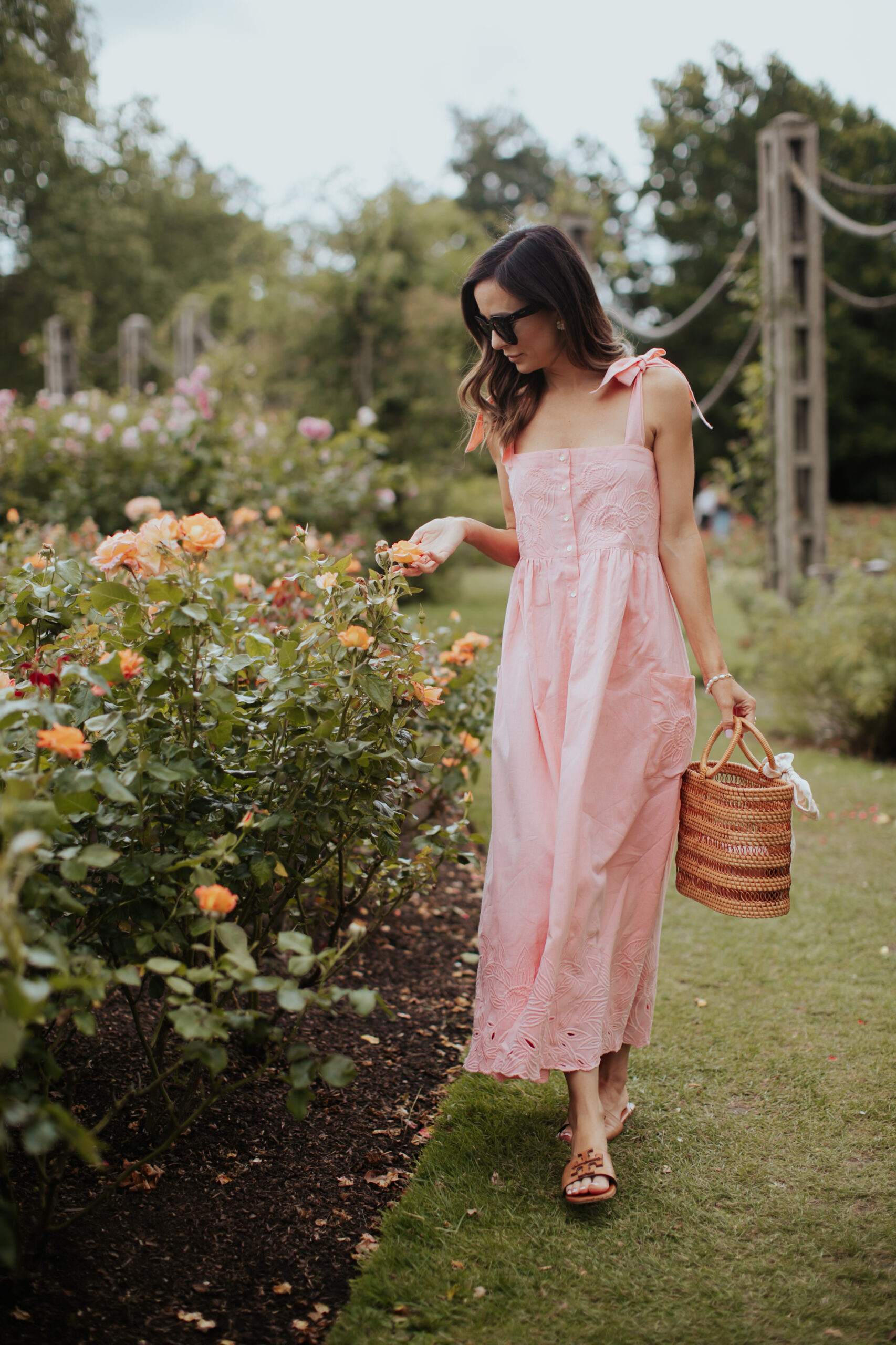 Things I Bought and Loved This Month
As many of you know, I spent some time in New York City this month covering the Nordstrom Anniversary Sale. But, it also allowed me to have a lot more fun shopping at places that are a bit harder to shop at in the UK, like J.Crew, Williams-Sonoma and David Yurman! As you can see from the graphic above, my favorite purchases are a mix of sentimental investment pieces, practical everyday items and miscellaneous fashion finds. Let's explore a few from each of these categories to give you some insight into some of the things I bought and loved this month!
sentimental investment pieces

One of my first ever investments I made into my wardrobe, and jewelry collection, was this David Yurman Albion ring with an amethyst stone, which is my birthstone. I bought it in 2015 and I loved that it was a way of representing my birthstone but that, since it has a hematite plate behind it, it actually appears more blue and, thus, something I'd get so much use out of [as I wear more blue than purple, as I'm sure most people do, ha!]. This ring is certainly my most worn piece of jewelry [you can see me wearing it in blog posts and IG posts over the years, like this one] and the most precious to me. And, I always knew it came in other colors and had always thought that the Prasiolite stone was absolutely stunning. I thought it might be silly to buy two of the same ring so I have always kind of put it to the back of my mind. But, over the last [probably] five years or so, I find myself, every-so-often, looking to see if it's still available. I even bought THIS ring with the Prasiolite stone around that time [2018 or so] to see if that would satisfy the desire to have a ring with that stone. And I do like that ring and wear it often but, it's the Albion ring that I am just truly in love with. So, I decided to finally take the leap and get the ring while I was in New York a couple of weeks ago. These rings, for me, represent following my heart versus the conventional path that people in my life, or society, had wanted me to follow and that beautiful things come from being the visionary in your life and believing it can work out. 

I ended up adding some other sentimental pieces into my jewelry collection this month, particularly this charm necklace by Brinker + Eliza. I have been a fan of their pieces for some time now and specifically their charm pieces because they remind me so much of a charm bracelet my mom had and wore in college. I was obsessed with it when I was little and always wanted one of my own one day that represented me. So many of the charms of this necklace, while I didn't choose them, really resonated with something that is a part of me [and I felt a necklace was probably better for me in this season of life]. It's something that I feel really happy to wear and I love that it also reminds me of my mom, too.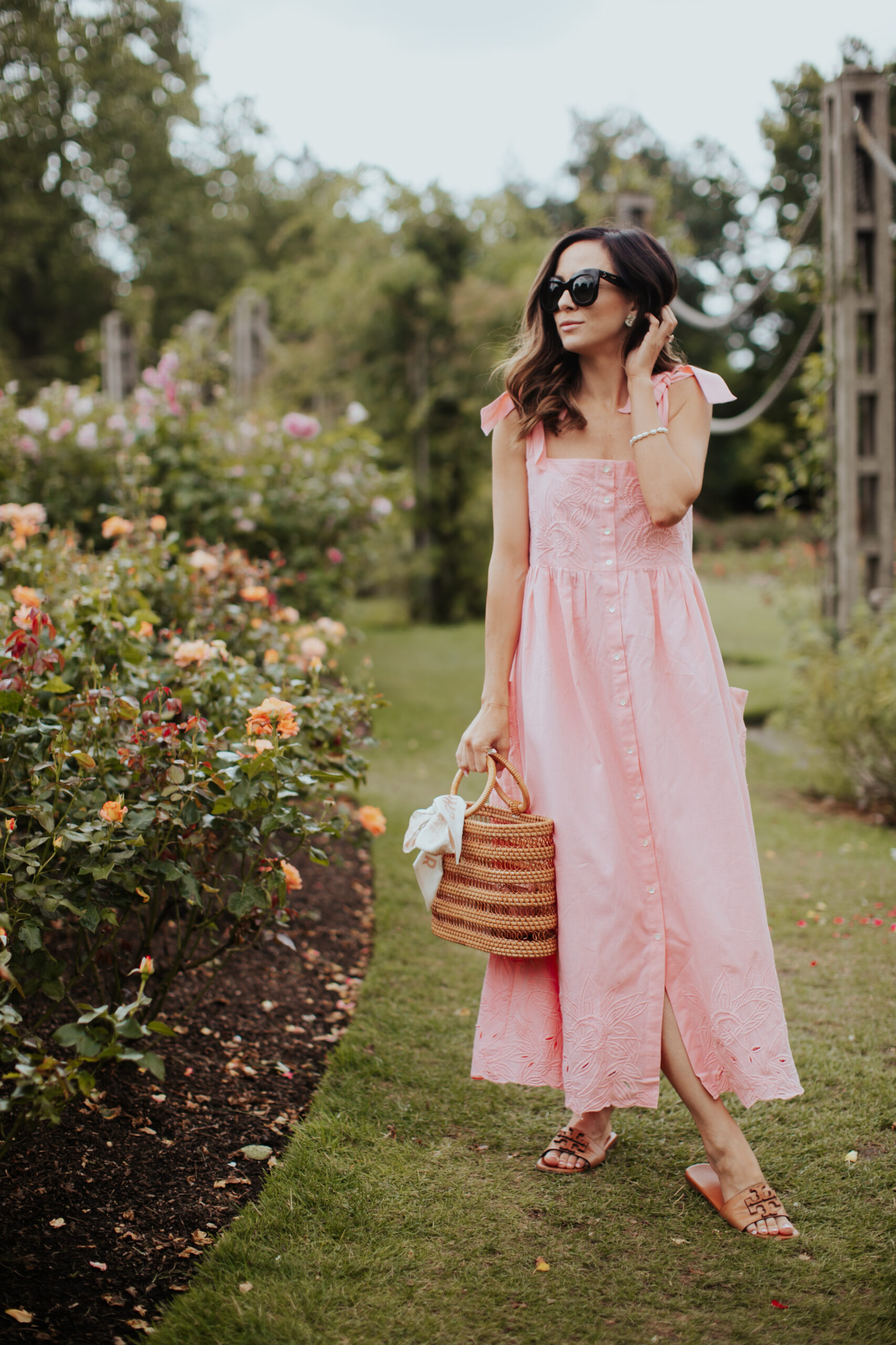 practical everyday items

Okay, you know you're in your late thirty's when one of you favorite purchases of the month are kitchen towels, but hey … that's where I'm at, ha! Anyone else? I was so happy to walk around Williams-Sonoma while I was in the States. They just have everything, don't they? I got some really cute cooking spoons for Louie and some great baking mixes to make with him, too!

And I love these pouches – they're a Stoney Clover lookalike at a much friendlier price point!
miscellaneous fashion finds

J.Crew is one of my favorite retailers to get basics so, I popped in one morning while I was in New York and went absolutely ham! I put together a little roundup HERE of all of the basics I snagged. One, in particular, that I can't recommend enough is THIS ribbed tank that I've been loving styled underneath tops and button-up shirt's. It comes in quite a few colors and currently 30% off with code SHOPNOW. 
I also snagged SO MANY things from Lululemon, which I can shop in the UK but it's a lot more expensive. I'll put a widget here for you to shop what I bought and I'll list the color I bought in each item because, unfortunately, the product photo auto-populates so I can't choose the one I bought. But, basically, I'm obsessed with the Softstreme line and the pale pink color that they have available right now. The material is so soft. I could literally live in it. 

colors I got in each item: softstreme high-rise pant [kohlrabi green] | energy longline bra [kohlrabi green] | softstreme sweatshirt [pale pink] | softstreme shorts [pale pink] | high-rise running shorts [pale pink] | align leggings [pale pink] | align tank top [white] | swiftly tech racerback tank [white] | everywhere belt bag [pink pastel]
I've been wanting to refresh my pajama situation as I feel like a lot of mine have gotten so much use since 2020 and really needing to be retired. I find I really only have old t-shirts and long sleeve and pant sets, leaving a huge gap for things to wear at night that are bit more airy. So, I also went a bit crazy in that department this month. And, when I say I went crazy, I mean … I'm in my full-blown granny era embracing nightgowns as well as the, maybe more respectable and age-appropriate, matching sets, ha! HERE is a roundup of some that I purchased but, one of my favorites, was this waffle knit set – that isn't the most comfortable for summertime but will be perfect as things start to cool down – hopefully soon for some of y'all in the States! It's honestly perfect for our Summer's here in England as it's usually in the 60's and 70's.
---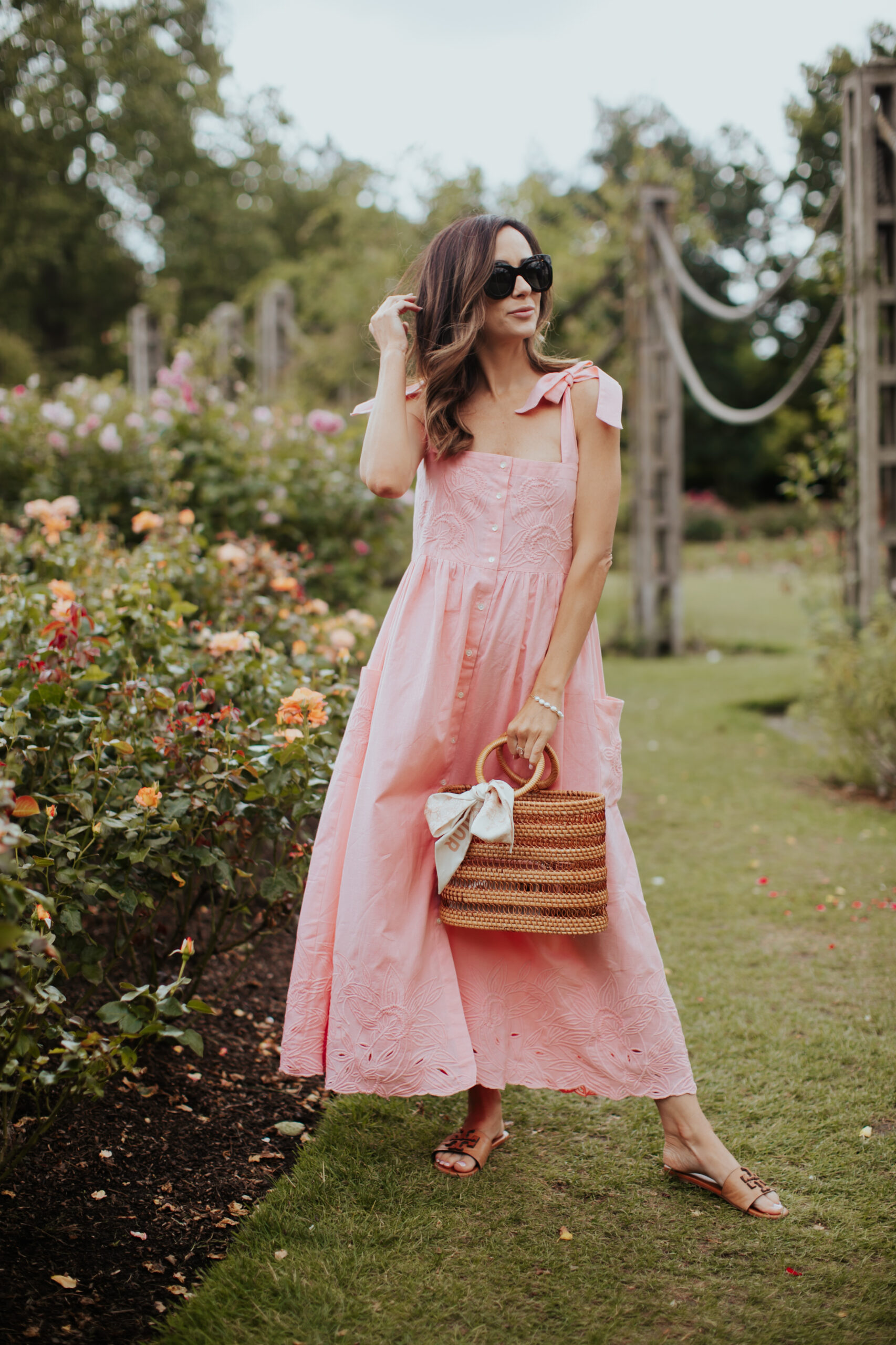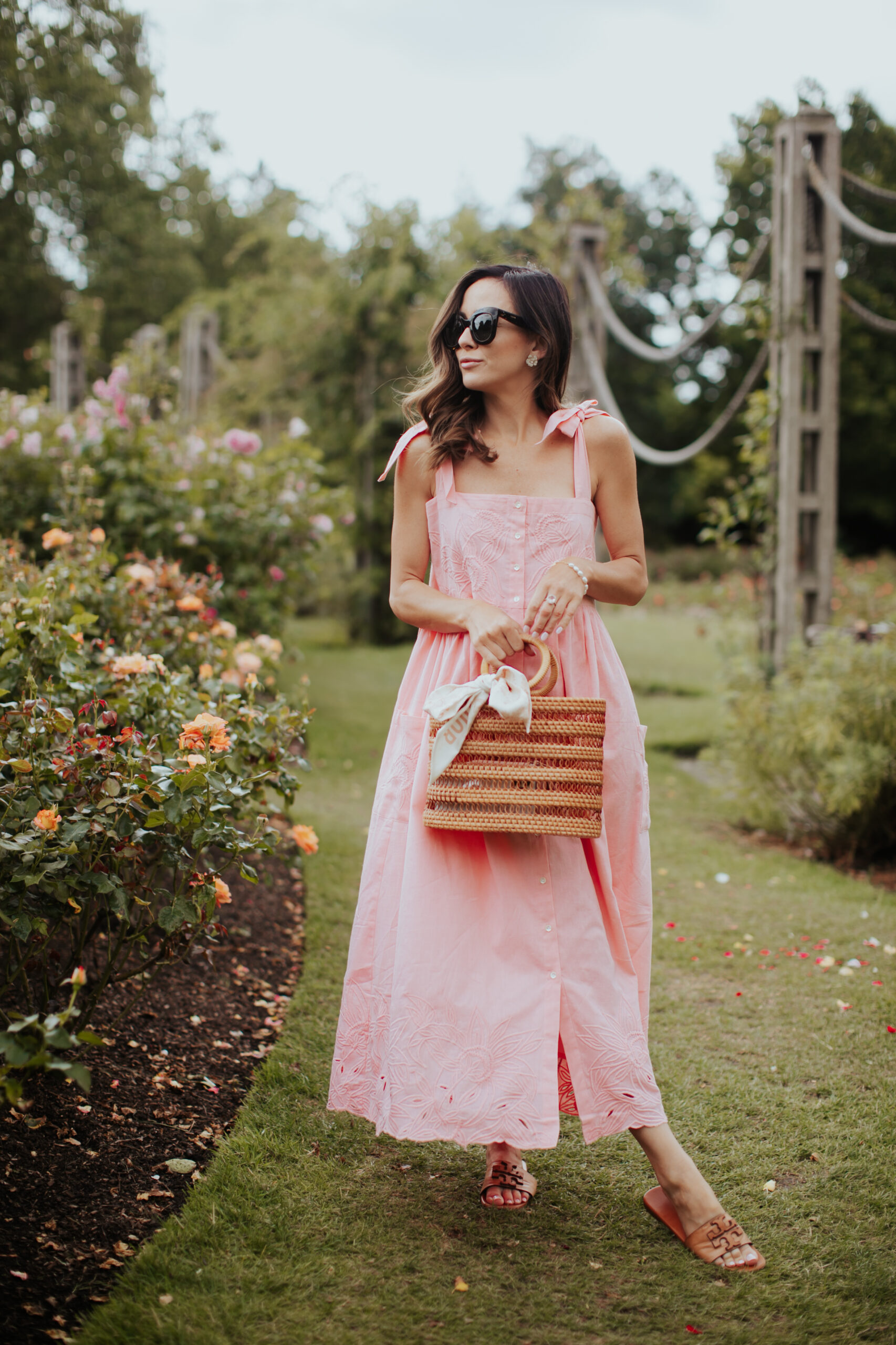 For even more of the summer pieces I have my eye on, see this post!
Do you have a favorite from this round-up of the things I bought and loved this month? Did anything specific catch your eye? Let me know in the comments! xo.