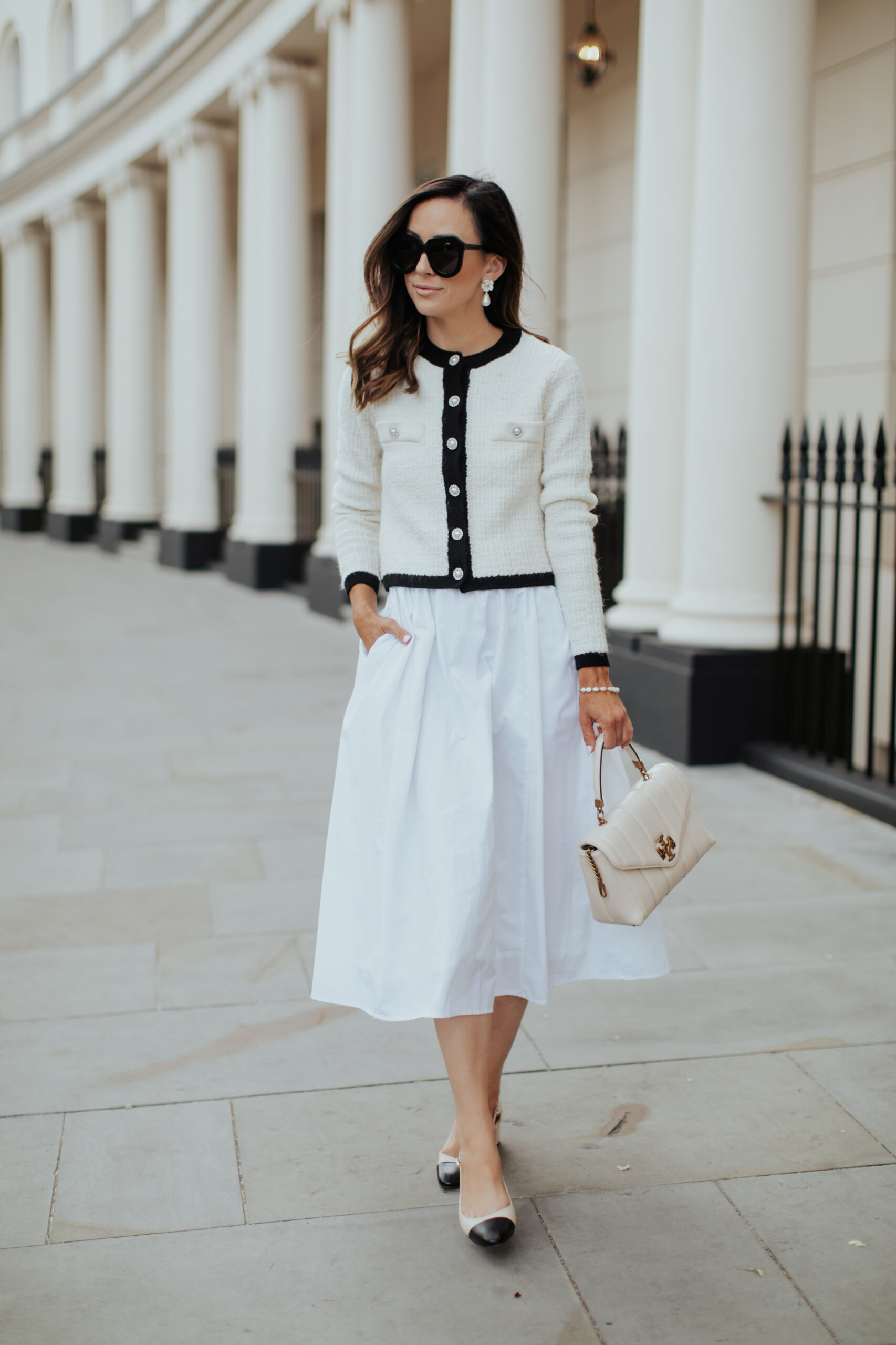 Hi friends! Have you noticed that timeless and classic looks are suddenly back in style? I, for one, have certainly noticed, and it's probably no secret that I am so here for it. Don't mind me bringing out all of my pearl accessories, tweed sweaters, loafers, long skirts, and more! I'll just be here secretly celebrating that my favorite style is reigning as queen once again. If you, too, feel this style is the most 'you', then today's post is going to be a treat!
Today, I'm sharing how to achieve this timeless and classic look in an affordable way. The truth is, this style is typically associated with pieces that are more of an investment for your wardrobe. And it's also no secret that I love a good investment piece that will last for years to come but, this style can still be achieved in a way that doesn't break the bank. So, let's jump in!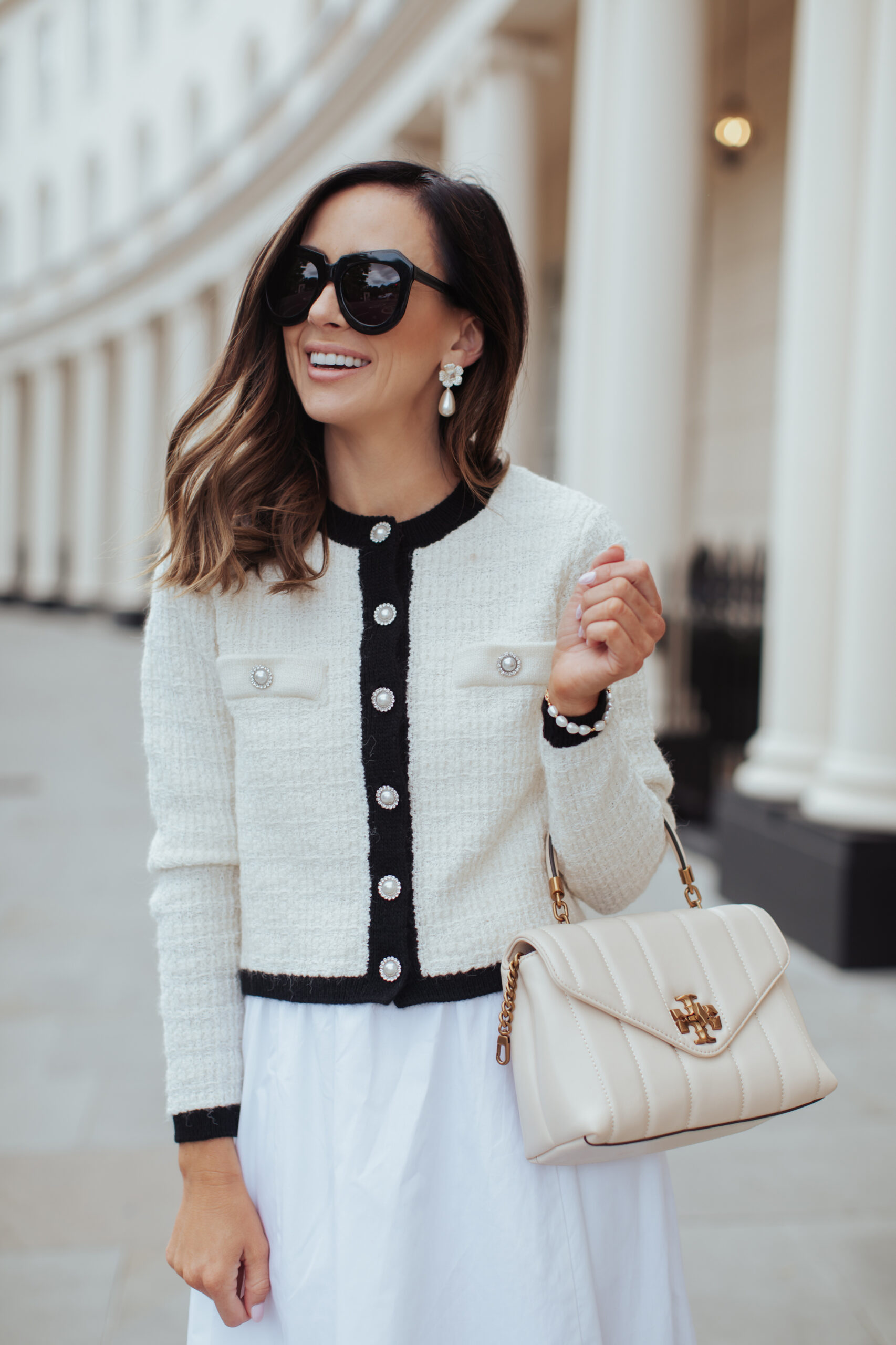 Classic Tweed Cardigan and Midi Dress Outfit
This outfit was so fun to put together, and I can see myself wearing this on several different occasions. This white wide-strap dress is especially a versatile piece that I love to have in my wardrobe. Not only is it a stunning dress to wear throughout the summer, but it's also a great dress for layering, as I've styled it here. To create a classic look, I added this pocket tweed cardigan (UK version) with stunning pearl button details. Although this cardigan has a very high-end look to it, you won't believe how affordable it actually is!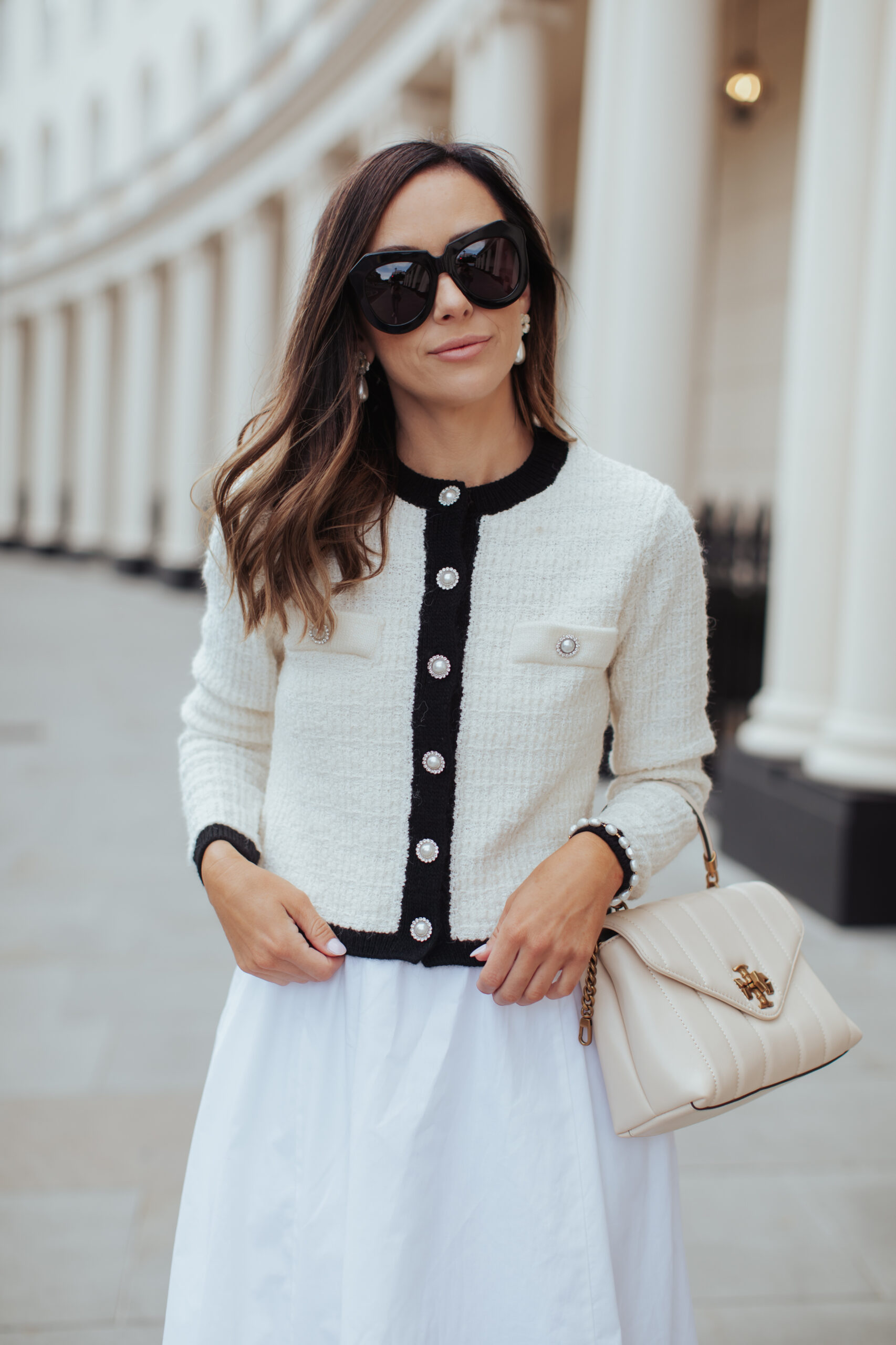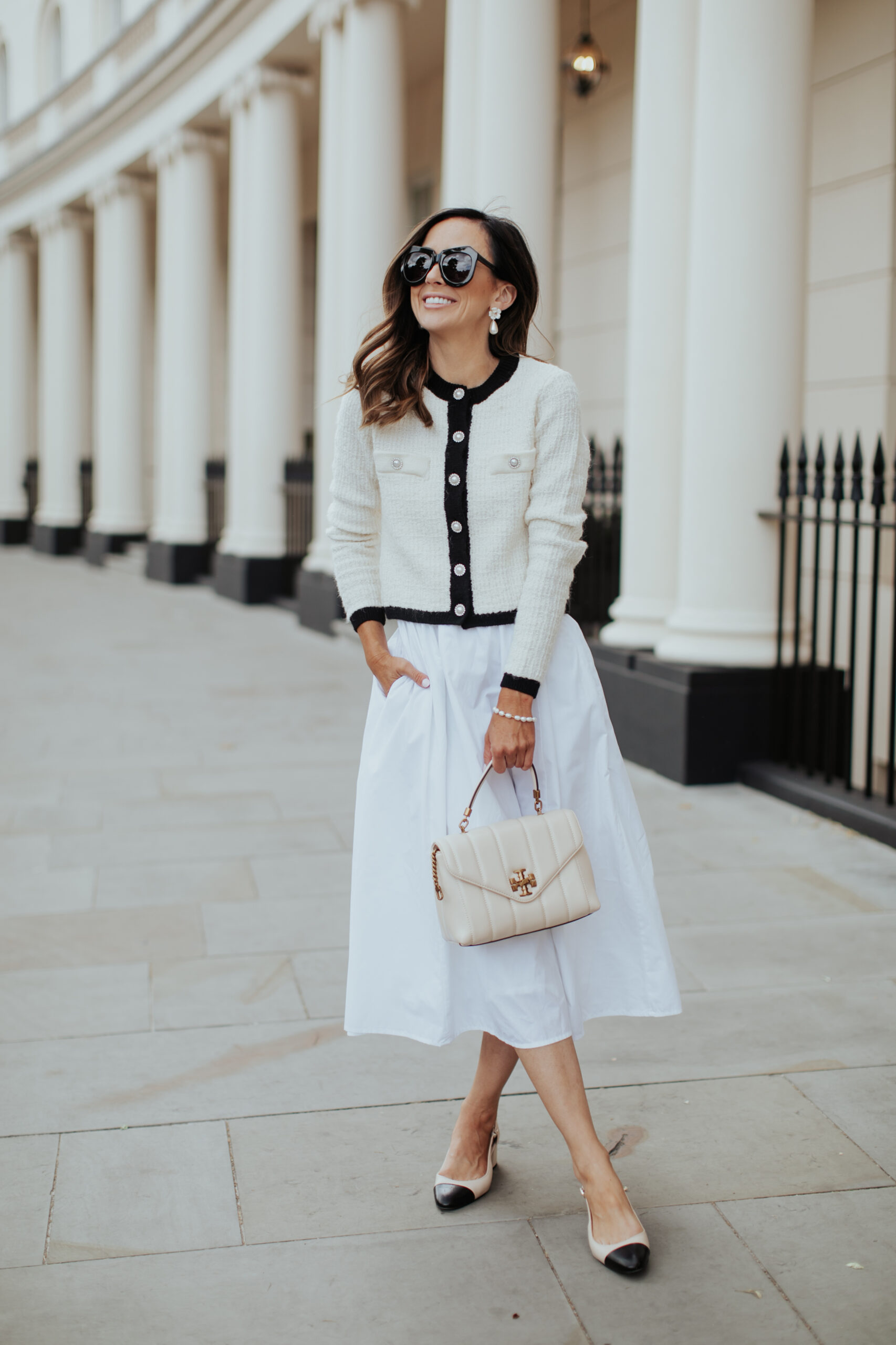 To add to the overall look, I added this pair of Chanel-inspired sling-back heels. These low heels are so comfortable to walk in that they basically have you feeling like you're wearing flats. To complement the touches of black throughout this black and white outfit, I thought this pair of sunglasses added to the classic vibe.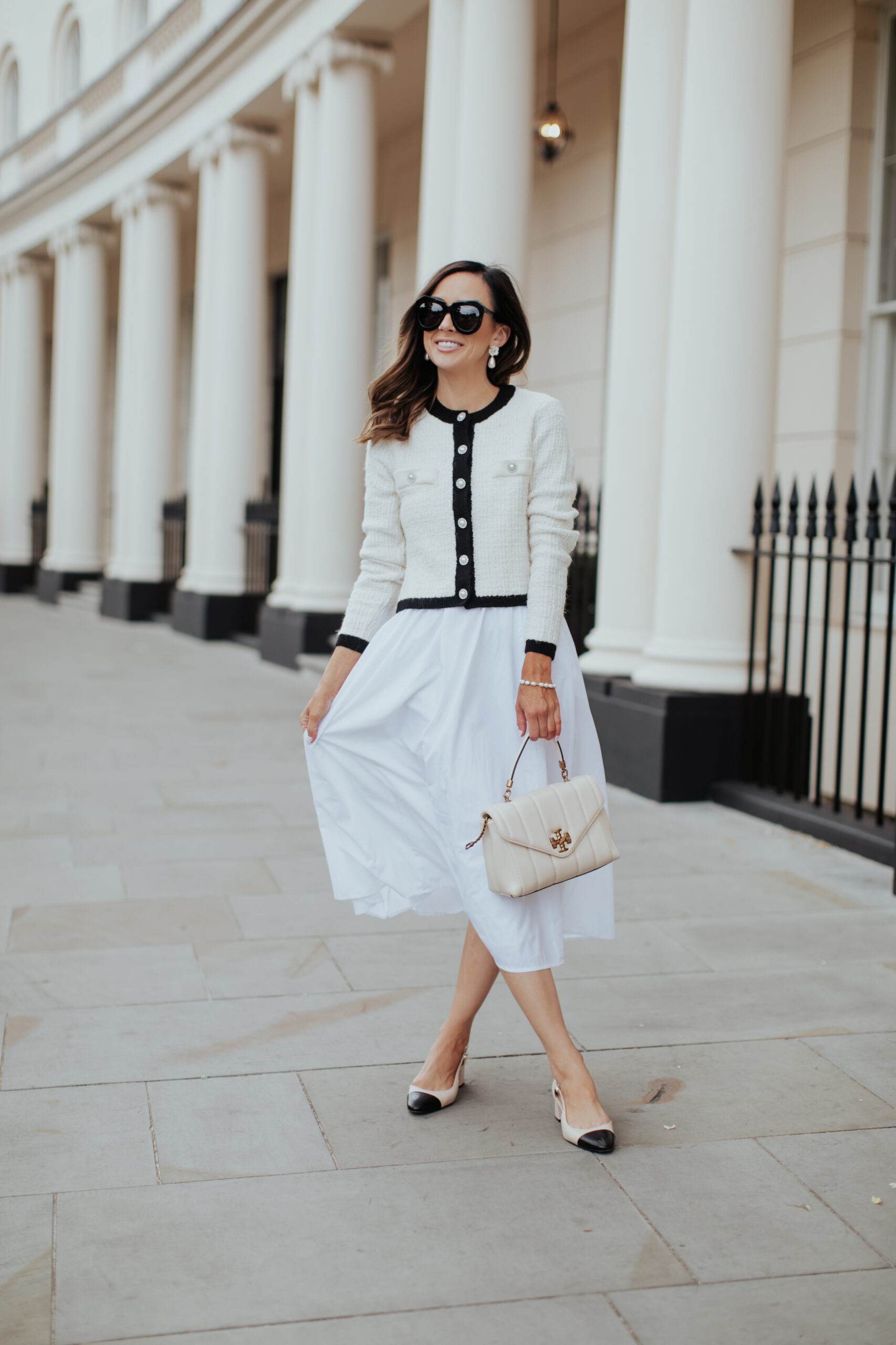 For accessories, I seized the opportunity to add a few pearl elements such as these floral pearl earrings and this pearl beaded bracelet. To tie everything together, I added this quilted leather bag and called it a day!

Affordable Pieces To Achieve a Timeless, Classic Look
When it comes to the timeless and classic look, you'll find that the color scheme tends to be focused on neutrals. The beauty of this is that it's easy to mix and match several affordable pieces to create countless outfits. These pieces can be combined to create outfits for various occasions, such as a day at the office, a night on the town, or a special event to celebrate with friends and family. No matter the occasion, I have a good feeling that you will surely get a lot of bang for your buck on these affordable pieces.
To highlight a few of my favorites, I first want to start with this pair of rectangular sunglasses. Personally, I love that rectangular sunglasses are trending because, to me, this look is so chic. Adding a pair of sunglasses like these can easily elevate your classic look at a low price point.
Striped sweaters such as this mock turtleneck sweater and this lady sweater jacket never typically go out of style, but they are having a moment for the upcoming fall season. The button-up lady jacket, similar to the one I've styled here, is a great piece to have in your closet. It's perfect for layering over tops, dresses, or even just draping over your shoulders when the temperatures start to drop.
Having classic accessories on hand, such as this silk scarf and these pearl earrings is a simple way to elevate any outfit. A lot about dressing in a timeless way is in the accessories, and these two can be styled with several different pieces in your wardrobe year round.
For more on where to snag the best wardrobe essentials, see this post!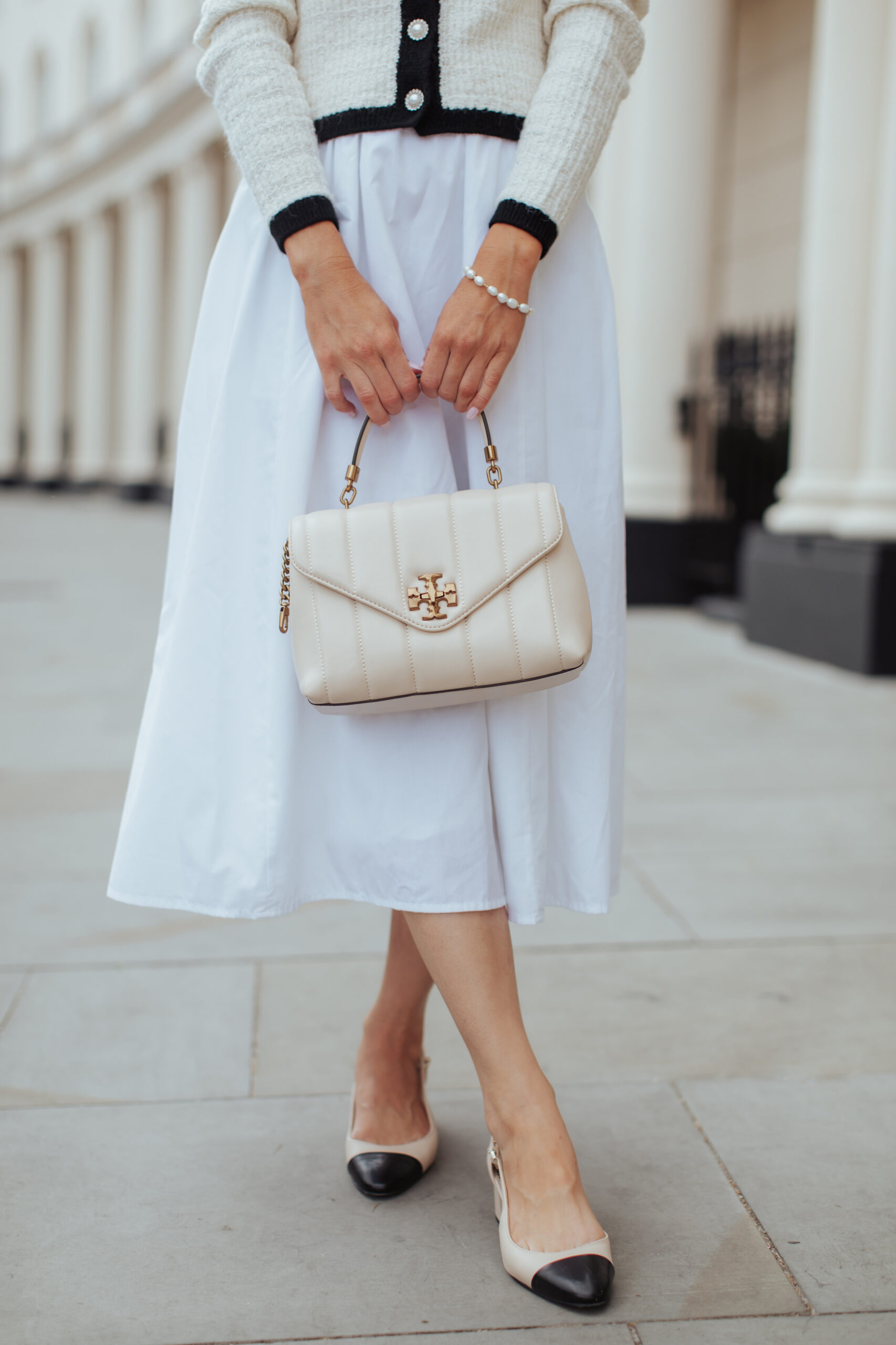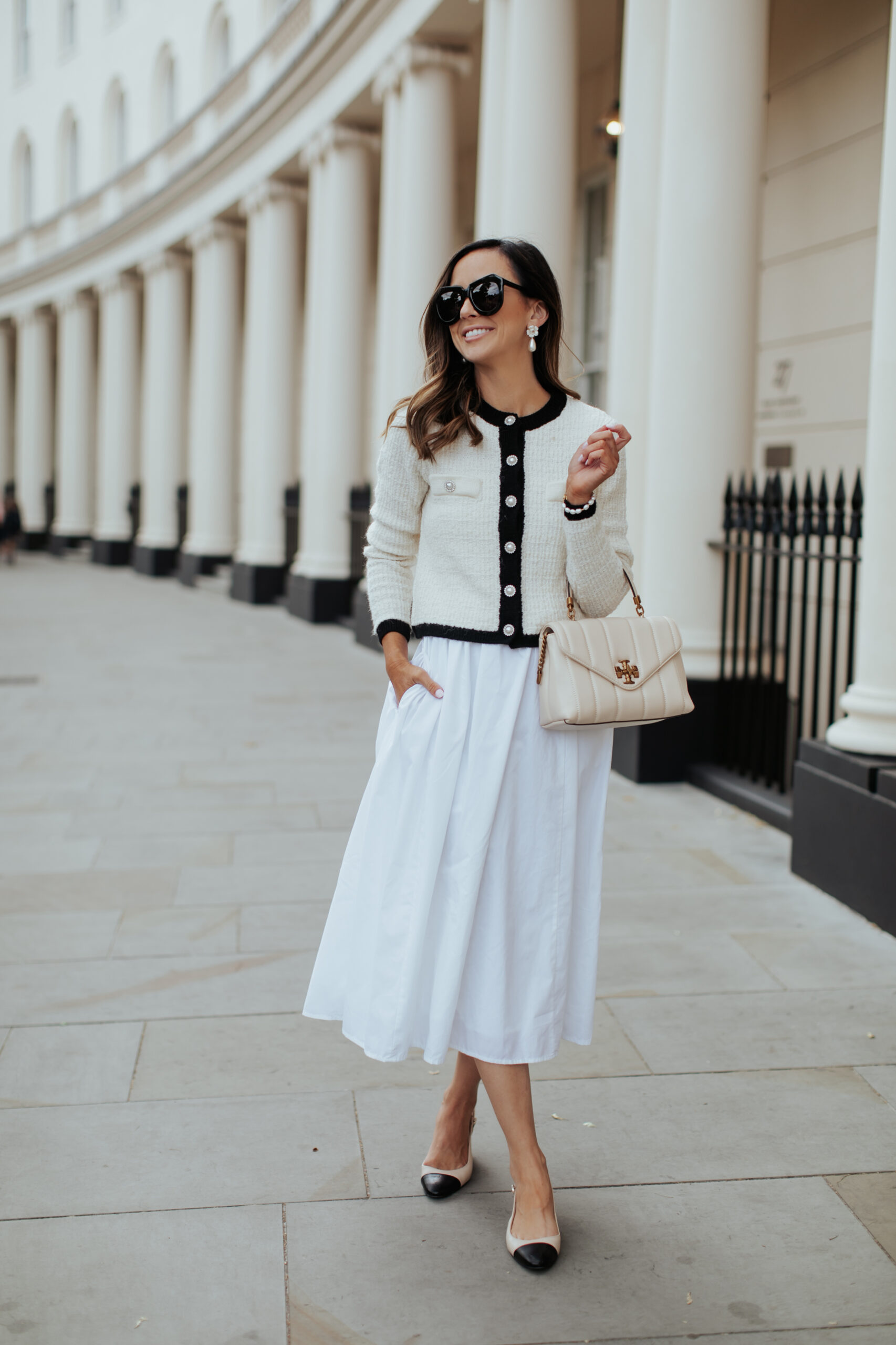 Which affordable piece was your favorite from this round-up? Let me know in the comments! xo.