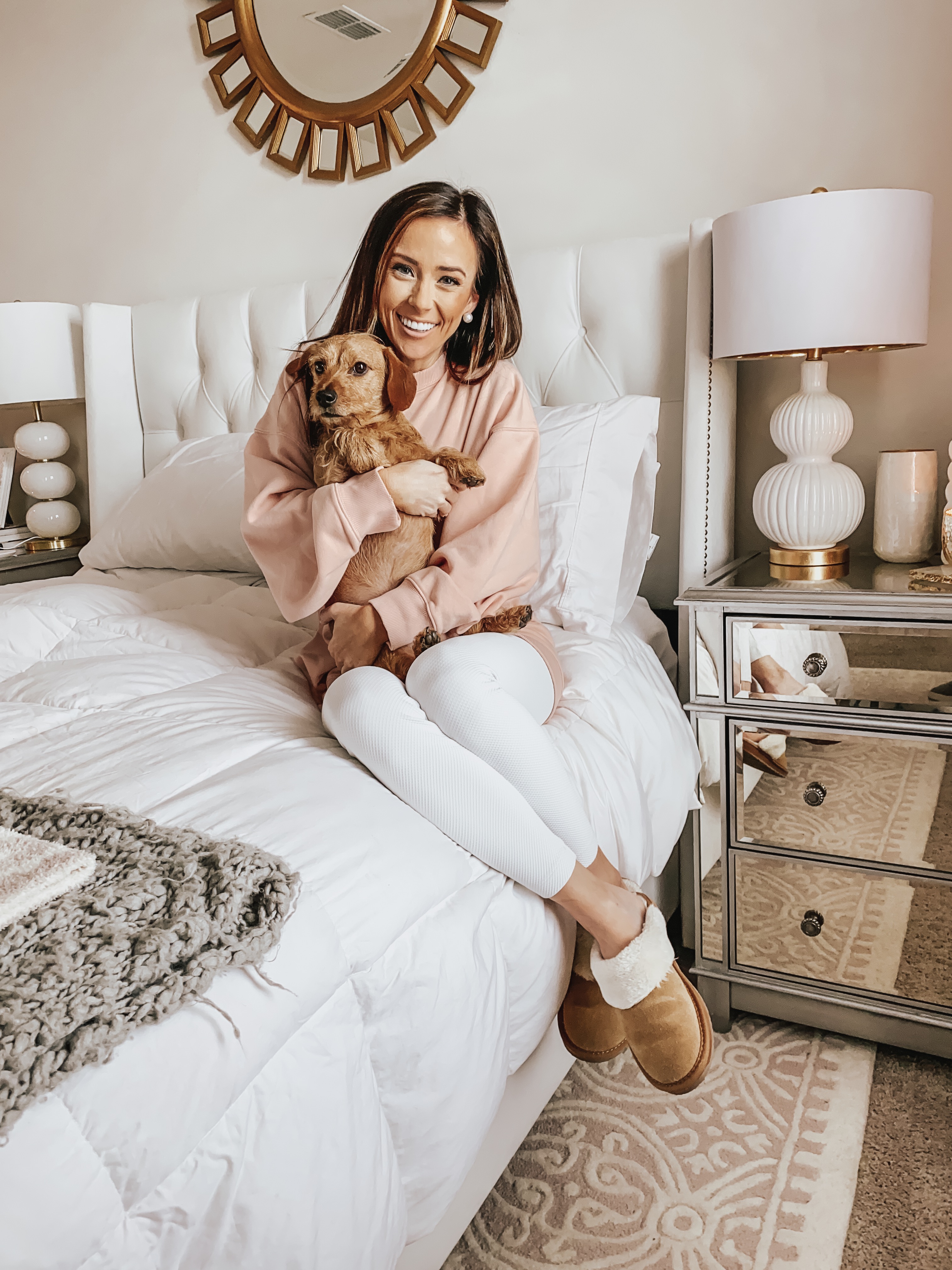 Happy Friday y'all! Time for another Friday Five [January's is HERE if you missed it]! These are one of my favorite posts of the month because they fall on a Friday [obviously] and they're light and fun to write. When I polled y'all about which questions to answer earlier this week, every question had a 'YES' response … which I don't think has ever happened before, ha! Anyways, I picked five for now but I've saved the others to cover in a future Friday Five's, if relevant. Let's get into February's, covering all things skincare, shoes, travel, and more.
5 Holy-Grail Skincare Products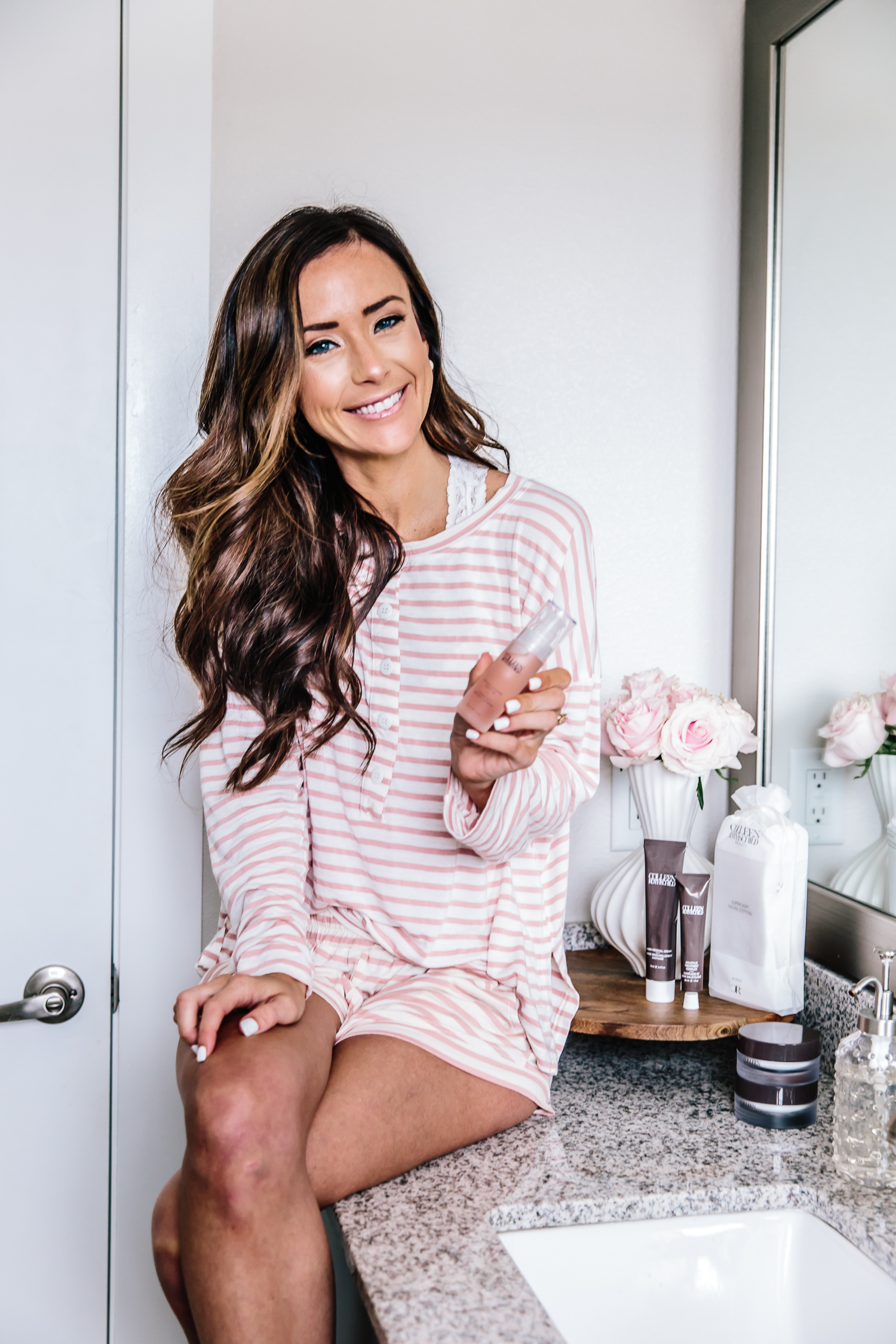 Funny enough, I'm actually in the midst of changing up my entire skincare routine. I wanted to explore some ultra-clean beauty brands this year so there are few of those on this list that I'm loving and stand a strong chance of becoming a holy grail product as well as a couple of long-standing loves of mine! And by the way, if you girls are also interested in clean beauty, the app Think Dirty is a quick and easy way to tell how truly non-toxic [aka clean] something is. I know the branding and marketing can make it impossible to know, so try that app and let me know what you think.
SUMMER FRIDAYS JET LAG MASK: This specific mask is my holy grain skincare product when traveling long distances. I apply it and hyaluronic acid to my skin at the beginning, during, and end of my flights. You can use it as a daily [thick] moisturizer or as an overnight treatment as well. The entire Summer Friday's brand is clean and their branding is just beautiful. I'm eager to try some of their other products soon, so I'll keep you posted there.
COLLEEN ROTHSCHILD CHARCOAL MASK: This mask saves my skin by sucking out all of the disgusting dirt and oil after long travel days, or anytime my skin feels congested, really. It's the ONLY product that I find to reduce the size and appearance of pimples that happen to pop up and the charcoal is fantastic for reducing pore size.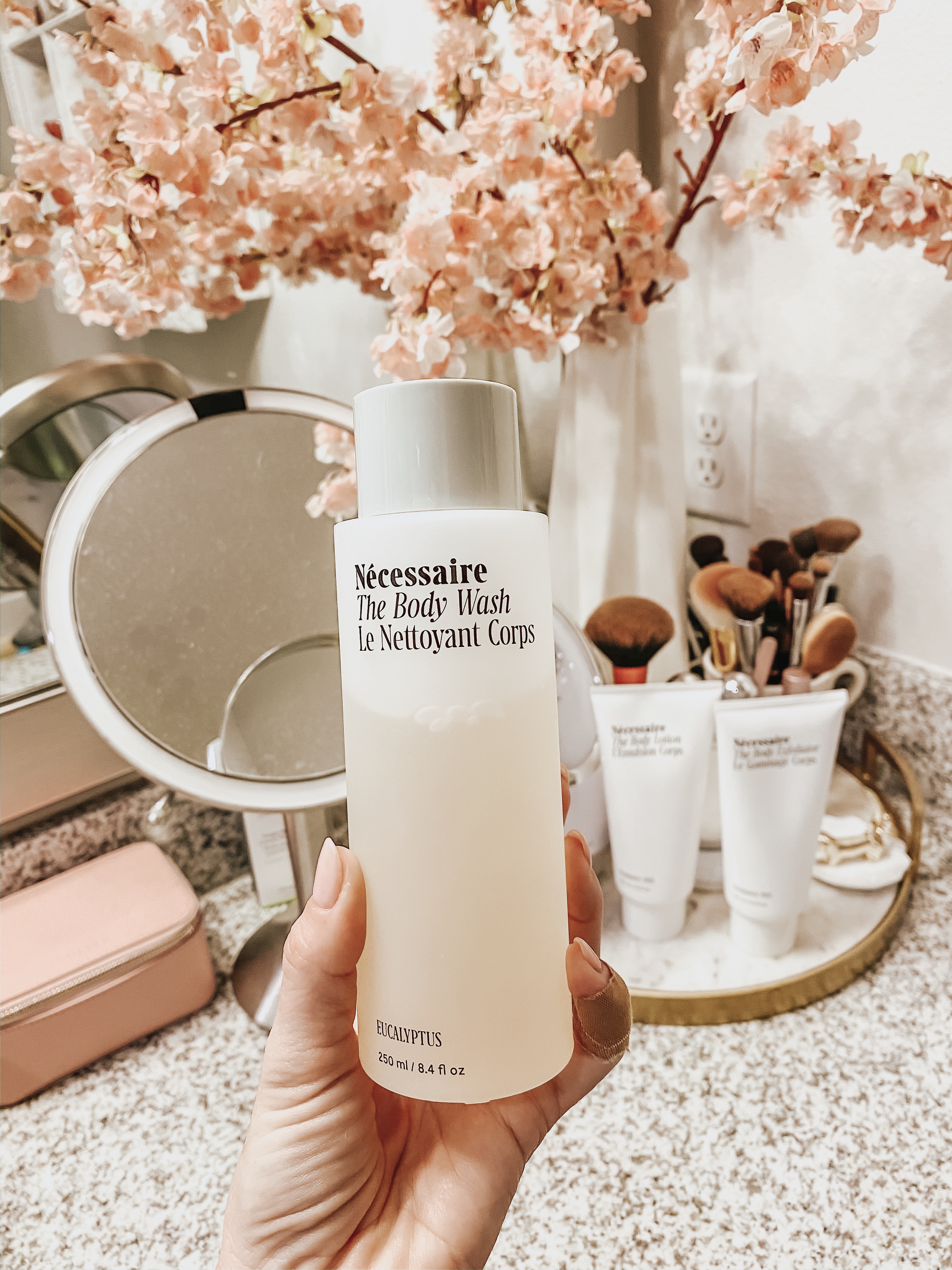 GREEN CLEAN CLEANSING BALM: Ahhhh, this product is my jam. I've made the switch from cleansers to balms when it comes to removing makeup/washing my face, and I don't think I'll ever go back. This balm especially makes the process feel like a spa experience and it beautifully and gently removes the day away. Plus, the balm aspect makes things feel hydrated after, not tight or itchy like so many cleansers. This balm is the first step in my nighttime skincare routine and I honestly look forward to it!
HERBIVORE CBD GLOW OIL: Herbivore is another clean brand I'm experimenting which after hearing such good things [and another clean brand with beautiful aesthetics]. This CBD oil first caught my eye because of its calming properties and it does an amazing job at reducing overall redness. In general, CBD can act as a relaxer, and they've kept those properties in this blend to work similarly on your skin. I actually talk more about it in my January Favorites Video if you want a full review.
NECESSAIRE BODY CARE PRODUCTS: One more super clean & sustainable brand that I just had to try after seeing so many fellow bloggers rave about it. I've been loving the body wash, body lotion, and exfoliator and I talk way more about that here [where I reviewed their products]. Amazing, quality products here, you guys.
5 Things You Pack No Matter Where You're Traveling To
Sometimes I feel like I share what I pack or bring on trips too often, so I'm glad to see y'all are still interested in those types of things. Everything below is pretty basic in terms of usage, but that's why they make the cut and come with me every time. Basics are necessary when traveling … at least for me.
BLACK TRAVEL WALLET: You guys have probably seen this by now because it makes all my travel lists. It's my tried-and-true wallet and the sleek design makes it a breeze to travel with.
COSMETIC BAG: I'm sure you've seen this cosmetic bag at this point! I've shared it with you a ton and it's also been on almost every influencers Instastories at one point or another over the last year, ha! I shared this last year in my January Favorites blog post and have brought it with me on every single trip in 2019.
CASHMERE SOCKS: I have two pairs of these and I wear them around the house all of the time. I always bring a pair with me in my carry-on when I travel because I hate cold feet and it helps me sleep on long flights.
TRUFFLE TOILETRY BAGS: These bags have really held up nicely threw endless trips and I love that you can see right through them. I have the Clarity JetSet Case that I bring with me on flight [for things like a toothbrush, toothpaste, eye mask, face mask, etc.]. It's built for TSA-approval and kind of forces you to travel with small cosmetics which is very helpful when packing for your carry-on. I also have their travel jewelry case which I'm a big fan of.
5 Pairs of Shoes Every Girl Needs
You guys know my weakness for shoes! I mean, the Spring Shoe Review has been an annual post around here for years now. And, you know it's Spring shoes that are really my absolute favorite. So, I've been doing some perusing through my favorite online retailers and, I must say, there are some INTERESTING trends this Spring, like square toes [seen here and here], flared heels and kitten-heeled wedges [these snakeskin ones are adorable for Spring]. But if I had to focus on five pairs that every girl needs, I'd obviously go with picks that are a bit more classic, like…
NEUTRAL WEDGE: Depending on if you're the type of gal who likes a little height on a normal basis, this pair can be worn daily [super supportive and comfortable]. They're not too dressy or anything, so they work well with anything from jeans to a cute Summer dress or something for a casual wedding or event.
GLADIATOR SANDAL: Narrowing my pick down to one flat sandal was HARD but I'd go with this style. They can be edgy or clean-cut depending on your style but I feel like the gladiator sandal is so perfect for all of your Summer outfits!
BOOTIE: You knew I wouldn't be forgetting a bootie; they're probably my favorite shoe to wear, in general. This pair, in particular, has been one of my favorites I've ever worn, and y'all seem to agree. They made my Top Sellers of 2019 and I continued to style mine quite a bit before leaving them abroad at John's in December. You can't go wrong with a block heel and mid-height like this pair provides. I also think a pointed-toe heeled bootie is classic for a sassy date night or night out with the gals!
OVER-THE-KNEE BOOT: Some might argue that this style isn't essential, but I'd disagree. Think of these as the 'fun' pick on the list, and what I rely on to spice any outfit up. They're my date night go-to and I also adore them paired down with a cute skirt and sweater come Fall.
ANKLE STRAP HEELED SANDAL: I was actually just thinking about how this specific style has been around for years now, and it doesn't seem like anyone is sick of it yet. It remains my choice for dressing up any outfit from about April-November and they're such a flattering, feminine sandal. Sadly, I recently had to say goodbye [against my will – thanks Chips] to my forever loved Steve Madden 'Stecy' sandal, which has been styled in COUNTLESS blog posts [seen here, here, here, here, here, you get the picture]. So, being that I identify with this style of sandal, I knew it wouldn't be long before one of my outfits required them again so, I ended up going with this pair. I have such a love for Schutz shoes and I know that these will be in my collection for years to come … as long as I keep them away from Chips [which, to be fair, it took him THREE years to get a hold of the Stecy's!].
Here's a peek at a few of the Spring shoes that I've either snagged for myself [I am weak, what can I say?] or think are adorable but I don't personally need!

5 Products You Still Use & Love 5 Years Later
Such a fun question and it really got me thinking! I looked around my room and closet for a while and came to the conclusion that I needed to include both fashion and beauty items to truly answer this question correctly. If y'all were looking for solely one type of product, let me know in the comments and I'll respond accordingly.
TORY BURCH MILLER SANDALS: It's not often that I'll wear a fashion item for half a decade [though I have some bags I've had for even longer] but these sandals will be with me forever. Okay, maybe not forever, but I haven't had any urge to get rid of them and still wear them regularly in the Spring, Summer, and early Fall. The quality has stood up incredibly well.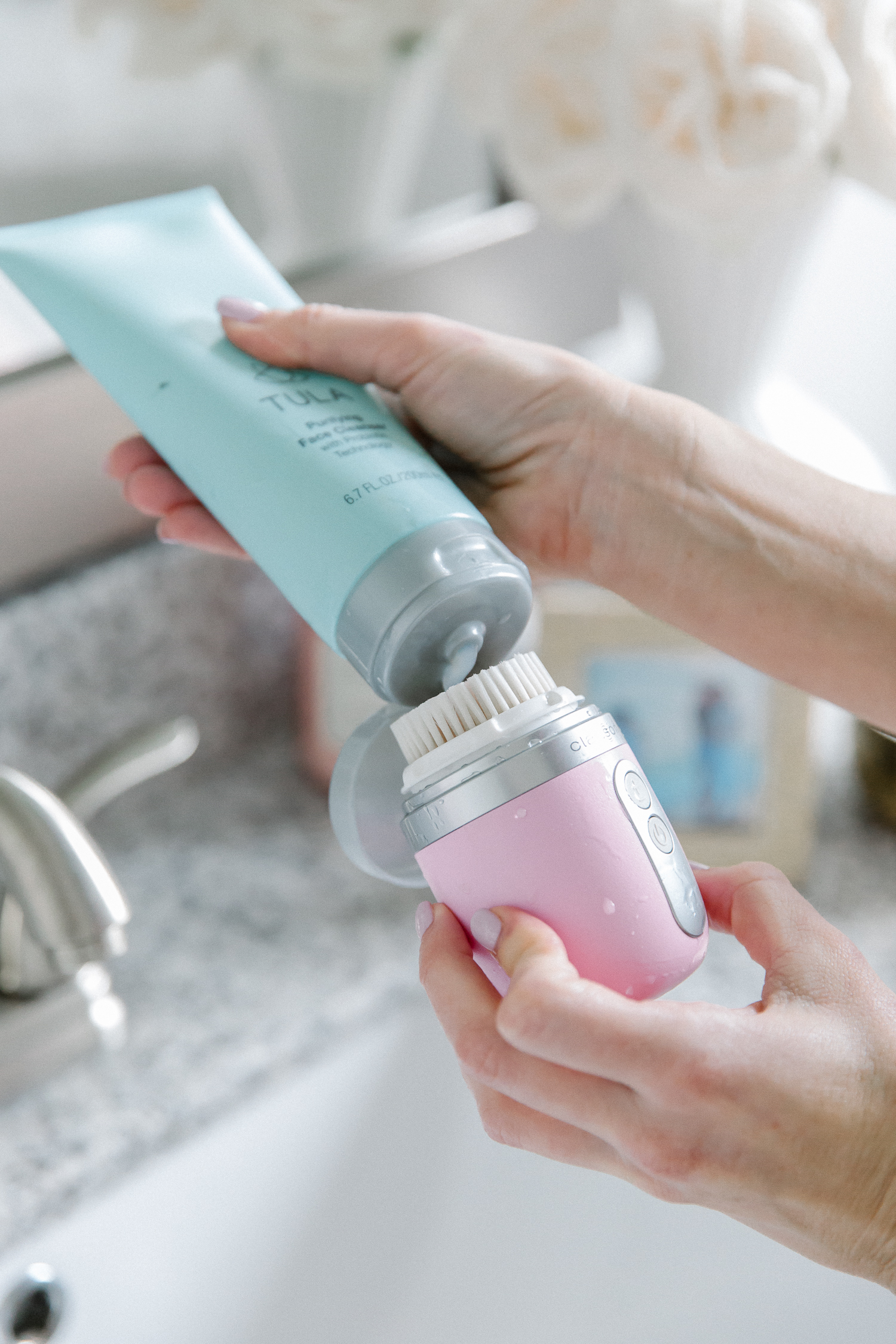 TULA PURIFYING FACIAL CLEANSER: As I mentioned above, I'm currently really loving balm cleansers, though this Facial Cleanser will always have room in my bathroom. If you're more of a cleanser type of girl, I can't recommend this gentle option more.
AVEDA AIR CONTROL HAIR SPRAY: I feel like most women have their holy-grail hairspray and this is mine. It's light-weight but holds hair in place well, and it isn't sticky like SO many on the market. I'm a sucker for the smell, too.
VERSACE BRIGHT CRYSTAL PERFUME: Unless you're new around here, you probably know that I'm very sensitive to perfumes. Most options on the market give me instant headaches so I've always had to be choosey about what I go with. Versace's blend has been a long-standing favorite and I can't see that changing [though John did get me a new scent for Christmas that I'm equally as in love with. You can read about that here.]
JACK BLACK INTENSE THERAPY LIP BALM: Even in Florida, I like to have a thick balm on hand since my lips do tend to dry out easily. And when I'm traveling or in London, I reach for it even more. This version has SPF 25 and is affordable.
5 Favorite Travel Resources
Y'all know I've got you with this question! In fact, I have an entire blog post dedicated to travel apps if you're wanting more coverage. As for 5 favorites though…
SKYSCANNER: This is the best website for finding great flight paths across a lot of different airlines [major and budget]. For best results, loosen up your timeline and pick the month you want to travel to find the best flight prices for that time of the year.
ROME2RIO: Planning your own trip and wanting to go to multiple places? This website is the best tool to figure out the most time-efficient and cost-effective route to do so! I've used it on countless trips and it has always been so helpful!
[my favorite travel app's post]
CITYMAPPER: This app is available in most large cities and is a much better navigational tool than Google Maps, in my experience. A great resource for getting around and making the most of your days away.
LOCALS: Of course, you should always be careful when mingling abroad but, I believe there are so many warm and friendly locals around the world that are happy to welcome you into their culture and give you a good tip or two on where to go! Engage in some friendly conversation and ask for a recommendation and see where it leads you! If you're not sure where to start, I usually find hotel or café staff to be full of wisdom and friendly!
MY BFF, WHITNEY: Whit is a travel planner and innately good at problem-solving and finding great deals. She's been to many destinations across Europe, Canada, and North & South America and would be happy to help you plan your next great adventure! She can plan whole trips or just assist in finding the best deals or just a half hour question and answer sesh to get your planning off on the right foot … literally, anything you need, Whit will be happy to help you. And this isn't sponsored lol … I have just been on countless trips with her and know she's good at what she does. She planned my birthday trip to Cartagena last year and we literally had the BEST time and did SO much! It was the best gift ever!
Alright friends, that wraps up this Friday Five. I hope y'all gained some good insight and learned a new tip [or product] or two! Feel free to leave questions about anything I shared today in the comments and I'll get to it just as soon as possible. Thanks, as always, for stopping by and I'm sending you all the relaxing and happy vibes for this long weekend! xo.