Hey friends, I'm back with my Instagram roundup series today where I share some of y'all's favorite IG posts from throughout the month, especially those that feature any items on sale or back in stock! Lots of maternity and Louie baby belly pics in March and I won't lie, it's making me emotional seeing my belly and then looking down at Louie, hah! Is this what postpartum hormones are like?! Kind of missing my belly but also SO grateful he's finally here! So crazy! Anyway, here's a look back at IG throughout March with lots of call-outs on some great pieces!


Ah, still so in love with this dress and can't wait to wear it post-bump too! It's from Petal & Pup – a favorite boutique of mine and is only $50. Pregnant or not, you absolutely cannot go wrong!


I really hope my post all about leggings that got me through pregnancy was helpful for any mommas-to-be out there. It really can be a serious struggle to sift through all the different brands so hopefully, my research [lol] made it a bit easier for you. I tried some really great pairs, but honestly, if in doubt, just get this pair.


So grateful I got to take some maternity photos in this stunning dress. It also comes in a gorgeous light pink if you're having a girl or just prefer that color.


This is the photo I shared for my birthday this year, even though it's from a previous year because let me tell you, I definitely wasn't jumping on any beds in late February, lol. Wanted to share it though because I linked these pink pajamas [along with some other cutie items] that I think you girls will love.


This is the jumpsuit that just keeps on giving! I wore both the grey and oatmeal colors to death in the last month of my pregnancy, then it went out of stock, and now, it's back in those colors AND two more! I think I need them, lol. It's not maternity just incredibly comfortable and breastfeeding friendly!
Love this sweet, sweet photo from my maternity shoot and I so appreciate all the love you girls left me on it on IG. This was at 37 weeks and I had no idea I was in for an additional FIVE weeks after this. Crazy to look back to but so thankful to have this photo.


Man, this seems like yesterday and a hundred years ago at the same time, ha. If you need baby book recommendations, here is a list of the ones John and I read leading up to Louie's arrival.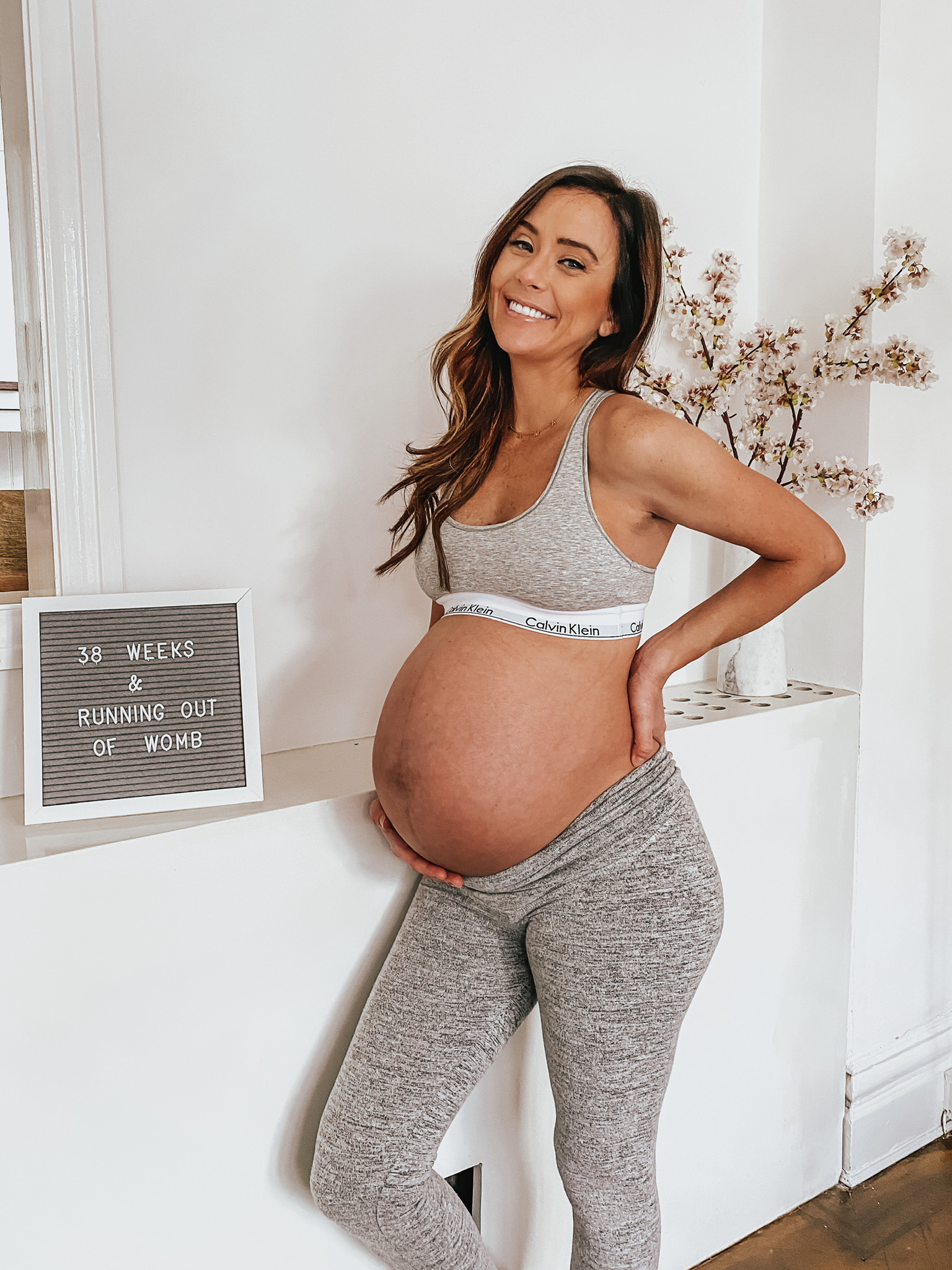 I have to laugh a bit looking back at this photo because I thought I was about to pop lol but nope, still had four full weeks to go. And if you're wondering about the undergarments that got me through pregnancy I linked a bunch of my go-to's above and also in this post.


Here's that jumpsuit again, hah! I also shared everything I packed in my hospital bag in this post, which you can read here.
ONE YEAR. This photo marked one year since I *finally* got my UK visa, and boy what a year it was. It's definitely not what I thought my first full year as a visa-holder would look like, but I've never been more convinced I'm exactly where I'm supposed to be.


Deciding on a car seat and stroller was a huge decision and after months [literally MONTHS] of doing research and weighing the different options, this is what we finally landed on. For more insight on our decision, read this post where I break down the pros and cons [for us] on a handful of different brands.


Have I mentioned that I lived in this jumpsuit at the end of my pregnancy? Lol. Was playing the waiting game when I shared this photo and boy oh boy was it worth the endless cups of raspberry leaf tea and hours spent wondering when Louie would finally come.
Our Charlie Crane bassinet was the final necessary item to arrive the week of Louie's due date. We love it so far and it's the perfect size for our needs and space.


Ugh, who remembers what traveling felt like? It's a distant memory for me at this point after more than a year without flying anywhere. Fingers crossed for a sunny beach and a good family vaca this year!


Flowy white dresses are my love language, hah! Not sure I'll be out and about in any anytime soon, but I did round up ones I'm eyeing for you girls right here.


The last little bit of preparation for baby Louie while we waited for him to let us know he was ready. As tough as the last two weeks of pregnancy were, I'm so grateful to have had the extra time to prepare all the little things like my nursing cart and all the little odds and ends for him.
And that wraps up March! Thanks so much for stopping by today and I hope everyone has a fantastic week! xo.