Happy Monday! I can't believe March is coming to an end and we're officially onto Spring! I actually shared Spring trends I'm eyeing last week if you missed it – you can read it here. March's top 10 is definitely reflective of the change in season too between the sandals, the Nap dress and one of my favorite jumpsuits. Lots of goodies this month!
I also just want to give all you ladies a huge thank you for all the support this month. My life is so full right now and part of that is because of all the love and well wishes from this community! Thank you! I can't wait to share more about baby Louie and my new life as a momma!
Your 10 Monthly Favorites For March
I love that you girls love this necklace as much as me. It's such an elegant necklace and perfect for layering if you like to wear multiple necklaces.
These leggings were amazing to have throughout pregnancy, truly, especially the last month. I shared all the leggings I wore throughout pregnancy here, but I can't recommend the Aligns enough.
This jumpsuit is so perfect for spring layered with a jean jacket and then right into summer minus the layers. It's casual and comfortable but will make you feel a bit more put together.
I'm not surprised these Nike sneakers made it into the top 10 for the month because not only are they cute but SO comfortable. They became my go-to walking shoes the last few months.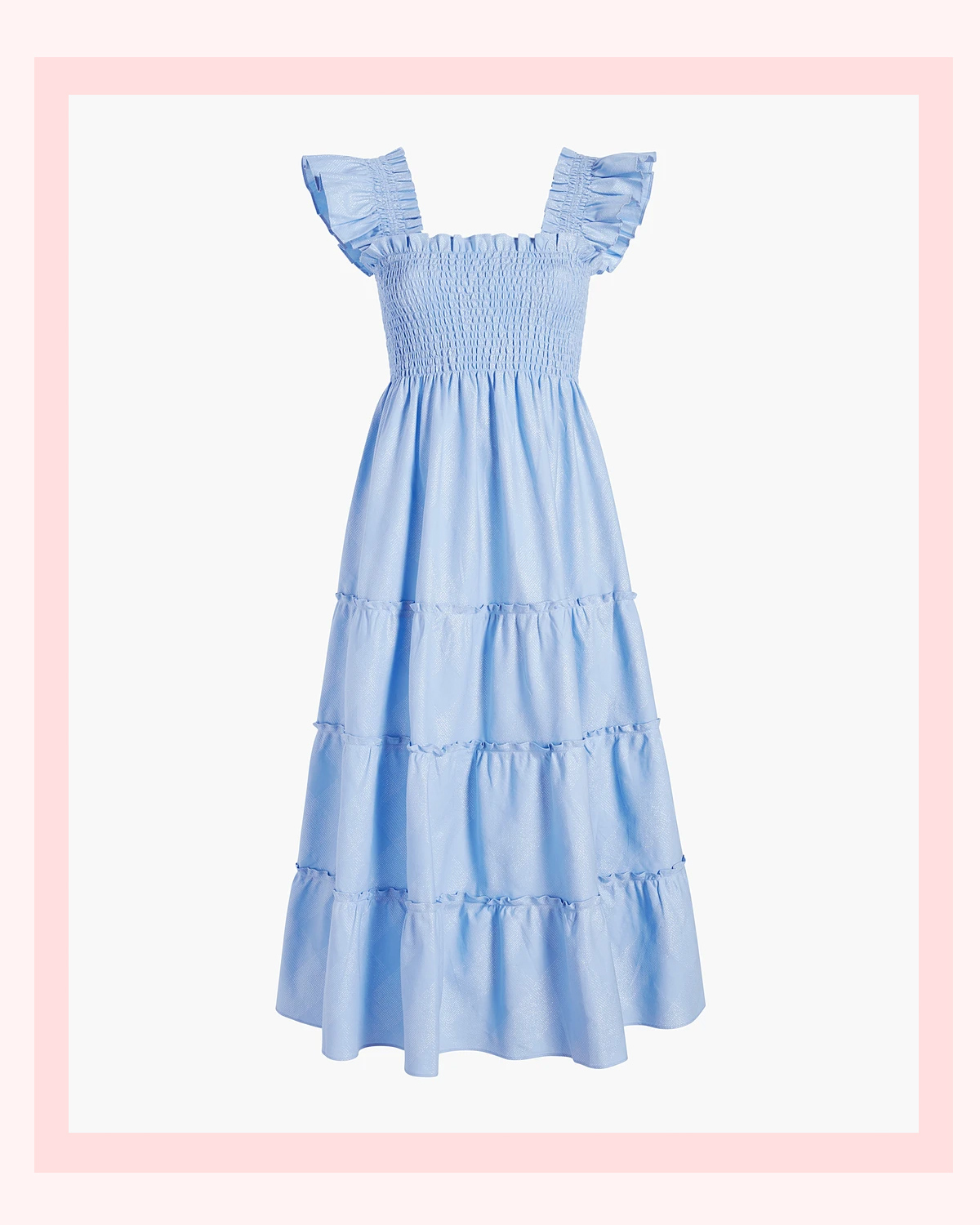 Ah, the Nap dress. This dress is all over the internet and is bound to be the "it" dress for summer. I don't personally have one [yet], but I've heard the quality is above and beyond. It also comes in white so you girls know I'm eyeing that.
You girls never disappoint on the Golden Goose sneaker front – you love them month after month and I do too! Seems like there's been lots of talk about whether or not they're still "cool" and I say yes!
I shared these in a sandal roundup a few weeks back and you girls went crazy for them! They were everywhere last summer and I think we'll also see quite a bit of them this year and in years to come as well. I'd snag a pair while you can because they will definitely sell out!
This dress is the epitome of Spring dresses with its feminine silhouette and floral pattern – so stunning!!
Studded sandals are my favorite and this pair is a classic. If you snagged a pair, you will have them for years! Highly recommend!
Ahh, this jumpsuit literally saved me the last month of my pregnancy! Very few things fit and if they did, they weren't very comfortable. And the best part is it's not maternity, just really stretchy and comfy so I plan to get quite a bit more use out of the two that I have. It's newly back in stock and available in four colors now!
My Personal Monthly Favorites
I only have five favorites from March because, well, I ran a little short on time this last week, lol. Plus I think it's safe to say that my favorite thing right now is Louie, hah!
• New Frame TV Background From Etsy – One of my favorite things about the Frame TV [and one of the main reasons we bought one] is because of its ability to look like art instead of a TV and this background I found on Etsy is simply stunning!

• Karrie Locher's New Mom & Breastfeeding Classes [10% off with code HALEY10] – I'm only a week into motherhood but my milk is in and can confirm I'm very thankful I took Karrie's courses. I definitely recommend them!
• Solly Baby Wraps, Sleepers, Hats & Swaddles – This brand is amazing and such high quality! We haven't used our items a ton yet but I can't wait to use the wrap and wear Louie around the house and on walks.

• Feel-Good Movies – In the last few days of my pregnancy, I spent a lot of time watching ALL the feel-good movies. It was recommended by my midwife as movies like that can help to stimulate oxytocin production, which is responsible for uterine contractions during labor. Here's a quick list of the movies I watched…
P.S. I Love You
Hope Floats
About Time
Stepmom
The Notebook
Steel Magnolias
• 'Nothing Fits But' – If you're a momma-to-be struggling to find pretty dresses to wear throughout your pregnancy you have to check out this brand. They came to the rescue in the last few weeks of my pregnancy and gifted me some gorgeous dresses that made me feel human again.
Thanks again for all the support this month as I continue to navigate all the change and newness in my life. I hope you enjoy these top 10 roundups as a way to cap off the month. You ladies are the best and I'm incredibly grateful for you! xo.