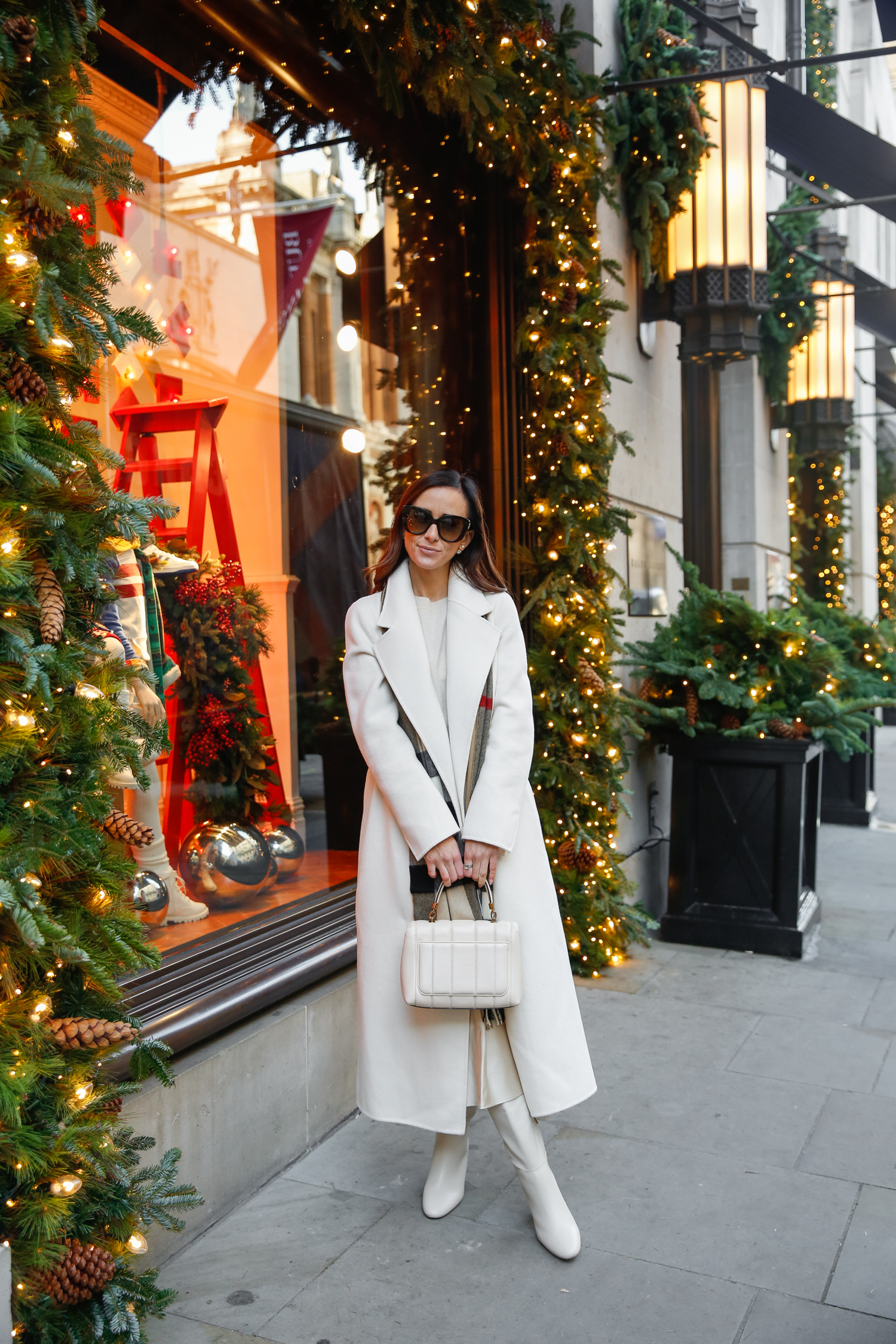 Hello, loves! Can you believe it's already almost Christmas? As we approach the long awaited holiday, today I'm excited to share a Christmas Day outfit idea with you.
Now, I know that the idea of a "Christmas Day outfit" can mean so many different things to different people. It all depends on how you celebrate, right? Your traditions might lead you to live in your comfies throughout the day or you might be headed out to a Christmas dinner with family and friends. I can totally empathize that this might not be 'your style' but f you're on the hunt for even more ideas, I've got you covered in my previous blog, 25+ Outfits to Wear in December. However, if your Christmas Day style is a little more elevated, this look might be helpful to you!
Let's dive into the details!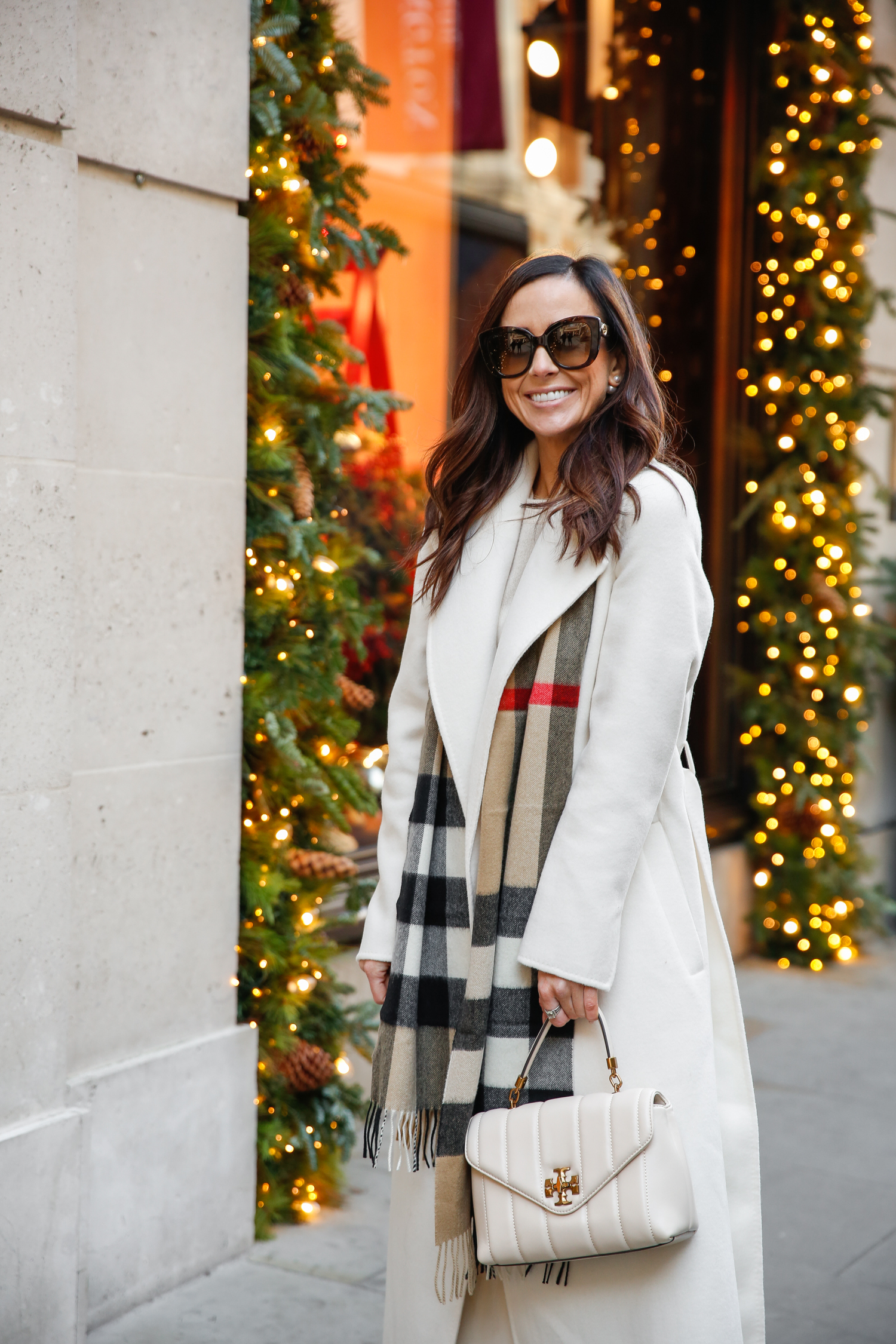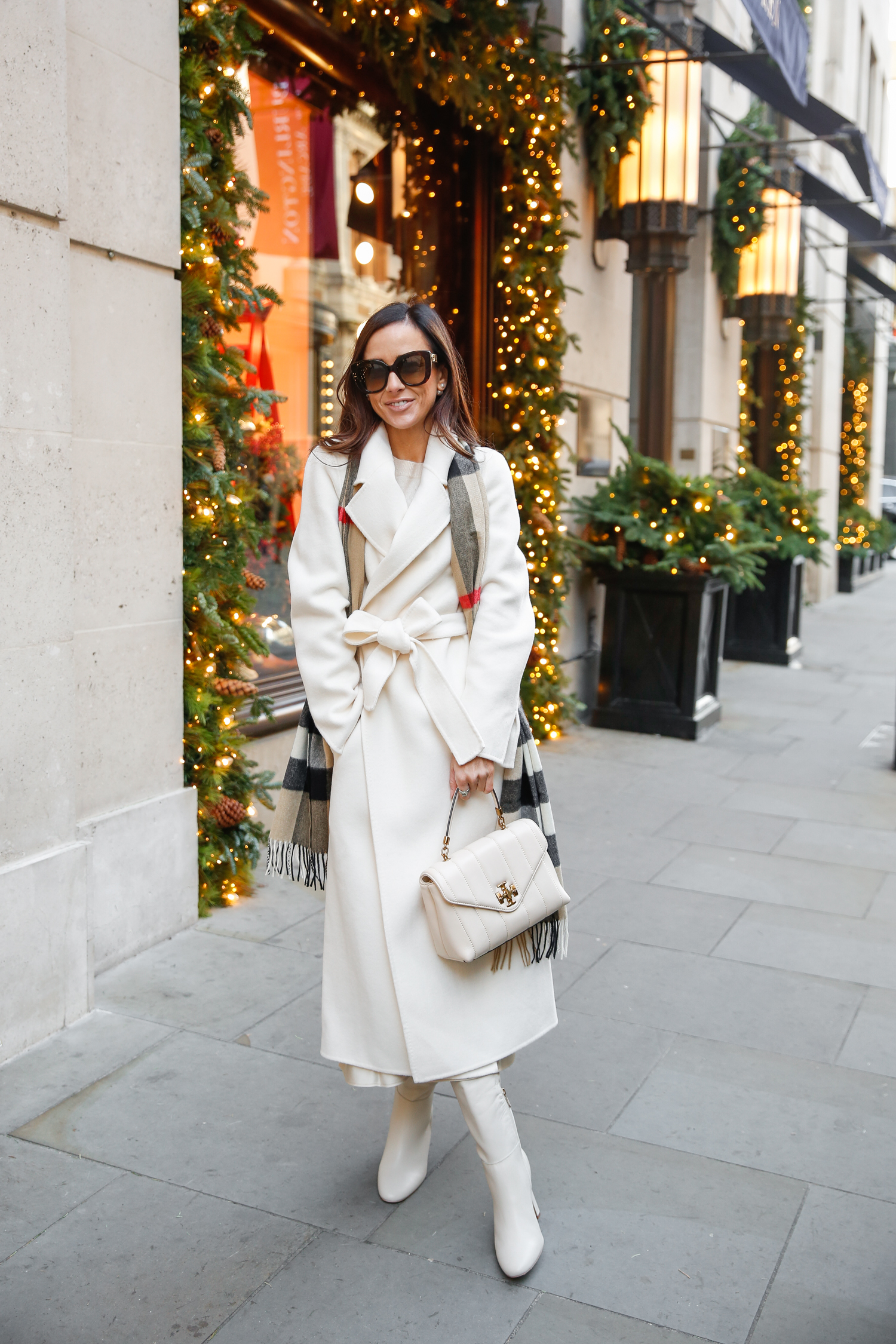 Belted Coat
A belted coat is one of my favorite styles for winter, and this one has beautiful quality to it. The stitching reminds me of Max Mara!
Wrap coats like this one are a versatile piece because depending on what you pair with the coat underneath, you have options. For example, you can leave the belt untied if you have on something like a chunky knit sweater, or you can tie up the belt to go with a more fitted outfit. In my opinion, they add a sophisticated silhouette to any outfit.
I noticed that this exact coat was sold out, so here's a similar style that I love!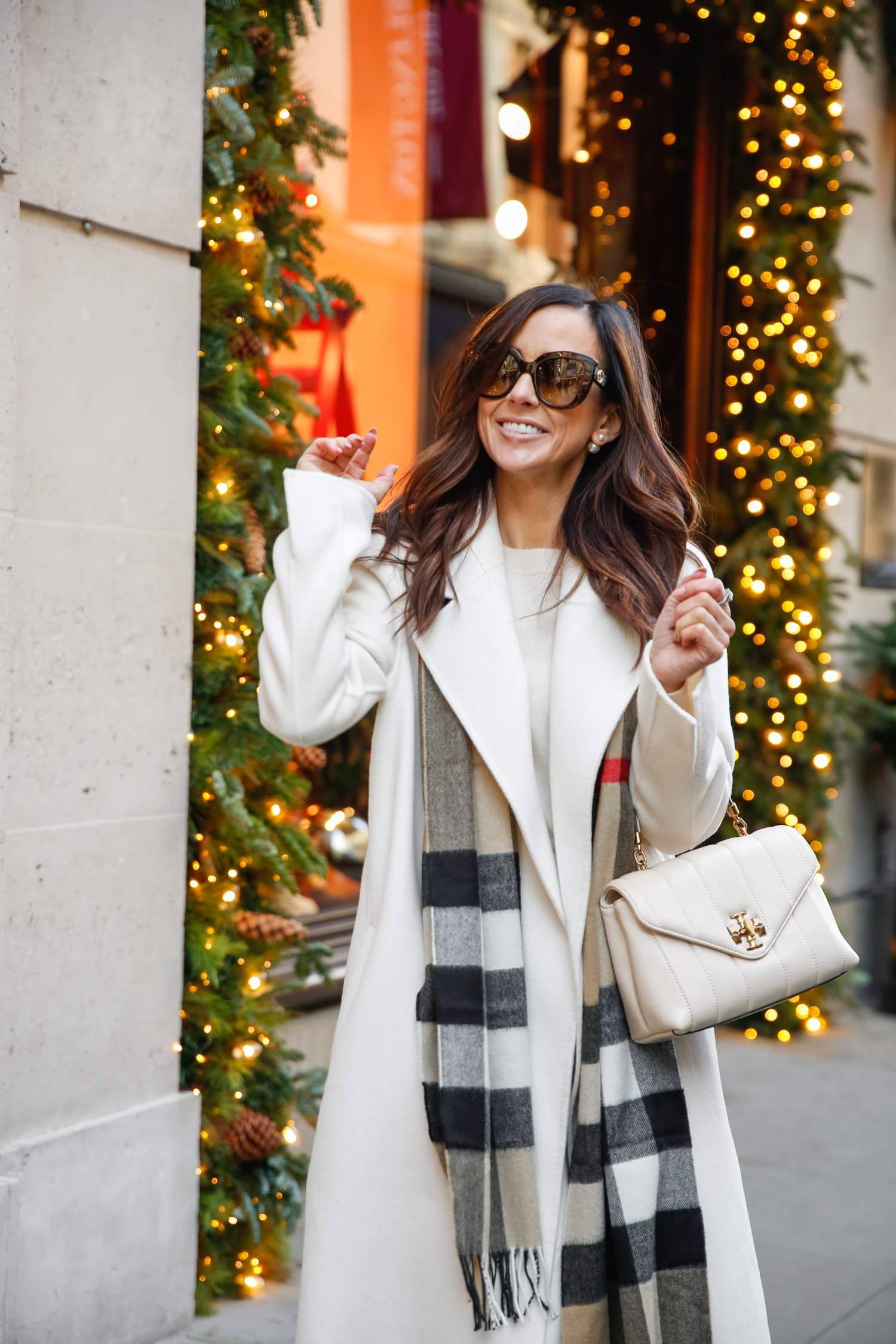 Cashmere Scarf
Having an item like this cashmere scarf is the perfect investment piece, because you can wear it time and time again. Personally, I like the giant check print more than the classic standard Burberry plaid.
I find that this scarf is super soft, but it doesn't have a ton of material to it, so it isn't super practical! This scarf can also be paired with several different outfits throughout the winter season. Added bonus – this scarf would make an incredible gift!
Tall Leather Boots
When you think, "tall leather boots" you might not also think, "comfortable", but these boots certainly are! The block heel detail adds an elevated look, and also a higher level of comfort. I find that these boots run true to size, and my true size even leaves room for warm socks.
Shop The Look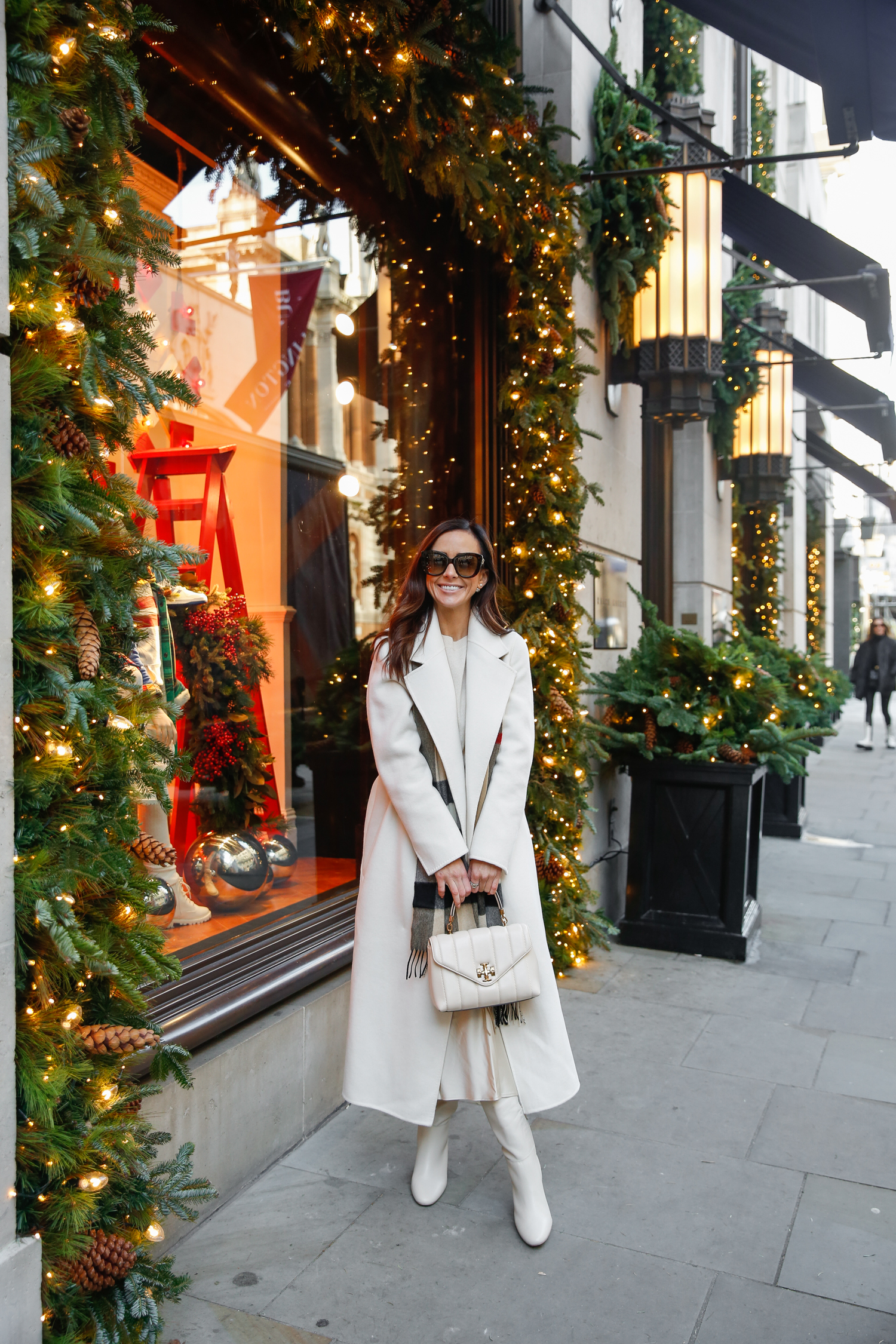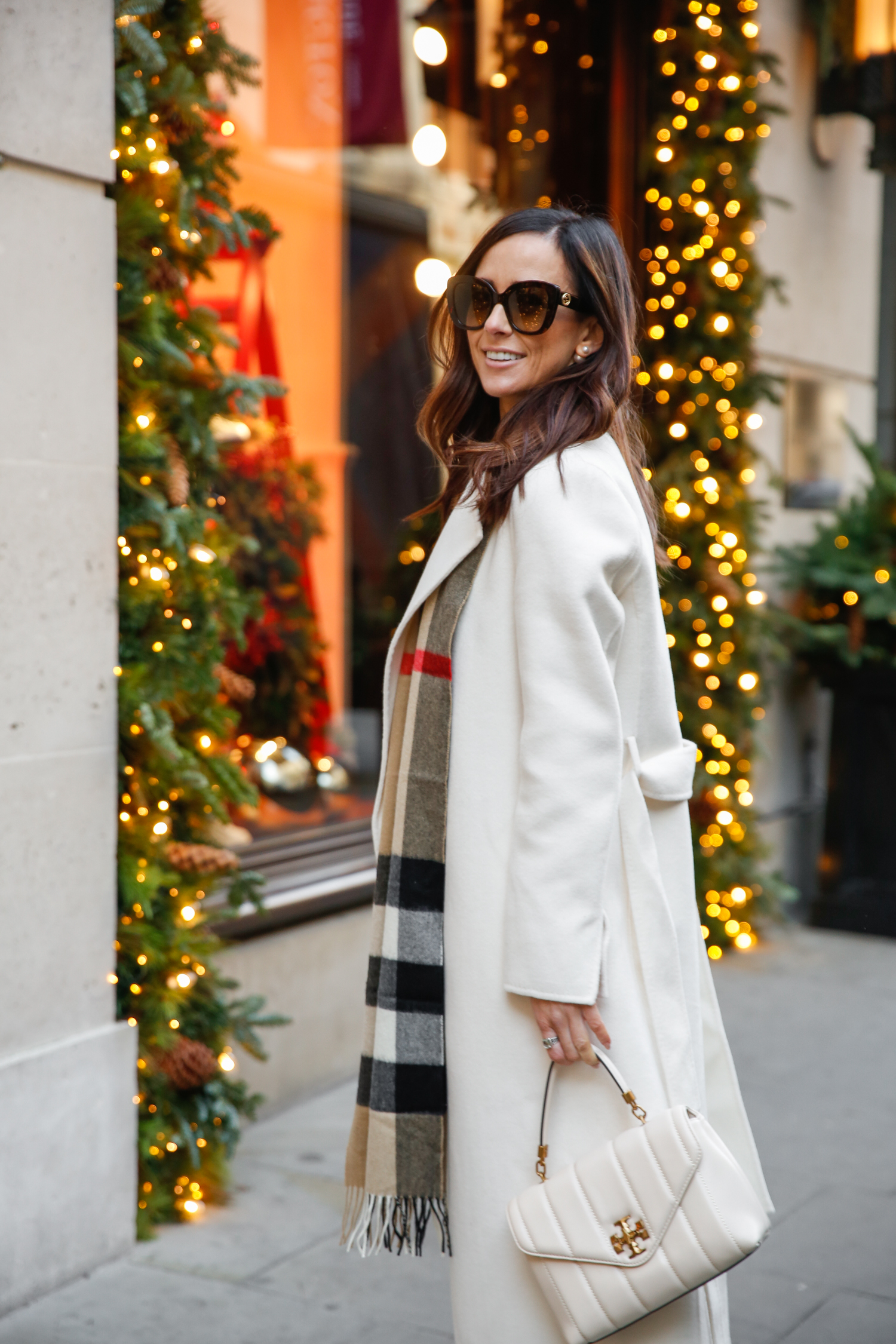 Satin Maxi Skirt
This satin maxi skirt has an ultra high-rise fit to it. I love this one because instead of only having an elastic waist band, like several satin skirts have, it actually has a functional zipper. And the added detail of the side slit definitely makes this skirt a moment. I noticed that the sizes in this skirt were a bit picked over, so I found a similar style here.
However, if your Christmas Day style leans more casual, this skirt could easily be swapped out for a pair of jeans. Our holiday style is usually more casual, too!
Cashmere Sweater
I found myself styling this cashmere sweater over and over again throughout the fall season. I simply can't sing its praises enough! Because this sweater is such a chic classic, I reach for it often. Currently, quite a few colors are included in J.Crew's Cashmere Sale, although sadly not the exact color I'm wearing here.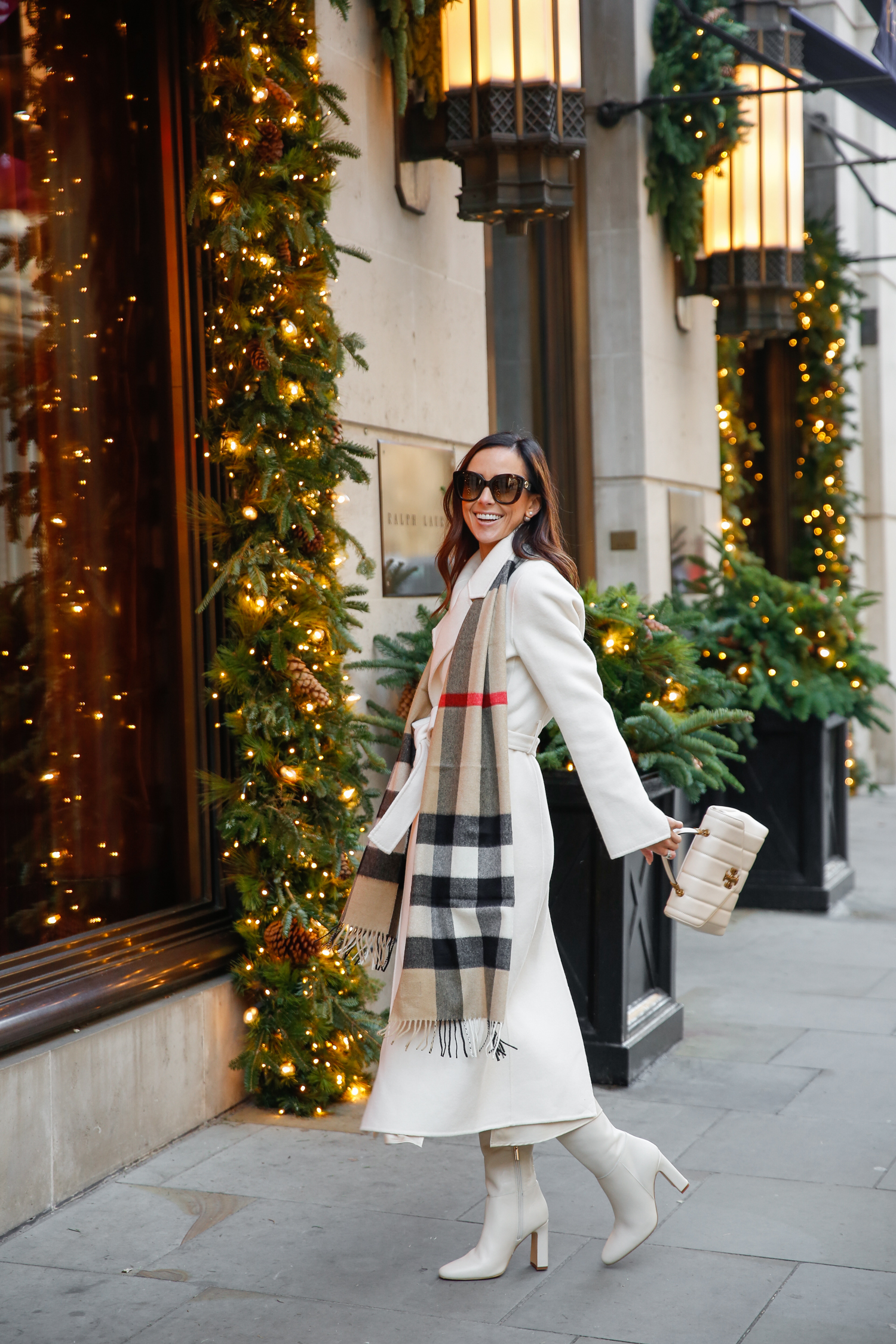 Whether you're dressing up or dressing comfortable this Christmas, I hope this holiday outfit idea gives you inspiration for what you could wear on Christmas Day, and throughout the holiday season! Just remember, no matter what you wear this Christmas, the best part of the holiday season is soaking up precious time and memories with the ones you love.
What are you most looking forward to about Christmas this year? Let me know in the comments below! xo.