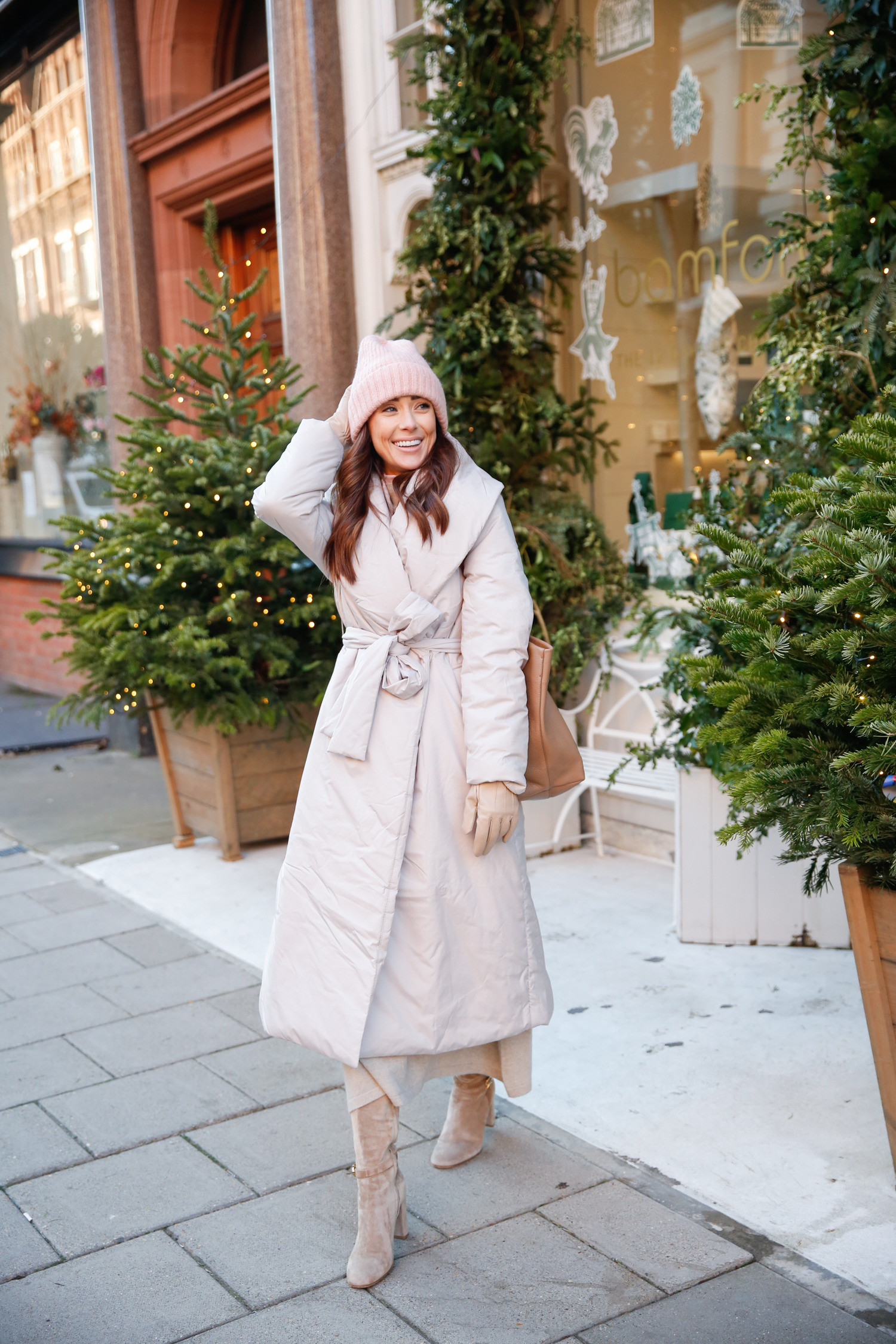 Hello, friends! Does anyone else feel like we've hit the part of winter where it's very cold most days? I certainly do! So, today I'm sharing some winter wardrobe essentials and tips that will keep you warm throughout this time of year.
Although layering is an important part of staying warm, it's not the only way! I've found that the biggest key to staying warm is ensuring that all of your essentials are made of high quality materials.
It's no secret that quality materials can be more expensive. Although it's easy to want to spring for the cheaper alternatives, I personally prefer quality over quantity! I find that if I go for higher quality, the item usually ends up lasting me a longer amount of time.
It's also important to note that a winter wardrobe takes time to build. My favorite trick is to add one high quality piece to my winter wardrobe essentials every year. So this year, maybe you go for the wool coat or the cashmere sweater dress you've had your eye on. And maybe add an accessory, too!
Chances are, those quality pieces will last you many winter seasons to come. I bet you'll thank yourself later.
Alright, let's jump in!
Wardrobe Essentials to Keep You Warm this Winter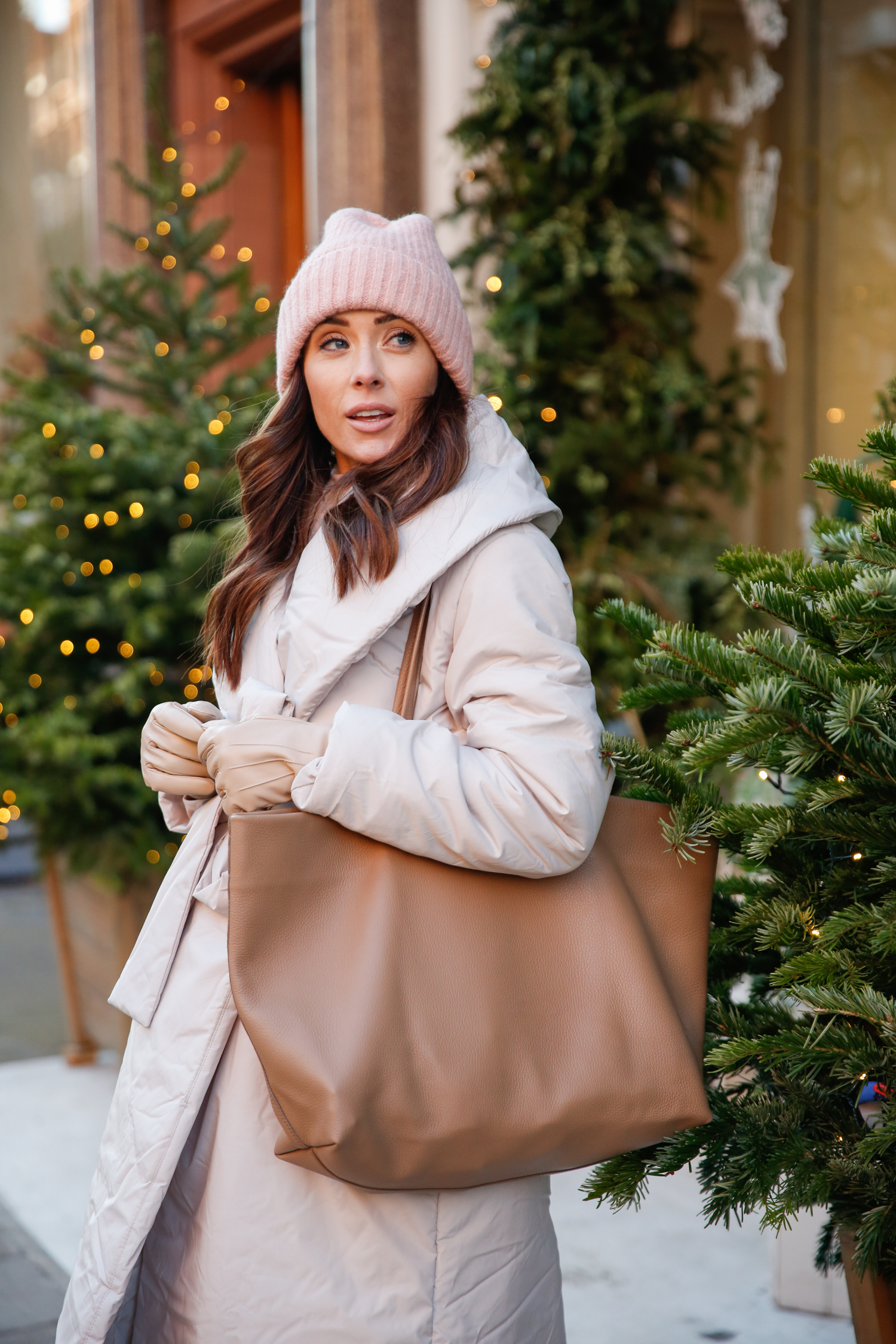 Base Layers
Base layers are a key element of my winter wardrobe and the quality of the materials that these base layers are made of are what makes the biggest difference in actually keeping you warm. I learned this growing up skiing in Colorado and, I promise you, incorporating warm thermals made of merino wool really do the trick. And, thankfully, these layers don't feel super thick underneath your clothes and they do a great job when it comes to moisture wicking, as well.
Okay, I have to admit that I didn't look as closely at the fabric composition on this top and these leggings from Sweaty Betty before ordering. It turns out I broke my own cardinal rule for winter essentials when I saw they were pink and on major sale during Black Friday. But, I will say, if you wear high quality materials over them, you'll still be a little warmer than you would be without them so, they're not a total waste if you're tempted. They run true to size.
To make up for this little mistake of mine, I've pulled A TON of additional options for every category I'm listing in this blog post so you're not short on alternatives. [If you want to see all of my warm layer and accessories in one place, head HERE!]
Cashmere Dress
I won't spend a ton of time on cashmere and why I love It because I think I've done quite enough of that over the past few months, especially in this post. It's obviously my favorite fabric and an absolute essential in keeping warm throughout the colder months. I have been wanting to purchase more cashmere dresses for my wardrobe as it was one of my wardrobe's gaps. I've been wearing longer sweater dresses made of lower quality fabric's over the past few years so I knew a larger investment would be worth it.
I found this cashmere dress on Amazon and it actually surprised me because you know how I feel about Amazon fashion. But, it's actually a high quality cashmere for just under $80. In my opinion, that's a great price for cashmere, especially with as much fabric as this dress has. It's not the softest cashmere [which might be why the price point is where it is] but, it's an absolutely beautiful silhouette. And as a note, I found that it runs a little big. I'm wearing a size small here.
SHOP THE LOOK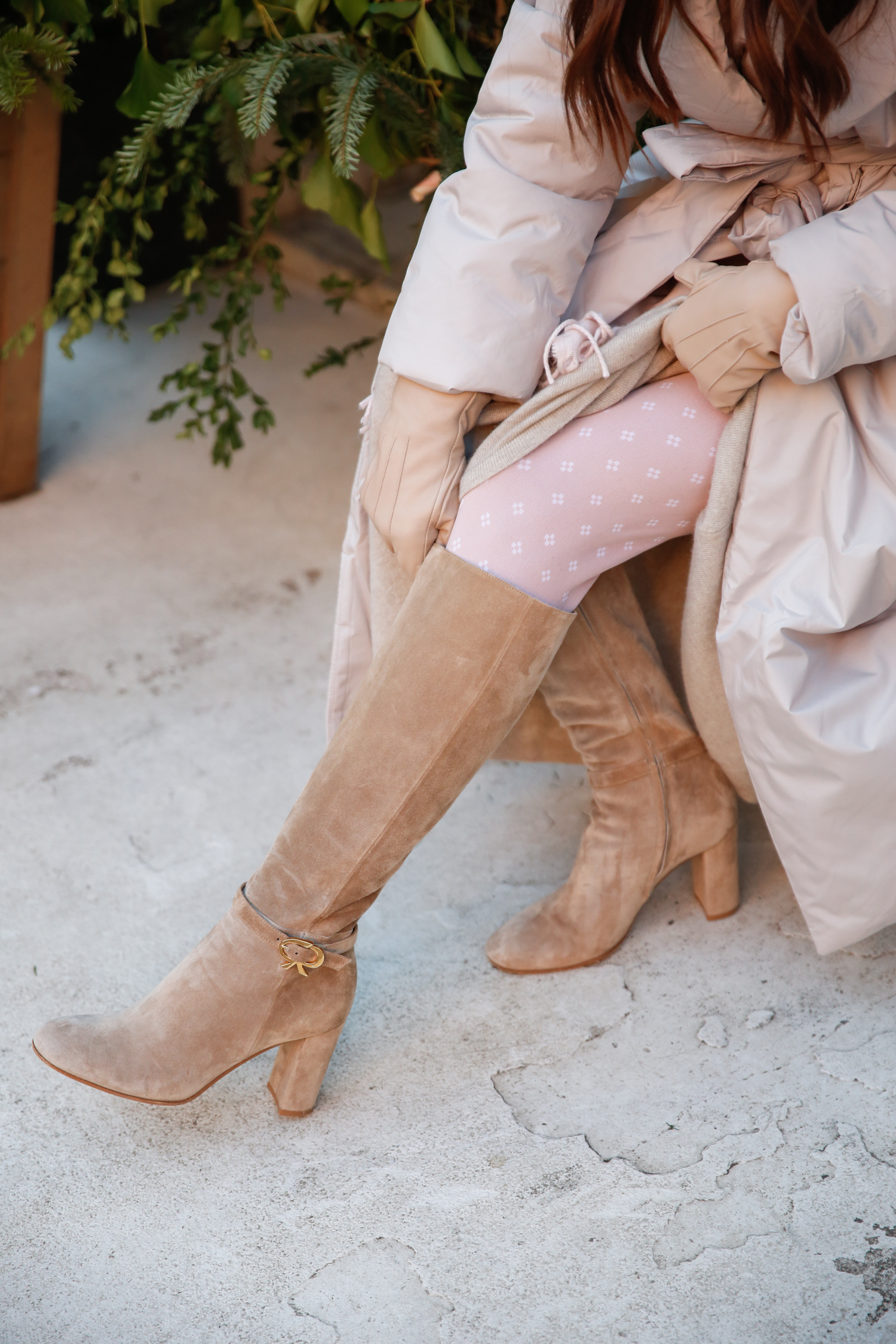 Long Puffer Coat
Cozy is the first word that comes to mind to describe this calf-length puffer coat. This water repellent puffer coat is much cozier and warmer than I expected. The belt detail also adds a touch of sophistication when tied up.
Okay, let's have a little honesty corner. Unfortunately, I had to return this coat after taking these photos because the stitching came loose in the pocket! I'm hopeful that my experience isn't an indication of how every coat is made, and it's possible that I got a faulty one.
SHOP PUFFER COATS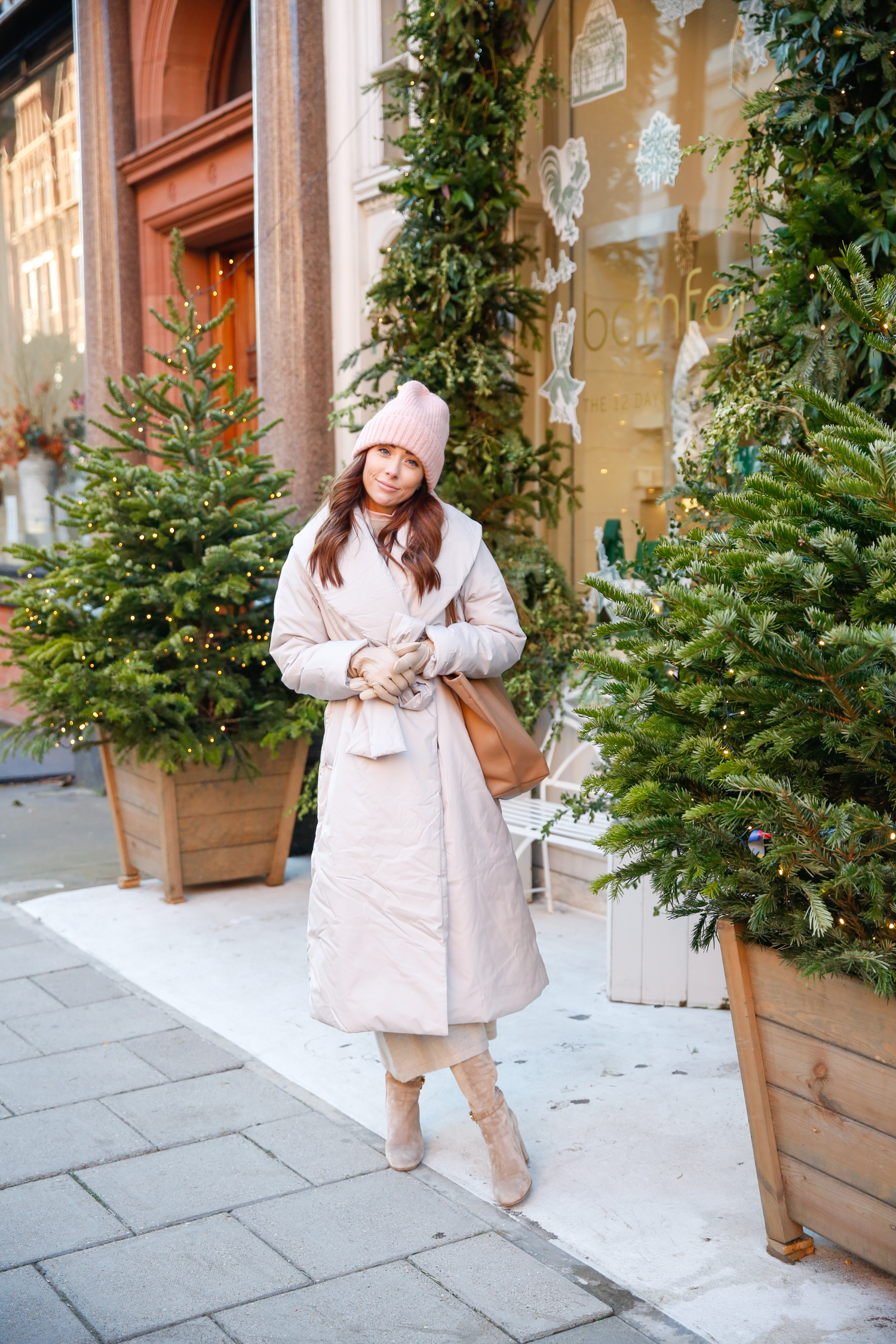 Leather Gloves with a Warm Liner
These leather gloves are a classic and I already know that they'll last me many winter seasons to come. The wool blend lining on the inside adds a necessary layer of warmth, and the leather on the outside is fantastic. If you can't find any leather gloves with a warm lining, even just cashmere or wool gloves will do the trick! Anything with a high quality fabric composition. There are quite a few options linked below.
If you want to see all of my warm layer and accessories in one place, head HERE!
When building an outfit of winter wardrobe essentials for chilly temperatures, I would recommend following the simple outline of starting with base layers, then add cashmere hero pieces (such as sweaters or dresses), and finally, top off the look with a warm scarf, a pair of socks, and gloves!
For more winter outfit inspiration, check out my recent blog post, 25+ Outfits to Wear in December. I hope you stay cozy and warm this winter season, loves!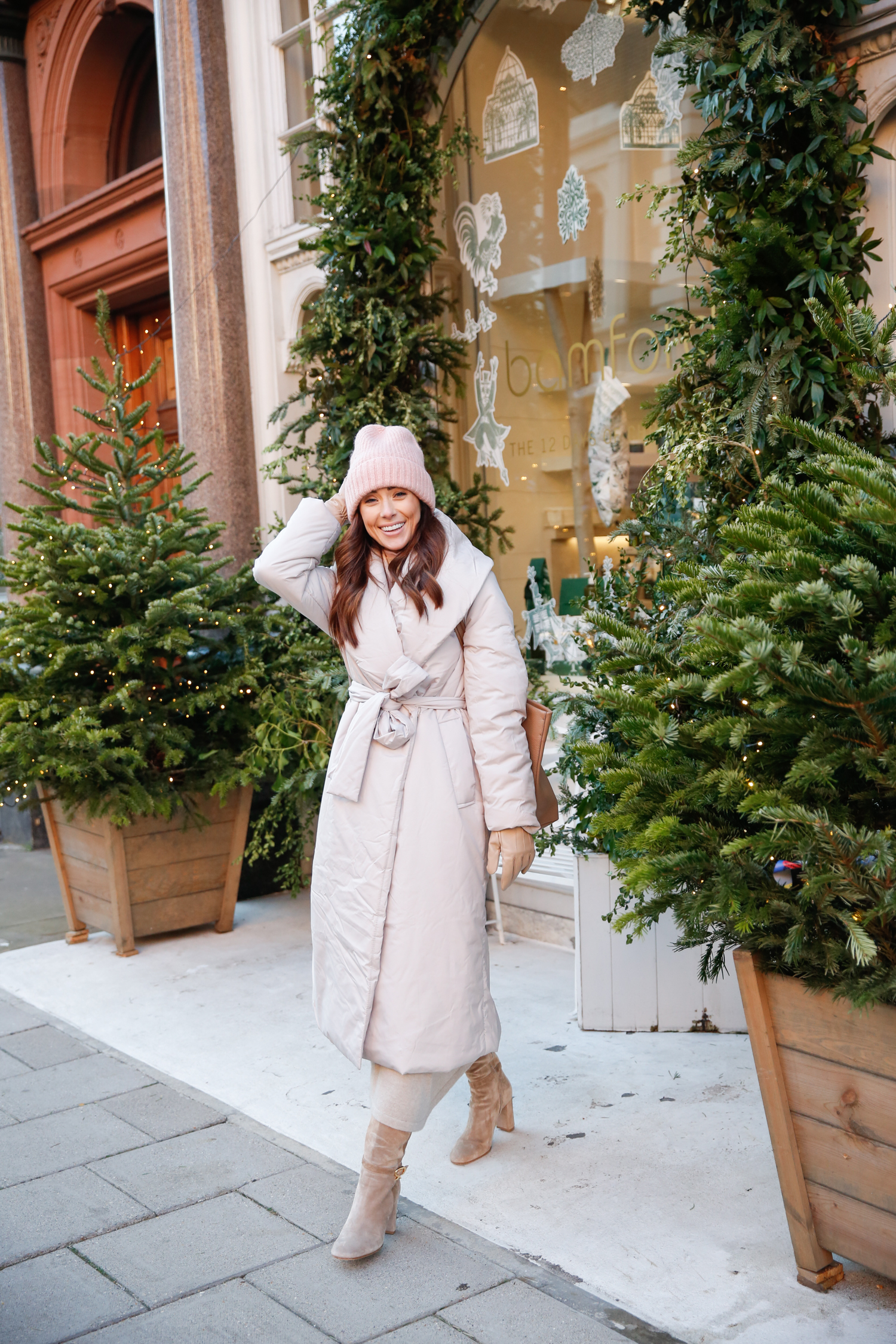 What winter essentials are you snagging this year? Let me know in the comments below! xo.